LEATHER JEWELRY BOXES, TRAVEL ACCESSORIES, NEW SIMON PEARCE, WATERFORD SALE PLUS KATIE AND CHARLES GET MARRIED!
In this Issue"¦.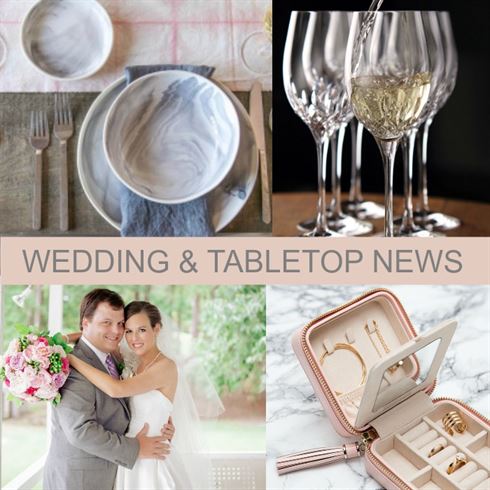 Featured Wedding: Katie Echols Marries Charles Perry
Gift Gab: Wolf Leather Jewelry Boxes & Travel Accessories
Table Talk: With Love From Ireland and Waterford Crystal
Events: Waterford, Skyros, and Vietri Events
---
GIFT GAB: JUST IN"¦. New Leather Accessories, Perfect for Attendant Gifts!
If OPRAH puts something on her "favorite things" list, you know it is special. Says Oprah of the Wolf Caroline jewelry case: "Toss this small but spacious jewelry box into your carry-on and you™re ready to hit the road. It has seven ring rolls, four compartments, and three necklace hooks and is almost as gorgeous as the bling within."
Best of all, the LusterLocâ"¢ interior allows the fabric lining the inside of your jewelry cases to absorb the hostile gases known to cause tarnishing. Under typical storage conditions, it can prevent tarnishing for up to 35 years!
Stop in to see the Wolf leather collection while our selection is best- these will not last long! Prices starting at $59.
Need a gift in a hurry? Call us, we are more than happy to charge your gift, wrap it, and ship it for you! Phone: 205-871-3276
TABLE TALK: THE WATERFORD CRYSTAL BIG EVENT!

You absolutely love your Waterford crystal, don™t you? Everything tastes better and looks prettier served in Waterford crystal stemware. We™re going to make it easy for you to fill in the gaps in your crystal pattern with a huge sale on Waterford happening March 16th – 26th 2017. You™ll save 25% on Waterford stemware and when you purchase 7 of the same Waterford stems, you™ll receive the 8th one free! Have a lot of weddings this summer? Buy your gifts now and save! During this event, our ever-popular Lismore Essence Goblet, Wine or Flute glasses normally $80 are on sale for $60 per stem.
Don™t forget that our formal china collection is only on display at the Mountain Brook location. Casual china is displayed at both locations.
BUYER™S CORNER: CLOUDY WITH SHADES OF GREY HIGHLIGHTED IN SIMON PEARCE™S NEW GREY MARBLE STRATUS POTTERY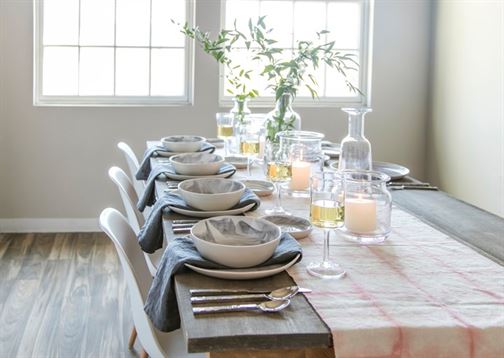 The brooding skies and pale snowy landscapes of the blustery Northeast in winter are the inspiration for Simon Pearce's newest pattern, Grey Marble Stratus. Handcrafted stoneware features a unique two-part glazing process that creates nuanced variations to make each handmade piece unique.
Please contact our bridal consultants at one of these locations:
Mountain Brook 205-871-3276 mbbridal@brombergs.com
Janice, Vanissa & Courtni
Bromberg's at the Summit 205-969-1776 sbridal@brombergs.com
Katy Rose
CLICK HERE to view the photo gallery and read their wedding story"¦
Bromberg's Brides Benefits
All registered brides receive these benefits:
20% off non-diamond wedding bands
20% off attendant gifts and hostess gifts
Buy or receive seven place settings of china, crystal, or silver, get the eighth free!
Bromberg's exclusive twelve-month interest free club plan (with credit approval)
UPCOMING EVENTS AT BROMBERG™S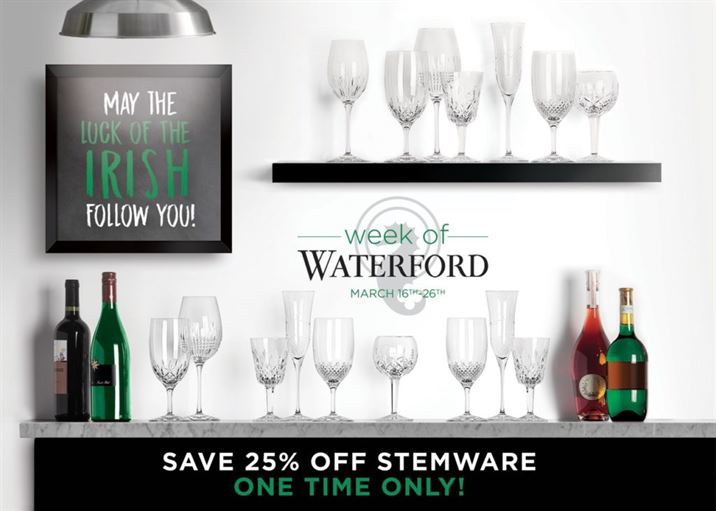 WATERFORD SALE!
May the luck of the Irish follow you during our Waterford Sale!
March 16th – 26th
Save 25% on Waterford stemware!
Lismore Essence Goblet, Wine or Flute $80 Sale $60
When you purchase 7 of the same stem, get the 8th one free!
SKYROS WEEK
Skyros Trunk Show
April 3rd "" 8th
20% Off all Skyros Dinnerware Patterns Including serving pieces plus our gift with purchase special. When you spend $300 or more in Skyros products, you™ll receive the Cantaria pie dish free! A $53 value.
JULISKA WEEK
Juliska Spring Event
May 1st -6th
Purchase $300 or more in Juliska products and receive a free Juliska crudité platter- a $95 value. More specials to be announced soon!
Call Janice, Vanissa or Courtni at Mountain Brook for phone sales or more information: 205-871-3276