FEATURED WEDDING: KATIE ECHOLS & CHARLES PERRY
KATIE ECHOLS AND CHARLES PERRY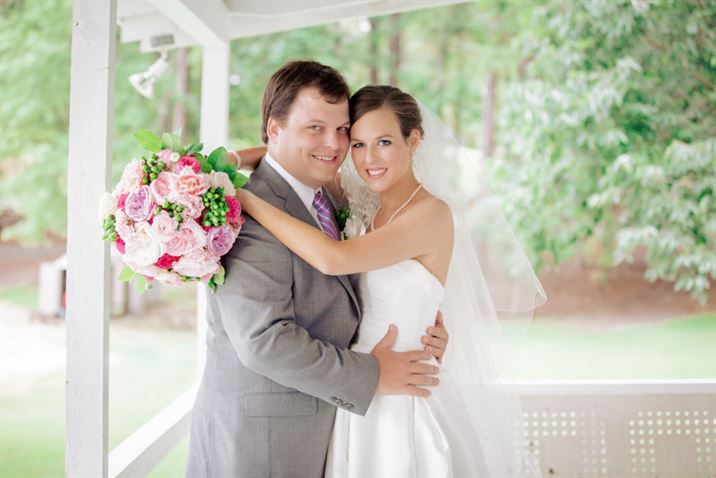 AUGUST 13, 2016
CEREMONY: THE CHAPEL AT CHILDREN™S HARBOR
RECEPTION: WILLOW POINT COUNTRY CLUB
PHOTOGRAPHY: HOLLAND WILLIAMS PHOTOGRAPHY
PLANNER: MARIEE AMI WEDDING STUDIO
Serendipity
(The phenomenon of finding valuable or agreeable things not sought.)
When you go out for dinner and the wait for a table is ridiculously long, you™re always happy if there's a seat at the bar where you can wait. Your expectations in these situations are usually low, hoping only for a decent drink and a speedy bartender. You certainly don™t expect to find your future husband behind the bar"¦ but Katie Echols did.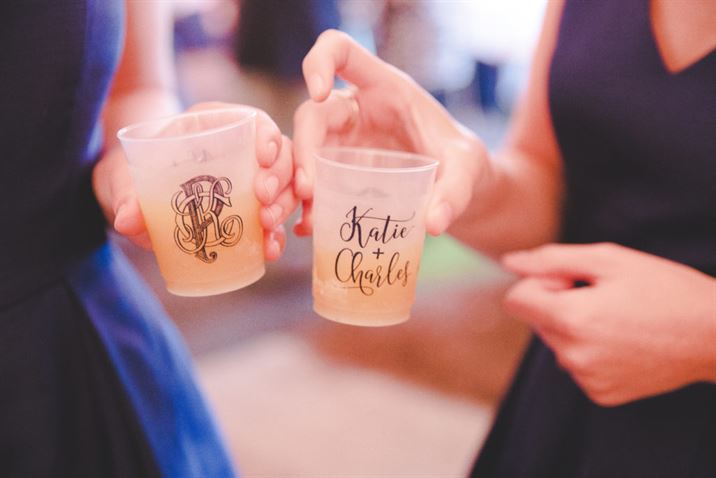 Katie & Charles"¦
Saw's Juke Joint in Crestwood is a typical neighborhood restaurant and bar; if you hit it right, you can walk right in but if you don™t, everyone and their brother is in the line in front of you. That's what happened when Katie Echols and her friend stopped in to Saw's for dinner that fateful night. The place was packed so they were lucky to score a seat at the bar to wait for a table. The bartender came over, took their order, and struck up a conversation with Katie. Hours later, the two were still talking-they just never stopped. The bartender was Charles Perry, who just happened to be working at the bar that night as he did from time to time.
Charles got Katie's phone number and called her later that night to make sure she made it home safely. He invited her to dinner and two days later, the pair had their first date. After that, they were inseparable. Charles will say he already knew that Katie was the girl for him… and he asked her to be his girlfriend right away. Katie felt it was a bit fast- but she also felt there was something special happening so she agreed to give it a chance. After Charles left town to spend a week in New York, she recognized that her feelings for Charles were strong. When he came back and told Katie he loved her, both knew they would marry. From there, it was just a matter of when.
THE PROPOSAL"¦
Katie says Charles cannot keep a secret so the possibility of him keeping something as monumental as a proposal quiet was zero. He let a few details slip but told Katie to just ignore his comments so she knew he was going to ask her to marry him any day"¦ and he tried. Twice.
The first time Charles intended to pop the question was over Thanksgiving in 2015. The couple was to go down to the lake at Charles™ parents™ home. Both Katie and Charles love Lake Martin and both have spent a lot of time there over their lives so Charles thought it would be the perfect place to propose. He had the ring and his plan ready but Katie's niece Maggie had other plans. Katie's sister was pregnant and due just before Thanksgiving but Maggie had yet to arrive so Katie felt she wanted to stay in Birmingham in case her sister went into labor. Charles put the ring away and started working on Plan B.
A few weeks later, Charles was ready with a new plan. He and Katie had plans to go to his family's home, supposedly to watch Alabama play in the National Championship game but there was a surprise engagement party planned. Charles told her Katie would come to pick her up for the party and had his proposal all planned. Katie told Charles she was going to stop by her sister's house to see Maggie and help them decorate the tree before she went back home to get ready. Charles knows Katie well enough to know she would never make it home to get ready in time for him to propose before they had to be at his parent's house for the party so he called her sister and brother-in-law and they quickly hatched Plan C.
Katie's mother was also at the house when Katie arrived but was unaware of the proposal. Together they decorated the tree for Maggie's first Christmas. Katie had no idea Charles was there, too, hiding downstairs. Katie's brother-in-law pretended to need some decorations from downstairs and asked Katie to retrieve them. Katie's mother offered to help but her brother-in-law and sister stopped her with a loud "No, Mom!" so Katie could go alone. She opened the door to see Charles, ring in hand, waiting for her. After she said yes, they finally made it to the party where friends were waiting to congratulate them. And-bonus"¦ Alabama won the game!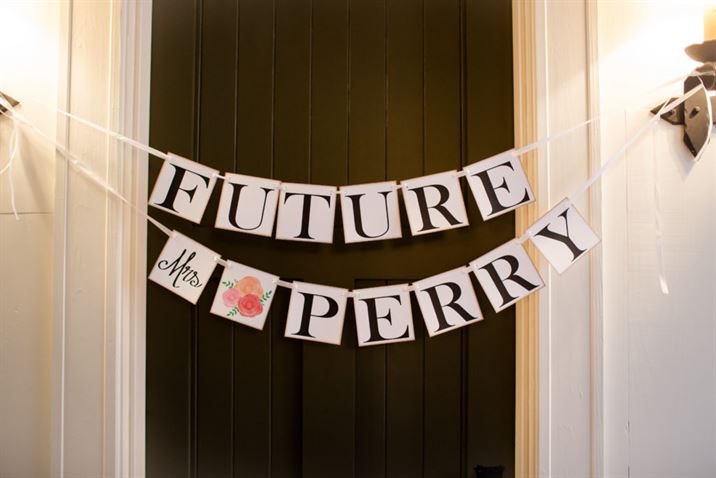 THE WEDDING"¦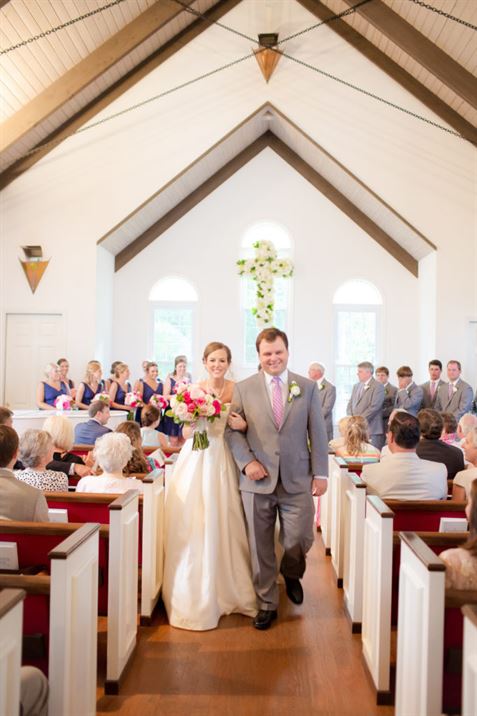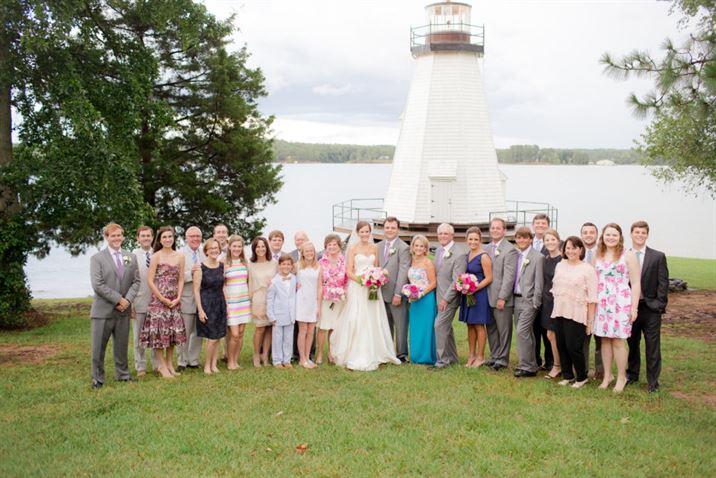 Plans for the wedding started even before Katie had the ring on her finger. They knew they wanted to get married at the lake and enlisted Neillie Butler and her Mariee Ami Wedding Studio team to help with the design and execution of the destination wedding.
Katie had a Lily Pulitzer day planner in pink, navy, and Kelly green and wanted those same colors for the summer wedding at the lake. Montgomery florist Southern Posies executed the floral vision using large navy pedestals, gold vases, and urns filled with bright summer flowers in hot pink, purple, white, and bright green. Katie lost her father so her mother walked her down the aisle. They tied her father's wedding band into her bridal bouquet so Katie felt he was with her every time she held her flowers.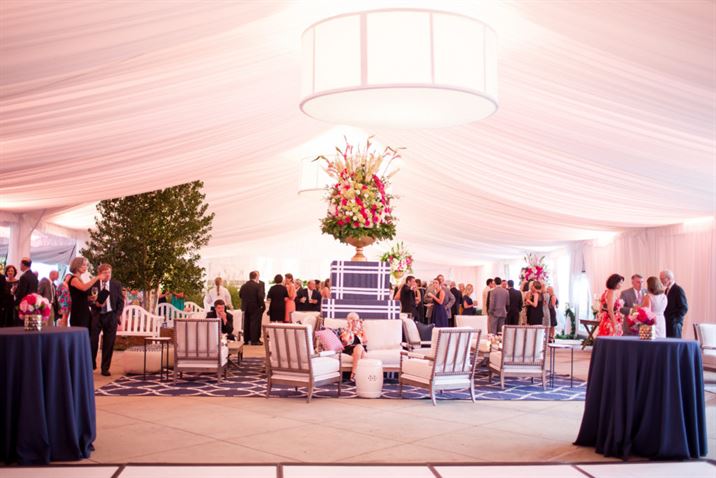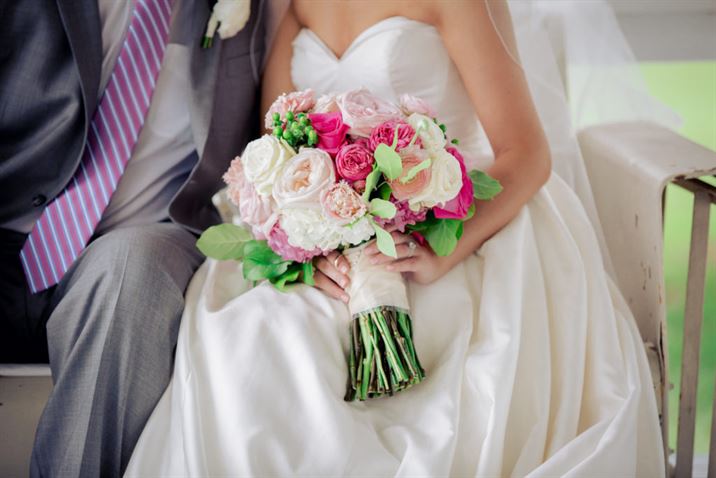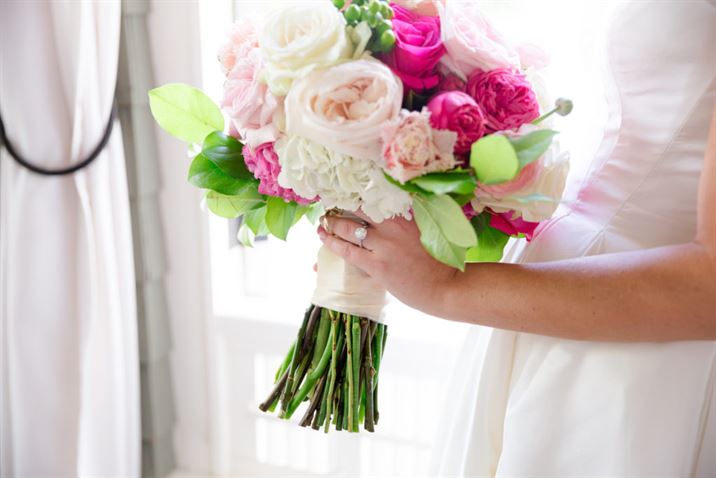 Caroline Eades of the Carriage House in Homewood worked with Katie to find her perfect gown, a sweetheart strapless silk Mikado ballgown with a natural waistline and full skirt by noted New York designer Kelli Faetanini.
Katie's "Something" Traditions
OLD: A family heirloom handkerchief dating back to the early 1900's.
NEW: Her gown.
BOROWED: The lace etched veil borrowed from her sister.
BLUE: A ring from her mother-in-law, Cameron Crowe.
MORE DETAILS"¦
Short navy bridesmaid dresses by Lulakate from Bella Bridesmaid in Homewood looked fresh and cool.
The men wore sharp grey suits from Jos. A Bank accented with a classic purple and blue striped tie.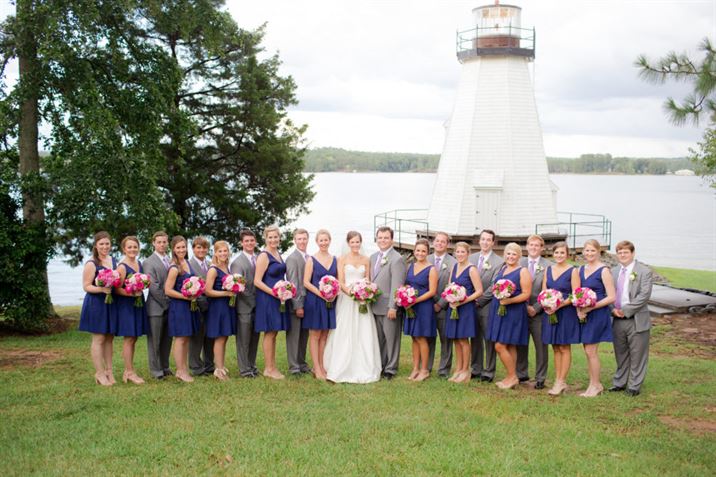 The paper suite was by Mariee Ami and included the custom map of landmarks and locations for all the weekend's events. The couple's custom logo was designed by Allison Banks and used throughout the wedding design for invitations, napkins, cups, and koozies.
Artist Barbara Davis did a live painting of the lake during the reception that Katie cherishes.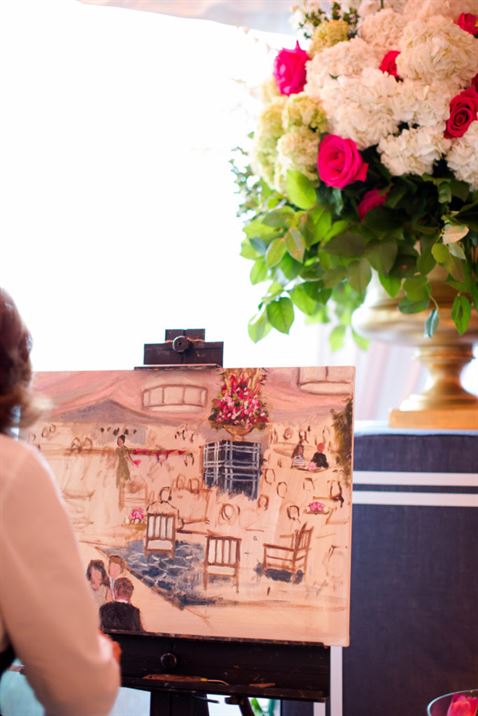 Barb Sullivan of Barb's Cakes created the monogrammed five-tier classic white wedding cake topped with fresh flowers. Charles isn™t a fan of cake so he opted for a blizzard bar complete with mix-ins and toppings instead of a traditional groom's cake.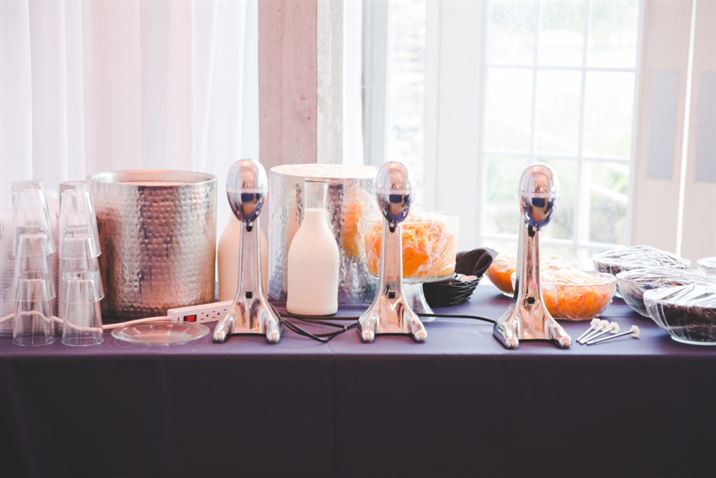 The Atlanta Showstoppers played for the reception and kept guests out on the dance floor all night. Katie and Charles danced their first dance to Marvin Gaye and Tammy Terrell's Motown classic, You™re All I Need to Get By.
Personalized glow-in-the-dark tambourines were passed out so the guests could join in with the band.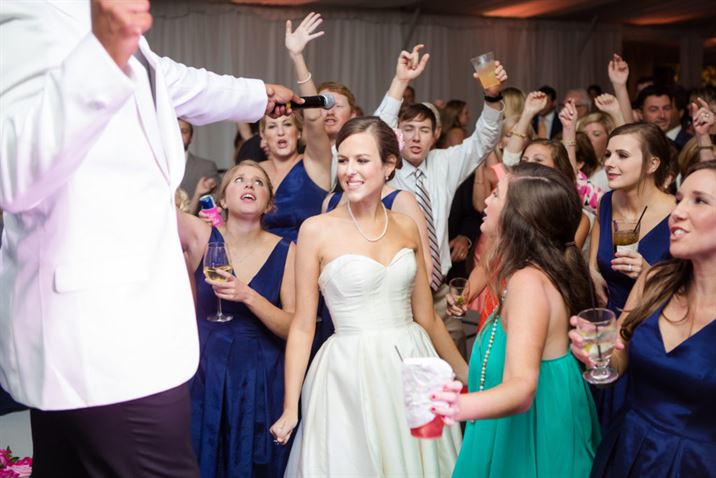 The couple departed the reception in a beautiful vintage speedboat, decorated with garlands of pink roses and a custom Katie & Charles "Just Married" banner.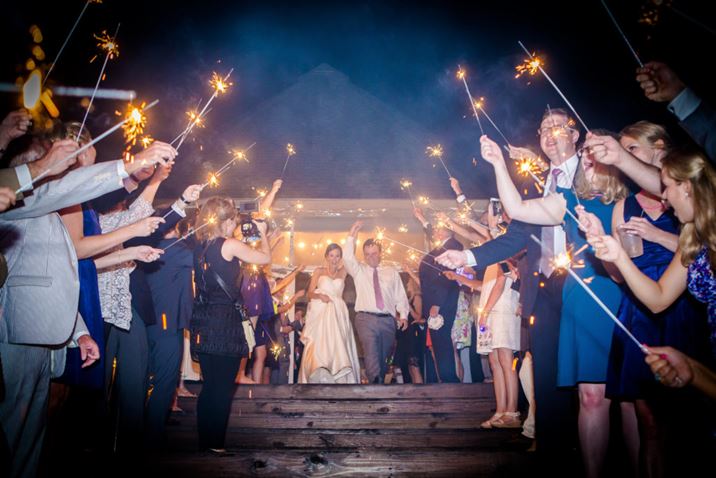 Charles planned a post-wedding trip to The Viceroy in Anguilla (with a little help from the specialists at Brownell Travel)as a surprise for Katie, who, up until they departed, had no idea where they were going on their honeymoon!
Congratulations, Katie & Charles. Thank you for sharing your wedding with us. The Bromberg family and staff all wish you a lifetime of happiness and love.
KATIE & CHARLES™ BROMBERG™S GIFT REGISTRY
FINE CHINA: HEREND GOLDEN LAUREL, HAVILAND COLETTE
FINE CHINA: ANNA WEATHERLEY ANTIQUE WHITE WITH GOLD CHARGER
CASUAL CHINA: JULISKA BERRY & THREAD, LE PANIER IN WHITE
FORMAL CRYSTAL: WILLIAM YEOWARD ELIZABETH & HELENA
STAINLESS FLATWARE: VIETRI MARTELLATO
SERVING: SIMON PEARCE WOODSTOCK PITCHER