August News: Real Wedding Emily and Jay, Recycle Glass Wine Sets, New Classics- Richard Ginori Oriente Italiano
In this Issue
Real Wedding: Emily Renfroe Marries Jay Wright
Gift Gab: Recycle Glass Wine Sets
Table Talk: Ginori Oriente Italiano
News: Flower Magazine & Beatriz Ball
Gift Gab: Recycle Glass Wine Sets

If you™re spending fall weekends soaking up the final days at the lake or if you™ve got tailgate parties on your schedule, these recycled glasses using "rescued" wine bottles would be a lovely way to say thank you to your hosts. Unique and eco-friendly, these 12-ounce glasses are well-priced at only $39 for a set of four.
FYI"¦ Our registered brides save 20% on attendant and hostess gifts and we™ll even wrap them for you in the traditional Bromberg's silver box!
Table Talk: New Classics – Ginori Oriente Italiano
Sometimes you need to look back to create something new. Richard Ginori 1735 debuted what would become its beloved Oriente Italiano design in the seventeenth century, when chinoiserie botanical motifs were all the rage. It returns now in five fresh shades, from butter yellow to celadon green making this pattern the perfect mix of modern sophistication and timeless tradition our brides desire.
Don™t forget that our formal china collection is on display at our Mountain Brook location only.
Please contact our bridal consultants at one of these locations:
Janice, Vanissa, and Courtni: Mountain Brook 205-871-3276 mbbridal@brombergs.com
Keyonna: Bromberg's at the Summit 205-969-1776 sbridal@brombergs.com
Bromberg's Brides Club Benefits
All registered brides receive these benefits:
20% off non-diamond wedding bands
20% off attendant gifts and hostess gifts
Buy or receive seven place settings of china, crystal, or silver, get the eighth free!
Bromberg's exclusive twelve month interest free club plan (with credit approval
Flower Magazine & Beatriz Ball
Look for the Bromberg's ad in the September issue of Flower Magazine featuring Beatriz Ball, one of our favorite gift items for brides-to-be. These basics make cherished gifts and will be used over and over again. Featured are: "Kristi" rectangular serving tray with handles $195. "Soho" 9" tray $142. Candle holders $132.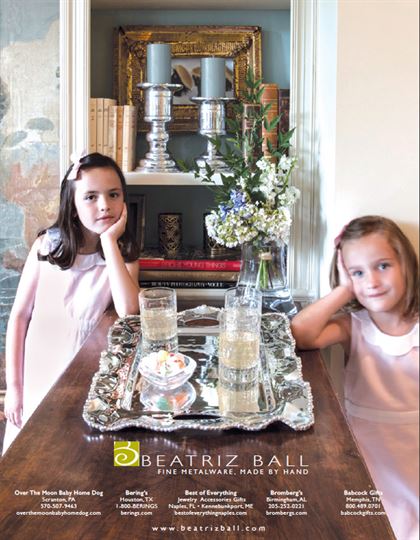 Follow Bromberg's & Company on social media for up to the moment information on new inventory, events and store happenings…