Featured Wedding: Lacey and Farra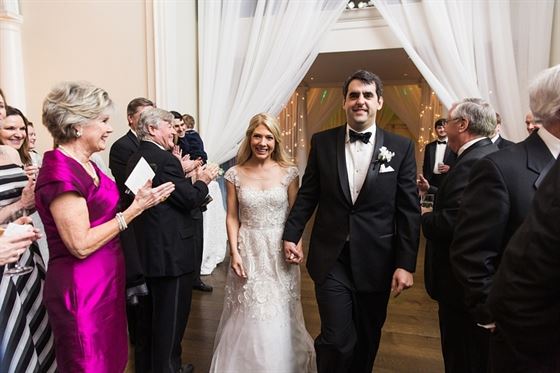 FEATURED WEDDING: LACEY & FARRA
February 24, 2018
Ceremony: The Chapel at Canterbury United Methodist Church
Reception: Country Club of Birmingham
Photos: 509Photo.com
And in this crazy life
And through these crazy times
It's you, it's you
You make me sing
You're every line
You're every word
You're everything"¦
Everything by Michael Bublé, Lacey and Farra's first dance song.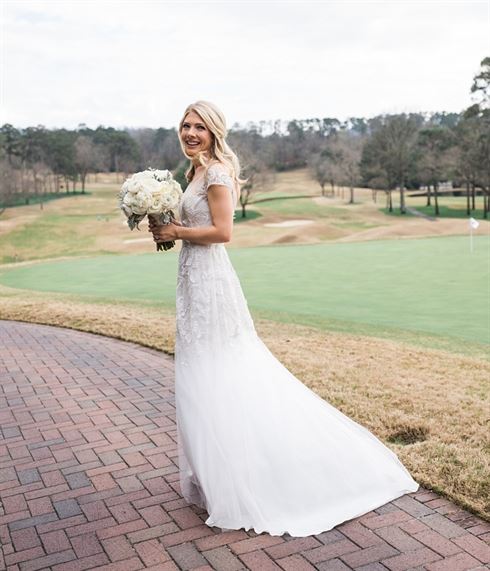 LACEY AND FARRA: THEIR STORY"¦.
Late in 2015, friends wanted to set up Lacey Whatley on a blind date. She agreed but knowing her busy holiday schedule and how blind dates can end up as a waste of time, she asked that the guy wait until after the holidays to ask her out. Farra Alford was that guy. He respected Lacey's wishes, but he did not wait long to ask. On January 2, 2016, the couple went on their blind date"¦ and a bit of magic happened.
Lacey says she knew when Farra hugged her at the door something was different; she instantly felt a sense of comfort like she had never felt before with others she had dated. In fact, the date went so well, Lacey boldly invited Farra to lunch the next day at her family's house. They soon became a couple and it wasn™t long before Lacey knew she was in love with Farra. She says it took him a bit longer to figure it out but once he realized how much he loved her, the relationship moved forward very quickly.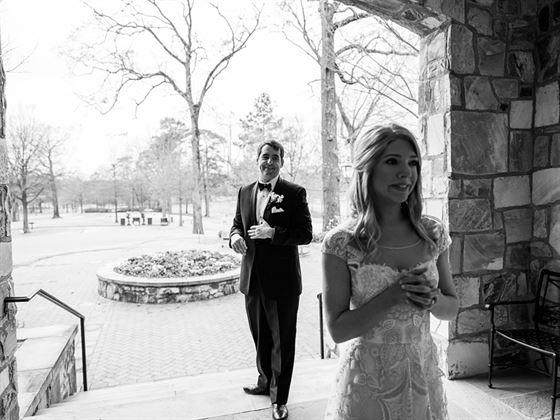 THE PROPOSAL"¦
On October 19, 2016, the day of her father's 60th birthday, Farra sent Lacey all around Birmingham to places which had been most significant during their relationship. It began with a manicure which may have tipped Lacey off that a proposal was happening. The next stop on Farra's list was Bamboo on 2nd, the sight of their first date. After that, he sent her to the Grand Bohemian where they first kissed. The next special place was Farra's house where they had first said "I love you" to one another. After that, Lacey was instructed to go to her house- it was where Farra had first told her that he couldn™t wait to marry her. When she arrived, Farra was there with a ring and (not such a surprise) proposal.
After she said "yes" to Farra's proposal, the couple went to Lacey's dad's birthday party at Bottega. Farra's parents had come to town for the party so they all had the best time celebrating the engagement. The next day, Lacey's mother called Neillie Butler of Mariee Ami Wedding Studio and the planning began in earnest.
THE WEDDING"¦.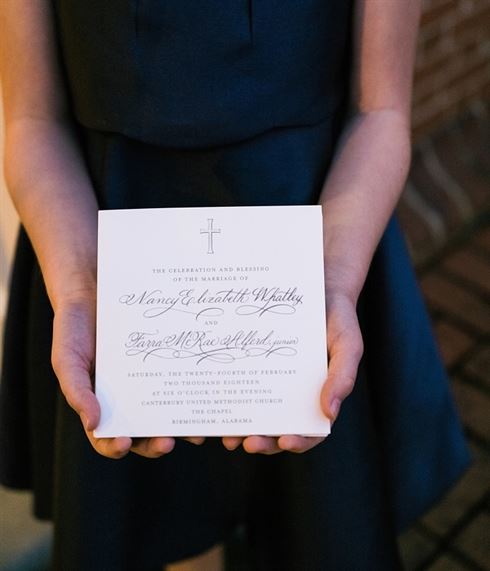 The first question Neillie asked the couple in their initial planning meeting was what band they wanted. They based the wedding date on the availability of Jessie's Girls, a high-powered dance band from Atlanta. That also meant they had only four months to put the wedding together!
Lacey selected a Lela Rose gown from Ivory and White Boutique in Crestline Village.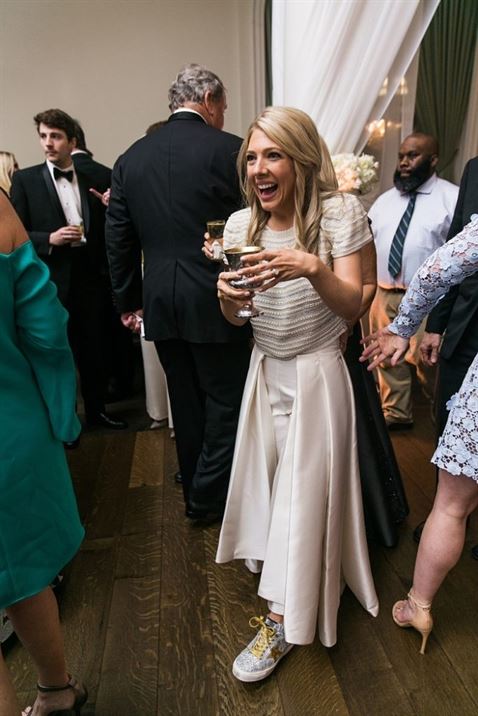 Lacey surprised everyone by changing into a custom reception ensemble designed by Katie Gilbert for Katherine Vier. The outfit featured a beaded top paired with sleek evening trousers underneath a detachable skirt- absolutely perfect for comfortably dancing the night away. Especially when paired with her glittery Italian Golden Goose sneakers!

There were 16 bridesmaids and 16 groomsmen. The bridesmaids were asked to wear a navy floor length gown of their own choosing which was accented by an orchid in their hair.

The men wore classic black tuxedos from Mr. Burch Formal Wear in Mountain Brook.
The ceremony was officiated by Jonathon Henderson, Farra's best friend, along with Lacey's sorority sister, Tori Hastings in the chapel at Canterbury United Methodist Church.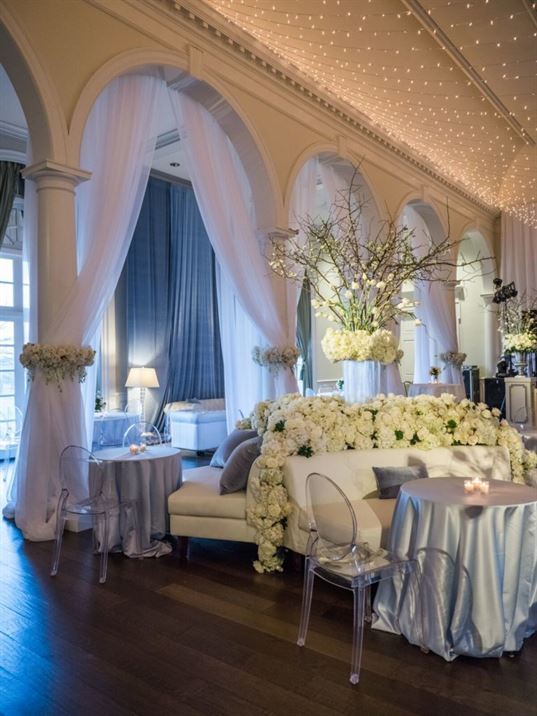 Lacey and Farra wanted their wedding guests to feel at home when they arrived at the reception in the East Room of the Country Club of Birmingham. They wanted a cozy design with booths and lounge areas where family and friends could relax and prop up their feet while celebrating into the night. Mariee Ami and Lagniappe Designs created a refined design utilizing soft white furniture along with acrylic ghost chairs and draping for a chic, designer living room feel. Lacey loved the massive floral garlands that draped the back of the booths claiming it was her favorite part of the wedding design.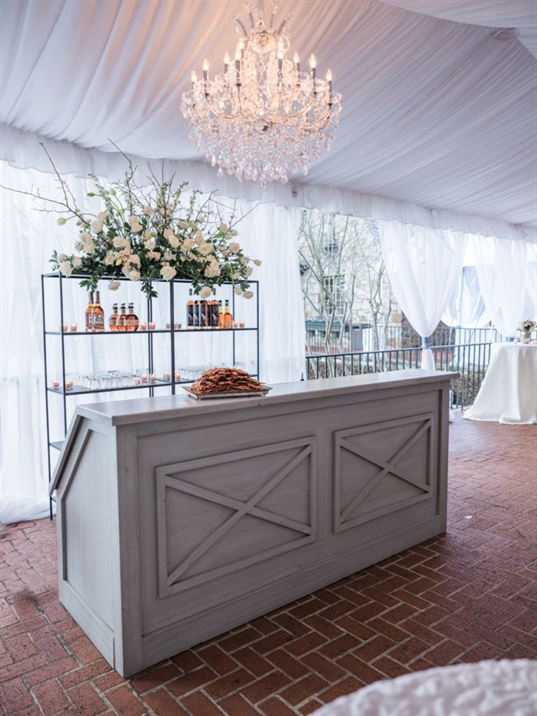 White, silver, and grey tones were used with all white flowers were used with bare wood branches to keep the theme sophisticated, yet warm. The ceiling was transformed with a canopy of thousands of white mini lights to create the feel of a starry night.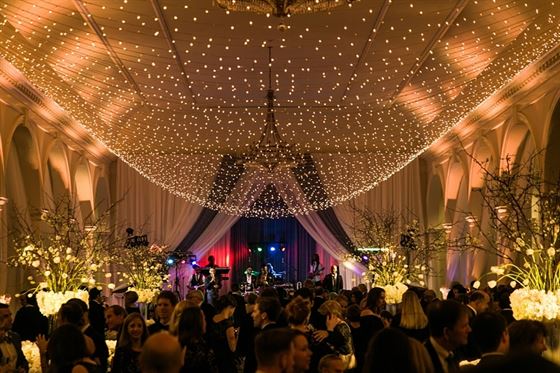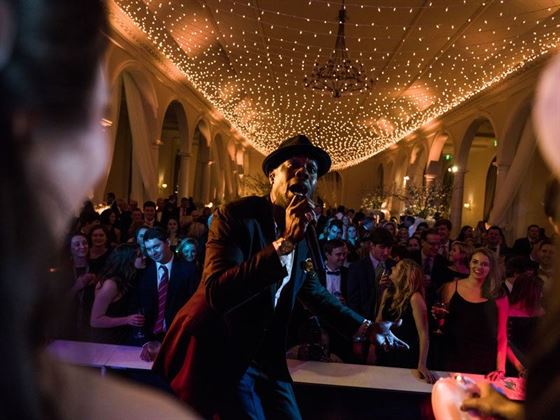 The menu prepared by chefs at the club included a DIY quesadilla bar, oysters, beef tenderloin and stuffed potatoes.
The five-tier vanilla and almond wedding cake with buttercream icing was created by Barb's Cakes who also designed the three-tier groom's chocolate cake with chocolate ganache.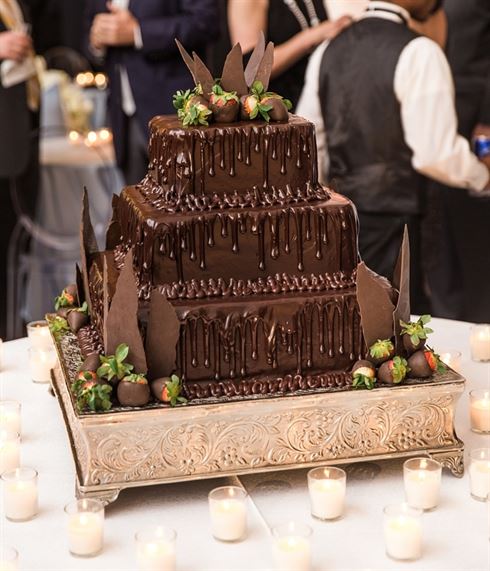 The couple's first dance was to Michael Buble's "Everything", but they also wowed guests with another dance later in the evening to Journey's "Don™t Stop Believin"- a favorite moment of Lacey's from that night. Guests also loved the couple's hula-hoop showdown!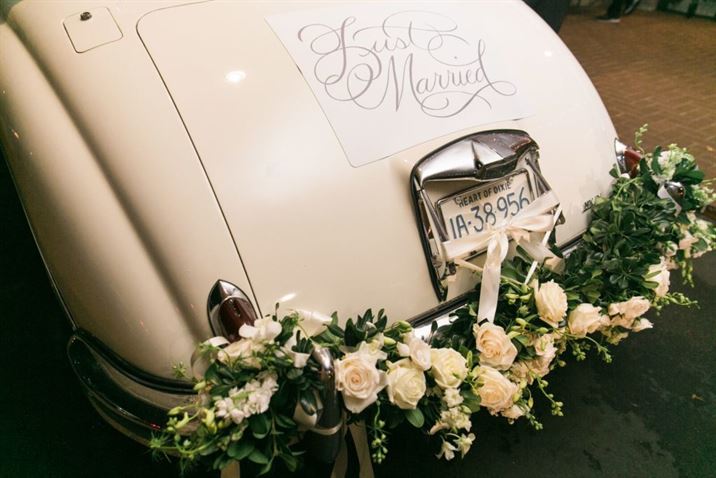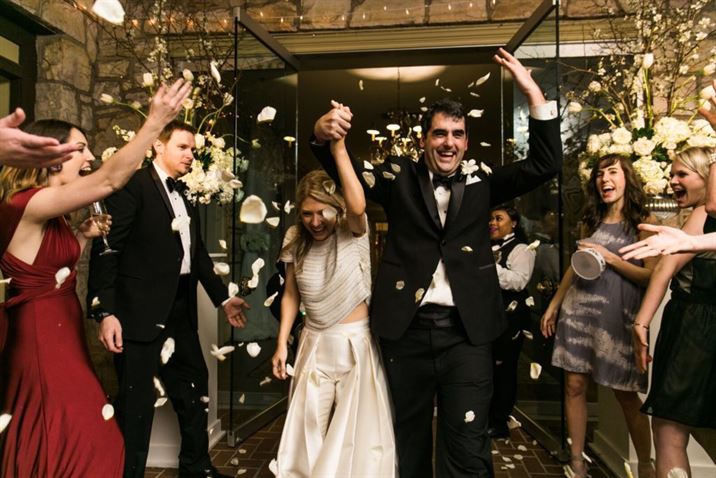 LACEY AND FARRA™S BROMBERG™S GIFT REGISTRY INCLUDES:
FORMAL CHINA: Herend Princess Victoria in Green
FORMAL STEMWARE: Waterford Lismore
CASUAL CHINA: Juliska French Panel and Berry & Thread
CASUAL GLASSWARE: Juliska Carine
STERLING FLATWARE: Gorham Fairfax
STAINLESS FLATWARE: Ricci Argentieri Ascot
Congratulations, Lacey and Farra! The Bromberg family and staff wish you a lifetime of happiness together.