Mom's Week Diaper Drive!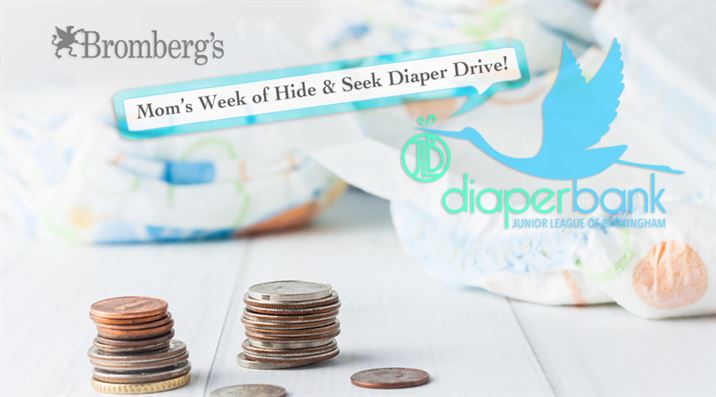 Mom's Week of Hide & Seek Gift Drop and Diaper Drive Benefiting the JLB Diaper Bank May 5 "" 13!
For many years we have enjoyed dropping little gifts around town the week before Mother's Day during "Mom's Week of Hide & Seek." This year, each time a gift is found and posted to social media with the hashtag #BrombergsLovesMoms and with Bromberg's tagged in the post we will donate $100 to the Junior League of Birmingham Diaper Bank.
During this time we will also host a diaper drive at both locations. When you donate diapers to our diaper drive May 5-13 you will receive 10% off* a giftware purchase just in time for Mother's Day. We hope you will join us in supporting this wonderful cause!
Did you know:
– Diapers are essential to a baby's healthy development but many babies don™t have the clean diapers they need
– 1 in 3 U.S. moms report suffering from diaper need.
– Government assistance programs like SNAP and WIC do not cover diapers.
– TANF is the only federal assistance program providing diapers, but the maximum benefit is only $215 and the average monthly cost of diapers in $80.
– 32% of children in Alabama under the age of 3 live in families earning less than 100% of FPL.
– Alabama's population includes more than 174,000 children under the age of 3.
– Most working parents rely on child care. Most child care facilities require parents to provide diapers for their child, and most will not accept cloth diapers. Without childcare, parents can™t attend work or school.
– The cost of infant care as a percentage of income is 30% for a single-parent household.
– The Junior League of Birmingham's Diaper Bank works directly with the Community Food Bank to make sure that diapers end up in the hands of those who need them most.
The Junior League of Birmingham, Alabama, Inc. is an organization of approximately 2,500 women committed to promoting voluntarism, developing the potential of women, and improving the community through the effective action and leadership of trained volunteers. The JLB Diaper Bank distributes approximately 100,000 diapers to women and children in need throughout the Birmingham area every month!