REAL WEDDING STORY: Molly Cashio Marries Alan Cummings
Molly Cashio Marries Alan Cummings

JANUARY 10, 2014    ASPEN, COLORADO
CEREMONY: HOTEL JEROME
RECEPTION:Â THE CARIBOU CLUB
 Photos: Robin Proctor Photography
"Love is not who you can see yourself with; love is who you can™t see yourself without." ""Anonymous
There are times when you meet someone and they sort of "˜stick™ with you. You occasionally wonder how they are, what they are doing, and if they ever married. For Alan Cummings, high school classmate Molly Cashio was like that"¦ a secret high school crush he thought about from time to time. Five years after graduation the two reconnected via social media. When Alan asked Molly on a date, she was perplexed"¦ having never imagined the two of them as a couple. Well, love had a different plan. Three years later, the couple had a fairytale wedding in Aspen.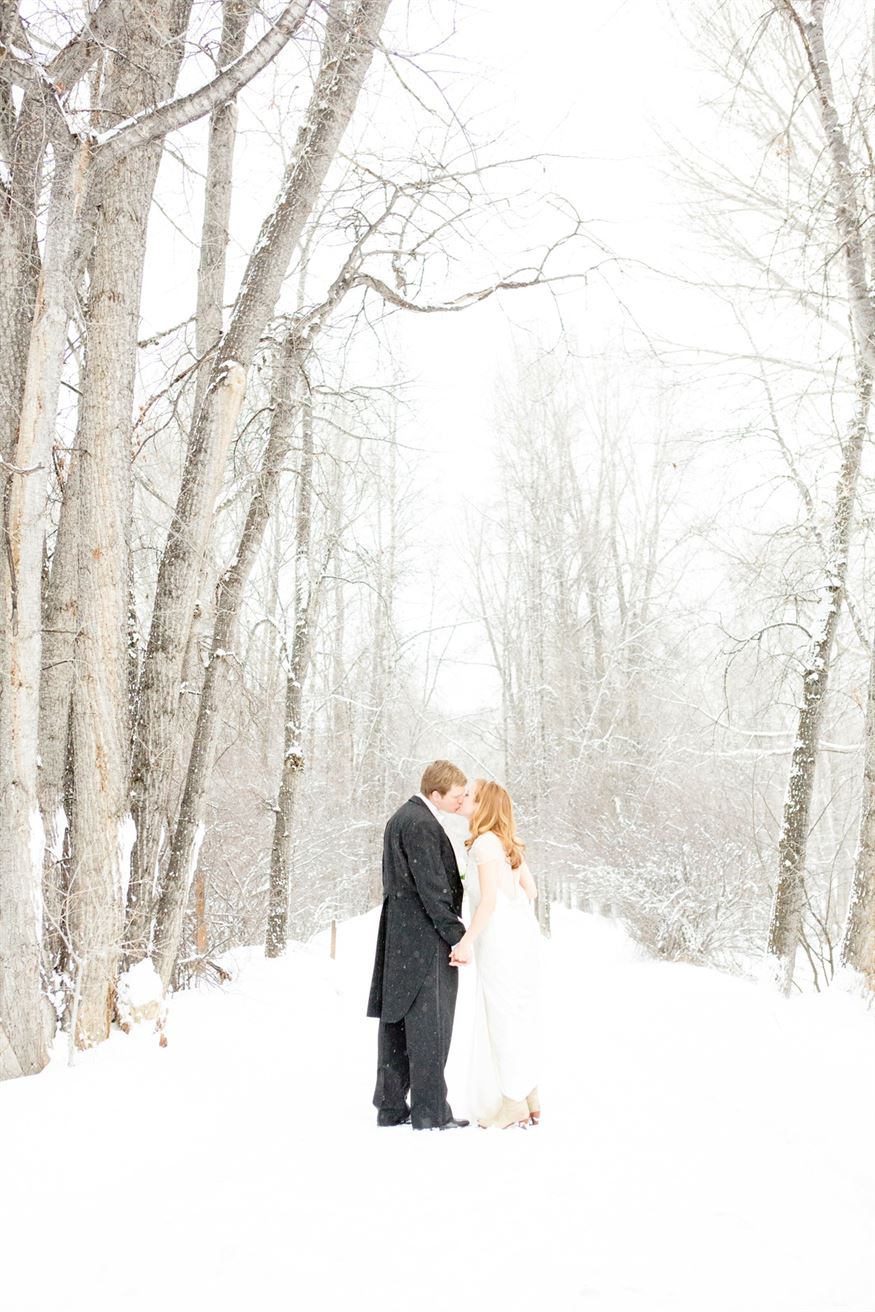 Scroll past photos to read wedding story.
Here's their wedding story:
 
THE BACK STORY
By the miracle of Facebook, reconnecting with people from your past is pretty easy but it can be a bit awkward when someone you barely knew from high school wants to talk or get together. When Alan Cummings messaged Molly Cashio on Facebook, she "found it a bit strange" since they weren™t exactly friends in high school. Molly had known Alan since the 7th grade but in all that time, he had never really spoken to her; they always hung out in completely different circles. She never had a clue that Alan secretly had a crust on her. Three months after Alan's message, he called Molly and asked her out on a date to hear Sarah McLachlan perform at the Alabama Theatre in Birmingham. Slightly confused by the request, Molly decided to go to the concert but was wondered why Alan invited her.
When Alan picked up Molly at her apartment for the date, he was intrigued by her aquarium and that became the focal point of their conversation at first. Since Molly still felt a bit awkward with Alan, she was happy their date was a concert because there wasn™t the need to talk much. The second date was really an ambush date. Alan asked Molly to meet him at Ed's Pet World to help him with an aquarium but really, he just wanted an excuse to see her. Things warmed up quickly between the two and they became fast friends, spending much of their time together. They both knew very early in their relationship that they would get married one day.
 
THE PROPOSAL
The couple dated for a little more than two years and began to talk more seriously about marriage. They even selected an engagement ring together but Molly had no idea when Alan might propose. One sunny spring day, May 24, 2013 to be exact, the couple took a drive down to Molly's family's farm in Shelby County to pick up some remote controlled planes (Alan is an avid flyer of model airplanes) for a trip to the lake on Memorial Day weekend. Having decided to grill out while they were there, Alan suggested they walk down to the lake to feed the fish while the grill was heating up. The couple walked out onto the dock together and when Molly turned to look at Alan, he was on one knee, ring in hand. She got so excited she just about knocked the ring out of his hand as she said "yes" to his sweet proposal. They excitedly called all of their family and friends to share the news and wanted the wedding to happen just as soon as they could make the plans.
WEDDING PLANS
Alan and Molly wanted something a bit more intimate and decided on destination wedding for the immediate family. Since both Alan and Molly had grown up taking ski trips with their respective families to Colorado, they often romanticized about getting both families together for a ski trip. After a trip to Aspen, they decided to make the whole wedding a ski trip. Aspen was the perfect location for their wedding because it was the sentimental favorite and because Molly's grandmothers would have an easy time getting around while there.
They opted for Aspen's iconic Hotel Jerome for both the ceremony and The Caribou Club for the reception. Built in the early 1800's, the completely renovated Hotel Jerome is located in the heart of Aspen, surrounded by magnificent vistas and mountain views from every room. Molly called on Jane Floyd and Associates in Aspen to help her with the wedding plans. Molly knew she wanted a very simple, organic floral design that allowed the magnificent surroundings to take center stage. Aspen branches, local greenery and white flowers were incorporated into a rustic yet romantic design, keeping with the overall "something old, something new" atmosphere in the hotel's ballroom.
Molly found her wedding gown at Homewood's Carriage House Weddings boutique. Designed by British designer Jenny Packham, the gown was the perfect blending of old and new featuring a vintage silhouette accented with luxurious silver and crystal bead work. Molly loved her dress and found it very easy to wear all day but also to transport on the plane, she simply had to fold the garment bag over her arm! Molly kept her hair soft with very loose waves secured by a thin headband. Her only accessories were a white fur caplet that she wore for the outdoor photography. Molly removed the fur for her "first look" moment with Alan, her favorite moment of the day. With snow covered evergreens and the majestic mountains of Aspen in the background, Molly walked down a romantic garden path through the snow to see Alan for the first time on their wedding day, a truly magical moment for them both.
Molly did not include some of the traditional borrowed and blue traditions; her favorite detail was having both of her grandmothers by her side. There were only twelve people there for the wedding, so the couple was able to spend quality time with each one in the days leading up to the wedding. At the wedding dinner following the service, everyone sat together at a long table to toast and celebrate over a three course dinner reception menu at the Caribou Club, one of Aspen's most notable landmark venues. One of the highlights was the luscious wedding cake created by the pastry chef at the Caribou Club. The creamy buttercream hid a delicious blue lavender and honey cake, a "something blue" surprise.
Molly's advice to brides planning a destination includes using social media sites like Pinterest to find images to show vendors. Molly says "show vendors plenty of images of what you do want for your wedding, but including images of what you do not like is almost more important. That way you are not disappointed if there is some misunderstanding in their interpretation of your request."
After their ski wedding and honeymoon trip to Colorado and a wonderful celebration at Vestavia Country Club with family and friends back home, Alan and Molly are residing in Birmingham, enjoying marriage and many of their wedding gifts from Bromberg's.
 
Casual China: Vietri Belleza in White
Formal Crystal: Simon Pearce Cavendish
Congratulations Molly and Alan! Bromberg's wishes you a lifetime of love and happiness together.