FEATURED WEDDING: ROSSI MORRIS AND HARDIE CARLSON
ROSSI MORRIS AND HARDIE CARLSON
CEREMONY & RECEPTION: AMERICAN VILLAGE
MONTEVALLO, ALABAMA
September 12, 2015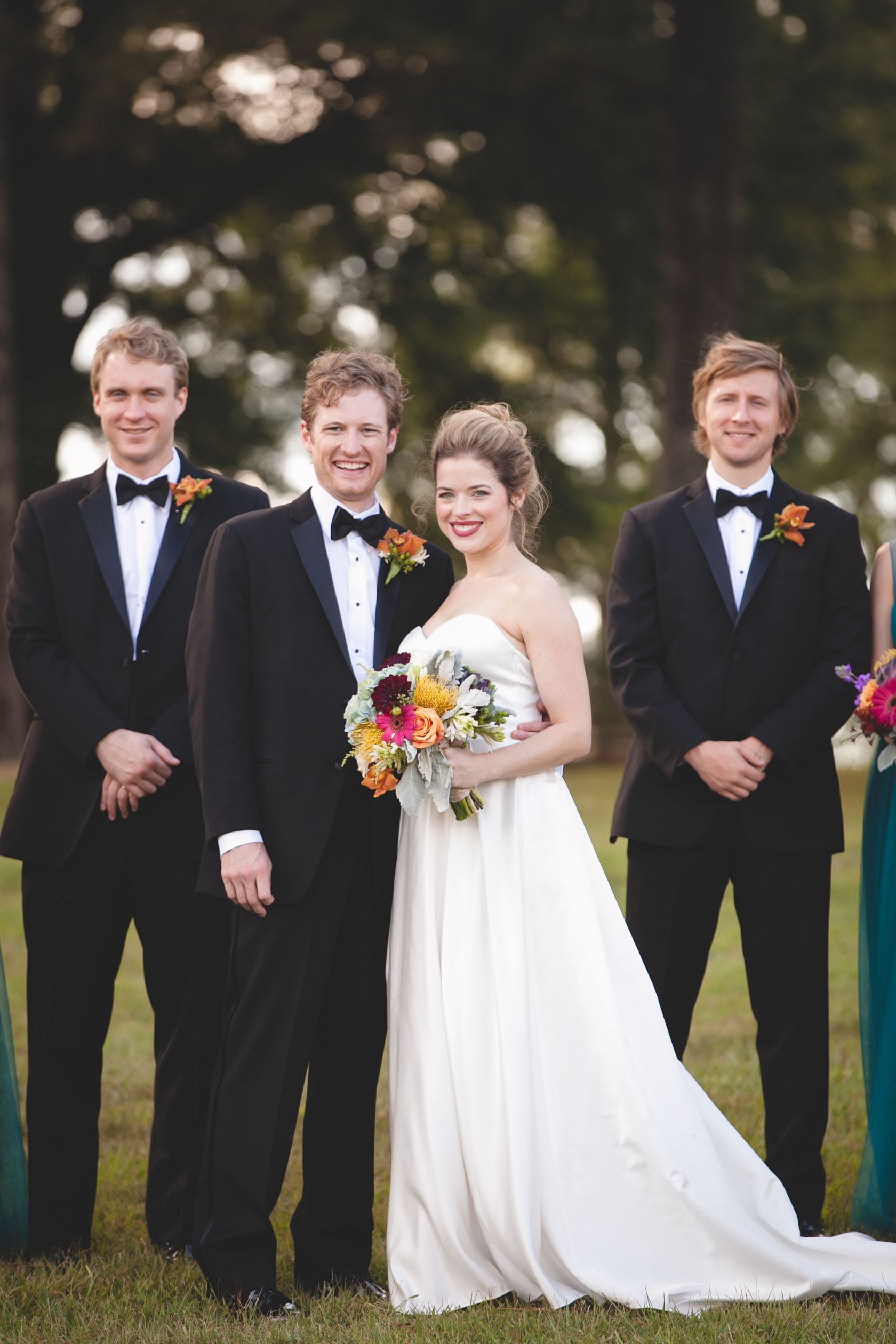 Photos: ROB AND WYNTER PHOTOGRAPHY
However far away,
I will always love you.
However long I stay,
I will always love you.
Whatever words I say,
I will always love you.
I will always love you.
-Lyrics to Love Song by Adele
(Rossi and Hardie's first dance song)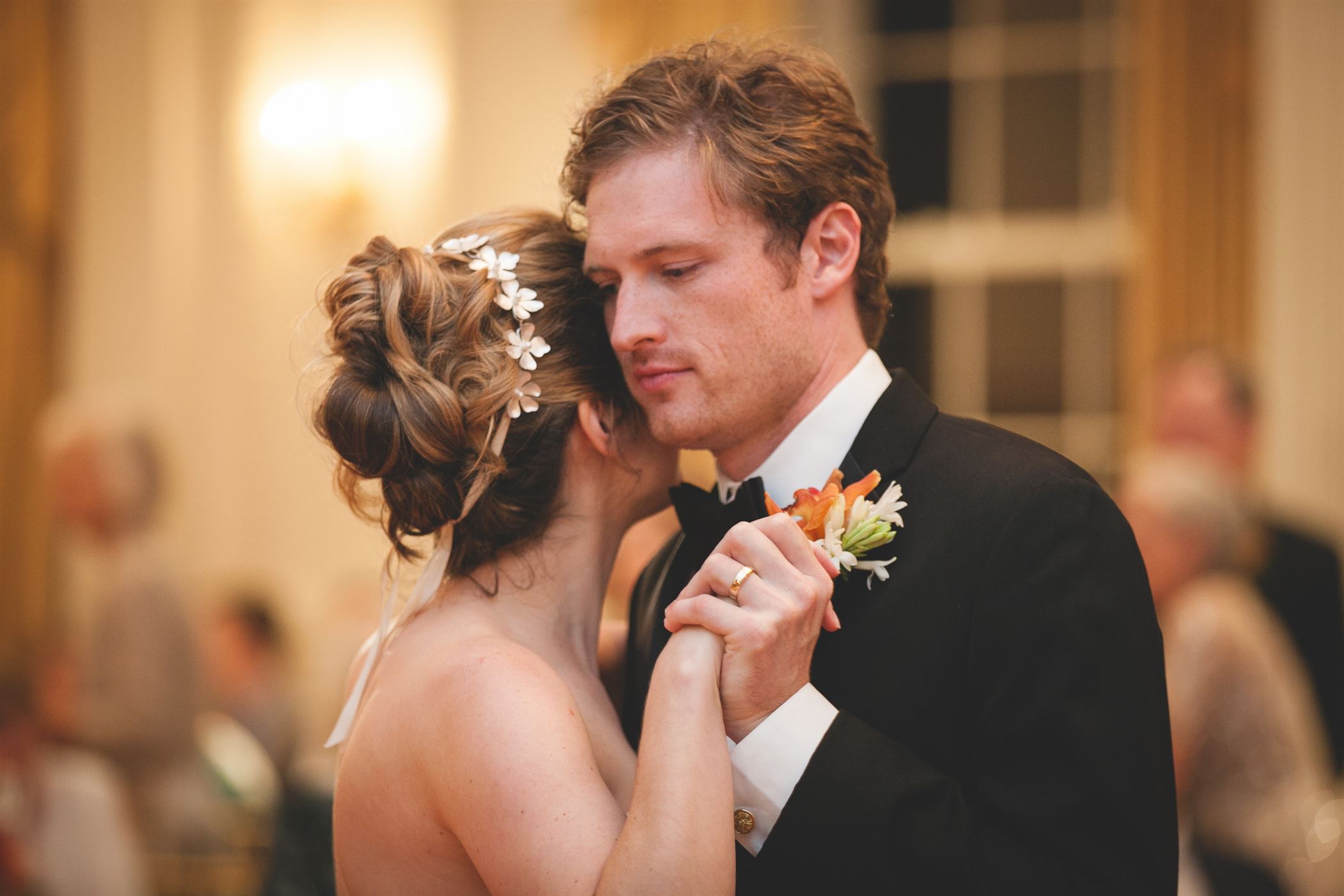 Rossi Morris and Hardie Carlson worked for the same company but had never met. They were in the process of being introduced by co-workers when fate helped things along…. all the way to the altar! Read how they finally met, fell in love, got engaged, and celebrated their wedding with family and friends this past September.
ROSSI & HARDIE… THEIR STORY
<span">In June of 2014, Rossi Morris was at work when she spotted a handsome co-worker she had never seen before. It happened to be Hardie Carlson. She mentioned the handsome stranger to another co-worker who suggested an introduction. The next day, before that introduction could happen, fate intervened in the line at the company cafeteria. With offices on opposite sides of the campus, it was unlikely that Hardie and Rossi would cross paths. Additionally, Rossi very rarely went to the cafeteria. On the morning they met, Rossi decided to go to the cafeteria to get coffee at the exact same time Hardie was there. Hardie introduced himself and struck up a conversation, asking Rossi if she'd like to go to lunch one day. A week later, that lunch date happened. Two weeks later, the pair made plans to go to Bettola for their first "real" date. Rossi says it made such an impact on her that she remembers her outfit, what she ordered, where they sat, and all the things they discussed as they got to know one another. After it was over, both Rossi and Hardie left the date realizing they had met someone with which they shared common beliefs, ideals, and interests. And both of them left knowing they'd started something rather special. They had been dating about a month when Rossi was to be in her sister's wedding. Before she left for the wedding, Hardie took Rossi out to lunch. He surprised her with orchids saying with all the flowers at the wedding, he wanted Rossi to have her own.
The couple continued to date, an old-fashioned, romantic courtship that began slowly and evolved as they spent more time together. They met each other's families and within a few months, everyone knew the relationship was serious and headed toward marriage. Right after Christmas, the couple went down to the beach for a few days and the conversation about marriage became more focused. Rossi realized a proposal was imminent when Hardie mentioned that he had been given his grandmother's ring and he would want to use it to propose.
THE PROPOSAL…
Hardie and his mother suggested Rossi design her own ring using the stone from his grandmother's ring. Rossi knew what she wanted so they took the ring to Bromberg's master jewelry designer, Philip Flenniken and after several discussions, a design was determined featuring intricate details in gold. Rossi had not seen the finished ring and didn't know it was ready. Hardie picked the ring up at Bromberg's and began a three day proposal that began the week after Valentine's Day 2015. On Thursday, Hardie sent flowers to Rossi. The card featured nothing but her full name and his Carlton family seal. The next day, Hardie sent another beautiful flower arrangement with a card that simply read… "Will You" and nothing more. On Saturday (and after a manicure, just in case) Rossi went to Hardie's house where she found a white bow on the door, music playing, family photos and a pathway of flower petals leading to a chair. Rossi sat in the chair and Hardie took out a sheet of paper where he'd written down his thoughts about Rossi and read aloud from it. Hardie then asked Rossi to be his wife with the ring they had designed together. She was so thrilled with how it turned out, seeing it for the first time. Afterwards, they went to Hardie's parents' home where her parents were also waiting for them. They had dinner together and celebrated with their favorite cake from Chez Fonfon. It was all very intimate. The conversation naturally turned to wedding plans. It was determined that Rossi and Hardie did not want an extremely long engagement and since both loved the fall, they decided to work around college football and selected a September date for the wedding.
WEDDING PLANS…
Since they expected a lot of out-of-town guests, the couple wanted to have the wedding and reception at the same place to make it easy for everyone. They also wanted a chapel for their ceremony so American Village in Montevallo was the perfect location.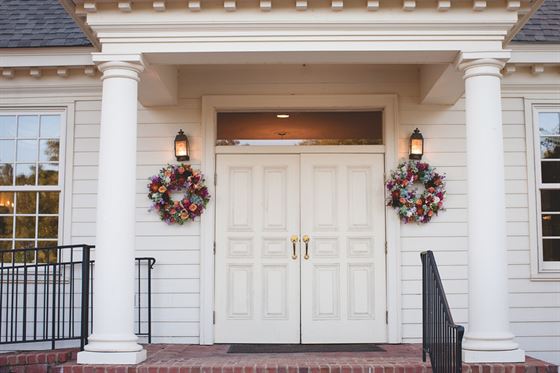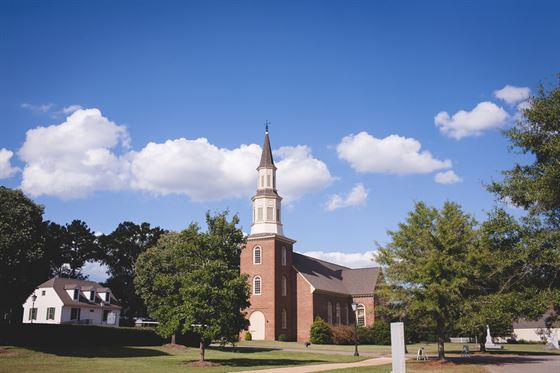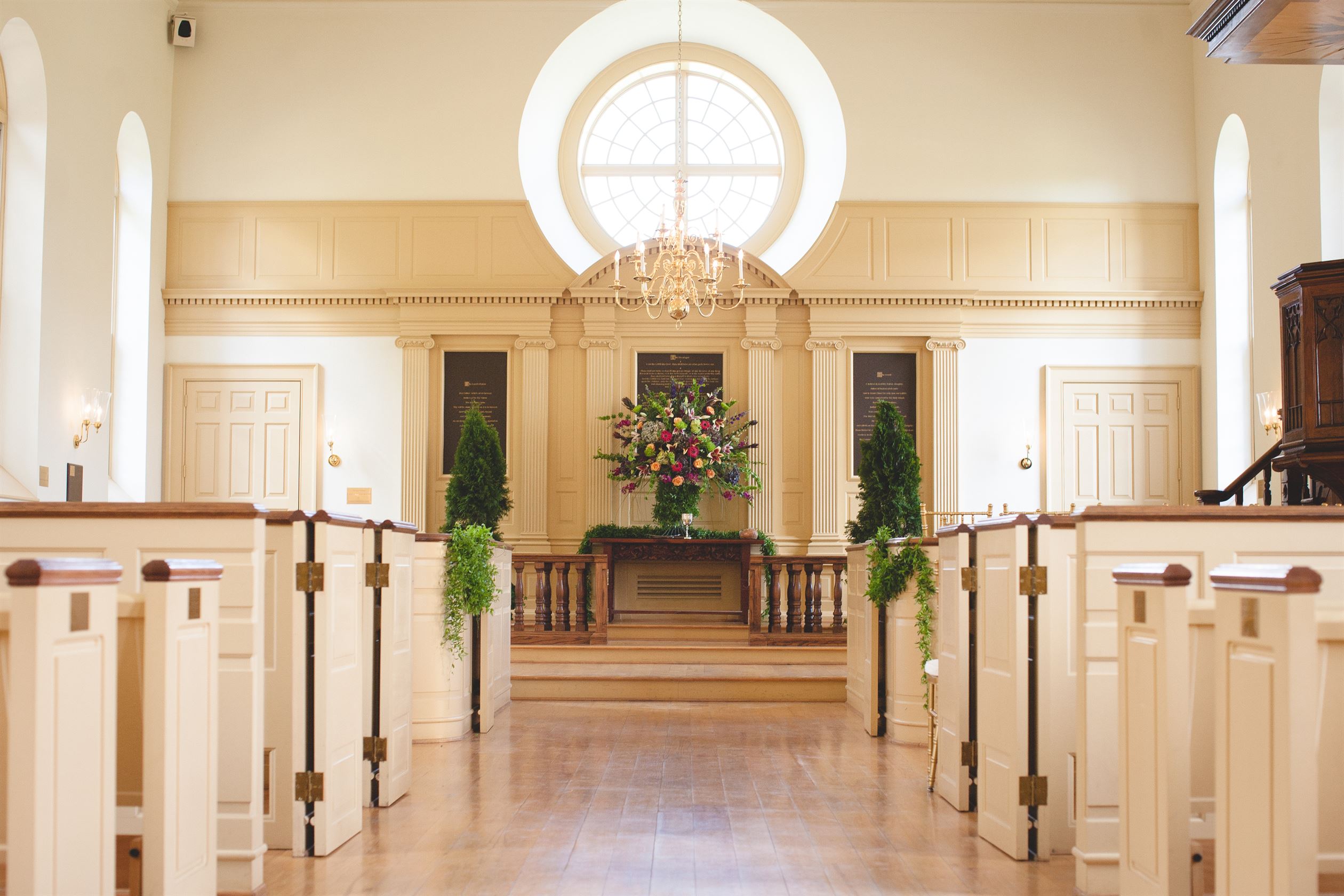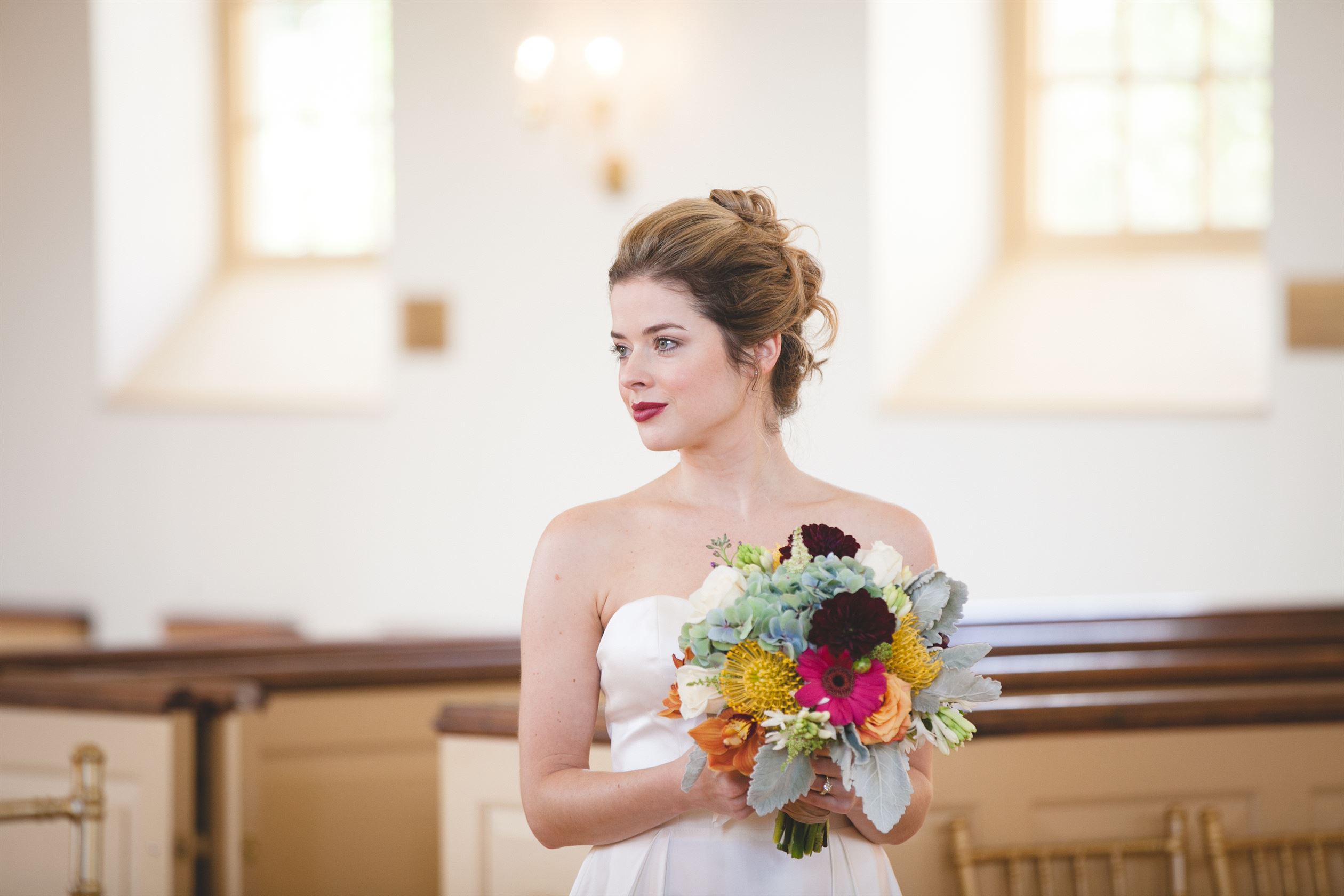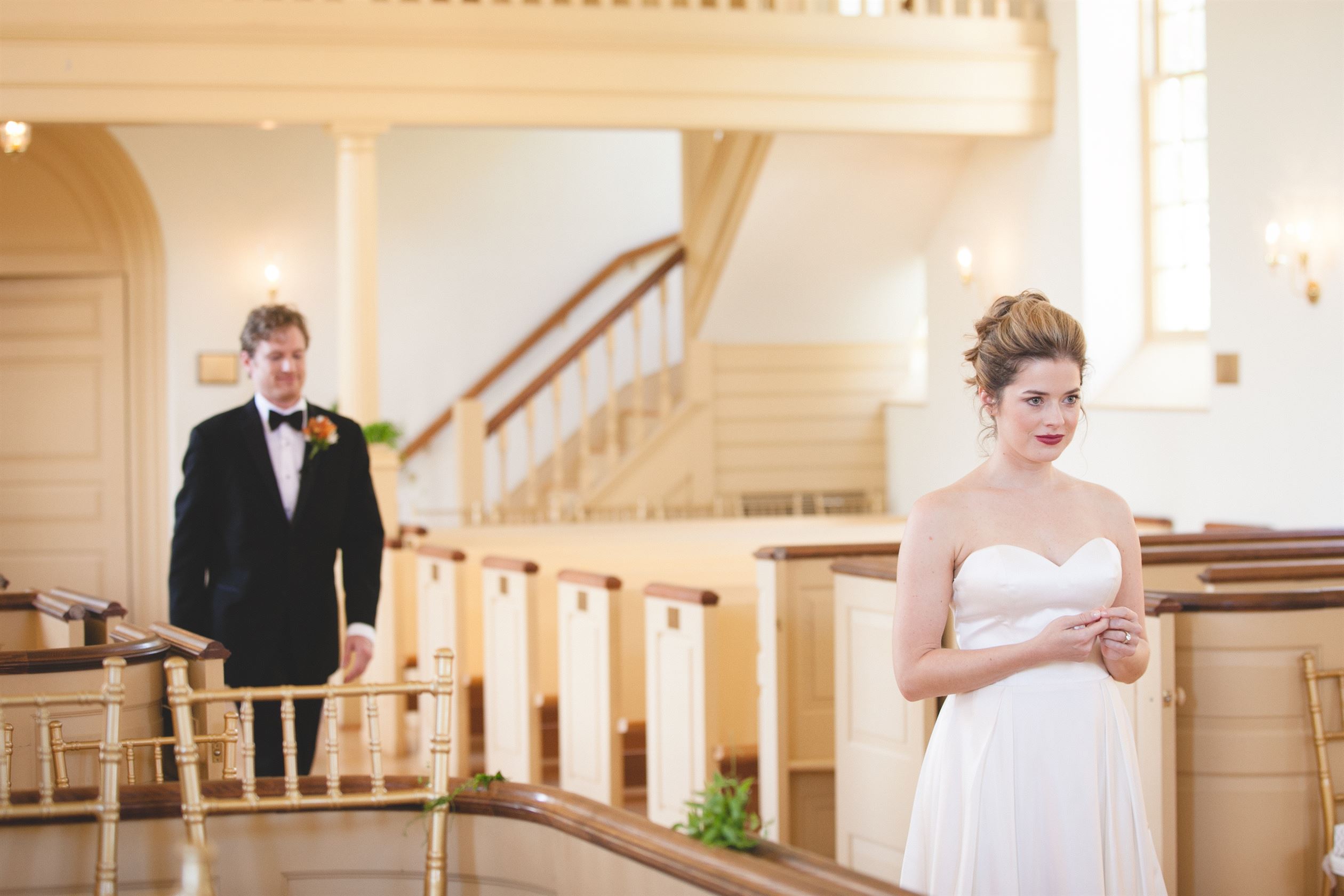 Rossi found her Jane White gown in Huntsville at White Dresses salon. This was the same salon where her sister had purchased her gown and oddly enough, Hardie modeled for the shop in a photo fashion shoot years earlier! Her cathedral length veil had a lace edging to accent the simplicity of the gown.
The wedding flowers were designed by Wayne Adams. Rossi's bouquet featured the handkerchief her new mother-in-law had monogrammed for her along with a vintage diamond brooch which had belonged to Hardie's grandmother. The bridesmaids wore teal colored floor length gowns and carried flowers in bright fall colors. Hardie and the men all wore traditional tuxedos.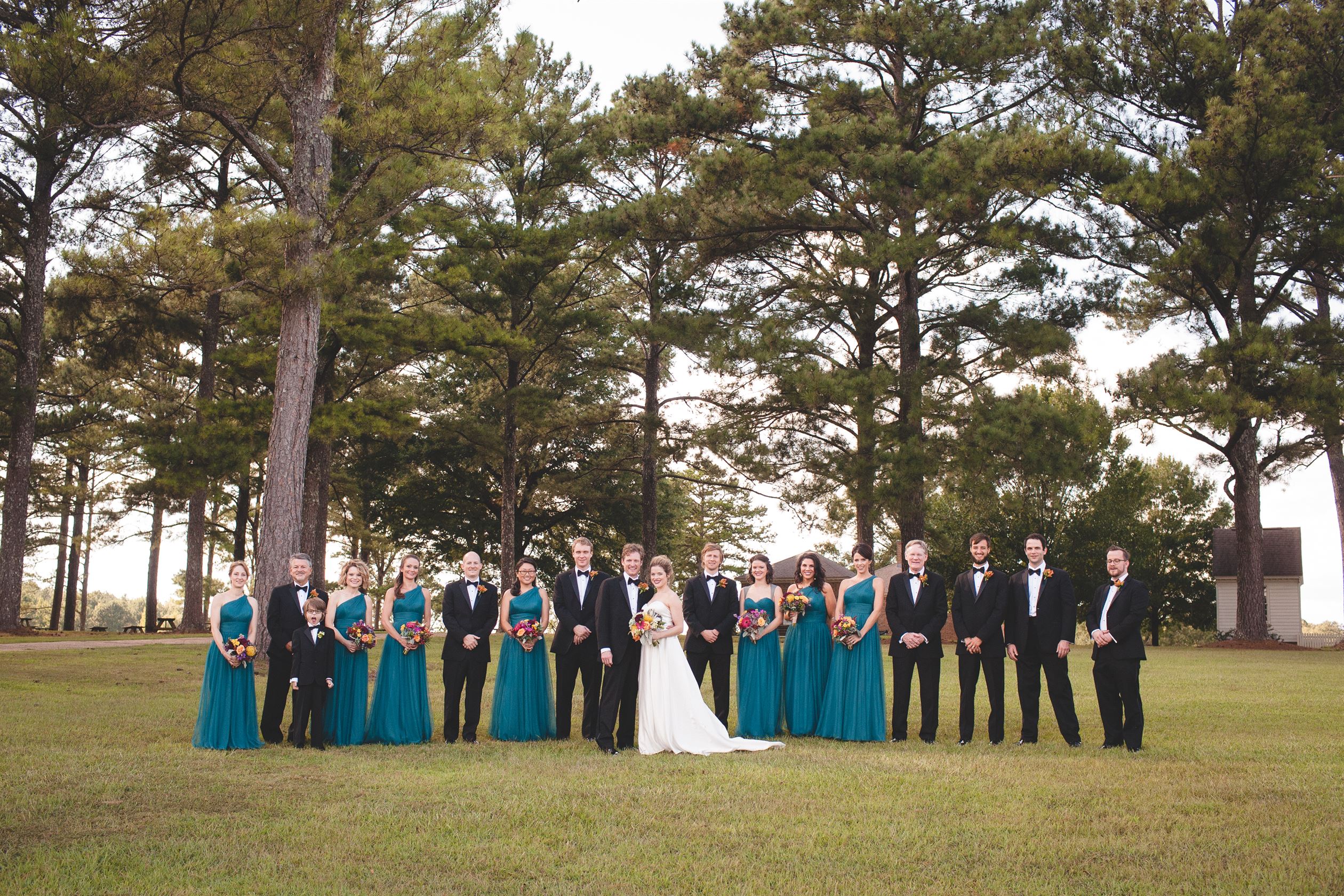 The catering, which received rave reviews from guests, was by Jerome Jones. Pam Franklin, Rossi's cousin, designed the four-tier buttercream wedding cake and the chocolate groom's cake.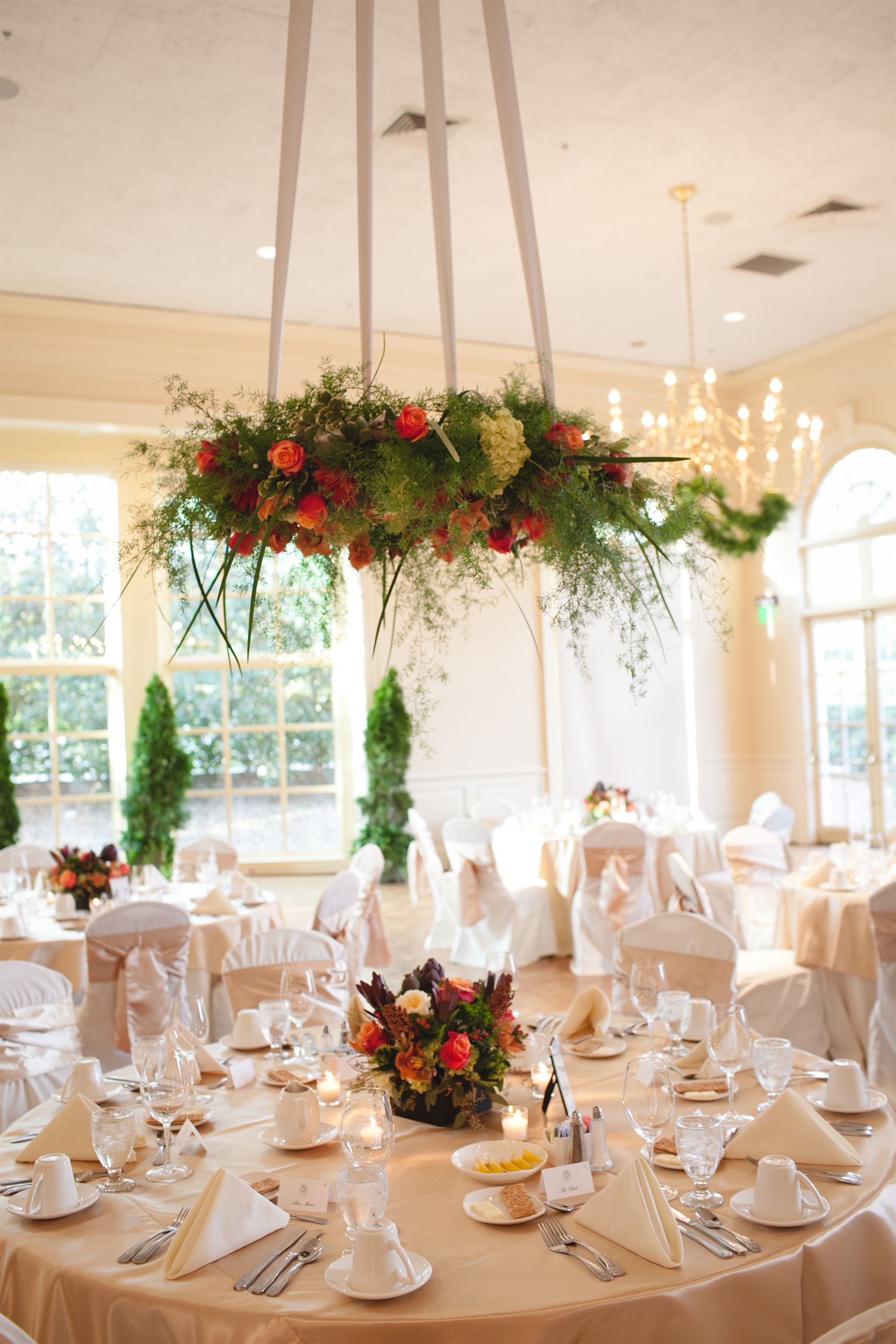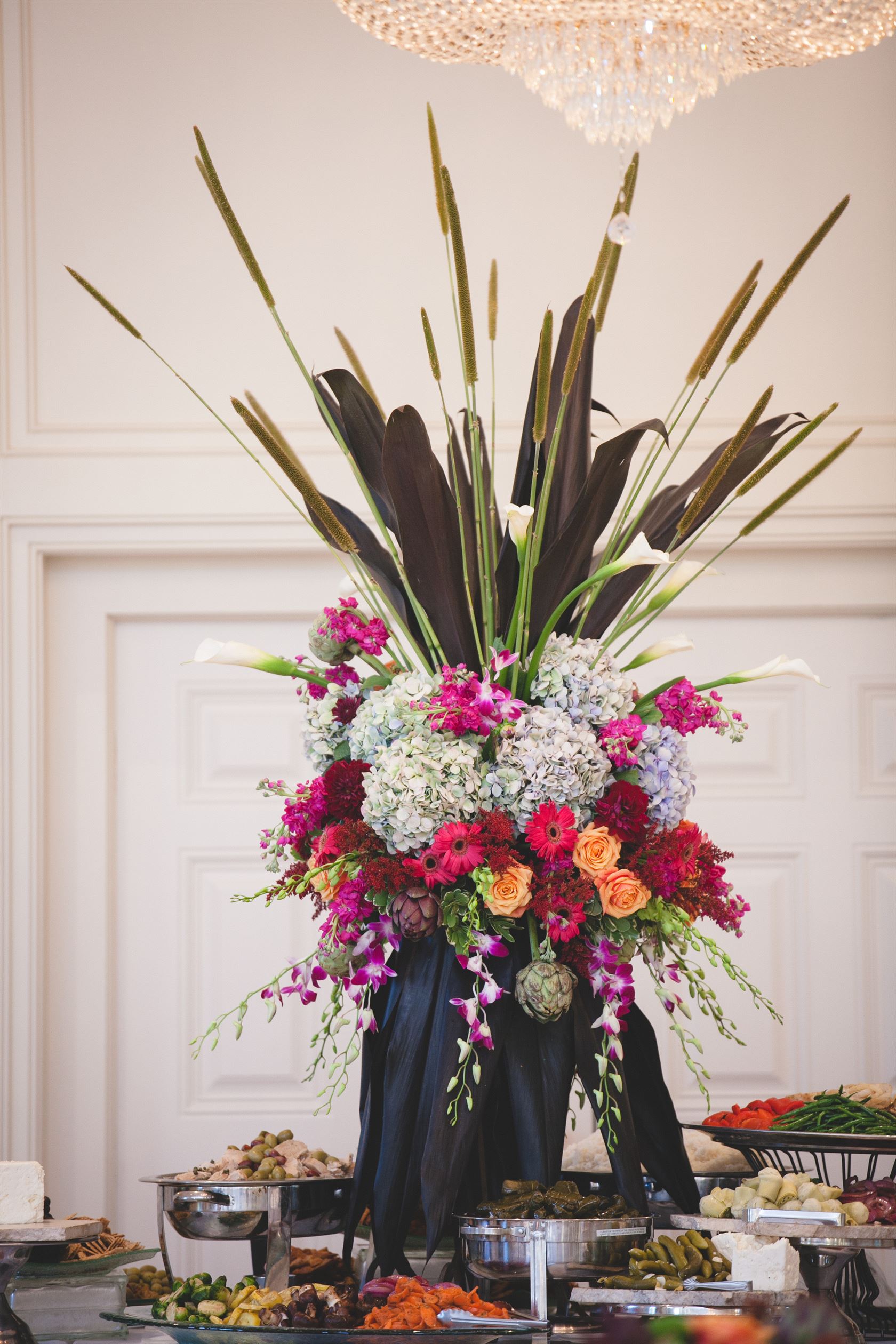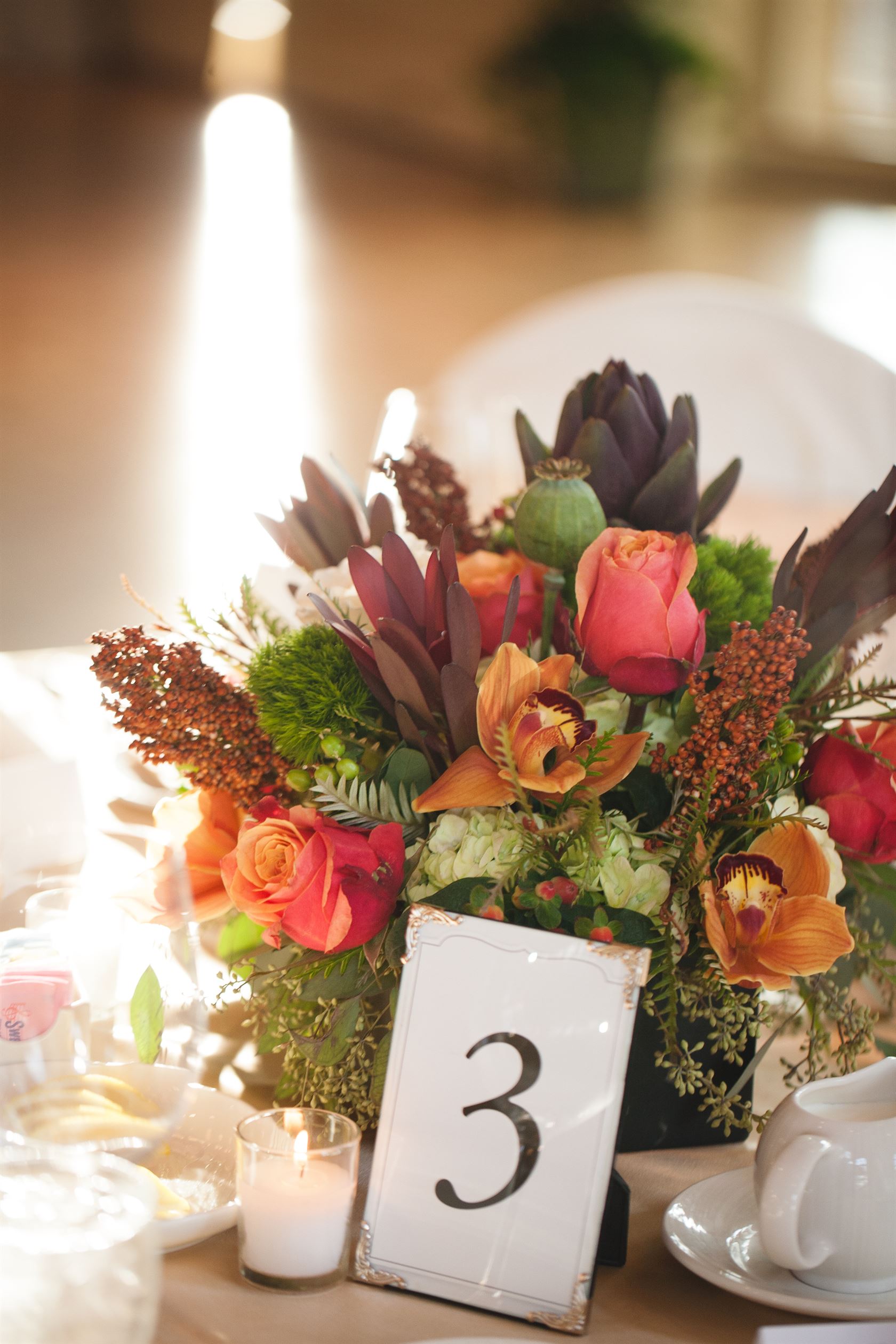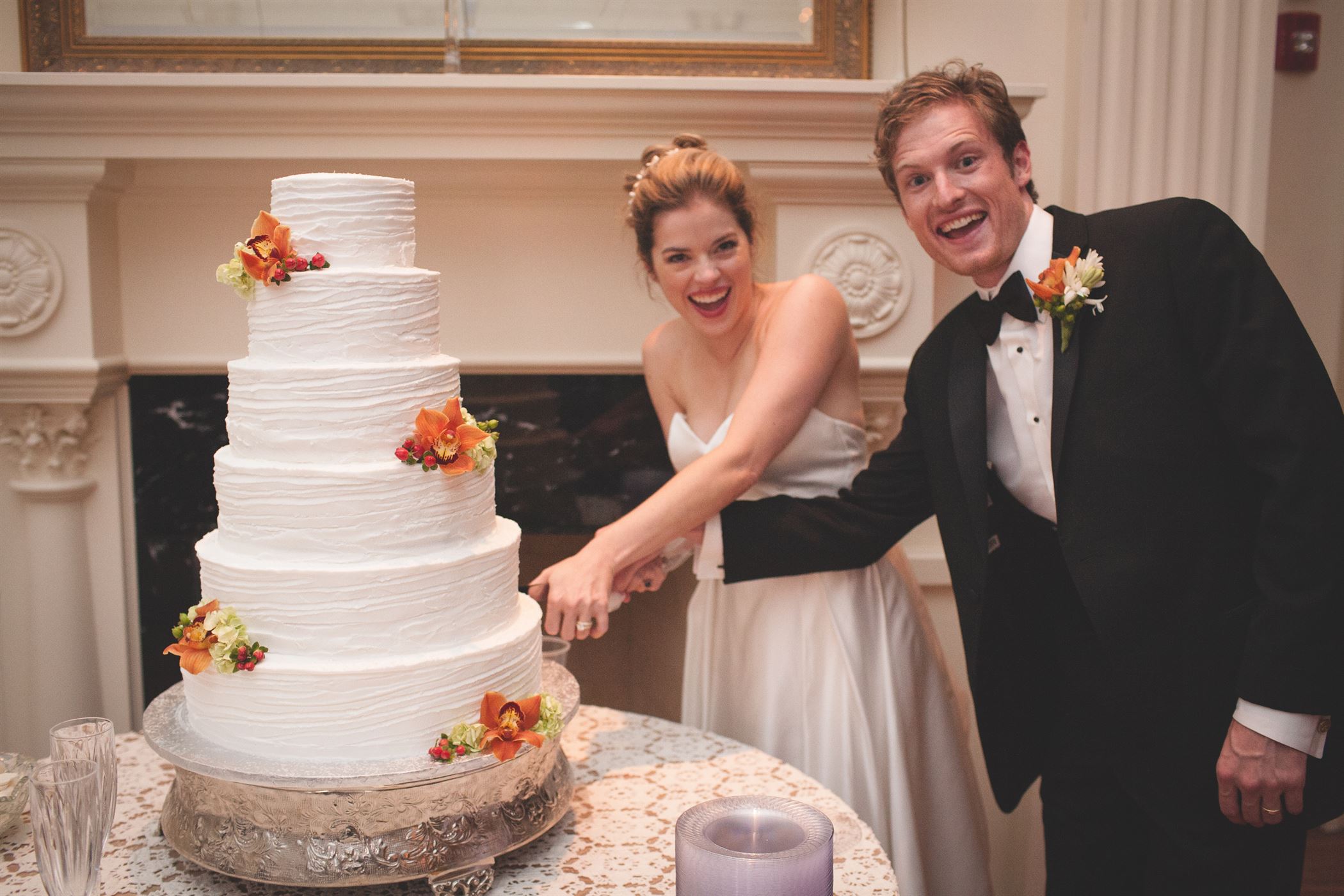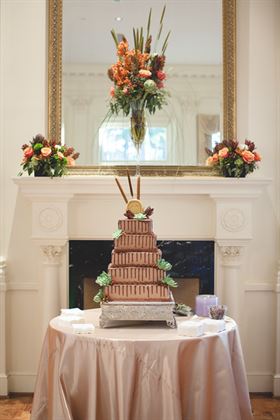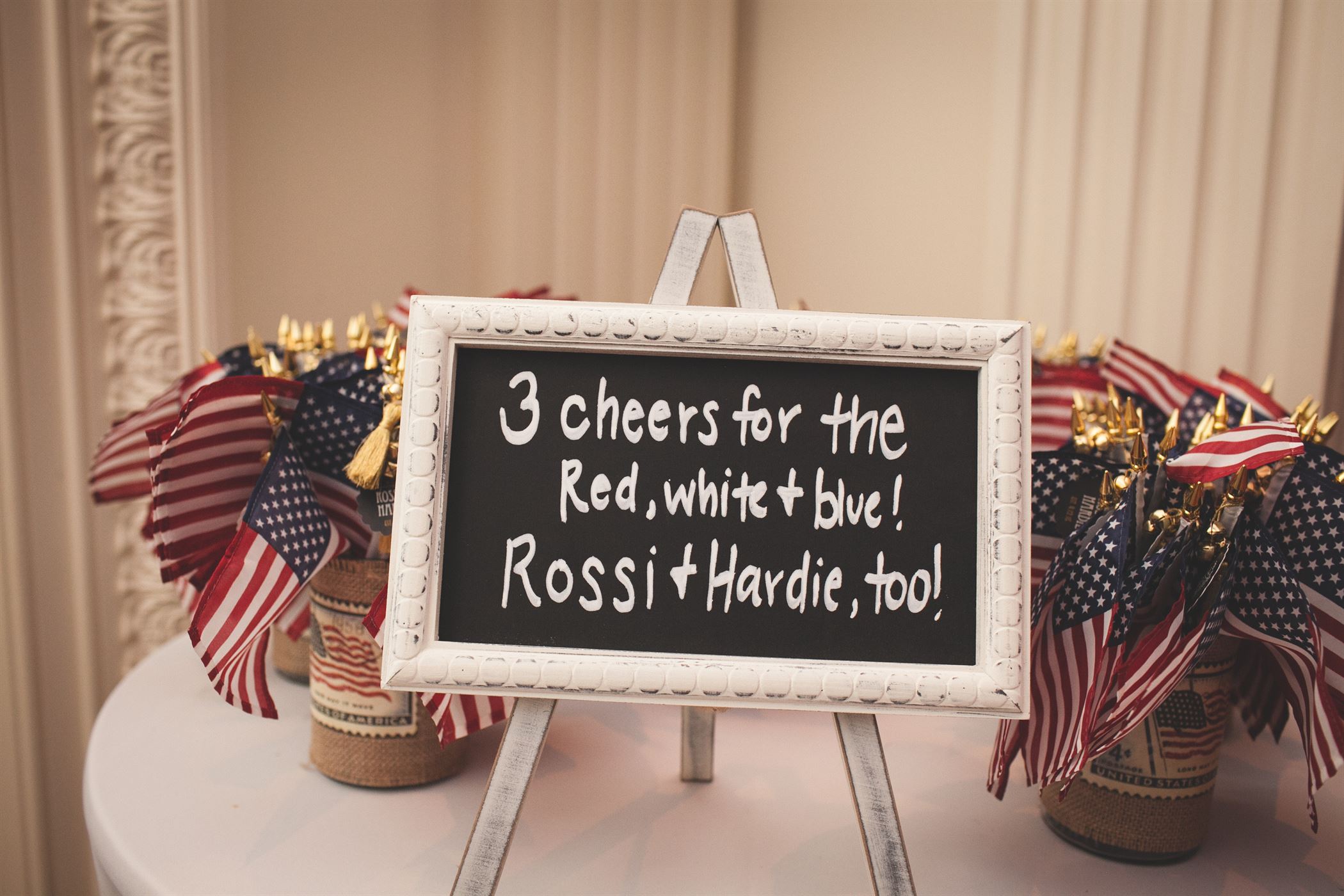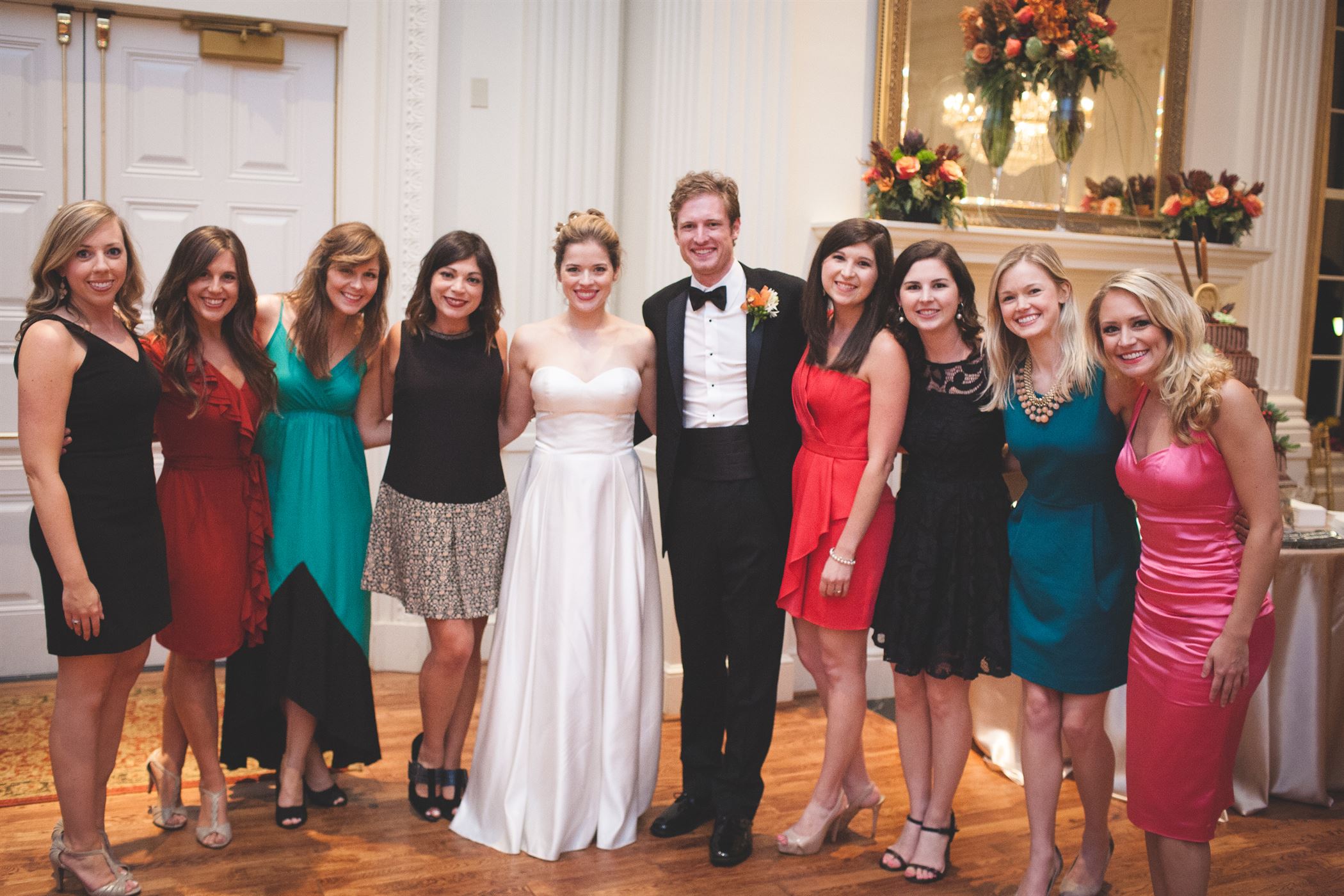 Since the wedding was at American Village, an American flag send-off was the appropriate farewell for the couple as they left for their honeymoon in San Francisco, Napa, and other destinations around Northern California.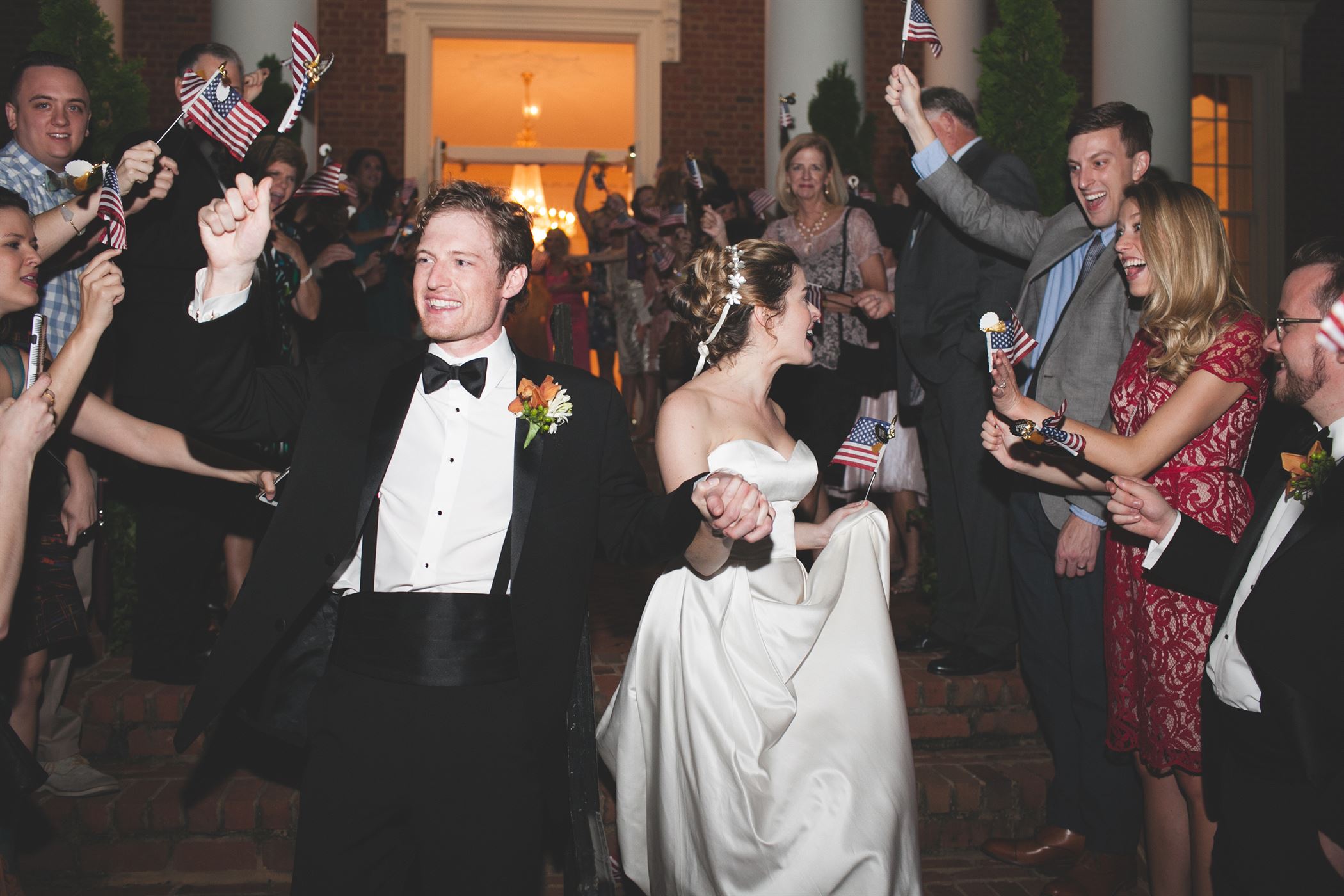 Rossi's Something Old, New, Borrowed and Blue traditions:
OLD: Hardie's grandmother's diamond brooch carried in her bouquet
NEW: Her wedding gown and a monogrammed handkerchief given to her by Hardie's mother
BORROWED and BLUE: Her sister Mollie's blue sapphire ring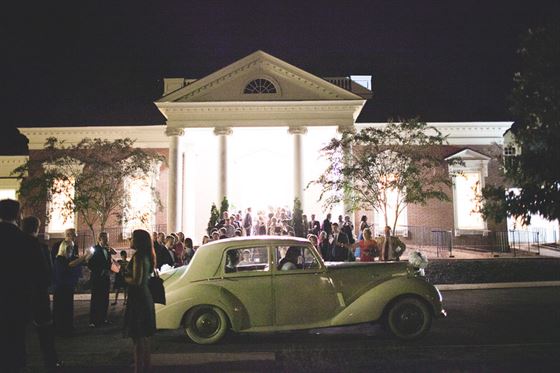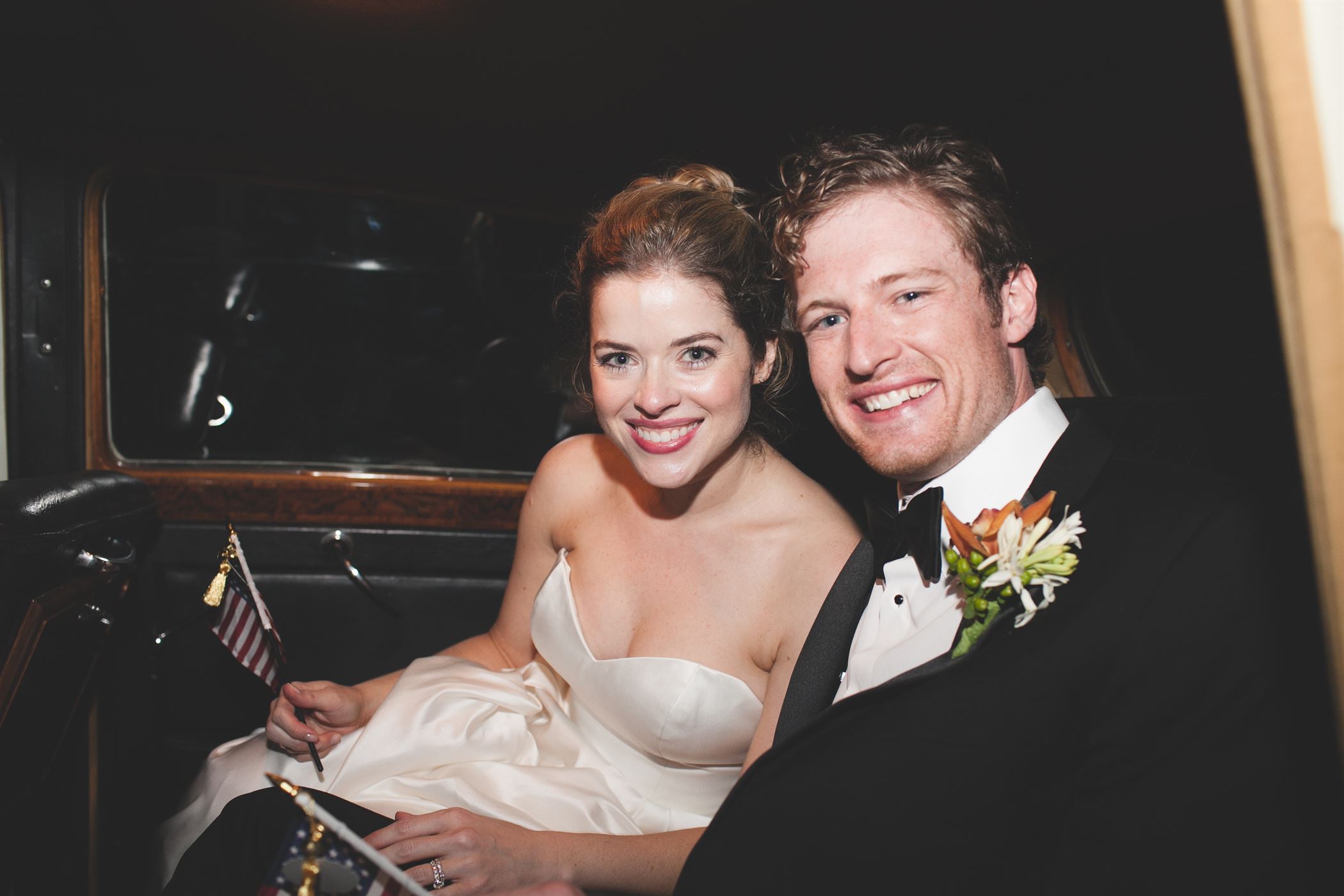 Rossi and Hardie's Bromberg's Gift Registry includes:
Fine China: Pickard Necklace Gold and Royal Limoges Oasis in White
Casual China: Fortunata Casa Mia, Vietri Incanto
Formal Crystal: Waterford Lismore
Serveware and Trays: Beatriz Ball Pearl
Congratulations, Rossi and Hardie! Our Bromberg's staff and family wishes you a lifetime of love and happiness together. Thank you for sharing your wedding with us!