FEATURED WEDDING: CAMERON PERRY and CLAUDE ESTES
CAMERON PERRY MARRIES CLAUDE ESTES
CEREMONY: CATHEDRAL CHURCH OF THE ADVENT
RECEPTION: COUNTRY CLUB OF BIRMINGHAM
BIRMINGHAM, ALABAMA
May 2, 2015
Photos:: A Bryan Photography
"Accept the things to which fate binds you, and love the people with whom fate brings you together, but do so with all your heart." "" Marcus Aurelius
They grew up on the same street. They hung out at the same places. Their families were friends and belonged to the same club. They knew the same people yet it would take a new job and a move to Manhattan before fate would bring Mountain Brook neighbors Cameron Perry and Claude Estes together. Claude says he knew "the new girl" at work would be his wife before they were even introduced.
CAMERON AND CLAUDE…
After moving to New York for a new job, Cameron Perry was asked her if she knew co-worker Claude Estes since both were from Birmingham. Cameron didn™t know Claude but was shocked to learn he had gone to her church and what's more, they had grown up on the same street- he was a neighbor! The pair met in July 2013 and by the fall, they were hanging out with other people from Alabama to watch football games. In October, the couple had their first date; Claude invited her for sushi at one of his favorite places. Cameron liked the fact Claude was from home and immediately felt a connection. Little did she know Claude had already told his friends at work he thought he would marry her one day. The couple began to spend as much time together as possible. By Thanksgiving, Cameron knew they had a future together, especially when Claude drove all the way back to Birmingham from his family's lake house at Lake Martin to pick her up from the airport"¦ only to drive her back to the lake where she met his whole family. The couple spent the holidays celebrating with both families and shortly afterwards, began to talk about their future together and marriage. Although they determined they would marry one day, Claude told Cameron they wouldn™t get engaged until Christmas that year.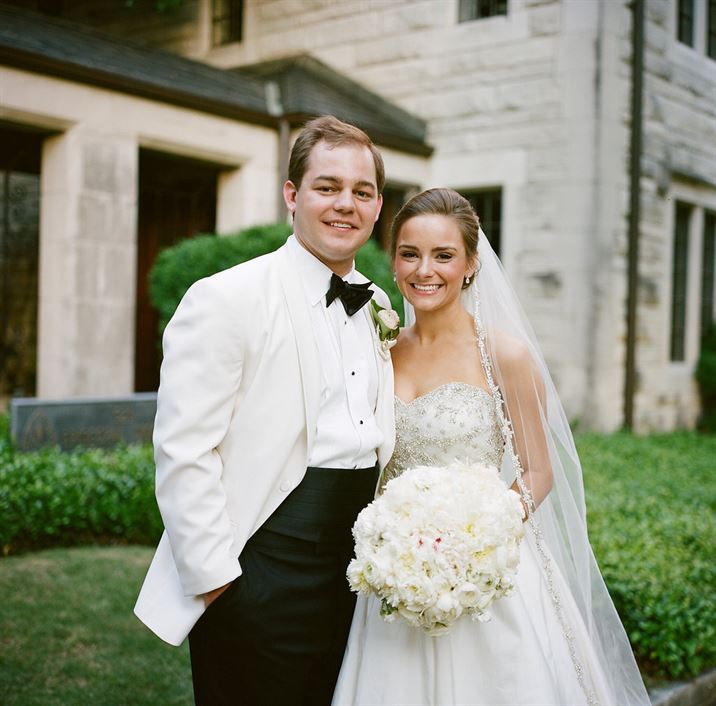 Read their full wedding story below the images…
THE PROPOSAL…
In August, Cameron went on vacation with Claude and his family to Costa Rica. Several of her friends suggested Claude just might pop the question during the trip. When they arrived, Cameron mentioned the comments to Claude and he quickly changed the subject, asking if she wanted to get some lunch. On the way to lunch, a sudden downpour forced the couple inside a little bar. As they sipped cocktails, Claude asked Cameron if she was disappointed they weren™t going to get engaged that week. Cameron said she was a bit disappointed but after thinking about it, she felt it was better to wait because she really wanted her family to be there to celebrate with them. Later, on a quiet spot on the beach, Claude suddenly dropped to one knee and asked Cameron to marry him. He had the ring in his pocket the whole time.
After they shared the moment together, Cameron and Claude went back to celebrate with his family. Amid the hugs, tears, and well-wishes, Cameron's family appeared from where they had been hiding, completing the perfect engagement surprise! The families celebrated together, taking photos and talking about the wedding to come.
WEDDING PLANS…
When Cameron's mother found out about the proposal, she immediately checked on available dates for the church and the country club. By the day after Claude's proposal, they had a wedding date! Cameron's mother enlisted the help of Mountain Brook wedding planner Neillie Butler and the dream team at Mariee Ami Wedding Studio who helped with every detail including wedding vendor selection and day of wedding execution.
Soon afterwards, Neillie flew up to New York for a preliminary planning meeting to discuss details of the wedding and reception. Cameron had her heart set on a hot pink and gold sparkle design theme.
One of Cameron's first purchases was the absolutely perfect of Kate Spade gold sparkle slingbacks. Next came the search for the perfect gown to go with them. After visiting a couple of boutiques, it became apparent that a trip to the legendary "Say Yes to the Dress" wedding gown mecca, Kleinfeld was necessary. Cameron, her mother, grandmother, future mother-in-law, and her cousin received the VIP treatment at Kleinfeld where Cameron did indeed say "yes" to a gorgeous Anne Barge wedding dress that was just the right combination of southern sophistication and big city glamour with an ornately beaded sweetheart bodice and full silk taffeta skirt which was bustled for dancing at the reception.
The bridesmaids wore lovely Jenny Yoo strapless floor length gowns with a shirred sweetheart neckline which Cameron found at a trunk show in New York. When she discovered the gowns were available in a new color with a subtle gold shimmer, Cameron knew it was the perfect gown-plus she was the first bride to order them for a wedding! On her wedding day, Cameron dressed at home. She loved hanging out in the kitchen with her bridesmaids as Celine Russell did her hair and make-up"¦ it was one of her favorite memories of the day.
Claude and the men wore classic white dinner jackets from Mr. Burch Formal Wear in Mountain Brook Village.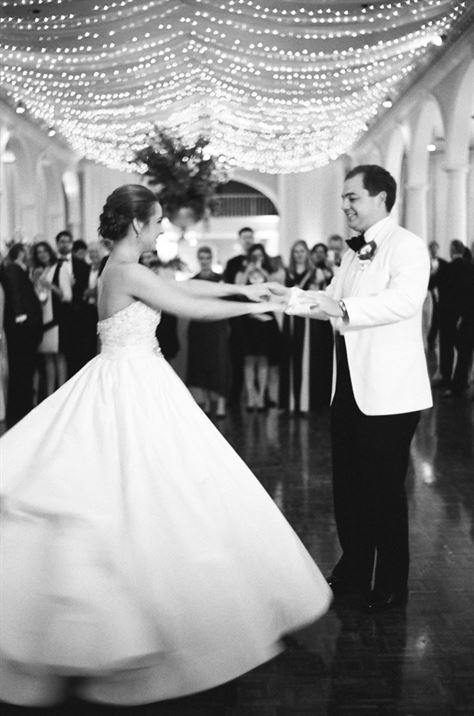 Distinguished Birmingham floral designer Leah Hazzard incorporated Cameron's signature color into the flowers using hot pink in the stunning gold based centerpieces and floral arrangements. Cameron's talented mother built the striking white cubes used in the reception design and also came up with the concept for the fabulous lounge platforms on both sides of the club which were decorated with sofas, side chairs, and coffee tables so guests could easily view the festivities. The outside of the club was tented and draped; beautiful lighting and chandeliers created a magical, soft glow. Gold coin table linens and gold Chiavari chairs completed the design.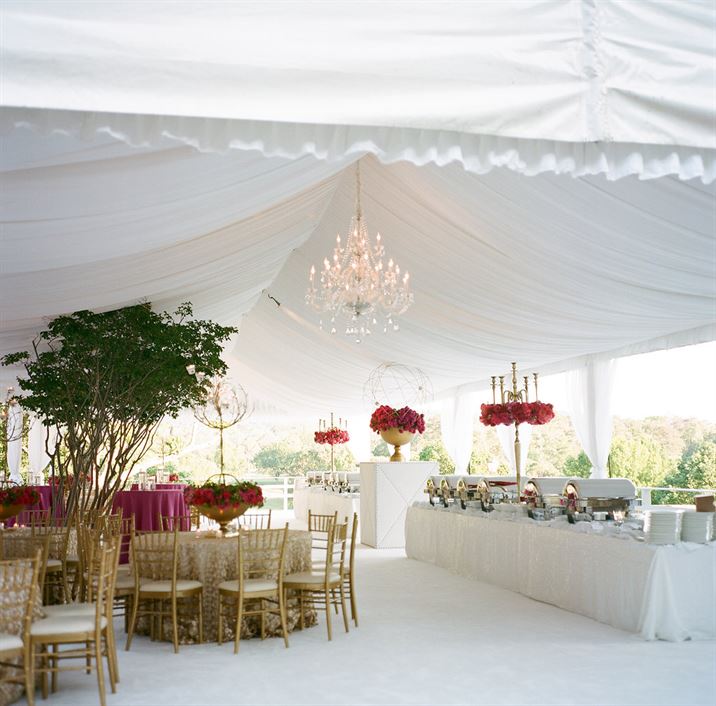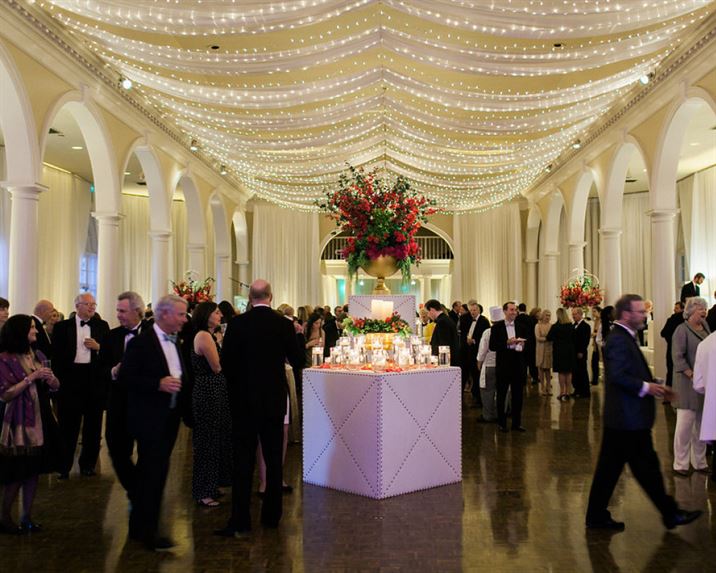 The magnificent six-tier wedding cake was a classic design by Barb Sullivan of Barb's Cakes with bands of gold edging each tier filled with strawberry and cream cheese. Cameron's new monogram was featured in the center and a massive cascade of dark pink roses spilled from its top, curving down the entire length of the cake in a dramatically elegant swirl. Claude's selection was a two-tier chocolate and caramel cake with a massive Roman numeral V design on the top edged with gold on each tier.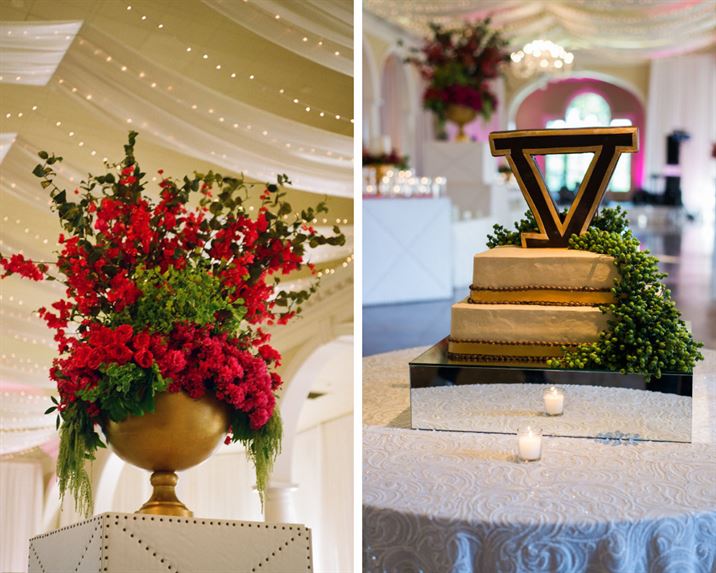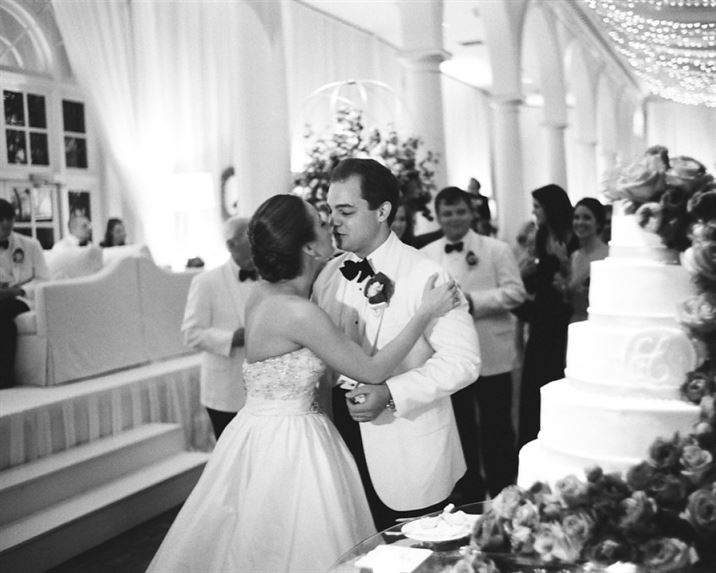 Most of the food was served on the terrace and included passed items and lavish food stations. The couple did not want a seated buffet so that guests could mix and mingle; they wanted the party to be all about the dancing. They succeeded. Atlanta Showstoppers kept guests on the dance floor for the entire evening. Mini tambourines decorated with the couple's monogram were a hit with old and young alike. The last song of the night? New York, New York, of course.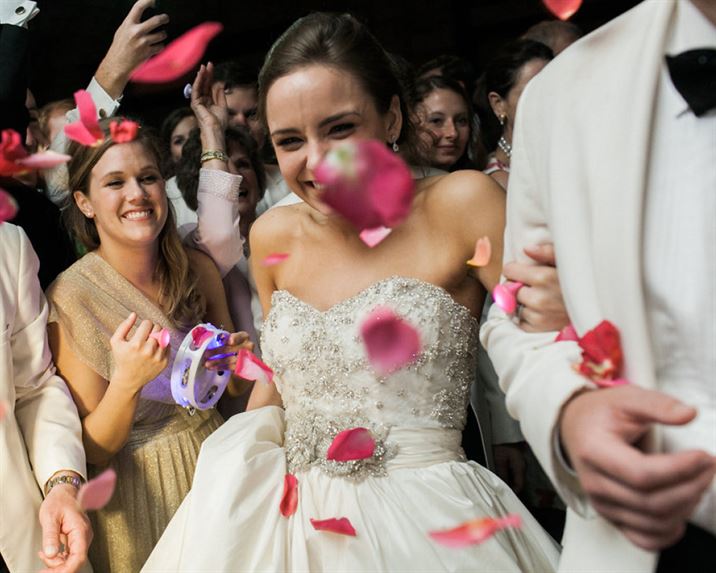 As the evening wound down, the club served sliders and fries and cookies to all of the guests and the happy couple sent all of their guests home with a pizza in cute white boxes featuring the wedding logo.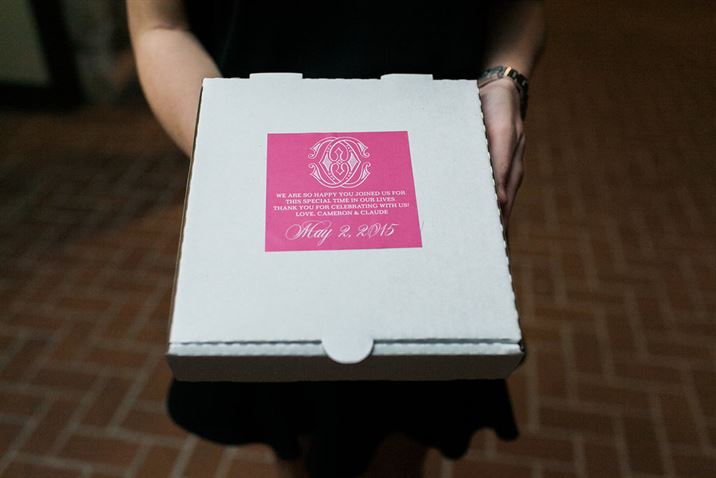 Cameron's list of wedding day vendors included:
Wedding Gown: Kleinfeld
Bridesmaids Dresses: Jenny Yoo
Groomsmen and Groom's Formal Wear: Mr. Burch Formal Wear
Cakes: Barb's Cakes
Floral Design: Leah Hazzard
Hair and Makeup: Celine Russell
Rentals: Event Rentals Unlimited
Lighting: AG Lighting
Stationary Design: Mariee Ami
Monogram Design: Allison Banks
Painter: Ronald Bayens
Photography: A Bryan Photo
Wedding Film: Kinora Films (click here to watch)
Cameron's something Old, New, Borrowed and Blue traditions included:
OLD: Cameron wore her grandmother's lace veil from Italy. First worn in 1957, Cameron was the seventh bride in the family to wear the heirloom.
NEW: Cameron's Anne Barge gown.
BORROWED: Her mother's diamond drop earrings.
BLUE: Besides her garter, there was a blue heart monogrammed inside Cameron's wedding gown.
Claude surprised Cameron with a wedding trip to Saint Barths. They are back home in Birmingham now and enjoying the many beautiful gifts they received from their Bromberg's gift registry.
Formal China: Haviland Colette and Herend Golden Laurel
Casual China: Juliska Berry and Thread and Skyros Legado
Formal Crystal: William Yeoward Helena and Pearl
Sterling: Reed & Barton Francis 1
Congratulations, Cameron and Claude! Our Bromberg's staff and family wishes you a lifetime of love and happiness together. Thank you for sharing your wedding with us!