Find Out Why We Recommend Jewelry Appraisals
You found the perfect engagement ring. You've bought your significant other the jewelry of their dreams. Or, you've just inherited a priceless piece from a loved one.
The next step isn't as glamorous as giving or receiving such a precious gift, but it's absolutely crucial for your peace of mind for years to come: the appraisal.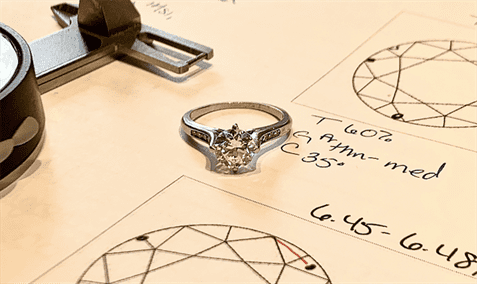 Why Appraisals are Important
When you purchase a car or a home, you make sure your investment receives the protection it deserves. Your jewelry needs the same level of protection.
Appraisals can help protect your monetary investment. Properly insuring something irreplaceable seems paradoxical, but it's worth every penny if something does happen to it.
Losing or damaging your engagement ring is heartbreaking in and of itself, but insurance helps take some of that sting away because you're covered for monetary loss.
Jewelry Appraisal for Insurance
An appraisal is the first step in purchasing insurance for your jewelry or heirloom. Jewelry appraisers note the weight, material, markings, quality of the gem, and more. They will use this information to help determine its value – that's the amount your insurance will cover.
Don't think you need insurance?
If your jewelry is lost, stolen, damaged, or disappears, how will you replace it?
Jewelry insurance helps to replace the item in question if something does happen to it. Some options for insurance include adding it to homeowners or renters insurance through a rider. You can also purchase jewelry insurance separately through some providers.
Each option has its pros and cons, so you must take time to compare plans to ensure the policy you get is the one that meets your needs.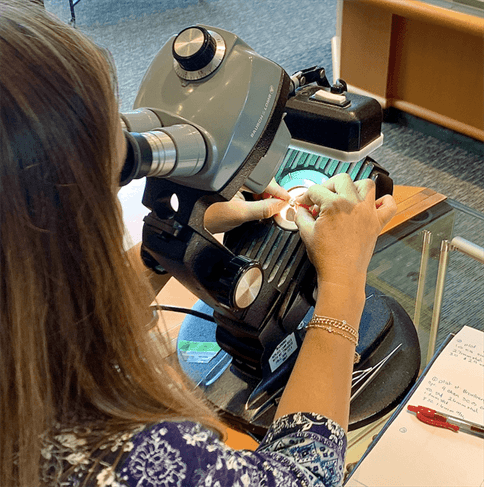 How Often You Should Get Jewelry Appraised
It would be nice only to need an appraisal when you first buy a piece, right? But jewelry fluctuates in value. If your appraisal is older, you may or may not have enough insurance to cover repair or replacement. The older the appraisal, the less accurate it is.
We recommend getting an updated appraisal every two or three years so that you're covered completely and thoroughly by your insurance.
Getting Your Jewelry Appraised with Bromberg's
Since most insurance companies require an appraisal by a graduate gemologist, Bromberg's proudly and exclusively offers the services of an experienced insurance appraiser, Shannon James. Shannon is a Graduate Gemologist and Certified Gemologist Appraiser. With 15 years of experience, we assure our customers the best and most knowledgeable insurance appraising service in the Birmingham area.
Appraisals begin at $100 or $45 for appraisal updates; you can drop your pieces off at our Summit or Mountain Brook Repair Departments or schedule an appointment with Shannon for an additional fee, where she will measure and photograph while you wait.
For more information or to schedule your appointment, call one of our stores at (205) 969-1776 (The Summit) or (205) 871-3276 (Mountain Brook) or email Shannon at sjames@brombergs.com.
About Bromberg's
It's Bromberg's mission to provide clients with an unforgettable and enjoyable luxury experience. We operate two Birmingham fine jewelry stores located in Mountain Brook Village and the Summit. At each of our locations, we provide meticulous attention to our products to ensure quality for our loyal customers. If you are looking for that special piece, need a jewelry repair or appraisal, or just have a general question or comment, please contact us.