Bromberg's guide to holiday proposals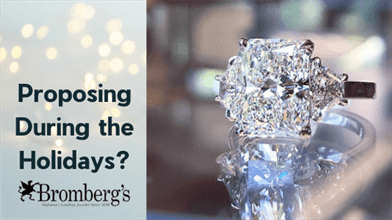 The twinkle of lights all around. The warmth of being surrounded by the people you love. The ring box. It's the stuff of Hallmark Christmas movies – a holiday proposal. But this isn't a perfectly-staged movie; it's real life.
The perfect holiday proposal is possible, and we're here to help get you started. But before you get caught up in planning the perfect moment, there are a few things to keep in mind to save your sanity and to cherish these precious memories.
Figuring out the perfect moment
The big question is this: when is the right moment? And, depending on your sweetheart, what that moment looks like can change.
For example, an introvert may not feel comfortable with a large-scale, public display of affection. On the other hand, a person with a huge and very involved family may be delighted that you've asked your future mother and father-in-law for help.
As you would for gifting any piece of jewelry, try to gauge the personality and preferences of your future spouse before you plan the actual moment.
Make time for just the two of you
It's easy during the holidays to be caught up in parties and celebrations. There are work events, galas, family parties, holidays with friends, and much more.
Even with all of the congratulatory celebrations and family reaching out to you afterward, it's essential to have some time for just the two of you.
Amid the busy holiday season (and once you've popped the question), make sure to carve out some alone time.
Remember that you can't control the weather
Unexpected things are bound to pop up when asking the question, especially if you're proposing outdoors. Don't let unpredictable Alabama weather put a damper on your plans.
When the moment is right, it's right. If a "snowpocalypse" or icy conditions hamper the big day, have a plan b. Maybe a cozy moment in front of a fire, at your favorite date-night restaurant, or indoor ice skating rink will work in a pinch.
Or maybe the imperfect outdoor conditions are still very on-point with your personality as a couple. When the moment is THE MOMENT, you'll know. Don't stress about anything that's out of your control.
Don't just plan the moment; think about the entire day
You ask for their hand in marriage, and then what? Take charge of the momentum of the day by ensuring each moment is complementary to one another. Think through breakfast plans, lunch, dinner, and everything in between.
There's no faux pas worse than proposing and then having nothing else to do. You can always cancel plans if you need more time to gather your emotions, but consider each time of day and how to make it unique for your now-fiancé.
Take advantage of the Christmas and holiday decorations all around you
One of our favorite parts of the holiday season is decorating, as evidenced by our Bromberg's tree. Beautiful lights, decorations, things that sparkle: beauty is all around you this time of year.
While you may not want to go all out to the point where you rent a Santa suit and have eight reindeer on loan from the Birmingham Zoo (do not try this at home), there are so many ways you can incorporate the holidays into your proposal.
Visit Bromberg's for the main accessory to any proposal
The holidays are a popular time to pop the question, but there's a way to do it right. And you need to start with finding the perfect ring.
Since Bromberg's founding nearly 200 years ago, our name has become synonymous with everything engagement. Visit one of our locations today and talk with a member of our sales team. We'll help you find the perfect ring so that you can handle the rest!
About Bromberg's
It's Bromberg's mission to provide clients with an unforgettable and enjoyable luxury experience. We operate two Birmingham fine jewelry stores located in Mountain Brook Village and the Summit. At each of our locations, we provide meticulous attention to our products to ensure the quality for our loyal customers. If you are looking for that special piece, need a jewelry repair or appraisal, or just have a general question or comment, please contact us.