Decidedly decadent for decades: the legacy of Bromberg's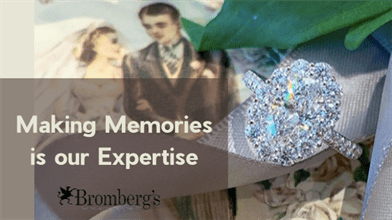 If you live in Birmingham, you are no doubt familiar with the Bromberg name. Chances are so do your parents, grandparents, great-grandparents, and so forth. It's common for many people in the area to carry heirloom pieces from Bromberg's within the family for years, passing down precious memories from one generation to the next.
For nearly 200 years up to present-day, Bromberg's is synonymous with one thing: the special moments in life.
Those moments have kept us in business for nearly two centuries. We've celebrated weddings, christenings, engagements, new homes, birthdays, anniversaries, and holidays with thousands of families in and around Alabama.
Get to know more about Bromberg's history
Founded in Mobile in 1836, Bromberg's retains the title of one of the oldest family-owned and operated retail stores in the United States.
After many years of getting the company off the ground (not to mention surviving the Civil War), the business was booming and became well-known throughout the state.
The Bromberg's that many of you are likely familiar with was established on 20th St N in Birmingham in the 1920s and is now our corporate office. There are even active displays still featured in the windows.
Witnessing significant moments in the last couple of centuries, the Great Depression, World War II, Bromberg's has stood the test of time.
Our retail stores are as much of a tradition as "something old, something new; something borrowed, something blue."
The Bromberg name is as much of a staple as singing "Happy Birthday" to someone (and was established many years before the famous tune).
And while Bromberg's hasn't been around as long as Valentine's Day, we do out-date some of the first printed Valentine's cards available in the US.
Bromberg's features more than jewelry
In its early days, Bromberg's carried a wide variety of items, including musical instruments, jewelry, gifts, antiques, and even toys. Today, however, Bromberg's name is synonymous with not only fabulous jewelry as well as a unique selection of giftware.
Brides and grooms all over Alabama know our gift registry well, and many continue to add to their collection year after year. Hostesses are delighted to receive Bromberg's gifts from their discerning guests. Indeed, gifts from Bromberg's are the epitome of grace and Southern gentility.
Because Bromberg's has such well-established relationships with the top designers in the world, we're able to keep exceptional items in stock. From flatware to crystal and stemware, a table set with Bromberg's is one of truly great taste.
But the jewelry is spectacular, too
We love helping our customers find just the right pieces for themselves or loved ones. Many grooms-to-be arrive in our stores, not knowing where to start. When they pop the question, the ring must be second to none. That's where our sales team can help.
Thorough knowledge of gemstones and the jewelry industry as a whole puts our Bromberg's associates in a class of their own. As the only members of the American Gem Society in Birmingham, we educate and inspire our customers, helping them find the perfect fine jewelry to celebrate their special moment.
Countless proposals, push presents, anniversary gifts, Mother's Day gifts, and Valentine's Day memories were inspired by the very sales professionals walking our stores.
Men and women across the southeast have been able to find the perfect fine jewelry pieces, investment pieces, and custom or engraved items – and many necks, arms, hands, and ears have thanked us for decades!
Much like the Bromberg's name and reputation itself, the fine jewelry we carry is a symbol of craftsmanship and timeless elegance.
Visit the experts in making moments count
We remember the days when families would wear their most elegant clothes to visit and shop in downtown Birmingham. As quaint as it may seem to us now, the experience of jewelry and gift shopping was an all-day affair, brimming with anticipation for a taste of the finer things in life.
When was the last time you visited a fine jewelry store?
For many, the visit marks special occasions: birthdays, Christmas gifts, and so forth.
And those are the visits we love to experience with you.
While the internet and online shopping have indeed become more convenient for many, we still delight in our customers' in-store visits. Stop by our Mountain Brook or Summit locations today and be a part of Bromberg's and Birmingham's legacy.
About Bromberg's
It's Bromberg's mission to provide clients with an unforgettable and enjoyable luxury experience. We operate two Birmingham fine jewelry stores located in Mountain Brook Village and the Summit. At each of our locations, we provide meticulous attention to our products to ensure the quality for our loyal customers. If you are looking for that special piece, need a jewelry repair or appraisal, or just have a general question or comment, please contact us.