Vietri Holiday Signing Event Today, Ideas for Thanksgiving and Friendsgiving Tables, Save the Date for Waterford and Radko!
In This Issue….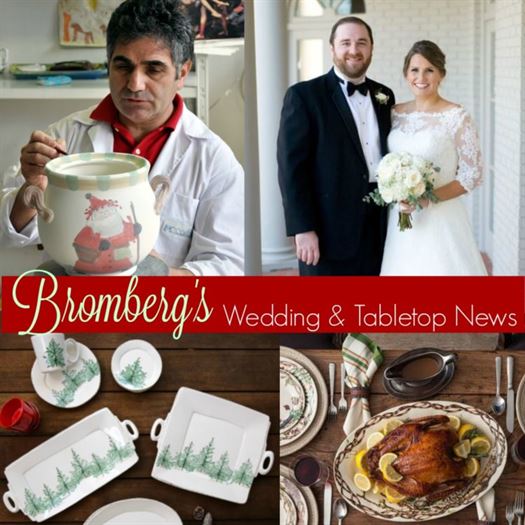 Featured Wedding: Mary Lassiter Wood and Drew Chapman
Gift Gab: Get Personal Now For Christmas
Table Talk: Juliska Forest Walk Tables for Thanksgiving (or Friendsgiving!)
Buyer's Corner: Vietri Lastra Holiday is Perfect to Mix & Match
Events: Vietri Holiday Signing Artisan Event Today Through November 12th
HAPPENING TODAY: VIETRI HOLIDAY SIGNING EVENT
November 9th | 2pm -6pm | Mountain Brook
We welcome Vietri Master Artisan Alessandro Taddei to our store this Wednesday, November 9th from 2-6pm to kick off the holidays with Old St. Nick, one of our most popular holiday patterns. Alessandro will discuss Italy's holiday traditions and show us how he brings Old St. Nick to life as he paints this charming character on a variety of pieces; have him sign your Vietri purchases with Italian phrases as he tells the story behind all his creations.
Receive 20% off your Vietri purchases November 7-12, 2016. Purchase $500 or more in Vietri products to receive a FREE Old St. Nick rectangular baker ($98 value) as our gift to you!
Call Janice, Vanissa or Courtni at Mountain Brook for phone sales or more information: 205-871-3276
GIFT GAB: MAKE IT PERSONAL
We always have an incredible collection of gift items which may be personalized to make them even more special"¦ but during the holidays, our buyers go all out. From cutting boards for your favorite chef to crystal and keepsake and limited edition mugs, platters, and ornaments, we have our best selection of unique items in stock now for holiday giving and have signing events scheduled so you may have your gift personalized in a special way. Some items take a few weeks to come back from personalization so stop in soon to insure Christmas delivery.
Don™t Miss It: Have your Vietri purchases personalized with sweet Italian phrases like Ti amo (I love you) or Buon Natale (Merry Christmas) on Wednesday, November 9th at our Mountain Brook location!
Great Gift Idea: Pour a homemade cup of your favorite hot cocoa into the Old St. Nick 2016 Limited Edition Mug and cozy up by the fire with family and friends this holiday season. The perfect stocking stuffer or go-to gift, this piece is wonderful when paired with a selection of hot cocoa mix or a delicious spiced cider recipe.
Need a gift in a hurry? Call us, we are more than happy to charge your gift, wrap it, and ship it for you! Phone: 205-871-3276
TABLE TALK: FRIENDSGIVING, A NEW THANKSGIVING TRADITION
At Bromberg's, we love tradition. And we especially love any tradition that embraces friends, family, and getting together over wonderful holiday food. The new tradition of Friendsgiving is catching on"¦ the only thing better than Thanksgiving dinner is two Thanksgiving dinners: one with family and another with your friends.
Plan your Friendsgiving a few weeks before actual Thanksgiving. You can test-drive new recipes or make a double batch of your favorites that freeze nicely so you only have to make them once. Cornbread Dressing does freeze well –as do many casseroles and vegetables. Buy wine now; many stores have special case prices in the weeks leading up to Thanksgiving.
Here are some ideas for setting the table for Friendsgiving at your home"¦ we are in love with the rustic elegance of Juliska's Forest Walk pattern. Made in Portugal of ceramic stoneware, it is oven, microwave, dishwasher, and freezer safe. It is very easy to design your centerpiece around this pattern by using natural elements and fall colors. Our new Juliska Quinta Cork collection has chargers and party bowls to add a unique texture to your table.
If you need cookbooks to help you with recipes, we have them in stock, some are even signed by the author!
BUYER™S CORNER: VIETRI LASTRA HOLIDAY
Vietri's iconic Lastra is now available in a charming holiday pattern. Mix and match salad plates, dessert plates, bowls, mugs or platters with your white or red Lastra dinnerware to create a fresh and elegant holiday table with very little effort. Vietri Italian Stoneware uses stoneware clay that is indigenous to Italy. Stoneware clay is less porous and fired at higher temperatures to make it oven, microwave, freezer and dishwasher safe, and highly resistant to chipping and breaking which all makes your holiday entertaining a lot easier.
Don™t forget that our formal china collection is on display at the Mountain Brook location only.
All registered brides receive these benefits:
20% off non-diamond wedding bands
20% off attendant gifts and hostess gifts
Buy or receive seven place settings of china, crystal, or silver, get the eighth free!
Bromberg's exclusive twelve-month interest free club plan (with credit approval)
CONTACT OUR BRIDAL CONSULTANTS:
Mountain Brook 205-871-3276 mbbridal@brombergs.com
Janice, Vanissa & Courtni
Bromberg's at the Summit 205-969-1776 sbridal@brombergs.com
Katy Rose
SAVE-THE-DATE FOR THESE HOLIDAY EVENTS!
Shop early while selection is best and we will gladly hold your purchase for signing.
ANNUAL WATERFORD ARTISAN EVENT DECEMBER 5TH
Waterford Master Craftsman Bernard O'Brien will personalize Waterford purchases December 5, 2016 from 12-2pm at the Mountain Brook location. Call 205-871-3276 for more information.
CHRISTOPHER RADKO AMBASSADOR SIGNING EVENT DECEMBER 5TH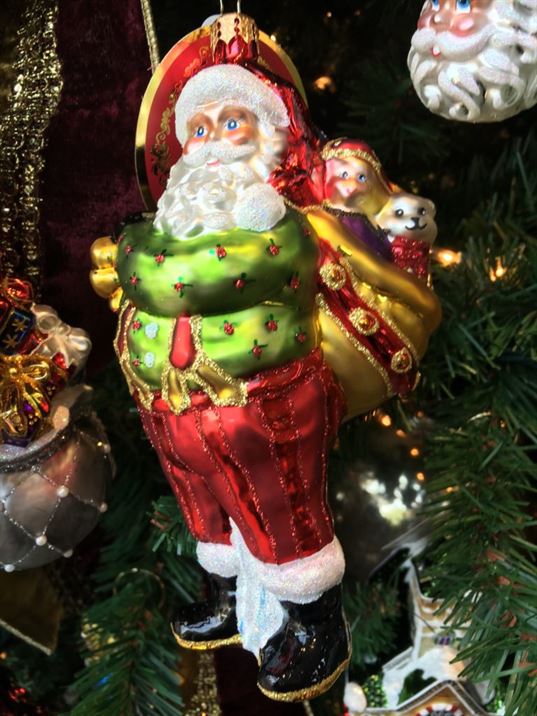 Have your Radko purchases signed and personalized by Ambassador Brant Moll from Christopher Radko. With every Radko purchase of $300 or more receive a "A Job Well Done" Santa, our gift to you valued at $63. (While supply lasts)
Mountain Brook location: 10 a.m. – 2 p.m.