Summer Get Togethers with Vietri in Melamine, Great Gifts Ideas for Dad, New Swell Roamers plus Sarah & William Get Married
IN THIS ISSUE
GIFT GAB: GREAT IDEAS FOR YOUR GIRLS, GROOMS, GRADS & DADS!
TABLE TALK: THE DISH ON FISH"¦ A SHATTERPROOF SUMMER FROM VIETRI
BUYER™S CORNER: EASY SUMMER ENTERTAINING
FEATURED WEDDING: SARAH & WILLIAM
GIFT GAB: GREAT IDEAS FOR YOUR GIRLS, GROOMS, GRADS & DADS!
NEW SWELL® ROAMERS IN TEAKWOOD
Where are you headed this summer? The beach? Mountains? The lake?
No matter where your travels take you, take the original with you! Insulated stainless steel Swell® bottles keep your cold drinks cold for up to 24 hours and hot drinks hot for up to 12 hours- perfect for those on the go. We have a variety of colors and patterns in stock but the Teakwood is the new favorite. New Roamers are available in 40-ounce and 64-ounce sizes. Prices begin at $25. Roamers are $55 and $75
(Please call first- new roamers expected in stock soon!)
BRACKISH BOWTIES FOR SUMMER WEDDINGS- PERFECT FOR FATHER™S DAY!
In 2007, founder Ben Ross handcrafted a set of turkey feather bow ties for the men in his wedding party. Brackish Bowties was born and continues that tradition today with handcrafted bowties and lapel pins that are works of art; no two are exactly alike.
Perfect for the outdoorsmen in your life- select one for Father's Day for the dad who loves spending time at the hunting camp! Stop in to see our complete collection; photos are a representation of what is available. We can also special order larger quantities for your wedding or groomsmen gifts. Prices begin at $55 for lapel pins and $195 for bowties.
Need a gift in a hurry? Call us, we are more than happy to charge your gift, wrap it, and ship it for you! Phone: 205-871-3276
FYI"¦ Our registered brides save 20% on attendant and hostess gifts and we™ll even wrap them for you in the traditional Bromberg's silver box!
TABLE TALK: THE DISH ON FISH"¦ NEW VIETRI MELAMINE LASTRA FISH
Perfect for summer fun at the beach, lake or backyard"¦ our new ocean inspired patterns from Vietri will grace your tables all summer long and they make great hostess or weekend guest gift, too! Melamine Lastra Fish is the ultimate al fresco dining collection. Clean, simple lines and whimsical shapes plus it is BPA free and 100% melamine. Prices begin at $22.
NOTE: Formal china is on display at our Mountain Brook location only.
BUYER™S CORNER: SUMMER ENTERTAINING MADE EASY
Our buyers work hard all year to make your summers easy. Stop in and they will help you set a table that works for any place your summer takes you! Here are some of our buyer's suggestions:
OUTDOOR VIBES WITH VIETRI LASTRA IN MELAMINE
Shatterproof, lightweight, and visually indistinguishable from its stoneware counterpart, stop in to see Lastra White in melamine to see if you can tell the difference! Adding melamine pieces to your Lastra collection allows you to mix and match; great for dinner on the patio and especially nice when you have children at the table. Prices begin at $22.
FRENCH LINEN FROM GARNIER-THIEBAUT
Our vast assortment of French cotton linens from Garnier-Thiebaut will help you create a foundation for easy entertaining. The large and colorful kitchen towels do dual duty as a placemat and a napkin for messy (but fun) summer favorites like a shrimp boil or a backyard barbeque. Photos are an example of our selection. Please stop in to our Mountain Brook location to view current availability. Special orders available for large quantities.
Prices begin at $34
VIETRI PESCATORE PATTERN
Cool blue hues and pretty underwater scenes are hand-painted by Vietri's Italian maestro artisan, Alessandro Taddei for Vietri's Pescatore pattern. Layer Pescatore with Lastra or one of our other patterns as shown to create a casual or more sophisticated summer table. Prices begin at $46.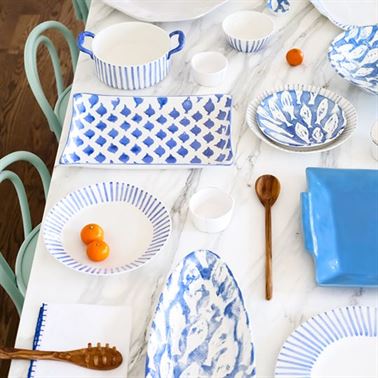 BROMBERG™S GIFT REGISTRY BENEFITS
All registered brides receive these benefits:
20% off non-diamond wedding bands
20% off attendant gifts and hostess gifts
Buy or receive seven place settings of china, crystal, or silver, get the eighth free!
Bromberg's exclusive twelve-month interest free club plan (with credit approval)
CONTACT ONE OF OUR BRIDAL CONSULTANTS:
Mountain Brook 205-871-3276 mbbridal@brombergs.com
Ask for Janice or Vanissa.
Bromberg's at the Summit 205-969-1776 sbridal@brombergs.com
Ask for Katy Rose or Lisa.
FEATURED WEDDING: