Six rules for giving jewelry during the holidays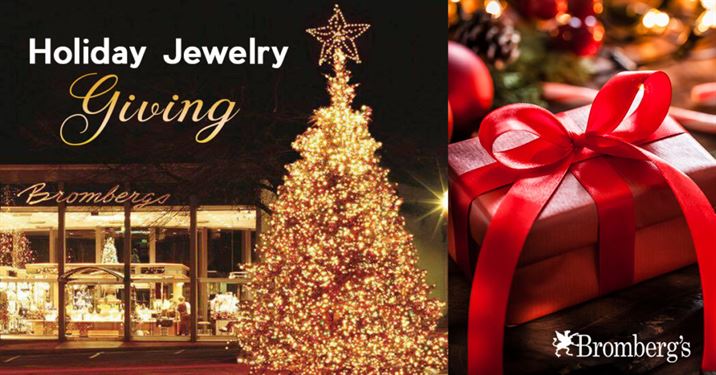 It's hard to believe that the holiday season is upon us. Many savvy shoppers are already making lists and checking them twice, hoping to find the perfect gifts for loved ones, friends, and significant others.
You should know, however, that there are unwritten rules about buying jewelry – or other expensive items – as holiday gifts. As the purveyors of luxury and the most beautiful jewelry in Birmingham, we've written down the unwritten rules to guide your gift-giving better this holiday season.
The unwritten (but now written) rules of holiday jewelry giving:
1. Ensure that the jewelry conveys the right message.
As with any gift, it's the thought that counts. When it comes to jewelry, however, your gift might come with unintentional thoughts. A "hidden" or surprise ring box, for example, suggests a marriage proposal. That said, each element of gift-giving, including presentation, sends a message to the recipient. Make sure it's the message you intend.
Likewise, stones can also send messages. A birthstone is special in a less romantic way than, say, a diamond ring (unless you are an April baby, of course).
2. Determine if this is a moment of time worthy of "freezing."
The gift of jewelry is memorable for so many reasons. It has the power to make the recipient remember precisely when, where, and why they received such a special and thoughtful token.
It's important for the timing to be just right when it comes to giving holiday jewelry. Look for those special moments worthy of remembering forever.
3. Don't forget about the men in your life.
One common misconception about giving jewelry for the holidays is that only women will appreciate it. From cufflinks to luxury watches, jewelry is a gift that makes men feel special.
Not only can jewelry make him feel more "executive," but it also can make him feel more fashionable.
4. When it comes to giving jewelry, it's essential to know your audience.
Have you ever seen her wear rings? If not, the large cocktail piece that looks great in the store might not be appropriate for her. What do you notice that the recipient wears most often? His or her natural style inclination could indicate specific preferences for one type of jewelry over another.
Whether you would like your gift to be worn every day or only on special occasions, purchasing something that suits the recipient's taste is a must.
5. Along with the above, you should think about the recipient's day-to-day activities.
If the giver intends the recipient to wear the jewelry regularly, you should keep in mind the recipient's job, hobbies, and daily interests.
For example, a heavy bangle bracelet, though fashionable, might not be the best choice for someone who is a runner. In that situation, something like simple stud earrings might make a more thoughtful gift.
6. Get ahead of the curve by doing a little research.
Consider asking friends and family for their opinions on what they think the recipient would wear. GQ conducted an informal poll of 150 women to find the pieces of jewelry they want the most (necklaces and earrings).
Another unexpected source of inspiration? Your recipient's Pinterest board or Instagram feed. Many jewelry brands have an active online presence. Paying attention to anything he or she has "liked" or pinned could be an indication of the types of jewelry they would prefer to receive.
It's the most wonderful time of the year
The generosity of the holiday season is upon us, and few gifts are more precious and thoughtful than that of jewelry. Do you need help finding something special for the special people in your life? Stop by one of our stores. Our sales associates are well-trained in helping you celebrate the holidays surrounded by love and steeped in style.
About Bromberg's
It's Bromberg's mission to provide clients with an unforgettable and enjoyable luxury experience. We operate two Birmingham fine jewelry stores located in Mountain Brook Village and the Summit. At each of our locations, we provide meticulous attention to our products to ensure the quality for our loyal customers. If you are looking for that special piece, need a jewelry repair or appraisal, or just have a general question or comment, please contact us.