September News: New Juliska "Ruby" Pattern, Tena Payne Pottery, Kristen & Trey's Real Wedding
In this Issue

Real Wedding: Kristen Kerr and Trey Cotney
Gift Gab: Brides Prefer Pandora!
Table Talk: Head Start on the Holidays! New Patterns by Juliska
Merchant Spotlight: Mr. Burch Formal Wear
GIFT GAB: Brides Prefer Pandora!
We have the perfect gift for your bridesmaids"¦ who doesn™t love Pandora? We have one of the largest collections of Pandora jewelry, charms, and accessories available at our Mountain Brook location. Emily Norkus is our Pandora expert; she™ll help you select something your bridesmaids will love forever! We™ll even wrap them for you in our signature Bromberg's silver box.
Registered brides save 20% on attendant and hostess gifts and we™ll even wrap them for you in the traditional Bromberg's silver box!

TABLE TALK: Head Start on the Holidays
Ohhh, are we excited about some of our latest arrivals! These new patterns are not just gorgeous, they make the holidays easy because they go from freezer, to oven, to table! Check out Juliska's new Ruby pattern. It's rich and bold, perfect for the holidays! Don™t miss our Juliska Event: Thursday, October 28th at The Summit. Just in time for the holidays! Lots of decorating ideas, giveaways, and more. Call Margaret McDowell for more information 205.969.1776
Please contact our bridal consultants at one of these locations: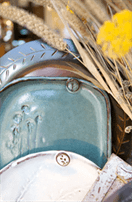 REAL WEDDINGS: Kristen Kerr & Trey Cotney
CLICK HERE to view their photo gallery and read their story!
Bromberg's Brides Club Benefits
All registered brides receive these benefits:
Mr. Burch Formal Wear
www.mrburchformalwear.com We don™t have to tell you much you don™t already know about Birmingham's favorite place to go for a tuxedo but there are some things you should know before selecting the tuxedos for your wedding. Most tuxedo stores don™t have stock. You select your tuxedo from a book and then wait for it to be flown in the day before your wedding leaving no time to make adjustments and there are always adjustments! Like Bromberg's, Mr. Burch is a family owned and operated business located in Birmingham with thousands of tuxedos and accessories in inventory right here. Mr. Burch has the largest selection of tuxedos in the Southeast so you™ll never have to worry about getting the style you want at the price you want to pay. Let Wayne Burch, Lonnie Mims, and their entire team make sure your guys look great. If you trust your wedding to Mr. Burch, you won™t have to lie awake the night before the rehearsal hoping your tuxedos actually show up and fit!
Exclusively at Bromberg's: Botanicals by Tena Payne
Earthborn Pottery is a chef's favorite for many reasons; the style, the colors, the glaze, and the durability. Now, our exclusive new "Botanicals" collection of pottery inspired by nature will become the favorite of every hostess. Come see it for yourself and pick up a few pieces for holiday entertaining. The collection currently is on display in the windows and tablescapes at Mountain Brook.