REAL WEDDING: Kathleen Cook and Josh Varner
KATHLEEN COOK AND JOSH VARNER
CEREMONY & RECEPTION: THE CLUBHOUSE ON HIGHLAND
BIRMINGHAM, ALABAMA
January 17, 2015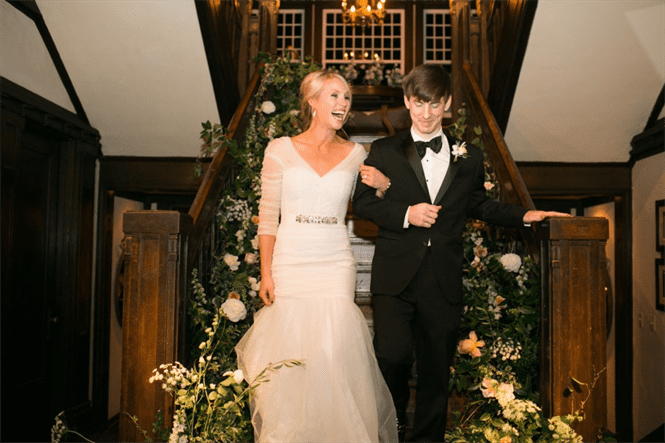 When you know that you know who you love, you can't deny it.
Or go back, or give up, or pretend that you don't buy it.
When it's clear this time you've found the one, you'll never let him go
"˜Cause you know and you know that you know. "" When You Know by Shawn Colvin from the film Serendipity
Photos: Kelly Cummings, Spindle Photography
They say opposites attract. Uber-creative, freelance prop stylist Kathleen Cook from Philadelphia, Pennsylvania and committed math and science geek-medical resident Josh Varner from Union Springs, Alabama could have not been more different but there was no denying a mutual and instant attraction between them. Perhaps it was fate or maybe serendipity all rolled into one encounter. Whatever you want to call it, they both knew instantly they were it for the other. It was simply meant to be. About four years later, Josh popped the question and the couple began planning their wedding. A few months ago, they tied the knot in their adopted hometown of Birmingham during an elegant, throwback winter wedding at The Clubhouse on Highland. Read their wedding story below the images…
HERE™S THEIR WEDDING STORY…
Love at first sight? Absolutely. Kathleen Cook and Josh Varner had spoken on the phone a few times and knew there was some chemistry developing between them. Distance prevented an earlier meeting but when Kathleen and Josh did meet at the Auburn vs. Georgia game that fall day, it was instant and it was real. They watched the game, spent the day together and planned a date in Birmingham the following week. After their dinner date at Cocina Superior, they both knew it was for keeps. The couple dated long distance for that first year during the 3½ years they dated. They always spent a good amount of time at Josh's family's Lake Martin home or would find something fun to do outside at the last minute since they both love the outdoors. They were waiting for Josh to match for his medical residency and were anxiously hoping he would be matched at UAB. In the fall of 2014, Josh began to plan his proposal and asked Kathleen's father for her hand in marriage when they were all together in October for a football game. He waited until January to pop the question.
THE PROPOSAL
Josh is known not to be much of a planner, in fact, preferring to wing it most of the time so when he began talking to Kathleen weeks in advance about taking the weekend off work for a trip to the lake, she was somewhat suspicious that her boyfriend might be up to a proposal. Her suspicions were confirmed when they arrived at the lake house to find Champagne and flowers, left by Josh's mother. Josh wanted to go on a sunset walk and when they arrived at a bench spot he had selected, he asked Kathleen to sit. They talked for a while before Josh finally dropped to one knee and asked Kathleen to be his wife. They went back to the house and popped the cork on the waiting Champagne to celebrate before calling family and friends to share the news.
WEDDING PLANS
Kathleen and Josh wanted a winter wedding so they had almost a year to plan the details.
Having worked with two of Birmingham's leading wedding companies, Mariee Ami Wedding Studio and Ivory and White Boutique, Kathleen already knew most of the vendors she wanted to use for the wedding. After touring The Clubhouse on Highland, the couple knew it would be perfect for the wedding and festivities they had in mind. During their site inspection, Kathleen also met the florist she wanted to work with as Holly Carlisle from Rosegolden Flowers was in the process of decorating the clubhouse for another wedding.
She also knew she wanted Kelly Cummings from Spindle Photography to capture the memories.
A major foodie, Kathleen hired Shindigs Catering as her first priority. Kathleen enjoys cooking and all things food so this was a major concern; she wanted to offer their guests a foodie's tour of Birmingham so she sourced as many local options as possible including Avondale Brewing Company beer for the bar. Cakes and sweets were also a big priority; Kathleen selected very specific seasonal and local favorites to round out the menu including: Dreamcakes Bakery White Velvet and Peppermint Cream Cheese cake, Magic City Macarons in Cranberry Mascarpone, Maple Bourbon and Vanilla, the famous "Breakup Cookies" from Church Street Coffee and Books, and Baby Bites from Pastry Arts in Turtle, Peanut Butter, and Italian Crème flavors for Josh's groom's cake.
A menu of classic libations included an Old Fashioned and a Champagne Cocktail.
Kathleen began the task of finding the perfect gown with Brooke Mason from Ivory and White Boutique in Crestline Village. While Kathleen loved most of the gowns she tried on, she had yet to find the perfect gown until Brooke remembered a unique gown she felt would work beautifully for Kathleen and brought it in for her from designer Monique Lhullier. The tulle gown had the exact romantic feel Kathleen had been looking for and had sheer, gathered sleeves, perfect for her January wedding.
With most of the major decisions out of the way and months left before the wedding, Kathleen really enjoyed the process of pulling together the remaining details. The bridesmaid gowns were from Bella Bridesmaid in Homewood and Anthropologie BHLDN accessorized with gorgeous fur stoles Josh's mom located for Kathleen and each of her attendants. Tuxedoes were classic black and found at Mr. Burch Formal Wear in Mountain Brook Village, of course.
One of the most significant details was the music. Josh and Kathleen love to dance so they really wanted the reception entertainment to have the guests out on the dance floor but wanted to keep a warm and classic, throwback feel to the night. They decided on "The Piano Man" Tim Tyler and Lane to perform songs everyone would know from Elton John to Sinatra and the classics. Their family and friends loved their choice and sang along to every song. Tambourines were passed out to all; Kathleen says it really added to the fun and was money well spent.
Kathleen and Josh danced their first dance to Frankie Valli and the 4 Seasons™ classic Can™t Take My Eyes Off You and her favorite moments of the night were dancing with Josh as he twirled her around the dance floor. Another wonderful moment came when The Tennessee Waltz was played. A Cook family favorite, they have fond memories of it from their summer road trips to Nashville.
After a wedding trip, Kathleen and Josh are at home in Birmingham.
Kathleen and Josh's Bromberg's Gift Registry includes:
Casual China: Vietri Lastra
Casual China: Mottahedeh Plume White Pearl
Casual Glassware: Napa Home and Garden Castillian
Stainless Flatware: Juliska Berry & Thread
Congratulations, Kathleen and Josh! Our Bromberg's staff and family wish you a lifetime of love and happiness together.