FEATURED WEDDING: Caroline Crow and Travis Pullen
CAROLINE CROW AND TRAVIS PULLEN
CEREMONY: Mountain Brook Baptist Church
RECEPTION: Country Club of Birmingham
BIRMINGHAM, ALABAMA
March 7, 2015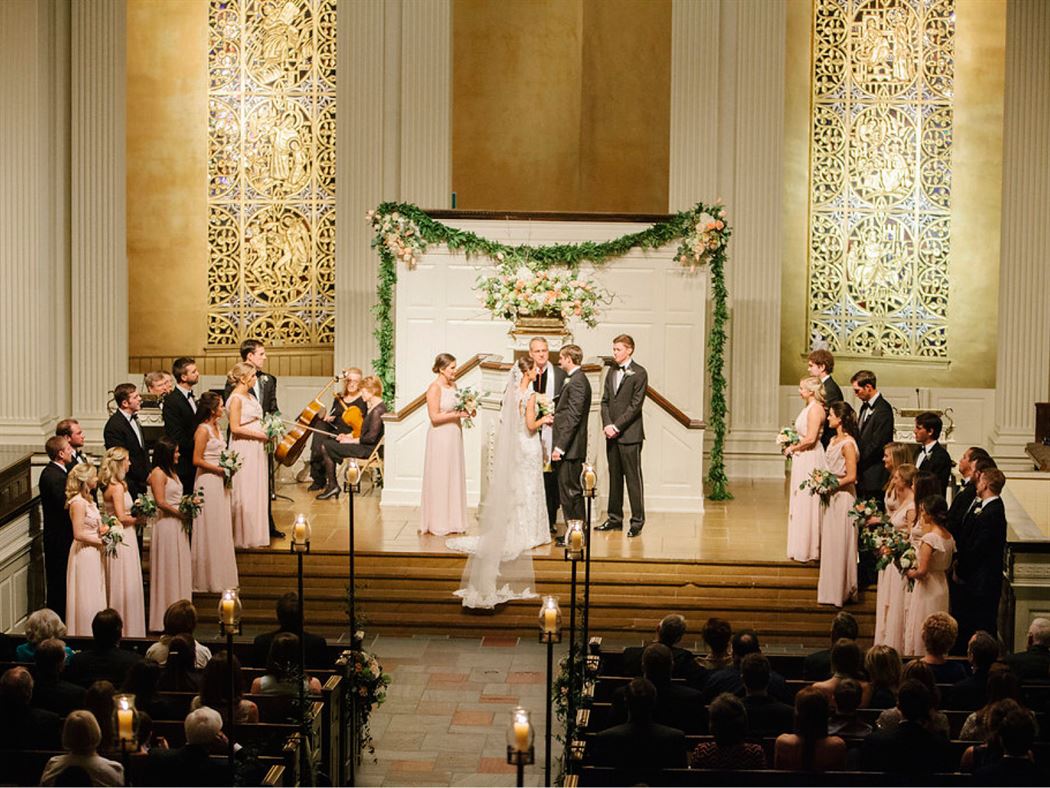 Photos:: Leslie Hollingsworth Photography
"You never get a second chance to make a first impression."
It is a good thing this famous quote isn™t always right. On their first date, Caroline Crow thought Travis Pullen didn™t have a lot to say and was not really interested in her. She certainly did not think there would be a second date. Well, Travis may not have said much on that first date because he was nervous… but he was smitten and also persistent. After their second date, Caroline learned that first impressions are not always what they seem and after a year of dating, the couple got engaged. On March 7, 2015, they married in her hometown of Birmingham.
Read their wedding story below the images…
CAROLINE AND TRAVIS…
University of Alabama grad Caroline Crow moved to Nashville after college. One night, she met up with friends for a night on the town exploring some of Nashville's legendary honky-tonks and live music venues. One of the girls bumped into fellow Ole Miss grad Travis Pullen and his group of friends–introductions were made. At some point, Caroline told the friend she thought Travis was cute. He had the same feeling about her because before the evening was up, Travis asked Caroline for her phone number. A few days later, the couple went on their first date. Travis selected a local pizza joint with a half-price pizza and beer special that night. It was, says Caroline, not exactly romantic and a less than impressive first effort. While the venue and the menu were both lacking, Travis was also very quiet during their date. Caroline assumed he was either not very interested in her or just did not have as much personality as she originally thought. They parted and Caroline assumed that was going to be the end of it. As it turned out, Travis simply wanted their first date to be casual. When he called Caroline to ask her out again, he planned a more intimate dinner and then they met up with friends afterwards. Something just clicked. Caroline saw Travis in a different light and got to know his personality better. After their second date, the couple both knew there would be many dates to come. They dated for a year; each meeting the other's family and spending most of their time together.
THE PROPOSAL…
Around Christmas, Caroline knew a proposal was imminent when her future sister-in-law asked her what kind of engagement ring she wanted. The proposal did not happen at Christmas, however. A few months later, Travis talked to Caroline about their future and the two discussed marriage. Little did Caroline know that Travis was already planning his proposal. Months went by without much discussion about marriage or getting engaged. One night in June, Travis suggested they go out for dinner and Caroline assumed it was like any other date night. When they got to the restaurant, the couple discovered it was CMA Fest in Nashville and the normally elegant restaurant was filled with cowboy hats and tank top wearing rowdies who were in town to see their favorite country music acts. Caroline could see Travis was a bit nervous but she assumed it was because the restaurant wasn™t as they thought it would be. The couple was seated and Travis immediately excused himself. When he returned to the table, Travis suddenly dropped to one knee and asked Caroline to marry him. The whole restaurant erupted with congratulations when they saw the proposal happening. Travis told Caroline not to make any calls- he wanted to enjoy the moment together for a while before they shared the news. When they left the restaurant, Caroline tried calling her parents but could not get them. As it turned out, as part of the surprise, Travis had organized a party at the scene of that famous first date where friends and both families were assembled for a big engagement celebration, complete with pizza and beer.
WEDDING PLANS…
Since Travis had come to Birmingham to ask Caroline's parents for her hand in marriage weeks before the proposal, Caroline's mom already had gathered a list of available wedding dates from the church and country club. Before they left the engagement celebration, the date was selected and the planning was underway. Neillie Butler and her team at Mariee Ami Wedding Studio helped Caroline and her mother with all of the wedding plans and day of wedding execution. Neillie had worked with Caroline's mother previously on her sister Whitney's wedding so the planning came together quickly.
Caroline knew she wanted to look at dresses from Nashville designer Olia Zavozina because she loved the one her sister had worn. Caroline worked directly with the designer at her Nashville studio to create a custom gown which was named for her. "˜Cici™ (because the name Caroline was already being used) was added to the designer's official collection and was later debuted on the runway for fashion week in New York!
Caroline's list of wedding day vendors included:
Wedding Cake: Magic Muffins
Bridesmaids: Bella Bridesmaid
Floral Design: Buffy Hargett
Rentals: Event Rentals Unlimited
Wedding Gown: Designer Olia Zavozina in Nashville
Hair & Makeup: Kerri Bunn
Invitations: Please Reply
Calligraphy: Marsha Lassiter
Men's Attire: Mr. Burch Formalwear Mountain Brook
Band: Rhythm Nation
Photography: Leslie Hollingsworth
Caroline's something Old, New, Borrowed and Blue traditions included:
OLD: A pendant belonging to her paternal grandmother
NEW: Her wedding gown
BORROWED: Her mother's wedding veil
BLUE: A sapphire ring belonging to her maternal grandmother
Pictured below: Caroline and her namesake and niece, baby Caroline. Only weeks old, she attended the wedding and was listed in the program as an honorary flower girl.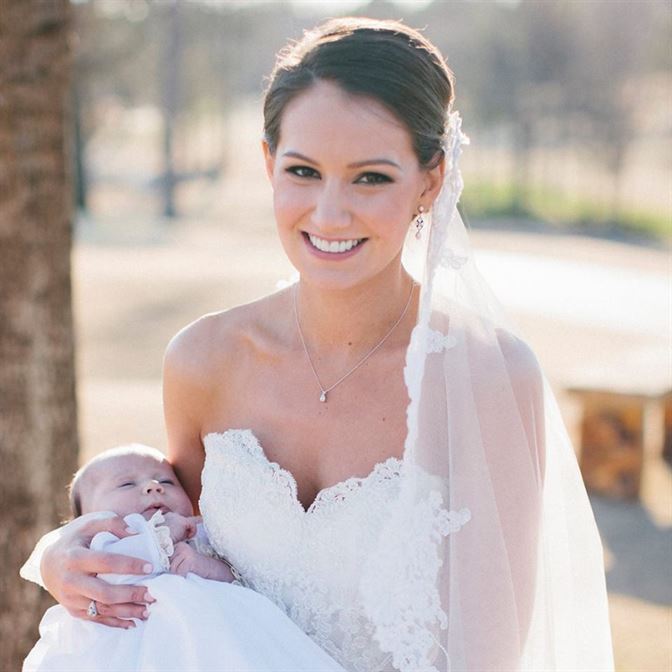 Guests really loved Caroline's "fun-fetti" sprinkles filled wedding cake and the banana pudding served in lieu of a groom's cake.
The couple's first dance was to the Van Morrison classic, Crazy Love.
After a wedding trip to Playa Mujeres, Mexico, Caroline and Travis are at home in Nashville and enjoying all of their many beautiful gifts from their Bromberg's gift registry. Since settling in, Caroline said she loves using her formal china; especially the dainty Herend Rothschild Garden teacups and dessert plates with the songbird design.
Formal China: Herend Golden Edge and Rothschild Garden
Casual China: : Vietri Incanto
Holiday China: Vietri Old St. Nick
Formal Crystal: Waterford Lismore
Casual Glassware:Vietri Optical
Stainless Flatware: Reed & Barton Dalton
Sterling: Towle Old Master
Congratulations, Caroline and Travis! Our Bromberg's staff and family wish you a lifetime of love and happiness together.