READY FOR SUMMER WEDDINGS & PARTIES: NEW BEATRIZ BALL, WEEKEND HOSTESS GIFTS, FARMHOUSE POTTERY, PLUS EMILY AND PATRICK GET MARRIED!
IN THIS ISSUE…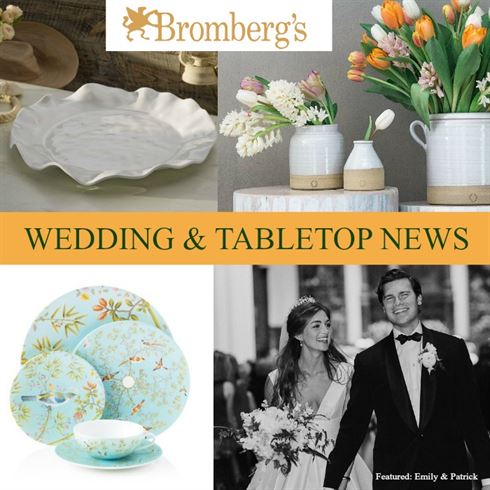 GIFT GAB: Farmhouse Pottery Cheese Stones Paired with Vintage Cheese Markers, New Vietri Vases, Match Pewter Goblets
TABLE TALK: Beatriz Ball "Havana" in Melamine for Summer Entertaining, Raynaud Timeless Paradis Pattern in Turquoise
BUYER'S CORNER: More from Farmhouse Pottery Arriving Daily
---
GIFT GAB: OUR HOTTEST HOSTESS AND BRIDESMAIDS GIFTS
This is the time of year we stock a huge selection of those thoughtful gifts which are perfect for the women hosting your bridal shower or your weekend hostess at the lake or beach. Our vintage cheese markers paired with our new Farmhouse Pottery cheese stones would make a wonderful gift. Place the stone in the oven to warm a soft cheese or store it in the freezer to serve on a hot day. The stoneware clay is designed for heating evenly and works well with pizzas, appetizers, or desserts. Prices from $65 for the small size. Vintage cheese markers $32 for a set of 6.
Mouthblown in Tuscany, the Hibiscus Bud Vase comes nestled in Vietri's signature gift box, complete with straw. Available in three sizes, we love this pretty bud vase ($38) to showcase those beautiful blooms of summer you snip and bring inside.
FOR THE BRIDE & GROOM
MATCH founder David Reiss introduced America to the beauty of Italian pewter crafted in small family-owned workshops that have been producing pewter for generations. Now, these small but magnificent works of art are a thoughtful wedding gift which will certainly be passed down to generations of new brides and grooms to use on their wedding day. MATCH pewter goblets start at $95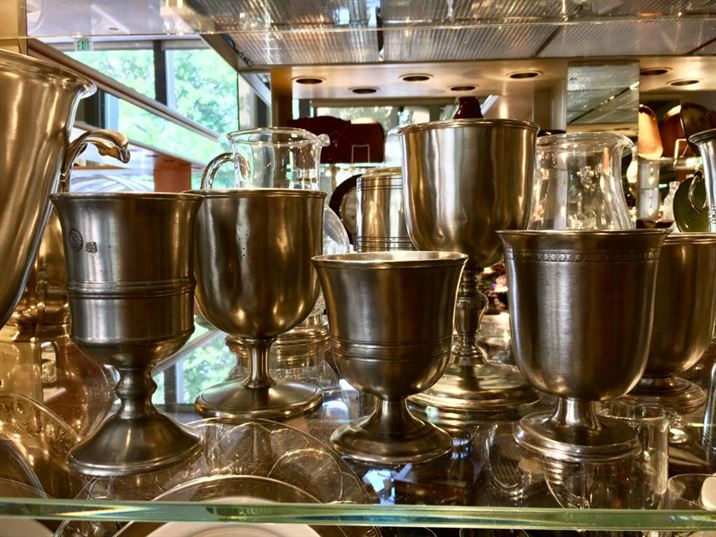 TABLE TALK: CASUAL GET-TOETHERS OR FORMAL ENTERTAINING IN STYLE
MELAMINE MAKES SUMMER EASY: BEATRIZ BALL HAVANA
Stop by and check out the pretty new Beatriz Ball Havana pattern in our Mountain Brook window but don™t be fooled by the beauty of these new pieces. They are not fine china but melamine, a party-thrower's best friend. Virtually indestructible, it is the perfect pattern for those of you kicking off the season at the lake or beach this holiday weekend. You™ll want to stock up on Havana before it's gone! Available in coral, aqua, and white with prices starting at $15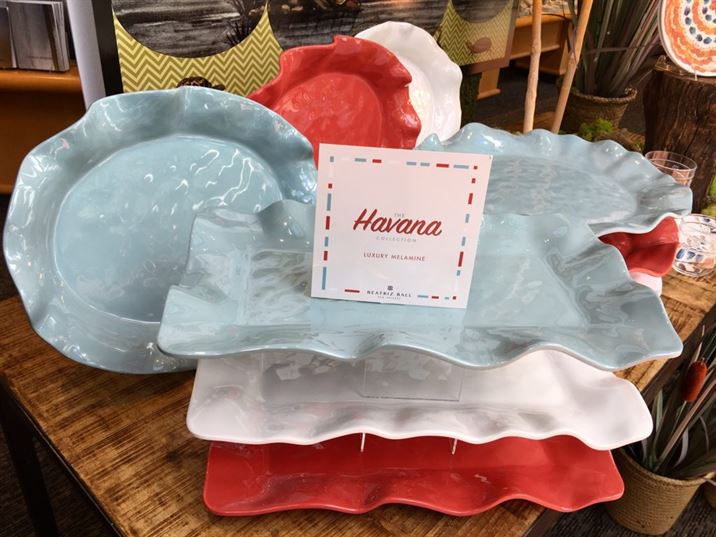 Red, white, and blue… If your pattern is Juliska Berry & Thread, we now have it in melamine in white- just in time for all your summer fun. It is shatterproof so you can take it on the boat or on a picnic without worry.
FORMAL CHINA: TIMELESS CLASSIC NEW RAYNAUD PARADIS TURQUOISE
Hand made in France, this traditional Limoges porcelain dinnerware is timeless and elegant. The design is inspired by Chinoiserie wallpaper, the European interpretation of Chinese artistic traditions featuring butterflies and birds of paradise used for centuries in the grandest rooms of castles, palaces, and homes throughout Europe. Register for the pattern in white or turquoise as shown or simply add a dessert plate to your existing pattern to add a pop of color and enduring style to your table. Prices $58-$110.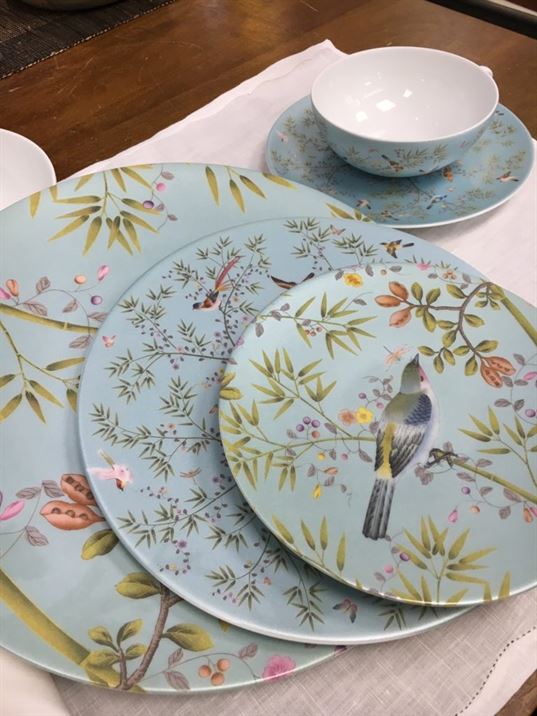 BUYER™S CORNER: FARMHOUSE POTTERY"¦ NEW PIECES ARRIVING DAILY!
There is a lot of buzz around our new Farmhouse Pottery collection and we™ve got new pieces arriving almost daily. Farmhouse Pottery is made from a stoneware recipe Zoe and James created themselves; they craft each piece using old world processes that require patience, dedication, and a passion for quality. Zoe and James feel they are creating heirlooms for today's families to be used, loved and passed along for generations to come. You™ll find bowls and platters, along with pitchers, vases and crocks. Prices start at $38.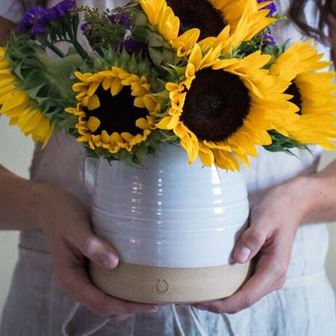 Read their wedding story and see the beautiful photos from their wedding!