New Farmhouse Pottery, Juliska, Easter Gifts, Silver Sale Final Days, Claire and Taylor Get Married
IN THIS ISSUE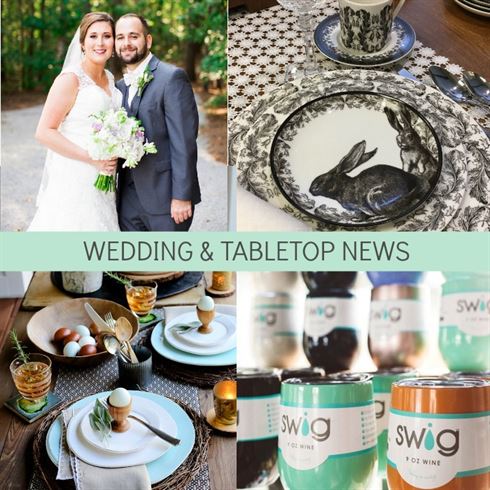 GIFT GAB: Swig Wine Glasses in Easter Egg Colors and Wrapped for Giving
TABLE TALK: Farmhouse Pottery Silo Dinnerware, Vietri Pastel Glass
BUYER™S CORNER: Dockside Dreaming with Juliska
EVENTS: Final Days of Our BIG Silver Event, Farmhouse Pottery Event,
FEATURED WEDDING: Claire and Taylor
GIFT GAB: Swig Wine Glasses in Spring Colors Wrapped for Giving
Need a last-minute gift for your best friends? Or perhaps a cute way to ask your bridesmaids to be part of your special day? We™ve got insulated Swig wine glasses in luscious spring colors tied up with pretty gingham ribbon for easy gift giving. Swig's double-wall vacuum insulated tumblers will keep your drinks seriously cold (or hot!)and are engineered to maintain the temperature of your beverage for the maximum time possible. Swig's insulation prevents condensation or heat from affecting the exterior of the tumbler. This means your Swig will always be comfortable to hold and will never make a watery mess in your hand or on your table. And yes- they can be personalized with a monogram or phrase! Swig 12-ounce Insulated Stemless Wine Glasses $19 each.
Need a gift in a hurry? Call us, we are more than happy to charge your gift, wrap it, and ship it for you! Phone: 205-871-3276
FYI"¦ Our registered brides save 20% on attendant and hostess gifts and we™ll even wrap them for you in the traditional Bromberg's silver box!
TABLE TALK: SOMEBUNNY WILL LOVE THESE BUNNIES!
This just hopped in! Caskata Yorkshire Hedgerow dinnerware with etched bunnies vintage-a inspired interpretation of the romantic English countryside are the perfect detail for your table this Easter Sunday. Microwave and dishwasher safe; we have them in stock so swing by and pick them up. Set of 6 canapé plates $100, salad plate $36, cup & saucer $36, and the dinner plate is $64.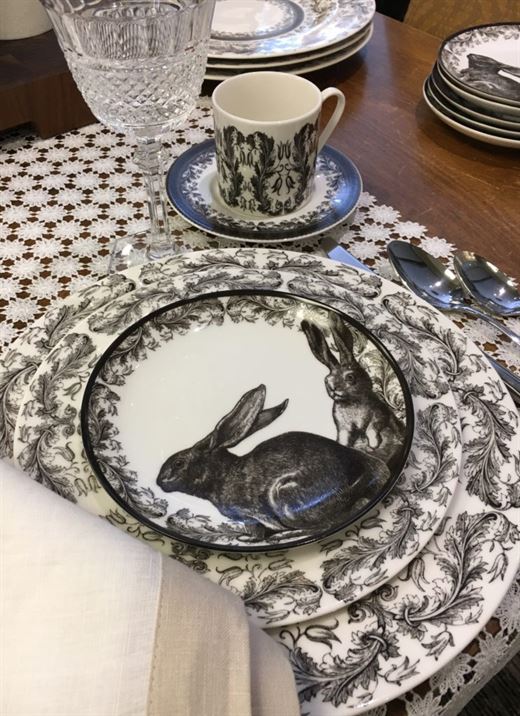 EGG-CELLENT NEW PASTEL GLASS FROM VIETRI
Perfect for the spring season, our Pastel Glass pattern from Vietri in Easter egg colors with gilded gold trim adds sparkle and shine to any place setting or pattern. Available in white, aqua, pistachio and pink. Prices begin at $22.
Need more ideas for your Easter table? We've got them from Vietri.

NEW SILO DINNERWARE FROM FARMHOUSE
Silo dinnerware from Farmhouse is making its way to our shelves! These classic plates make dinner beautiful and clean up easy. The durable wheel thrown glazed stoneware is simple, yet elegant and is oven, microwave, dishwasher safe. Prices begin at $75
Don™t miss our Farmhouse Pottery event happening April 23rd-28th at Mountain Brook.
NOTE: Formal china is on display at our Mountain Brook location only.
BUYER™S CORNER: NEW FROM JULISKA IN TIME FOR SPRING
Dockside dreams featuring shades of blue: Puro in Dappled Cobalt, Iberian Journey, Le Panier in delft blue and white and Sitio Stripe in Indigo. Made in Portugal of Ceramic Stoneware which is oven, microwave, dishwasher, and freezer safe.

New Berry & Thread French Panel collection captures innumerable shades of grey: stones, skies, and the indistinguishable horizon of a misty, early morning coastline. Beautiful when paired with the exotic Siam salad or cocktail plates. Prices begin at $28.
Don™t miss our Juliska Spring event April 30th -May 5th.
---
BROMBERG™S GIFT REGISTRY BENEFITS
All registered brides receive these benefits:
20% off non-diamond wedding bands
20% off attendant gifts and hostess gifts
Buy or receive seven place settings of china, crystal, or silver, get the eighth free!
Bromberg's exclusive twelve-month interest free club plan (with credit approval)
---
CONTACT ONE OF OUR BRIDAL CONSULTANTS:
Mountain Brook 205-871-3276 mbbridal@brombergs.com
Ask for Janice or Vanissa
Bromberg's at the Summit 205-969-1776 sbridal@brombergs.com
Ask for Katy Rose or Lisa
---
Claire and Taylor… view their wedding images and read their story"¦.
EVENTS AT BROMBERG™S
OUR BIG STERLINE SILVER FLATWARE EVENTS ENDS MARCH 30TH
Until March 30th, we are offering significant savings on our Top 10 patterns from Wallace, Gorham, Towle, International and Kirk Stieff. These patterns will be the lowest we have offered in more than ten years so don't miss this fabulous opportunity to save!
FARMHOUSE POTTERY: April 23rd-28th Mountain Brook only.
View our latest Farmhouse Pottery tablescapes and receive 20% off Farmhouse Pottery pieces during this 5-day event; also receive a Farmhouse silo crock ($85 value) with your $300 Farmhouse Pottery purchase. Drop by our Mountain Brook location on Thursday, April 26th from 10am-noon for coffee and a Farmhouse biscuit topped with their own Vermont honey!
SAVE THE DATE FOR JULISKA! Our annual Juliska Spring Event is April 30 – May 5th. More details soon!