MAY NEWS: Skyros Bridal Event Thursday, Gifts with Purchase Galore, Sister Schubert Cookbook Signing
IN THIS ISSUE:
Weddings: Bromberg's Brides, Bouquets, and Bridesmaids!
Gift Gab: Gifts with Purchase Galore!
Table Talk: New Skyros Glassware and Patterns
Events: Meet Sister Shubert & Kathy Pitts from Skyros at Our Bridal Event, Book Signing May 7th
GIFT GAB: GIFTS WITH PURCHASE GALORE!
This month, the gifts are all about you! Look at the fantastic bonus offers we have for you while supplies last, just in time for Mother's Day gifts this Sunday!
Vietri Wedding Completion Program: Vietri Toasts the happy couple with 4 free Irresistibly Italian champagne flutes with a completed Vietri wedding registry of $1,000 or more, a $92 value! Ask your bridal consultant for details.
With Vietri purchases of $250 or more made between May 1st-10th, you™ll receive a complimentary Forma cloud tray; valued at $59.
Receive a FREE Beatriz Ball Vento Bowl valued at $43 with your Beatriz Ball purchases of $75 or more made between April 21st and May 9th. Beatriz Ball is the perfect hostess, housewarming, or Mother's Day gift for that person in your life who loves to entertain. Stop in to see our collection at The Summit and Mountain Brook stores.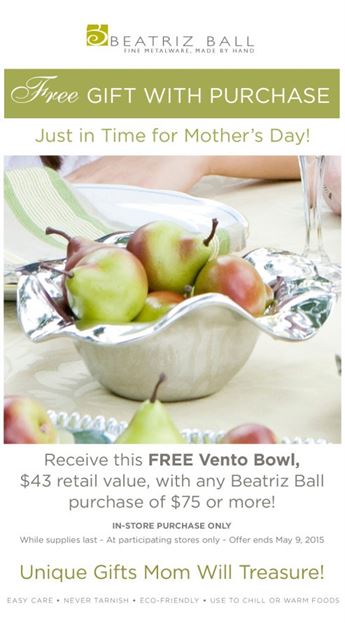 And if that isn™t enough, check out our Vietri Spring Cleaning Sale going on right now (Mountain Brook only) Save 50% on discontinued Vietri products!
FYI"¦ Our registered brides save 20% on attendant and hostess gifts and we™ll even wrap them for you in the traditional Bromberg's silver box!
TABLE TALK: SKYROS BRIDAL EVENT WITH NEW GLASSWARE AND PATTERNS
Our beautiful Skyros bride in the window of our Mountain Brook store is dressed in Skyros for our bridal event this week and we™ve got new Skyros glassware and patterns, too! Skyros Designs produces all of their ceramics in Portugal; it is where some of the finest ceramics in the world are made. Skyros is owned and operated by women who share a passion for life, laughter and hard work. They pair beauty with function and Skyros dinnerware is made of a fine, thin stoneware body that is durable enough to go straight from the freezer into a preheated 500 degree oven. The new glassware collection pairs with it perfectly!
Stop in to see the collection and meet Skyros President and owner Kathy Pitts this Thursday, May 7th at our Mountain Brook location. During our Skyros event, you will receive 20% Off Skyros purchases plus and a free Skyros Eternity vase and flower arrangement with your Skyros purchase of $250 or more. Value $75 while supplies last! Mountain Brook only.
Don™t forget that our formal china collection is on display at the Mountain Brook location only.
Please contact our bridal consultants at one of these locations: Janice, Vanissa & Courtni: Mountain Brook 205-871-3276 mbbridal@brombergs.com Bromberg's at the Summit 205-969-1776 sbridal@brombergs.com
Get some inspiration from this showcase of beautiful Bromberg's brides, their bouquets, and their gorgeous best friends.
Click here to see photos and read the story!
Bromberg's Brides Club Benefits All registered brides receive these benefits: 20% off non-diamond wedding bands 20% off attendant gifts and hostess gifts Buy or receive seven place settings of china, crystal, or silver, get the eighth free! Bromberg's exclusive twelve month interest free club plan (with credit approval)
SPRING BRIDAL EVENT: SISTER SCHUBERT "CELEBRATIONS FROM THE HEART" COOKBOOK SIGNING & TASTING EVENT MAY 7TH WITH KATHY PITTS OF SKYROS DESIGNS
Everyone's favorite roll maker, Alabama's own Sister Schubert Barnes and Betty Sims along with renowned Alabama artist Nall Hollis are on hand for our Mother's Day and Bridal Event on May 7th. "Sister" will be signing books from 11am-2pm but come early for a special tasting of recipes from her latest cookbook, "Celebrations from the Heart" from 11 am- noon. At our Mountain Brook location only.
You'll also have a chance to meet and talk to the fascinating woman behind Skyros Designs, Kathy Pitts. Learn how their product is made in Portugal and why she's so passionate about bringing it to your table.
Call Mountain Brook for more details: 205-871-3276