Make your mark: tips for engraving your jewelry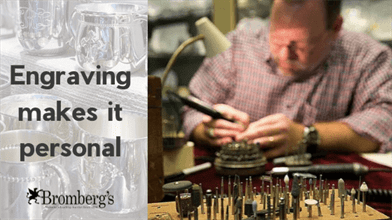 At Bromberg's, we specialize in turning the ordinary into extraordinary through the personalization of each piece we sell. From weddings to graduation gifts, engraving a special item can turn a gift-giving event into an emotional experience.
Are you considering an engraving on your next piece of jewelry or gift? Learn what types of questions to ask yourself before you begin the process of working with an engraver.
Question 1: What exactly do you want to engrave on or inside of your jewelry?
Before you communicate your wishes to an engraver, you should have a solid idea in place, yet still, be open to some flexibility or inspiration from the cutter themselves.
Common elements to engrave include:
names and initials;

important dates;

sentiment, such as "I love you" or "Forever;"

or quotes with significant meaning.
Even if you go into the process with something in mind, your engraver may ultimately come up with the idea that makes the piece truly special. Leaving it in the artist's hands can often surprise you in how wonderful the results turn out, so it's important to work with someone who has experience and who you can trust.
Question 2: What is the size and shape of your piece?
If something is long and narrow, or bar-shaped, the engraving could look much different than if it was a heart-shaped piece, locket or wider accessory.
According to our engraver, Harold Herglotz, championship footballs are one of his favorite pieces to customize. "Each piece is done by hand," says Harold. "This turns each piece into a one-of-a-kind item and makes each one unique."
The material of the item is also an important factor in how your engraving will turn out – whether the gift or heirloom is glass, rock, metal, or something else.
"Pewter is a much softer metal than stainless steel or titanium. The softer the metal is, the easier it is to engrave," says Harold.
Question 3: Have you considered capitalization?
When thinking about whether or not to capitalize individual letters or words on your piece, it's essential to consider readability. This is where working directly with an engraver, such as Harold (and being open to their direction), will ultimately help.
If it's initials or proper names, there are specific rules to follow, but there are also generational preferences to traditional capitalization. Younger gift recipients, for example, tend to write with fewer capitalized words or formality.
Lower-case words also need a little more room towards the bottom of the piece to account for letters such as y, g, p, etc.
Think through how you wish for the item to look in your mind, and talk with a professional who can help guide your vision in the right direction.
Gift-giving occasions are right around the corner.
From Valentine's Day to Mother's Day, there are many occasions over the coming months that call for an exceptional gift. Engraving your gift adds the personal touch and uniqueness that ensures yours is the only one like it in the world.
According to Harold, "If it can be cut, carved, or scratched, we can engrave it."
Need a hand picking out the perfect gift to commemorate an occasion? Our sales teams at either location (as well as our engraver) will be happy to help.
About Bromberg's
It's Bromberg's mission to provide clients with an unforgettable and enjoyable luxury experience. We operate two Birmingham fine jewelry stores located in Mountain Brook Village and the Summit. At each of our locations, we provide meticulous attention to our products to ensure quality for our loyal customers. If you are looking for that special piece, need a jewelry repair or appraisal, or just have a general question or comment, please contact us.