Juliska Event April 10th, Easter Tables, Chic Royal Copenhagen Mugs and Molly and Alan Get Married!

In this Issue
Real Wedding: Molly Cashio Marries Alan Cummings
Gift Gab: Spring Entertaining with New Cookbooks
Table Talk: Hot New Royal Copenhagen Mugs are Cool!
Bromberg's Events: Juliska Taste of Spring Event April 10
Gift Gab: Spring Entertaining: New Cookbooks in Stock
Come see our wonderful selection of new cookbooks just in time for your Passover, Easter, Mother's Day and graduation celebrations. One we love is the newest work from notable Southern gardener, author, and Auburn graduate James Farmer III. Dinner on the
Grounds combines recipes with ideas for outdoor entertaining and is perfect for that party-thrower in your life. We have a wide variety of cookbooks to select from for the budding cook or the accomplished chef. Cookbooks are the perfect last minute gift; pick up a few to have on hand when you need something for a hostess gift for those weekends at the beach or lake. Stock up now while our selection is the best!
FYI"¦ Our registered brides save 20% on attendant and hostess gifts and we™ll even wrap them for you in the traditional Bromberg's silver box!
Table Talk: Hot New Royal Copenhagen Mugs are Cool
Our new collection of Royal Copenhagen porcelain fluted mugs are an elegant way to keep your hot drinks hot and cold drinks cold. Available in 26 colors, these beautiful and functional mugs are the perfect kitchen accessory and a colorful addition to your Spring table. Wrapped in brightly colored silicone; they are not only pretty, they are microwave and dishwasher safe. Great for entertaining paired with our Sabre colored acrylic accessories. Royal Copenhagen Fluted Contrast mugs: $32.50 Sabre collection starts at $6.
Stop in to Mountain Brook or our store at The Summit to see the collections for yourself!
Please contact our bridal consultants at one of these locations:
Janice and Vanissa: Mountain Brook 205-871-3276 mbbridal@brombergs.com
Addie: Bromberg's at the Summit 205-969-1776 sbridal@brombergs.com
Bromberg's Brides Club Benefits
All registered brides receive these benefits:
20% off non-diamond wedding bands
20% off attendant gifts and hostess gifts
Buy or receive seven place settings of china, crystal, or silver, get the eighth free!
Bromberg's exclusive twelve month interest free club plan (with credit approval)
CLICK TO READ OUR REAL WEDDING FEATURE STORY: MOLLY CASHIO & ALAN CUMMINGS
Events
Juliska Taste of Spring Event April 10th at Mountain Brook
This is the event that everyone waits for"¦ our annual Juliska Taste of Spring event! Is Berry and Thread your favorite pattern? Perhaps you™ve wanted to complete your pattern or need some accessories for entertaining. Don™t miss this chance for great savings, giveaways and a gift with your Juliska purchase of $250 or more. See details below… Shop early and we will hold your Juliska selections for the event.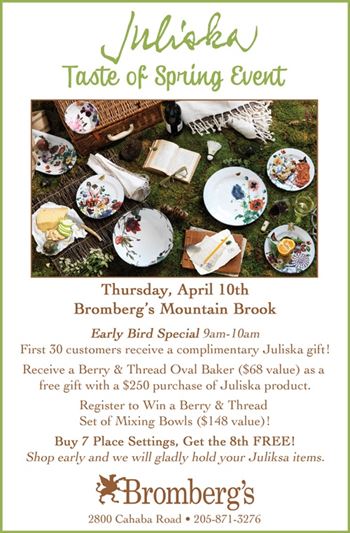 Follow Bromberg's & Company on social media for up to the moment information on new inventory, events and store happenings…