Julia Knight Gift with Purchase, A New Juliska Pattern, Madeline and Noah Get Married
In this Issue
Real Wedding: Madeline Krontiras and Noah Bader
Gift Gab: Julia Knight Gift with Purchase Event
Table Talk: New Juliska: Country Estates
Bromberg's Event: Get Cooking in the Kitchen

Join our Facebook Page! Get updates, news about events, sales and happenings!
GIFT GAB: Julia Knight Gift with Purchase!
What's better than a gift with your gift purchase? From now through July 10th, you will receive a gift valued at $45 with your Julia Knight purchase of $150 or more. Our colorful Julia Knight collection is a favorite of brides and those who love to entertain, making it perfect for wedding gifts as well as hostess gifts for those weekends at the lake or beach. Featuring serveware, barware, and glassware and wonderfully unique accessories in vibrant colors, any piece from our Julia Knight collection transforms a table and takes it from typical to special.
Registered brides save 20% on attendant and hostess gifts and we™ll even wrap them for you in the traditional Bromberg's silver box!
TABLE TALK: New Country Estate Collection from Juliska
Juliska has announced a brand new pattern that will be available in our stores in mid-July. Designed by Deborah Sears, renowned artist to the British royal family, Country Estates is reminiscent of a traditional toile pattern but designed in Juliska's popular stoneware. Fun and functional, this stunning collection can be dressed up or down, like a great pair of your favorite jeans and like most Juliska patterns, can go from the fridge, to the oven, to the table. The collection is featured in the July 2011 issue of Architectural Digest which features Elizabeth Taylor on the cover.
Please contact our bridal consultants at one of these locations:
Vanissa and Debra: Bromberg's at the Summit 205-969-1776 sb@brombergs.com
Janice: Mountain Brook 205-871-3276 mbbridal@brombergs.com
Bromberg's Brides Club Benefits
All registered brides receive these benefits:

20% off non-diamond wedding bands
20% off attendant gifts and hostess gifts
Buy or receive seven place settings of china, crystal, or silver, get the eighth free!
Bromberg's exclusive twelve month interest free club plan (with credit approval)
All registered brides also receive special discounts and gifts with purchase from our Bromberg's Wedding Partners! Learn more about merchant specials now
Guess What's Cooking at Bromberg's?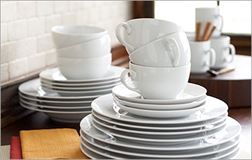 We™ve got the 411 on everything going on in the kitchen! With cookbooks from Alabama natives like James Beard award winner Chef Frank Stitt of Highland's Bar & Grill, Chef Chris Hastings of Hot and Hot Fish Club and the new Just Married and Cooking cookbook by Food Network "Chopped" champion Chef James Briscione and his wife, writer Brooke Parkhurst, we can help you cook and entertain with ease. Serve your culinary creations on all white dishes from Revol set on a stunning table with colorful linen from Garnier-Thiebaut or our new casually elegant French Laundry collection. Dinner for two? Roast a chicken using our whimsical Revol chicken roaster and make chicken salad with the leftovers. Stop in to Mountain Brook to see our kitchen shop and get things cooking in your kitchen!