January Bridal News: Valentine's Day Gifts, Buyer's Market Preview, Beautiful Wedding Tables, plus Chelsey and Kyle Get Married!
IN THIS ISSUE:
FEATURED WEDDING: CHELSEY LARUSSA MARRIES KYLE HESLOP
TABLE TALK: BEAUTIFUL HEAD TABLE DESIGNS WITH BROMBERG'S CHINA plus BUYER'S MARKET PREVIEW/NEW SIMON PEARCE PATTERNS
GIFT GAB: VALENTINE'S DAY GIFTS GALORE
TABLE TALK: USE YOUR BROMBERGS' GIFT REGISTRY TO CREATE THE PERFECT HEAD TABLE!
Over the years, we've put together stunning table designs with our favorite magazines, photographers, floral designers and wedding planners to help our brides find inspiration for their own tables. May we suggest that you add pieces to your Bromberg's gift registry to use for your head table design? You'll find we have patterns in every color and styles to suit every personality. Gold is one of the most popular wedding trends for 2016. Recently, we paired gold formal and casual china patterns for a head table design for a customer's wedding. Please stop by soon so we may help you plan your perfect table-best of all, you can use the pieces for your family celebrations for years to come. Formal china is displayed at our Mountain Brook store only.
BUYER'S MARKET PREVIEW: SIMON PEARCE HARTLAND COLLECTION
Julia and Janice have just returned from market and shared photos of the new Simon Pearce Hartland collection which will arrive in our stores very soon. Made in Portugal, the new dinnerware compliments any table and adheres to the same standards of craftsmanship synonymous with our Simon Pearce crystal. Best of all, Hartland is affordable-under $40 for the dinner plate!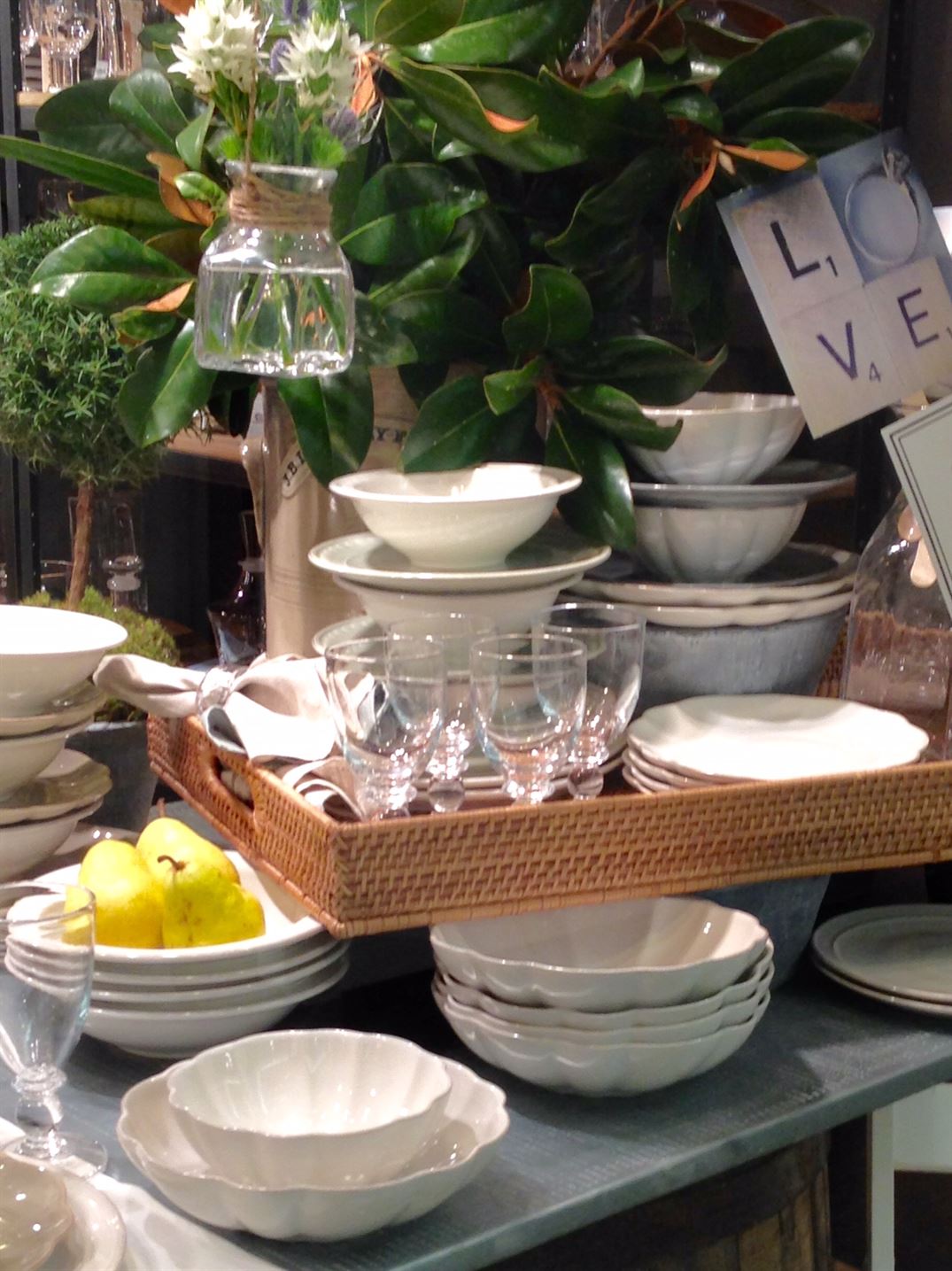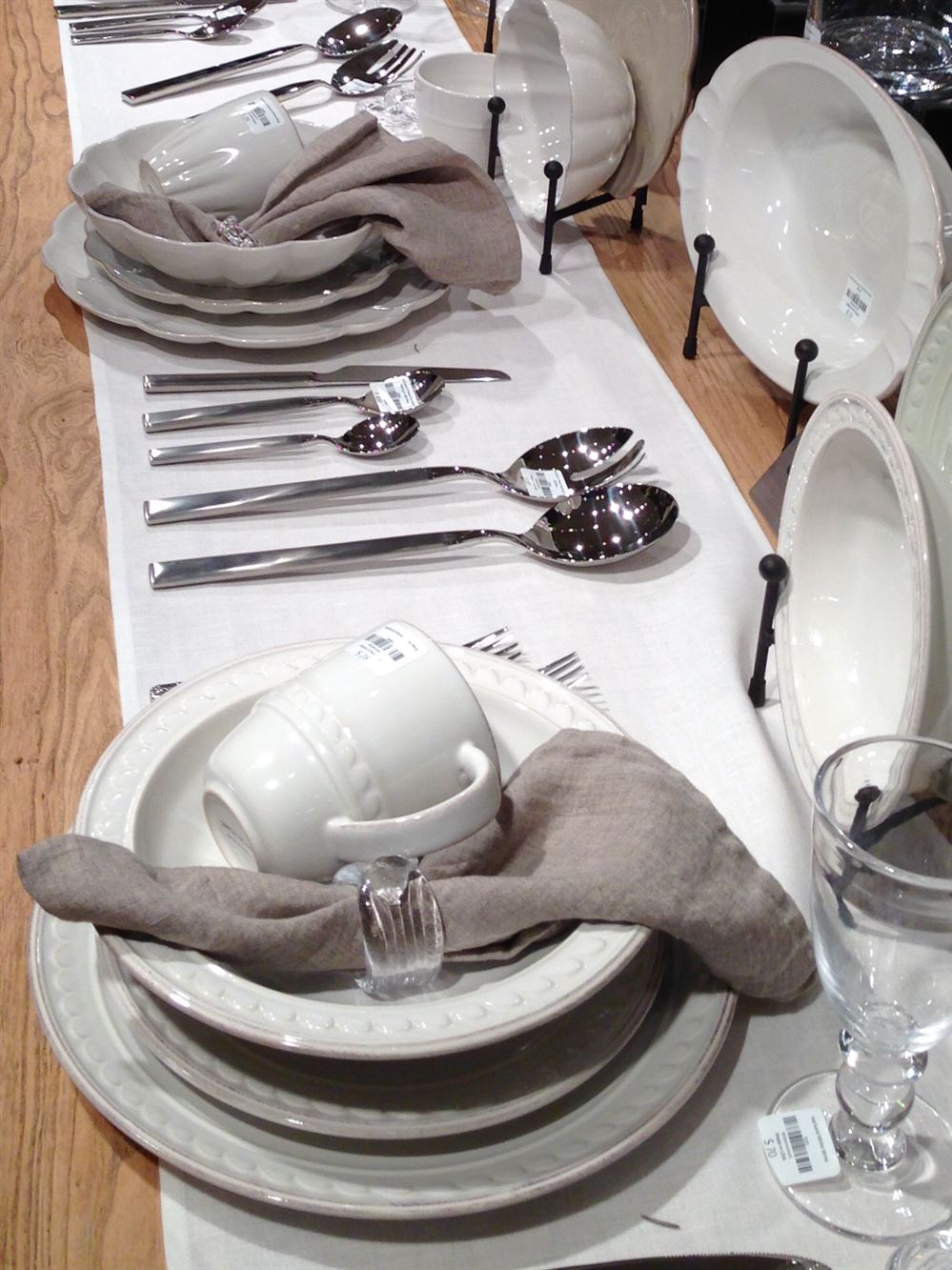 Our formal china collection is on display at the Mountain Brook location only.
Please contact our bridal consultants at one of these locations:
Janice, Vanissa & Courtni: Mountain Brook 205-871-3276 mbbridal@brombergs.com
Katy Rose: Bromberg's at the Summit 205-969-1776 sbridal@brombergs.com
GIFT GAB: VALENTINE'S DAY GIFTS GALORE
If you have no idea what to get your special someone this Valentine's Day, let us help you out. Obviously, we have a tremendous jewelry selection with prices to suit any budget but you may not know we have one of the best collections of unique gifts you'll find anywhere. …wrapped in our signature silver box! Our adorably collectible Herrend Valentiine's bunny is in stock now while supplies last. Other options include Waterford crystal clocks, ring holders, and vases, beautiful Brackish handcrafted bow ties, monogrammed cutting boards, a large collection of cookbooks including the popular Birmingham's Best Bites cookbook, and lots of items in orange & blue and crimson & white. Give your football fanatic the commemorative 2015 National Championship crystal football; only $165 while quantities last.
FYI"¦ Our registered brides save 20% on attendant and hostess gifts and we™ll even wrap them for you in the traditional Bromberg's silver box!
Need a gift in a hurry? Call us, we are more than happy to charge your gift, wrap it, and ship it for you! Phone: 205-871-3276
Chelsey LaRussa and Kyle Heslop met when both were working in Washington, DC as interns for the Juvenile Diabetes Research Foundation. The couple tied the knot in October in Birmingham. See their beautiful photos and read their wedding story…. click here.
Bromberg's Brides Club Benefits All registered brides receive these benefits: 20% off non-diamond wedding bands 20% off attendant gifts and hostess gifts Buy or receive seven place settings of china, crystal, or silver, get the eighth free! Bromberg's exclusive twelve month interest free club plan (with credit approval)
EVENTS: JANUARY 2016
Janice, Vanissa & Courtni: Mountain Brook 205-871-3276
Katy Rose: Bromberg's at the Summit 205-969-1776