5 Tips for Setting an Unforgettable Holiday Tablescape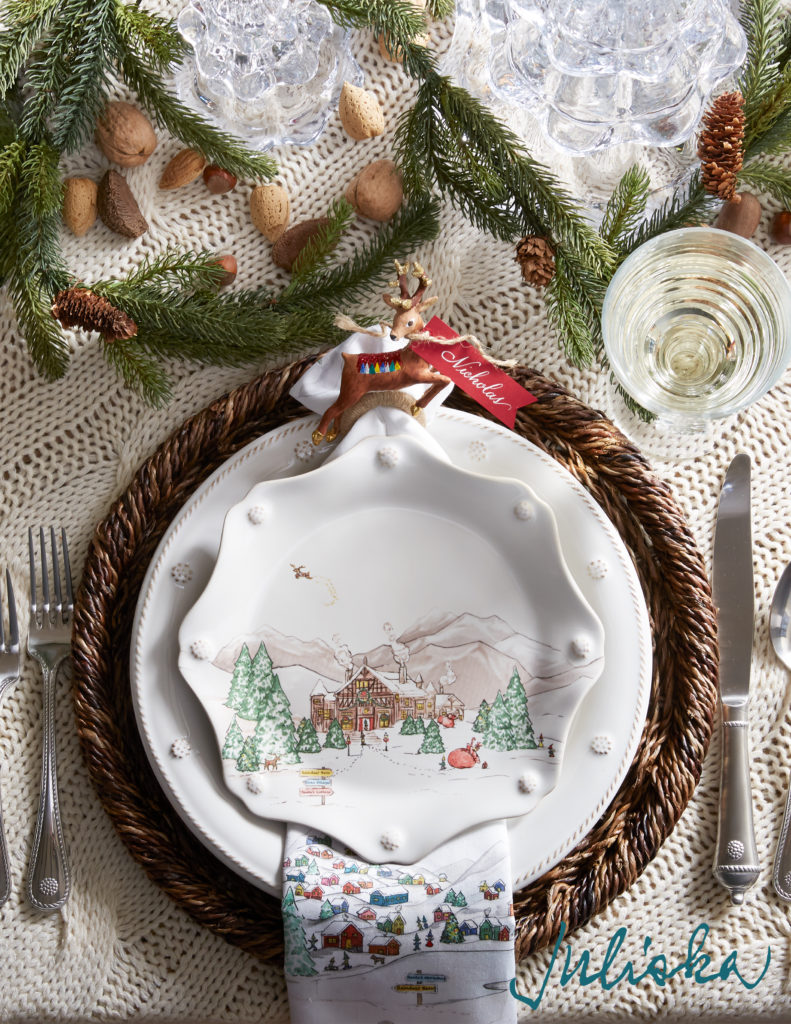 The mornings are getting cooler, the light is changing, and we're officially entering our favorite time of year here at Bromberg's: the holiday season. Before you know it, it'll be time to start planning for family festivities—including, of course, holiday meals. Sharing a meal is one of our most time-honored ways to connect and make memories with those we love. And crafting the perfect ambiance starts with a beautiful holiday tablescape.
An exquisite holiday table can set the mood, start conversations, and serve as a representation of your family, your home, and your most cherished traditions. Whether you're hosting a holiday dinner for the first time this year or looking for ways to shake things up, Bromberg's is here to help you set a table your guests won't forget.
1. Lay a Foundation with Neutral Linens
A simple foundation can elevate your event's feeling of luxury while allowing the design and colors of your dinnerware to really pop. Subtle linen patterns aren't out of the question, but do try to aim for an overall neutral aesthetic when choosing tablecloths, runners, placemats, and napkins.
We love unique textures and muted colors, which give you the opportunity to complement and heighten the look of your holiday decor. Neutral linens also look great with organic and natural elements, which are currently all the rage in interior decor—think sprigs of winter berries, holly leaves, dark florals, pinecones, and wooden chargers.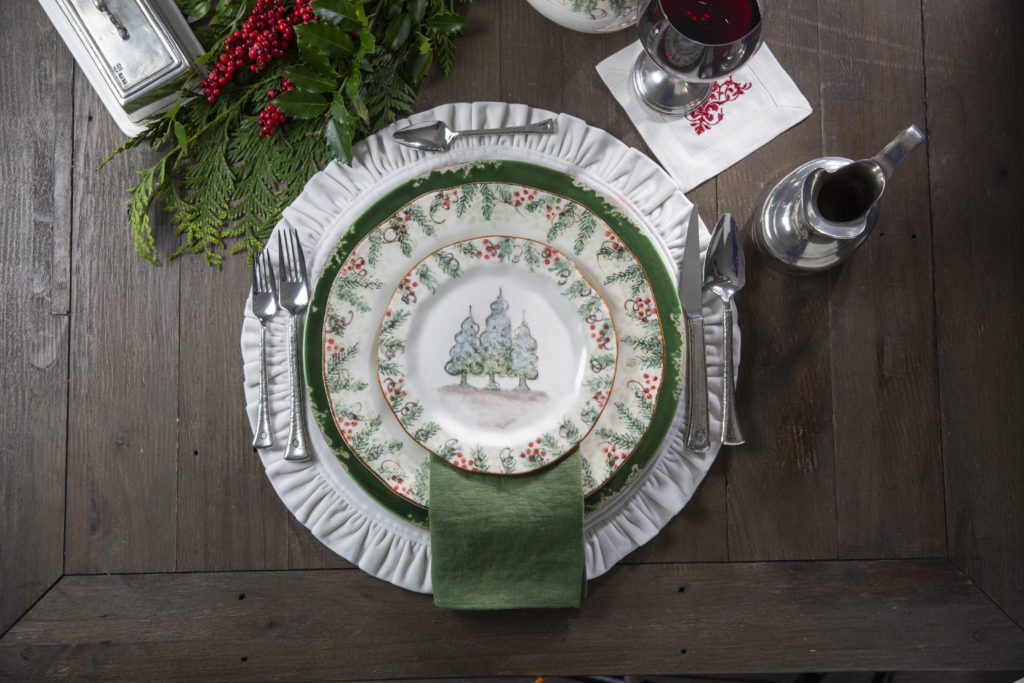 Plates: Natale by Arte Italica
Linens: Crown Linen Designs
2. Accent with an Unexpected Splash of Color
We all love a good splash of red or green for Christmas, blue for Hanukkah, oranges and browns for Thanksgiving—but your color options aren't limited. Explore different hues of your favorite traditional colors or go with the unexpected: pewters and chambrays, ochres and cranberries, teals and violets. Then, weave that color throughout your table's decor to give everything a sense of harmony, from bold napkin rings to unique chargers, tea light holders, and more.
We love a bold accent on a neutral base, but that's not the only route you can take. Complementary colors, or opposites on the color wheel, can also make for an enchanting holiday table. Consider the opportunities in combining pastels and jewel tones, warm and cool hues, and rich and light, powdery colors.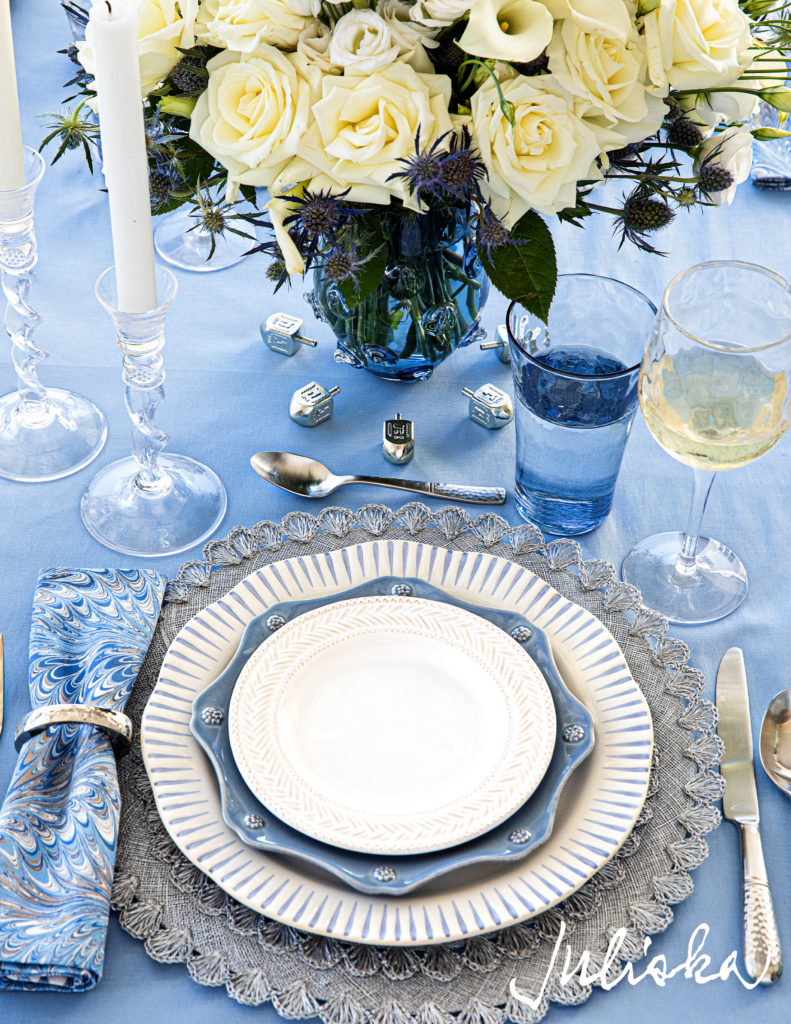 3. Mix and Match Vintage with New Dinnerware
At Bromberg's, we love Juliska's way of thinking: "savoring the moment, loving your life, being bold, making your own rules, and always finding reasons to celebrate!" Everyone has their personal favorite Juliska pattern for the holidays, from Country Estate to Berry & Thread to Bamboo. What you may not realize is that you can mix and match your favorite patterns to create something entirely unique!
The amazing thing about tableware from high-end holiday lines like Juliska and Vietri is that you can build on your collection from season to season, adding the latest pieces and patterns without having to run out and buy an entirely new set every year. And as your family and traditions grow, your new pieces can fit right alongside heirloom, vintage patterns.
When mixing and matching patterns, tie together various sets with a coordinating base. Whether that base is a shared color, texture, or shape, get creative and don't feel held back by what "should" go together. Layer placemats, chargers, border plates, and feature plates to get the most out of your look.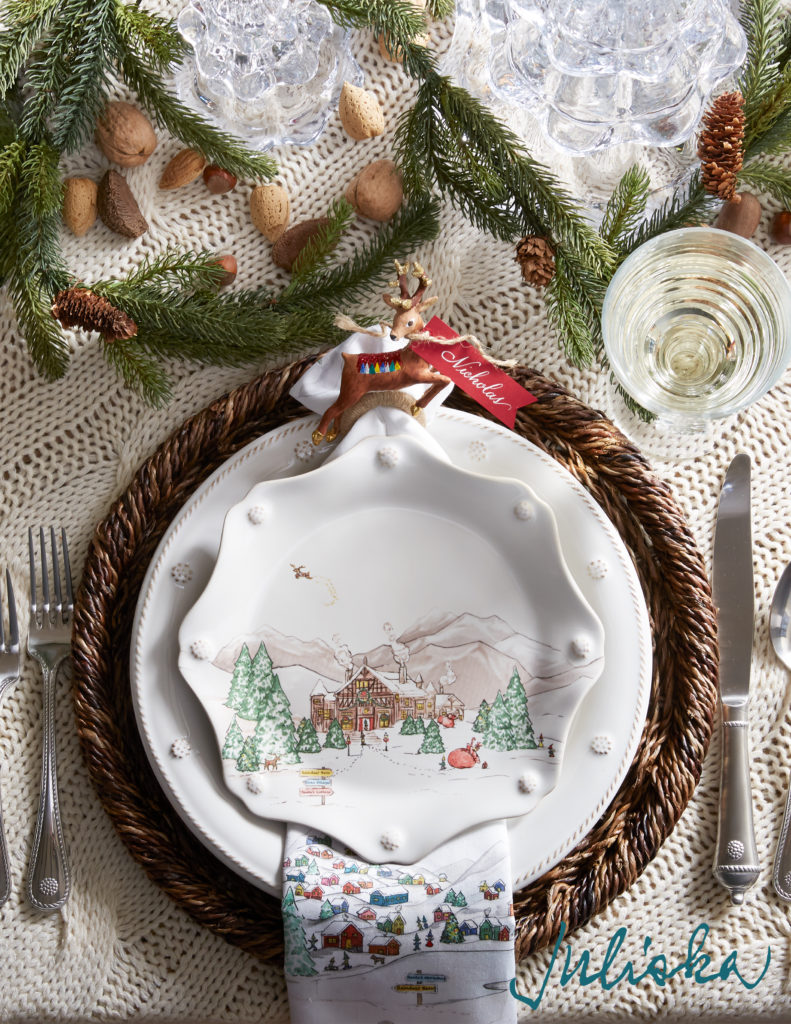 Juliska: North Pole salad plate and napkin, Berry & Thread dinner plate, rustic rope charger, reindeer napkin ring.
Vietri: Lastra holiday salad plates and serving pieces, Lastra dinner plates, Golf Ruffalo chargers (an example of how to use your fancier chargers with more casual dinnerware to great effect)
4. Think Carefully About Your Centerpiece
A tablescape depends on beautiful tableware, but don't forget the centerpiece! Your table decorations are your chance to put your style on display, and the centerpiece sets the stage to tie all the unique parts of that style together.
Florals and foliage provide not only a stylish, chic look but also limitless possibilities for personalization. We've seen beautiful, crystalline glass Christmas trees powdered with snow. We've seen antlers flocked with frost in beds of winter roses. We've seen delicate menorahs arranged from candles on silver holly leaves. Anything you can dream, you can do.
Just be sure that your centerpiece doesn't block your guests' views of each other, or take up too much serving space!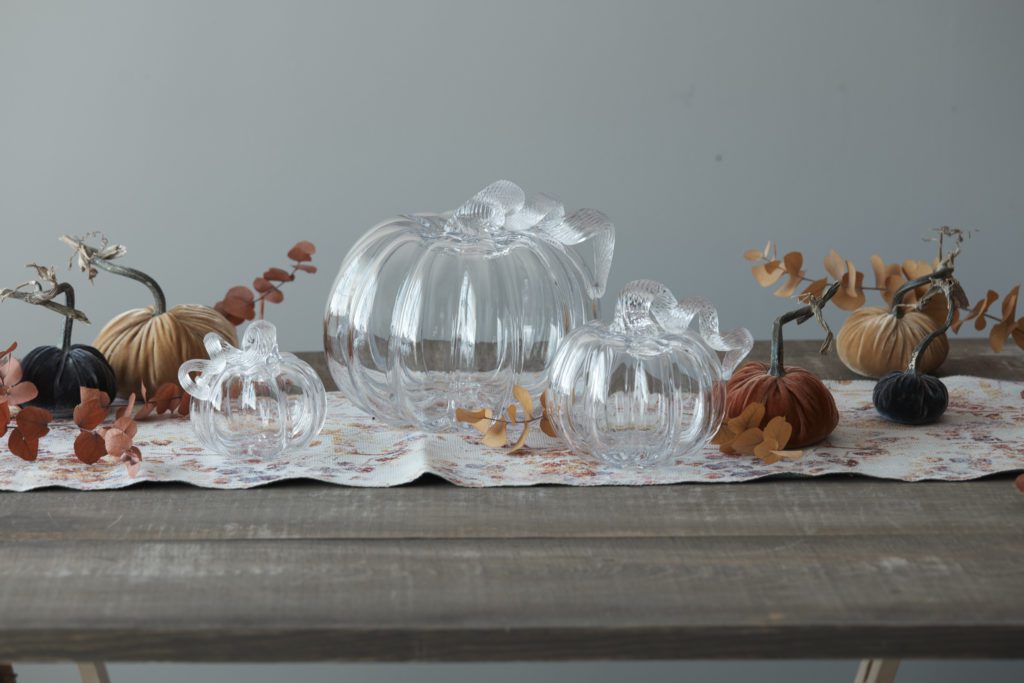 Simon Pearce mouth-blown Vermont glass pumpkins and trees
5. Personalize with Creative DIY Traditions
You don't have to play it safe with your table setting—the theme of the evening is you. If bright, bombastic colors are your thing, or your family always makes gingerbread together, you can find a way to include these little details that make the setting your own.
Table favors, or small take-home gifts, can make your guests feel truly valued and part of a larger tradition. Consider setting out a favor at each place setting, such as a handmade Christmas cracker, an ornament, a small wreath, or your favorite holiday sweet. Choose something that speaks to your tastes—your guests will always appreciate it!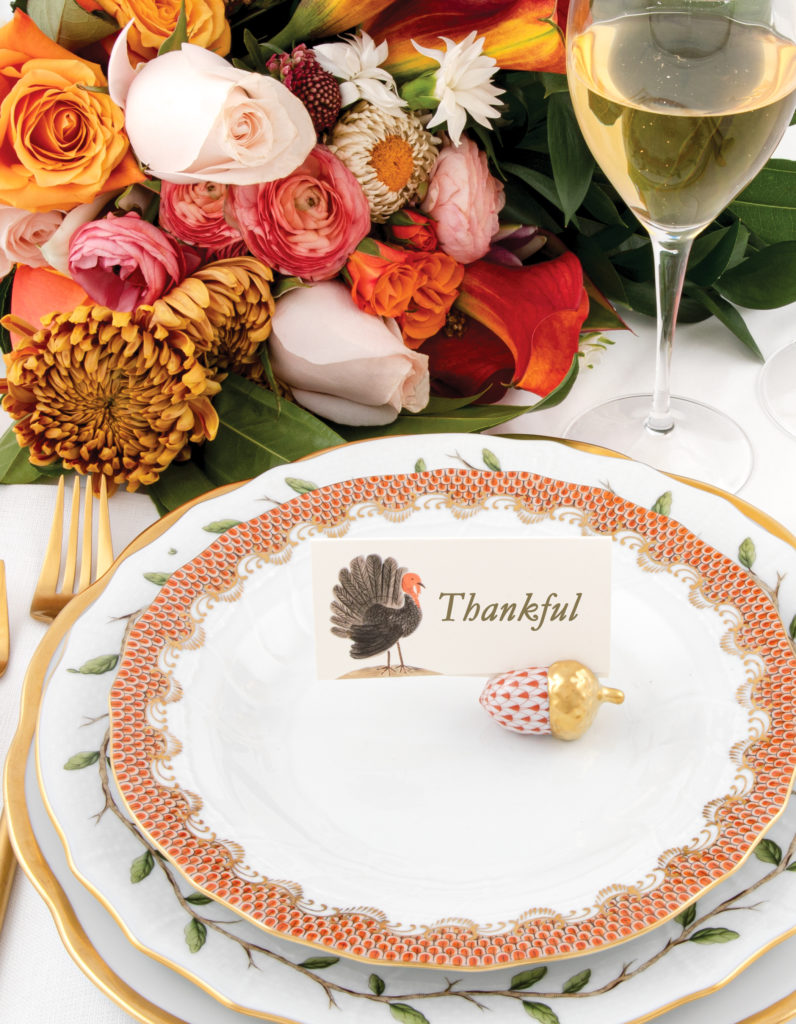 Herend pumpkin and acorn figurines as take-home gifts
Set the Scene with Bromberg's
Ultimately, the goal for any holiday tablescape is to add to the experience of your gathering. Setting an intentional, personal, and beautiful dining table is a way to delight the ones you love, bringing your own little bit of magic to this season of joy. At Bromberg's, we've been helping families make that magic come to life with our wide selection of fine tableware, decor, and giftware.
Stop by one of our showrooms before the rush and browse our latest pieces, including the new Juliska Fall and Holiday 2022 releases. We can't wait to be a part of your special creation!
Bromberg & Co. Jewelers: For All Your Joyful Gatherings in Birmingham, AL
There's nothing like the excitement of taking home a silver package from Bromberg's. Since 1836, our incredibly knowledgeable associates have helped Birmingham residents find everything they need for a joyful holiday season. For a personalized shopping experience, call your preferred location to book an appointment ahead of time: (205) 749-6787 for Mountain Brook Village or (205) 851-3089 for The Summit.