HOLIDAY SEASON: Bromberg's Village Tree and Holiday Tables, Waterford and Radko Signing Events plus Madeline and Stewart Get Married!
IN THIS ISSUE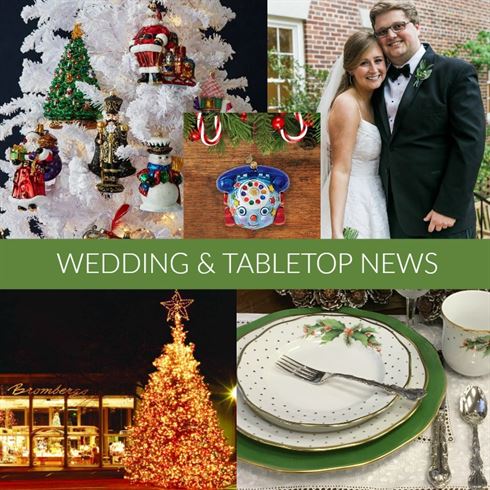 TRADITIONS: Our Mountain Brook Tree is Up and Our Holiday Tables Set!
EVENT: Limoges Trunk Show Happening Now
EVENT: Annual Radko Ornament Signing Monday, December 5th
EVENT: Waterford Signing Event Monday, December 5th
GIFT GAB: Lux Candles & New Gifts Arriving Daily
TABLE TALK: A Festively Formal or Comfortably Casual Christmas?
BUYER'S CORNER: Shelleigh Buckingham Pottery
FEATURED WEDDING: Madeline and Stewart
THE TRADITON CONTINUES: BROMBERG™S ANNUAL CHRISTMAS TREE
This holiday season, be sure to stop by our Mountain Brook store and have your photo made in front of our Christmas tree. A Birmingham tradition for more than a decade, the Bromberg's tree is always the backdrop for holiday cards, selfies, and even proposals during the holiday season. This year's Bromberg's tree is bigger and brighter than ever standing over 30 feet tall and illuminated with a million colored lights. Read more about the Bromberg's tree in a recent Village Living article. (Read article.)
Use the hashtag #brombergstree when posting your Bromberg's tree photos on social media for an opportunity to win a Bromberg's gift certificate!
GIFT GAB: LIMOGES BOXES, GIFT CANDLES, THE "SMELL OF CHRISTMAS" AND HOLIDAY ORNAMENTS!
Everyone loves receiving a gift in a Bromberg's silver box wrapped with our red Christmas ribbon! If you need a gift in a hurry, Bromberg's is your best bet to find something for every taste and price range. Stop in now while our shelves are full for best selection. Here are a few ideas:
LUX CANDLES
Handmade in Arkansas with fragrances like Aspen Holiday, Bitter Orange and Evergreen, Cypress, Frasier Fir, Noel, and White Christmas, these superior quality, long-burning candles will be a favorite gift again this season. With boxes as pretty as the candles inside, there's no need to gift wrap–and they make a beautiful favor or addition to a place setting at any holiday party. Prices from $22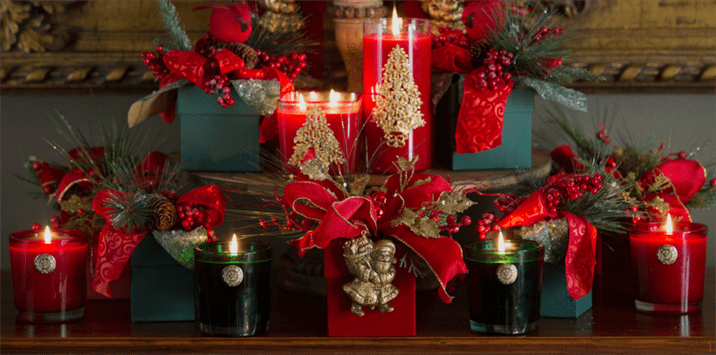 AROMATIQUE: SMELL OF CHRISTMAS DECORATIVE FRAGRANCE
This is a gift we cannot keep in stock. Get one or more to give, one to keep. A captivating fragrance of citrus and spice with a warm blend of natural botanicals, it makes the whole house smell like Christmas! $22.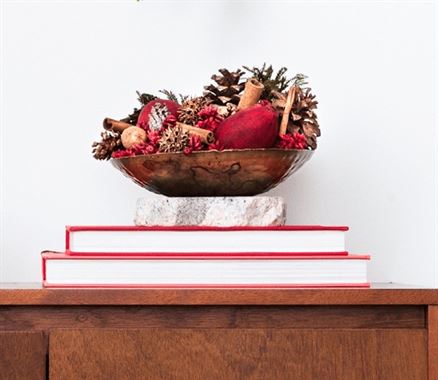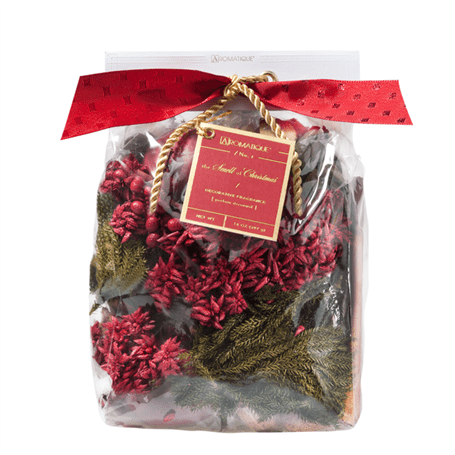 HAPPENING NOW! LIMOGES TRUNK SHOW
Limoges boxes have long been a favorite gift at Bromberg's. The collection of authentic French hand-painted, hand-crafted porcelain hinged boxes are timeless classics with themes to suit anyone on your list. Whether you have a serious Limoges collector on your list or want to start a collection for someone special, shop now while we have the expanded Limoges collection in store during our special trunk show event. Images shown are just a sampling of the collection. Stop in to see these tiny works of art for yourself. Prices starting at $200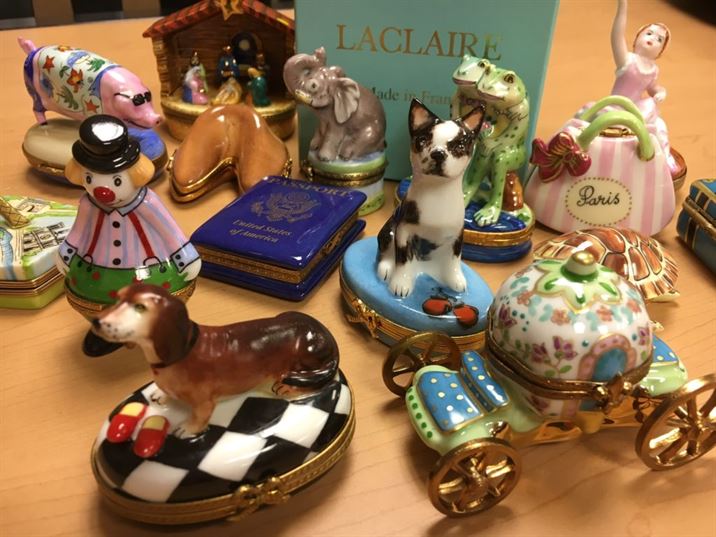 ORNAMENTS & MORE: ANNUAL RADKO AND WATERFORD SIGNING EVENTS THIS MONDAY!
Waterford's Tom Power will be in store Monday December 4th from 10am-2pm
The Waterford signing event happens this Monday- an annual holiday tradition you won™t want to miss. Have your Waterford purchases signed by Waterford Master Craftsman Tom Power. Tom began his career with Waterford in 1969, advancing to his current role as Master Craftsman. His many great works include the Waterford Crystal Ball, lowered at the Times Square New Year's celebration in New York.
Radko's Brand Ambassador Brant Moll will be at Mountain Brook to sign your Radko ornament purchases on Monday, December 4th from 11am-2pm.
Meet Christopher Radko Ambassador Brant Moll and have him sign your Radko ornament purchases at our Mountain Brook location. Many of you collect Radko so you™ll love hearing Brant talk about the company's fascinating history and the process involved in the creation of these heirloom blown glass, hand-painted ornaments.
RADKO GIFT WITH PURCHASE SPECIAL: When you spend $300 on Christopher Radko Ornaments you receive a free Santa ornament valued at $63.
Don™t miss our annual Children's Hospital Ornament: Dial Up Some Fun $58.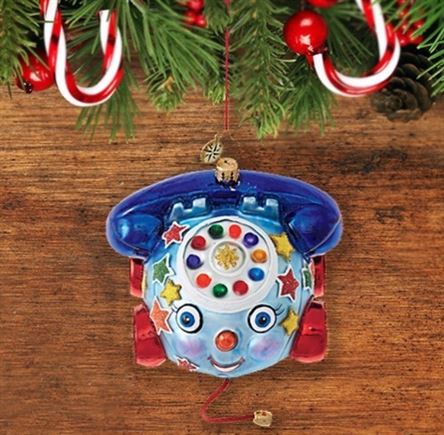 IT™S HERE–BROMBERG™S HOLIDAY & HOME CATALOG 2017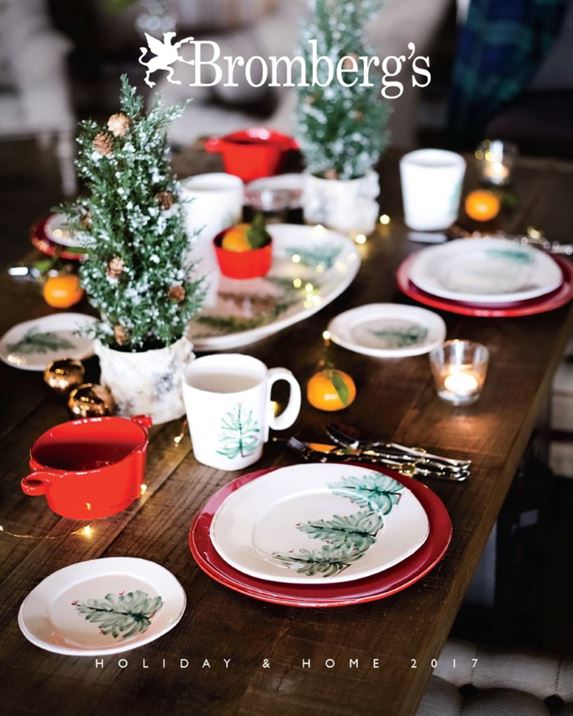 Are you ready to dive into the holidays but feel a bit overwhelmed? Our 2017 Holiday and Home Catalog has been mailed, full of fabulous gift ideas for everyone on your list. If you missed yours, stop in to one of our stores to pick up a copy; circle some favorites to drop a hint to Santa or check it out online! http://online.fliphtml5.com/xaip/cfoc/
Need a gift in a hurry? Call us, we are more than happy to charge your gift, wrap it, and ship it for you! Phone: 205-871-3276
FYI"¦ Our registered brides save 20% on attendant and hostess gifts and we™ll even wrap them for you in the traditional Bromberg's silver box!
TABLE TALK: NEW PATTERNS, OLD TRADITIONS
Setting a lush table using holiday china to celebrate is one of our favorite Southern holiday traditions. If you need to add to your collection (or start one for yourself or a special granddaughter, niece, or daughter) get ideas from the holiday tablescapes set up in our Mountain Brook windows right now.
FOR THOSE FORMAL FESTIVITIES: Versace's A Winter's Night or Herend's new Winter Shimmer are both extremely elegant and timeless.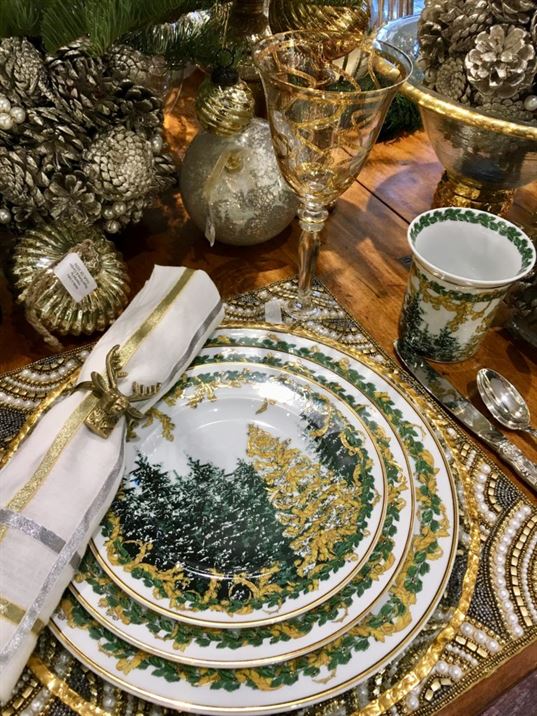 VERSACE: A WINTER™S NIGHT
Dinner $150
Salad $110
Bread & Butter: $115
Mug $175
Charger $450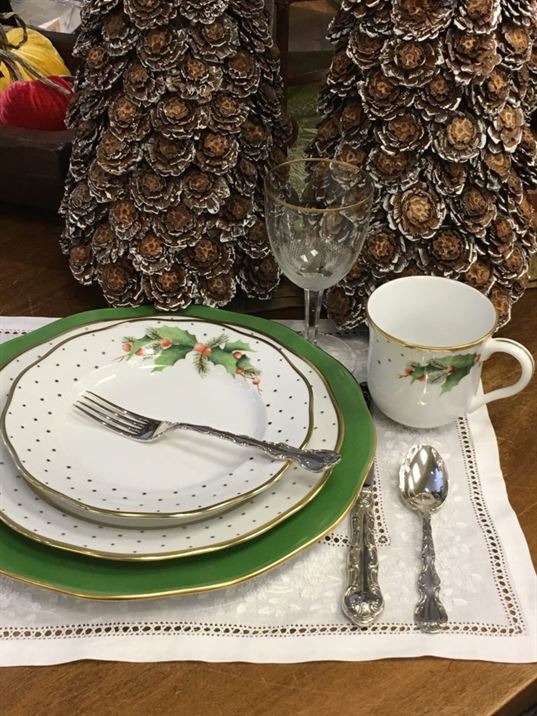 HEREND: WINTER SHIMMER
Dinner $215
Salad $150
Mug $210
PLANNING A CASUAL CHRISTMAS? You™ll want to see the pretty holiday tables set with Farmhouse Pottery- a look that can easily be dressed up or down.
Don™t forget our new classics for the holidays: Juliska's Country Estate Reindeer Games is a new holiday classic!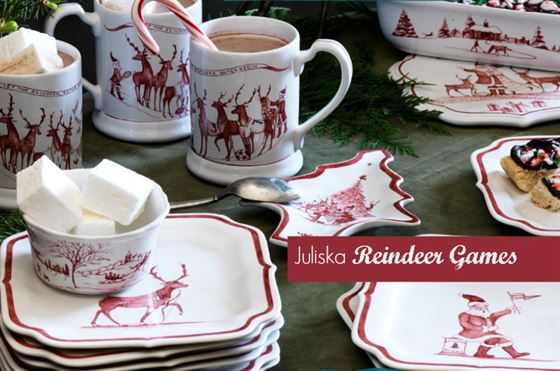 And Vietri's charming Old St. Nick pattern is one that continues to delight young and old.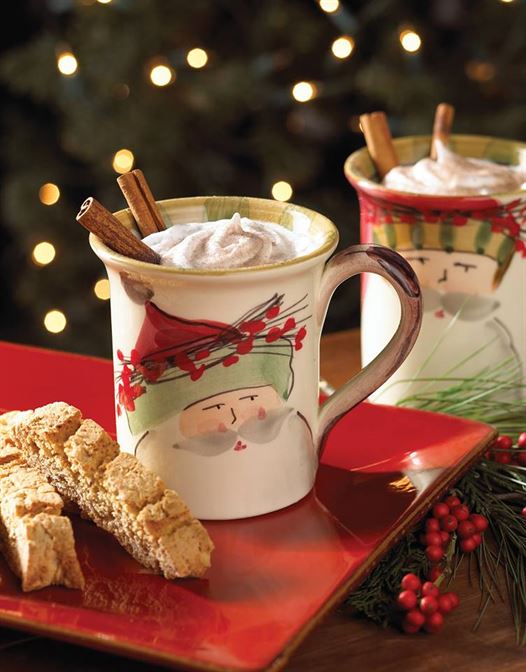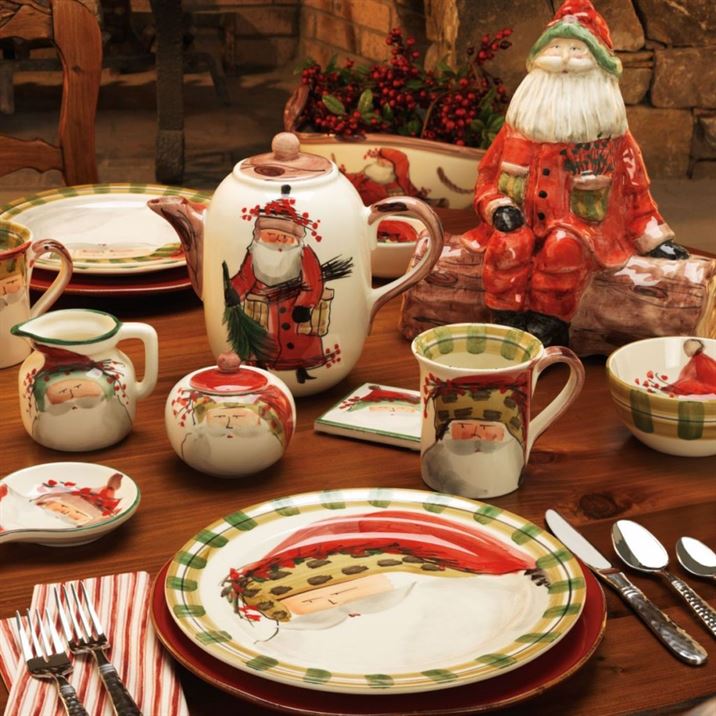 NOTE: Formal china is on display at our Mountain Brook location only.
BUYER™S CORNER: LOCALLY CRAFTED BOTANICAL TRAYS AND PITCHERS
Gift buyer Julia Glass™ favorite gift this holiday season is brand new to Bromberg's. Local artist Shelleigh Buckingham's collection of pitchers and trays are inspired by her love of nature, simple symbols and organic shapes and are perfect for the nature lover on your list. The artist uses botanicals from gardens and woods to create a natural etching design unique to each piece. Trays $20 Small pitchers $35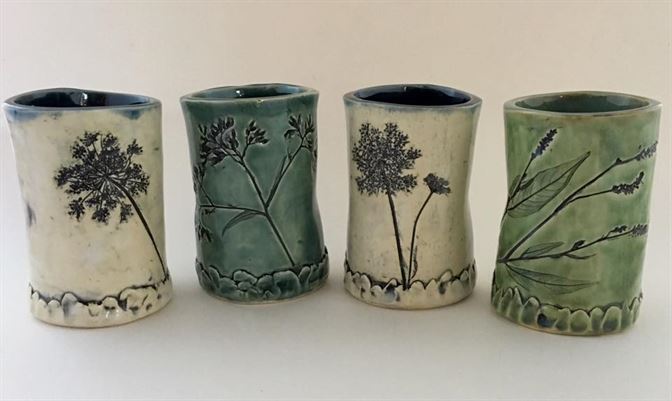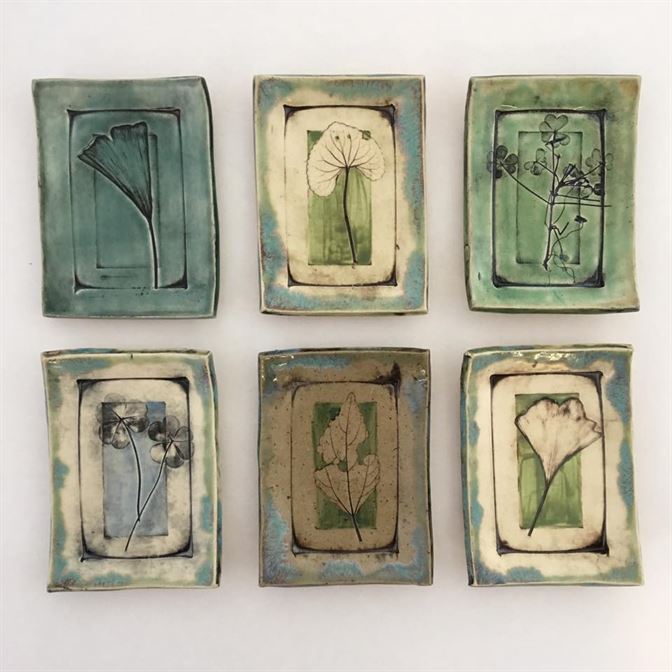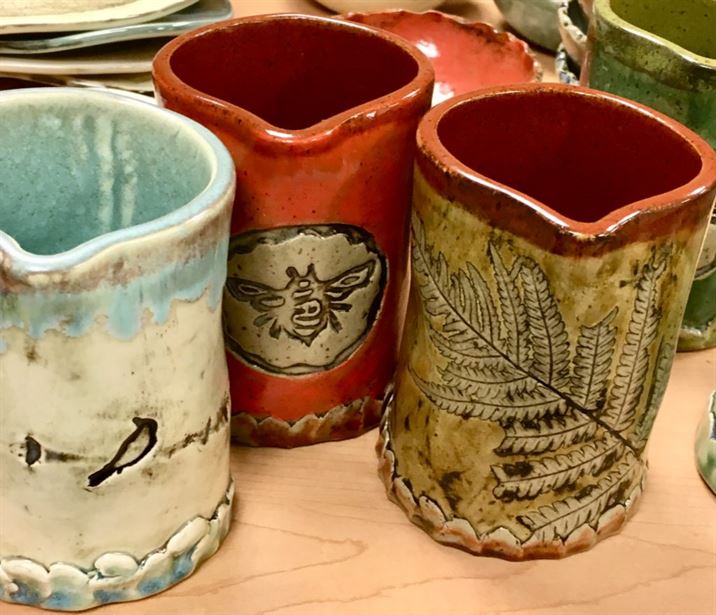 BROMBERG™S GIFT REGISTRY BENEFITS
All registered brides receive these benefits:
20% off non-diamond wedding bands
20% off attendant gifts and hostess gifts
Buy or receive seven place settings of china, crystal, or silver, get the eighth free!
Bromberg's exclusive twelve-month interest free club plan (with credit approval)
CONTACT ONE OF OUR BRIDAL CONSULTANTS:
Mountain Brook 205-871-3276 mbbridal@brombergs.com
Ask for Janice or Vanissa.
Bromberg's at the Summit 205-969-1776 sbridal@brombergs.com
Ask for Katy Rose or Lisa.
See their wedding images and read their story"¦.
EVENTS AT BROMBERG™S
BROMBERGS ANNUAL CHRISTMAS TREE: Our Christmas tree is up, and the holiday season is in full swing. Stop by and take a photo and post it to social media using the hashtag #brombergstree for a chance to win a Bromberg's gift certificate!
LA CLAIRE LIMOGES TRUNK SHOW: Now through – Christmas. Eve. Mountain Brook only.
RADKO EVENT: Radko Ambassador Brant Moll will be in store signing your ornament purchases on Monday, December 4th from 11am -2pm.
WATERFORD EVENT: Waterford Master Craftsman Tom Power will be in store signing your Waterford purchases on Monday December 4th from 10am-2pm