Gorgeous French Linen to Give or Keep, New Earthborn Pottery, Kimberly & Brendan's Beach Wedding
In this Issue
Real Wedding: Kimberly Pappas & Brendan Haney
Gift Gab: GARNIER-THIEBAUT FRENCH LINENS
Table Talk: NEW FROM EARTHBORN POTTERY
Bromberg's Event: MOUNTAIN BROOK CHRISTMAS TREE

Join our Facebook Page! Get updates, news about events, sales and happenings!
GIFT GAB: GORGEOUS GARNIER-THIEBAUT FRENCH LINENS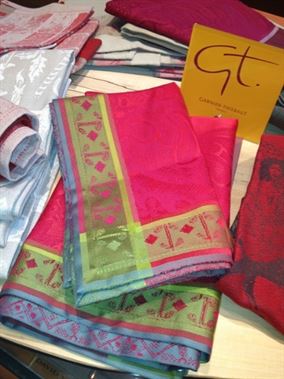 We™ve just received a new shipment of gorgeous Garnier-Thiebaut French linens, just in time for holiday hostessing or giving! Whether you need a little something for that hostess with the mostess, teacher gifts, or gift swap parties, come in to see our collection of tea towels, napkins, placemats, tablecloths, aprons, and lots more. We™ll even wrap them for you while you wait.
Last Minute Gifting? We still have the annual Children's Hospital of Alabama holiday ornament at our Mountain Brook and Summit stores or Bromberg's online shop. $50
Registered brides save 20% on attendant and hostess gifts and we™ll even wrap them for you in the traditional Bromberg's silver box!
TABLE TALK: NEW FROM EARTHBORN POTTERY!
Please contact our bridal consultants at one of these locations:
Vanissa and Debra: Bromberg's at the Summit 205-969-1776 sb@brombergs.com
Janice: Mountain Brook 205-871-3276 mbbridal@brombergs.com
Bromberg's Brides Club Benefits
All registered brides receive these benefits:

20% off non-diamond wedding bands
20% off attendant gifts and hostess gifts
Buy or receive seven place settings of china, crystal, or silver, get the eighth free!
Bromberg's exclusive twelve month interest free club plan (with credit approval)
All registered brides also receive special discounts and gifts with purchase from our Bromberg's Wedding Partners! Learn more about merchant specials now
BROMBERG™S MOUNTAIN BROOK CHRISTMAS TREE
An annual tradition for many years, our huge Christmas tree in the "island" in front of our Mountain Brook store is the perfect place to take your family holiday photos. Stop by and enjoy our gift to the village and to our customers"¦ a thank you for your loyalty and patronage. As the year of our 175th anniversary comes to a close, we send our very best wishes to all of our Bromberg's brides and grooms as you share your first holiday season as a married couple. Merry Christmas & Happy Holidays to you all!