Bromberg's Tree Lighting Today, Holiday Events, Wedgwood Advent Calendar plus Emily and Ellis Get Married
IN THIS ISSUE: GIVING WITH GRATITUDE
GIFT GAB: Cutting Boards, Cookbooks, And Crystal Make the Cut This Holiday
TABLE TALK: Vietri's Into the Woods and Juliska's Forest Walk and Gratitude
HOLIDAY TRADITIONS: Bromberg's Village Tree, Radko, and Wedgwood
FEATURED WEDDING: Emily and Ellis
EVENTS: Bromberg's Annual Village Christmas Tree Lighting is Today!
SAVE-THE-DATE FOR THESE EVENTS!
Our Annual Waterford Signing Event, Brackish Bow Tie Event, Museum Bees by Trace Mayer, Alabama Cravings Cookbook Signing Event, plus Mountain Brook Christmas Parade Storytelling Event
---
Holiday Traditions Begin At Bromberg's"¦
BROMBERG™S ANNUAL CHRISTMAS TREE: Bromberg's is proud to sponsor the Mountain Brook Village Christmas tree again this year. Tonight is the night for the lighting, November 23rd! Many couples have gotten engaged in front of the tree and families come to take their annual holiday photo in front of it. Our 30-foot tree is brought down from North Carolina the day before Thanksgiving. The tree is decorated with more than 30,000 lights, which will stay lit through New Year's Eve. We love seeing all of you stop to enjoy our now iconic village Christmas tree. Please use the hashtag #brombergstree when posting your Bromberg's tree photos on Instagram and Facebook so we can enjoy them, too! #brombergstree
---
START A CHRISTMAS TRADITION WITH RADKO & WEDGWOOD
OUR ANNUAL RADKO CHILDRENS OF ALABAMA ORNAMENT: Bromberg's has sponsored a Christmas tree at Childrens of Alabama hospital for many years and each year, we select a special Radko ornament for gift-giving with a portion of the proceeds dedicated to the new Child Life program at Childrens of Alabama. Begin a Radko ornament tradition for your family by picking up our 2018 Childrens of Alabama ornament for your tree.
Get them while they last: Radko's 2018 "Just Married" ornaments are the perfect gift for your favorite newlyweds!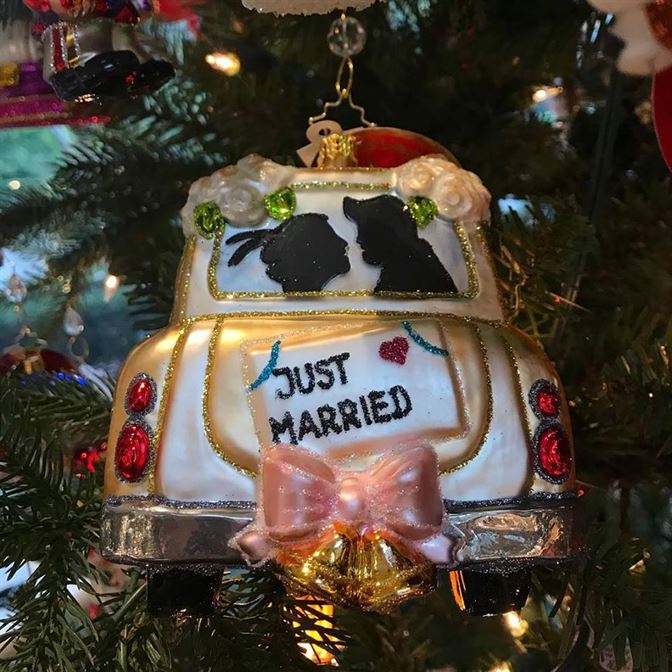 WEDGWOOD ADVENT CALENDAR: We are so excited to have this very limited edition 2018 Wedgwood Advent calendar in stock at our Mountain Brook location. Each day in December, as the calendar counts down to Christmas, open one of the twenty-four drawers in the Georgian-style house to reveal a different hand-crafted Wedgwood Christmas ornament, crafted in Wedgwood's iconic blue and white Jasperware.
---
CUTTING BOARDS, COOKBOOKS & COCKTAILS
We have a large selection of new cutting boards, charcuterie boards, lazy Susans, and pewter serving pieces in stock for your holiday gatherings and gift giving. Here are some lovely ideas for using cutting boards for serving, making holiday get-togethers easier and more beautiful! Prices from $49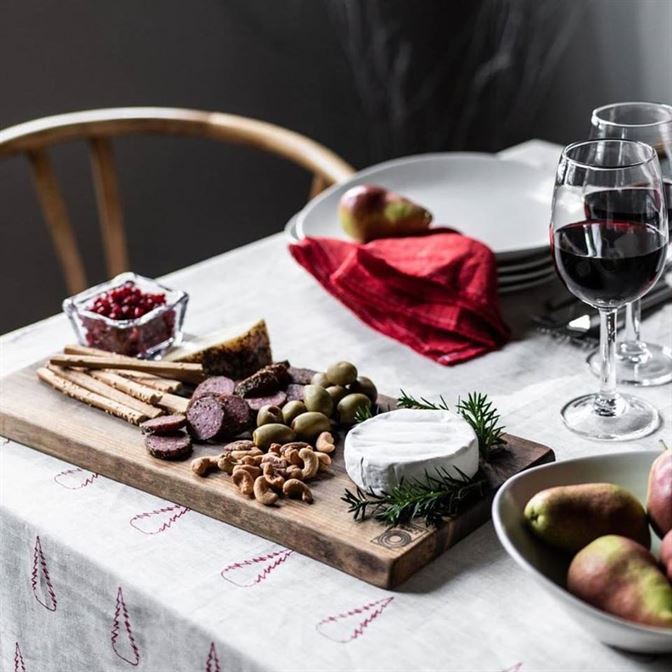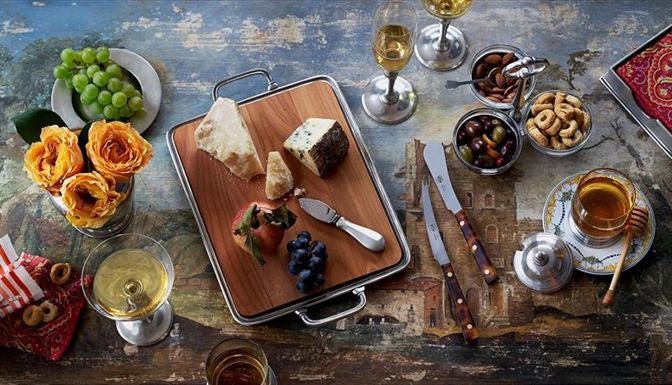 SHARE THE "˜HAM: MAGIC CITY CRAVINGS AND ALABAMA CRAVINGS COOKBOOKS: Martie Duncan's award-winning Magic City Cravings cookbook with recipes from your favorite Birmingham restaurants (past & present) is a huge hit! We are excited to host the debut of her newest cookbook, Alabama Cravings featuring famous recipes from around the state.
Author Martie Duncan will be signing copies on Friday, November 30th from 11-2 at our Mountain Brook location. The book is expected to sell out before Christmas so get your copies early! $27.95
SO OLD FASHIONED: Looking for the perfect gift for a luxury loving whisky aficionado? This set of four gorgeous Baccarat crystal double old-fashioned glasses could be just the thing. Set of four $250.
Need a good Old-Fashioned recipe for your new glasses? Try this one from Bulleit Bourbon.
BULLEIT OLD FASHIONED
INGREDIENTS
1.25 oz. Bulleit Bourbon
2 bar spoons simple syrup
3 dashes Angostura bitters
1 orange peel
Directions:
Add two bar spoons of simple syrup, three dashes of bitters and Bulleit Bourbon to a large rocks glass.
Add ice.
Stir gently until the level of the ice and liquid equalize.
Zest an orange peel over the glass then add the peel to the drink as a garnish.
---
TABLE TALK: RUSTIC CABIN STYLE FOR THE HOLIDAYS
Vietri's Into the Woods pattern sets a rustic holiday table which combines natural elements of the woods with chic styling and classic lines. The collection features furry friends from the woods: an owl, deer, wolf, bear, and fox which are depicted with exquisite detail.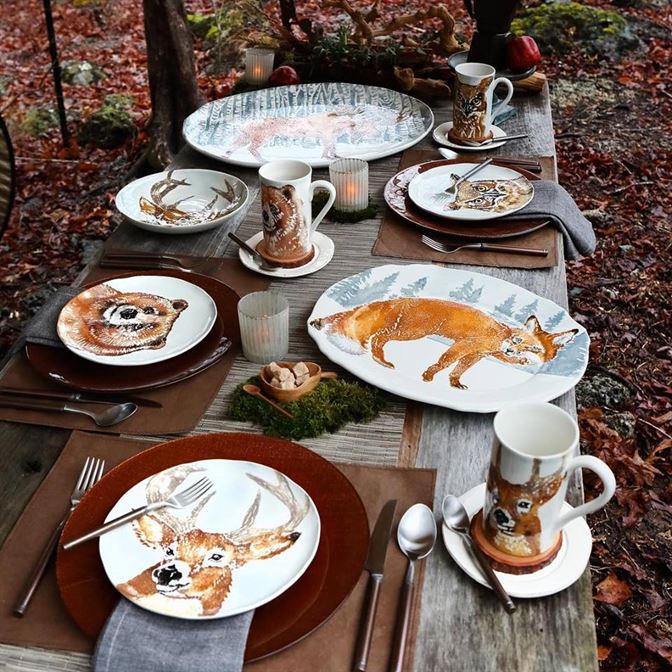 ---
Juliska's Forest Walk, Gratitude Bowls and Platters: An ode to the earth's natural beauty, Juliska's Forest Walk features Mother Nature's abundant gifts illustrated in vibrant colors on ceramic stoneware. The tidbit plates are adorned with sentiments for the season "" friendship, family, love and gratitude and come packaged in a gift box.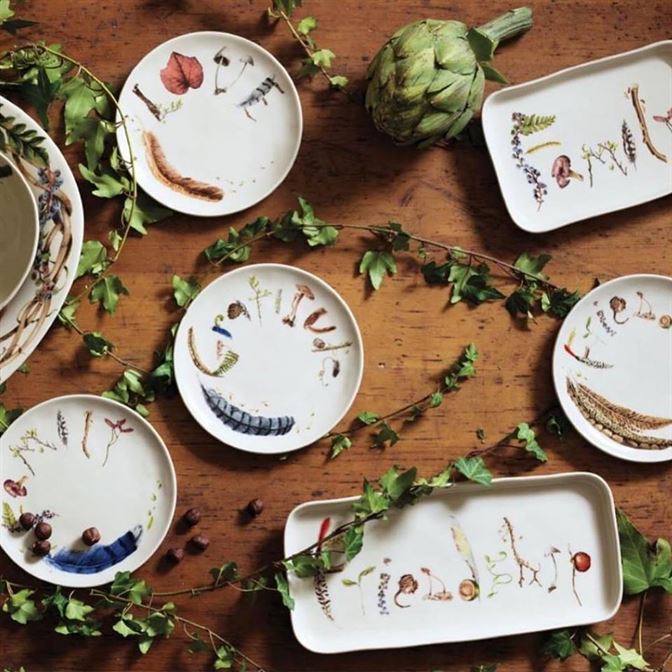 ---
NOTE: Formal china is on display at our Mountain Brook location only.
BROMBERG™S GIFT REGISTRY BENEFITS
All registered brides receive these benefits:
20% off non-diamond wedding bands
20% off attendant gifts and hostess gifts
Buy or receive seven place settings of china, crystal, or silver, get the eighth free!
Bromberg's exclusive twelve-month interest free club plan (with credit approval)
CONTACT ONE OF OUR BRIDAL CONSULTANTS
Mountain Brook 205-871-3276 mbbridal@brombergs.com
Ask for Janice or Vanissa.
Bromberg's at the Summit 205-969-1776 sbridal@brombergs.com
Ask for Katy Rose or Lisa
---
FEATURED WEDDING: EMILY AND ELLIS
See their photos and read their wedding story"¦
---
EVENTS
NOVEMBER 19-DECEMBER 24
LaCLAIRE LIMOGES: Our customers love Limoges! We have in a huge assortment of LaClaire Limoges boxes for our annual Christmas season Trunk Show from November 19th until December 24th at our Mountain Brook location. No matter what she loves, Limoges boxes make the perfect annual Christmas gift for a daughter, niece, or Goddaughter- and it is never too soon to start her collection which will be cherished and passed down from generation to generation. Shop early for the best selection!
DECEMBER 2
MOUNTAIN BROOK CHRISTMAS PARADE & STORYTELLING: Santa Claus is coming to town! The streets of Mountain Brook Village will be filled with families for the annual Mountain Brook Christmas Parade on December 2nd from 3pm-4pm. Afterwards, have your picture made with Santa and with the fire trucks! Emmet O'Neal Library is hosting a pop-up story time right after the parade in front of our store by the Bromberg's Christmas tree. Parade information: Mountain Brook Chamber chamber@mtnbrookchamber.org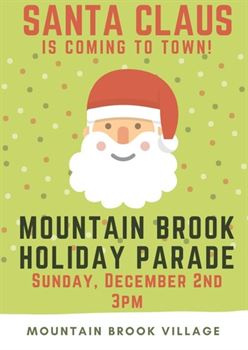 DECEMBER 3
OUR ANNUAL WATERFORD HOLIDAY SIGNING EVENT: You'll want to put Monday, December 3rd on your calendar for our annual Waterford signing event. It's the one you will not want to miss! Waterford Artisan Tom Power will be on hand to personalize your Waterford purchases.
BRACKISH BOW TIES: Our guys love Brackish Bow ties! Many grooms have opted to wear or gift Brackish bow ties for their wedding. For the best selection of the year, stop in to our trunk show on December 3rd.
TRACE MAYER MUSEUM BEES: Trunk Show alert! We will have a huge selection of Museum Bees by Trace Mayer in stock for this special event– just in time for holiday giving! Affordable luxury, all handmade in Kentucky.
Please call our Mountain Brook location for more information: 205-871-3276.