Get Set for the 4th with Red, White & Blue Table Ideas, New Bernardaud plus Sarah Kate and Juan's Wedding in Argentina!
In This Issue…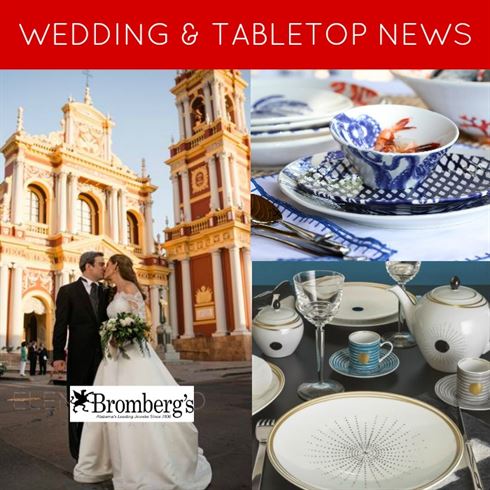 FEATURED WEDDING: SARAH KATE & JUAN'S WEDDING IN ARGENTINA
GIFT GAB: ELIAS FRAMES
TABLE TALK: NEW BERNARDAUD ABORO
BUYER'S CORNER: THE COLORS OF SUMMER
EVENTS: SAVE-THE-DATE FOR OUR ANNUAL MARKET DAY SALE!
---
---
GIFT GAB: ELIAS FRAMES
If you™re looking for a timeless gift for a special bride-to-be, tea or shower hostesses, or the perfect thank you to your weekend hosts at the lake or beach"¦ we have it.
Master artisan Constantine Elias and wife his Ruth have been making their unique metal art frames by hand for more than 40 years. They use only the purest and finest virgin metals creating the world's finest pewter; a small amount of pure silver is added which dramatically increases strength, brightness and detail sharpness. Gold frames start with the same pewter which is electroplated with real gold. It is hand-finished to achieve authentic 18 karat gold patinas which look like real gold because it is real gold. The work is done in their New York studio by skilled American craftsmen. This is a small representation of the frames we have in stock; stop by and see the collection for yourself.
Prices begin at $40 and as always, we will wrap your gifts in our traditional silver gift box.
---
TABLE TALK: BERNARDAUD ABORO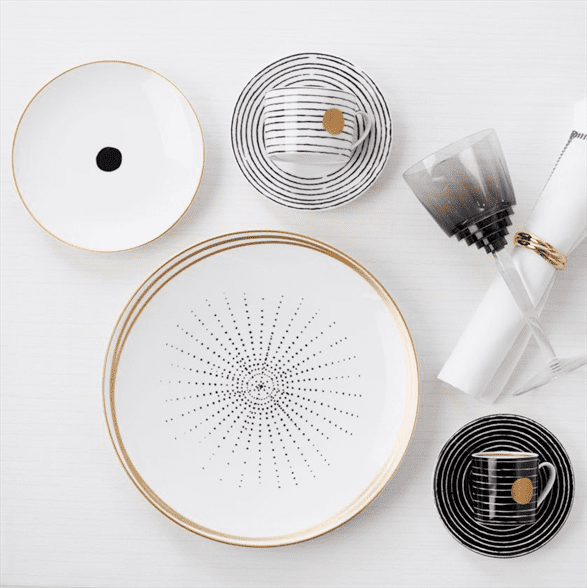 Bromberg's brides love Bernardaud and we have a new Bernardaud pattern that pairs traditional sensibilities with contemporary flair. Bernardaud's Paris-based designer Sarah Lavoine on her inspiration for Aboro: "The idea was to come up with a design that would draw on Aboriginal art and nature, two of my prime sources of inspiration while retaining a Parisian touch of elegance, along with a bit of rocker vibe!" The motifs are directly influenced by the latest trends in decoration and design. They capture popular colors, materials, and patterns that are then applied to actual shapes. Aboro dinner plate is crafted of white porcelain detailed with a black pin dot design and goldtone rim. Salad $63 Dinner plate $67 teacup $87 and saucers $43.
NOTE: Formal china is on display at our Mountain Brook location only.
---
BUYER™S CORNER: SUMMER IN RED, WHITE, AND BLUE
We™ve got everything you need to add some summer to your table. You™ll find plenty of casual china patterns in red, white, or blue and plus platters, bowls, and accessories with coastal motif like seahorses, turtles, fish, and starfish. Here are a few examples, stop in to see what's new.
And just in time for summer fun, Juliska's Al Fresco collection allows you to take your party anywhere. Mix & match patterns for a bold look or choose classic white Berry & Thread for casual elegance. Watch the video to see for yourself!
---
BROMBERG™S GIFT REGISTRY BENEFITS
All registered brides receive these benefits:
20% off non-diamond wedding bands
20% off attendant gifts and hostess gifts
Buy or receive seven place settings of china, crystal, or silver, get the eighth free!
Bromberg's exclusive twelve-month interest free club plan (with credit approval)
---
CONTACT ONE OF OUR BRIDAL CONSULTANTS
Mountain Brook 205-871-3276 mbbridal@brombergs.com
Ask for Janice or Vanissa.
Bromberg's at the Summit 205-969-1776 sbridal@brombergs.com
Ask for Katy Rose or Lisa.
---
FEATURED WEDDING: SARAH KATE AND JUAN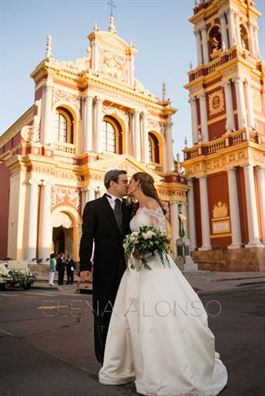 Read their story and see the incredible photos of their romantic wedding in Salta, Argentina.
EVENTS: MARK YOUR CALENDAR FOR OUR MARKET DAY SALE: SATURDAY, JULY 22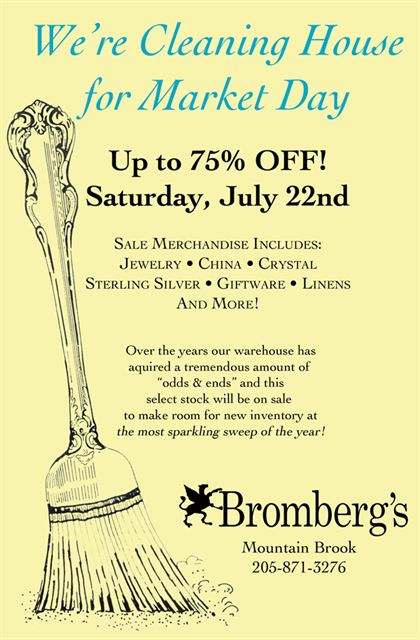 Save-the-date for Mountain Brook's 16th Annual Market Day sale! It is our "clean sweep" sale as we tidy up our warehouse for new inventory with up to 75% off select china, crystal, silver, linen, giftware, and more!