Fresh Fish and Sea Turtles from Vietri, Gifts for Grads and Dads, plus Amanda and Ryan Get Married!
In this Issue
Real Wedding: Amanda King & Ryan Soukup
Gift Gab: Bromberg's for Dads and Grads
Table Talk: We™ve Got Vietri's Fresh Fish on the Table
Bromberg's Event: Art on the Rocks

Join our Facebook Page! Get updates, news about events, sales and happenings!
GIFT GAB: GREAT GIFTS FOR DADS & GRADS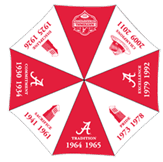 Want something unique for your favorite father and your list of grad gifts a mile long this year? We have a huge selection of unique gift ideas for you: pens, leather goods, engraveables, frames, wallets, key fobs, and team logo items are just a few of the gifts you™ll find. Check out our new University of Alabama 58" folding golf umbrella featuring all 14 championship seasons. $60
Registered brides save 20% on attendant and hostess gifts and we™ll even wrap them for you in the traditional Bromberg's silver box!
TABLE TALK: FRESH FISH & SEA TURTLES FROM VIETRI
Our tables are decked out in Fresh Fish and Sea Turtles, the latest collections for summer from Vietri. Inspired by the Italian sea coast, the Fresh Fish pattern features simple fish shapes with rustic edges. Aqua sea turtles playfully swim across a white sand background on the whimsical Sea Turtles pattern. Handmade in Tuscany, these fresh new mugs, bowls and platters will transform your everyday table into a summer seascape. Stop in to our Mountain Brook store to see the Fresh Fish and Sea Turtle tables for fresh ideas for your first dinner party of the season, just in time for summer holiday fun. They make perfect hostess and weekend guest gifts, too!
Please contact our bridal consultants at one of these locations:
Bromberg's Brides Club Benefits
All registered brides receive these benefits:
20% off non-diamond wedding bands
20% off attendant gifts and hostess gifts
Buy or receive seven place settings of china, crystal, or silver, get the eighth free!
Bromberg's exclusive twelve month interest free club plan (with credit approval)
All registered brides also receive special discounts and gifts with purchase from our Bromberg's Wedding Partners! Learn more about merchant specials now
ART ON THE ROCKS
It's summer and the Birmingham Museum's popular Art on the Rocks starts June 29th with great food, drinks and live music amongst the art. For each event, we™ll be giving away a $500 Bromberg's gift certificate! Come see us and register to win.
BROMBERG™S 3RD ANNUAL DIAMOND DASH
We gave away a $10,000 Ritani diamond! Congratulations to our winners, Susan Hall and Mike Mahon. To see all of the fun, including the moment when the happy couple learns they™ve won the race and the bling, watch our Diamond Dash video or visit www.brombergsdiamonddash.com
[vimeo http://www.vimeo.com/40568167 w=400&h=300]