The Finest Sterling Silver Jewelry from LAGOS is Once Again Available at Brombergs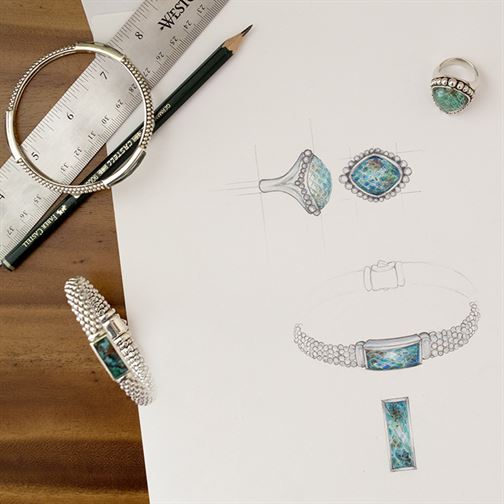 Timeless Sterling Silver and 18 Karat Gold Jewelry from Lagos "" Unparalleled Customer Service from Bromberg's
This fall LAGOS celebrates its 40th anniversary. LAGOS was founded in Philadelphia by master jeweler, Steven Lagos. The brand pioneered a new category of jewelry, making fine jewelry accessible and wearable for all occasions. Through the unmistakable signature design of Caviar, LAGOS conveys a vision of bold femininity. The brand empowers a woman to be who she is and to create her own signature look: MY LAGOS MY WAY.
"¢ The Inspired Creativity of Steven Lagos "" While there are subtle reminders of his Greek roots in every piece he creates, Mr. Lagos prefers to draw his inspiration from his frequent travels throughout Asia and Europe. It is estimated that he creates between 400-500 new designs per year so there is always something fresh and exciting for the Lagos jewelry connoisseur. In addition, Mr. Lagos' vision permeates every aspect of the Lagos experience from the packaging of the pieces to the retailers he authorizes to sell them.
"¢ The Character of the Pieces "" When Mr. Lagos started his company in 1977 at the ripe "old" age of 20, he already had a proprietary, signature design in mind. His commitment to detail is best showcased in the company's signature design – Caviar. The beaded texture of this design makes it unique in the jewelry world. The luminous caviar beading brings texture to sterling silver and 18k gold, transforming these metals into iconic jewelry that is as captivating as it is wearable. It takes hundreds of steps, and a keen eye, to complete a single caviar creation. The process always begins with a hand-drawn sketch by Steven Lagos, whose belief is that every piece of jewelry is as bold as the woman who wears it.
"¢ Old World Craftsmanship "" Though a thoroughly modern international company "" they have offices in both New York City and Bangkok "" the people at Lagos understand the need for the highest quality craftsmanship in the pieces they create. Mr. Lagos, himself, learned the jewelry craft in his late teens from a Russian jeweler who was adept in all of the lessons and intricacies of the Old World. These lessons have not been lost and Lagos uses only the highest quality materials and maintains the strictest quality controls throughout the hundreds of steps it takes to create a single Lagos piece
Only at a Lagos authorized jeweler can you find these captivating and elegant pieces. For more than 180 years, Bromberg's has been proud to offer the finest jewelry to our customers. We are equally proud to announce that we now have the LAGOS line of sterling silver and 18 karat gold jewelry at our Mountain Brook location. For more information about this magnificent jewelry please contact us at Bromberg's. You can reach us directly at 205-871-3276.