Featured Wedding: Sarah and William
FEATURED WEDDING: SARAH & WILLIAM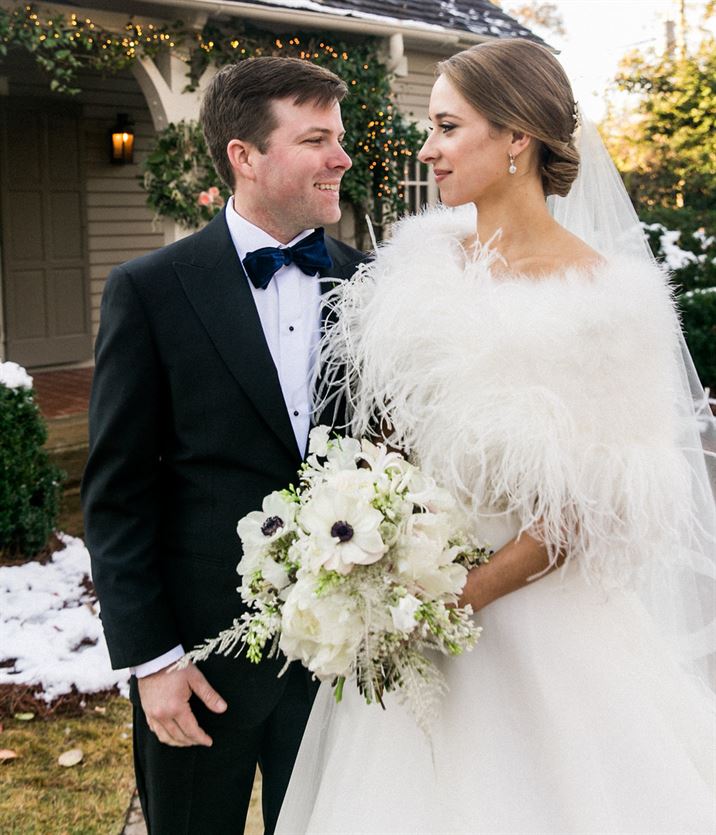 December 9, 2017
Ceremony: Cathedral Church of the Advent
Reception: Thomas Jefferson Towers
Photos: 509 Photo Caleb Chancey
"When it snows, you have two choices: shovel or make snow angels." -Unknown
As legend has it, snowfall in the South the day before your wedding is good luck.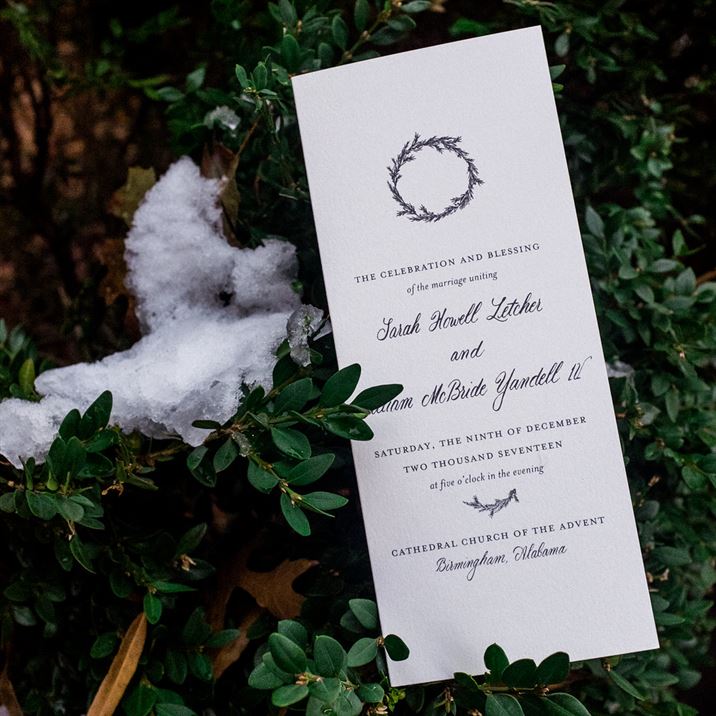 Sarah Letcher wanted there to be a chill in the air when she and William Yandell tied the knot. She never expected snow in early December in Birmingham"¦ she certainly never contemplated a double-digit paralyzing snow storm the day before her wedding. When Birmingham residents woke up Friday morning to a foot of snow on the ground, everyone was worried; with lots of hills and steep driveways, Birmingham shuts down at the mere hint of snow. Early morning road closings were announced and by noon, the rehearsal dinner venue cancelled that evening's event because their staff could not travel to work. But, as luck (and some guardian angels) would have it, the snow was light and fluffy. It looked beautiful and even though it was a lot of snow, the airport remained open and the streets were passable. As the day went along, guests began to arrive. An amazing rehearsal dinner for 150 guests was reorganized in record time with an incredible menu thanks to Chef Brandon Cain and the team at Roots & Revelry. Flowers, lighting, linens, and party favors were moved. Everything fell into place and it could not have turned out better nor been more beautiful.
FRIDAY WAS JUST THE OPENING ACT FOR SARAH AND WILLIAM. HERE™S THEIR WEDDING STORY"¦
William first asked Sarah to marry him within minutes of their first meeting. It was 2011 and they were at the same party at the Phi Delta Theta fraternity house at the University of Alabama. Sarah thought William was cute when he came up to her and introduced himself then shortly into their conversation, said "Marry Me?" Sarah laughed but a few days later when William called to invite her on their first date to the Alabama vs Arkansas football game, Sarah felt like they really might just be a good match. (Note: Sarah is a huge football fan!)
And they were. After a few months of dating, Sarah was head over heels. They both knew early in the relationship that they™d met "the one" but William was leaving after graduation to work in Atlanta, so they spent the next two years dating long distance as Sarah finished at Alabama. William returned to Tuscaloosa for school and by then, the couple knew they would marry; it was just a matter of timing.
THE PROPOSAL"¦
December 2016, a week before Christmas, William and Sarah were at home when he gave her a Christmas card that read "Merry Christmas from the Yandells to be" followed by a ring and a very sweet proposal. Sarah thought they had plans to go out to dinner for a friend's birthday, but it was really a surprise engagement celebration with family and friends William had organized. Afterwards, a larger party gathered at Carrigan's Pub including Sarah's 86-year old grandmother and William's parents who were in town from Memphis.
THE WEDDING"¦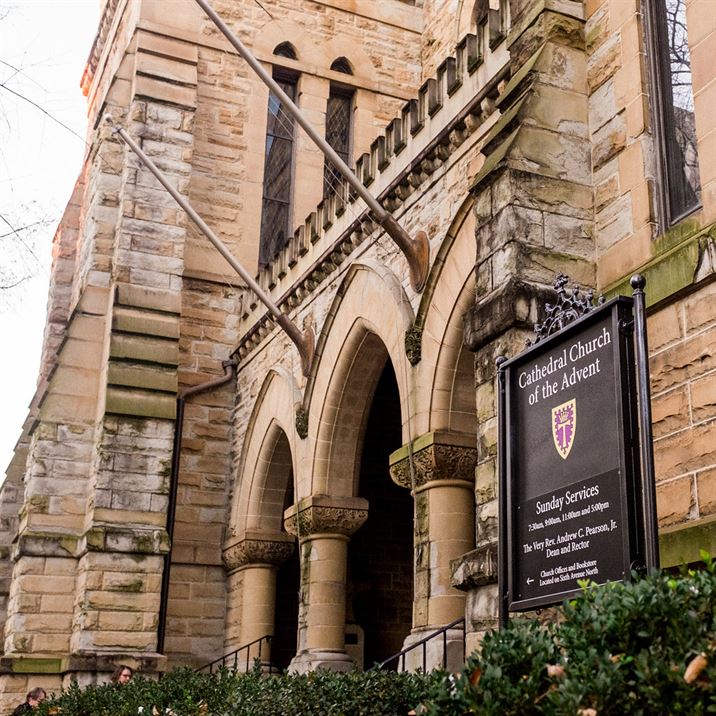 Since Sarah went to school there, she always wanted to marry at Cathedral Church of the Advent in downtown Birmingham. In fact, she wanted all the wedding activities to be located downtown so their many out-of-town guests staying at The Redmont could enjoy the city and have an easy time getting around.
Finding a date wasn™t easy. As big football fans, the couple did not want to marry during college football season. Sarah did not want to marry when it is extremely hot in Birmingham. Now, historically speaking, December is a moderately cool month and typically one of the best weather months for a wedding in Birmingham with little rain and almost zero chances of snow. Sarah and William agreed upon December 9th; Sarah hoping for cool, crisp weather on their wedding day.
Once they had a date, Sarah, her aunts, along with the team at Mariee Ami Wedding Studio got to work on the wedding plans. Since Sarah is a huge college football fan, it's no surprise that her wedding vision was S-E-C: sophisticated, elegant, and classic.
Sarah fell in love with a Romona Keveza gown from Ivory and White Boutique in Crestline Village. The gown, a classic V-neck strapless multi-layered silk organza ball gown featured a beaded belt and a low back. Sarah wore a feathered bolero with her gown, perfect for the cold, snowy day.
SARAH™S "SOMETHING OLD" WEDDING TRADITIONS INCLUDED:
OLD: Her mother's sapphire ring.
NEW: Her Romona Keveza wedding gown.
BORROWED: Her aunt's earrings.
BLUE: Blue velvet Loeffler Randall shoes.
Sarah also had a handkerchief from her mother that she carried with her. The couple exchanged letters and wedding gifts from Bromberg's.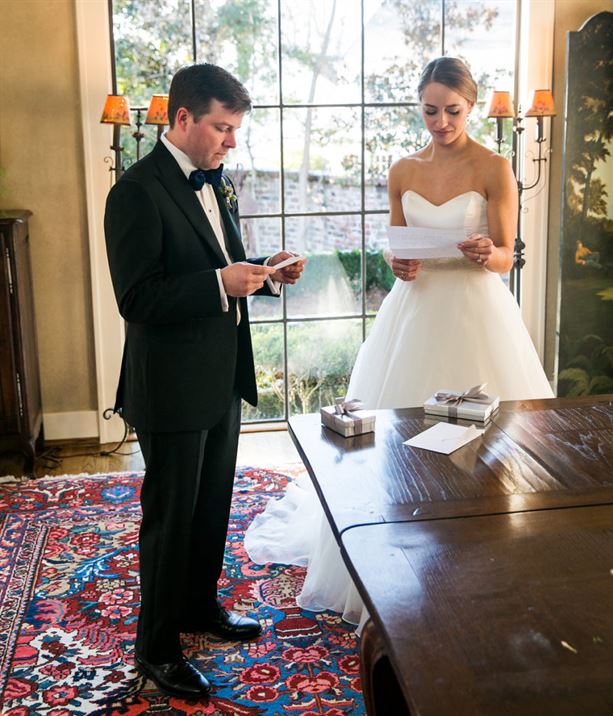 Bridesmaid gowns were ordered through the online service Brideside.com which made ordering easy and offered Sarah a concierge to help her coordinate the process.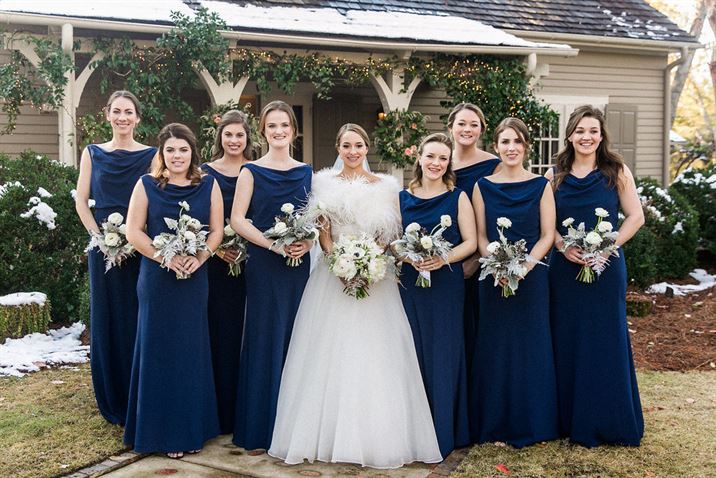 William purchased a new tuxedo for the occasion paired with a midnight blue velvet bow tie. Groomsmen wore classic black tuxedos from Mr. Burch Formal Wear in Mountain Brook Village.
Flowers were designed by Holly Carlisle of Rosegolden. Sarah's bouquet was a nosegay of anemone with dark blue centers, astilbe, and ranunculus. Sarah wanted a neutral color scheme of white, ivory, and blush with gold and candlelight.
The reception space in the ballroom at the Thomas Jefferson Tower was the perfect reception setting; the massive arched windows allowed for a spectacular view of Birmingham.
Sarah loves the steamed buns from Chef Mac Russell's Shindig's Catering so much, she hired them to cater the wedding so that they could have the buns as the late-night snack.
The four-tier wedding cake was classic from Barb's Cakes but with a twist; layers of caramel cake were hidden beneath the traditional white buttercream. William's cake was also classic with two square chocolate tiers decorated with chocolate dipped strawberries.
Guests had a blast at the reception with music by Fountain City Players. Light-up tambourines and feather boas were a big hit on the dance floor! Sarah and William danced their first dance to Sam Cooke's "Cupid" "" the song that was playing when Sarah got into William's car on their first date.
The couple even had a visit from Santa to complete the festivities!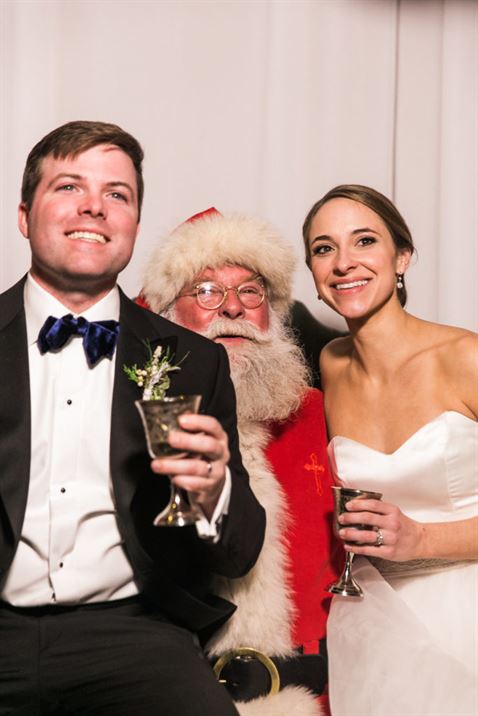 Sarah changed into a departure ensemble and the couple left in the glow of sparklers and well wishes.
After a post-wedding trip to Jumby Bay, Antigua, Sarah and William are at home in Birmingham.
SARAH AND WILLIAM™S BROMBERG™S GIFT REGISTRY INCLUDES:
FORMAL CHINA: Herend Golden Laurel, Anna Weatherly Old Master Tulips
HOLIDAY CHINA: Vietri Old St. Nick, Vietri Lastra Holiday
FORMAL STEMWARE: William Yeoward Fern, William Yeoward Felicity
STERLING FLATWARE: Towle French Provincial
Congratulations, Sarah and William! The Bromberg family and staff wishes you a lifetime of happiness together.