FEATURED WEDDING: SARAH KATE AND JUAN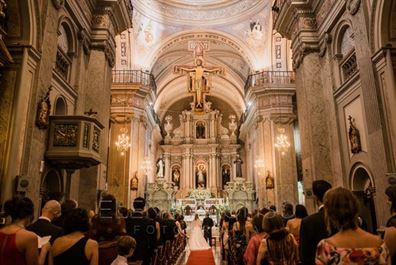 Sarah Kate Sullivan and Juan Uriburu Quintana
Salta, Argentina
Ceremony: Basilica de San Francisco
Reception: Club 20 de Febrero
December 17, 2016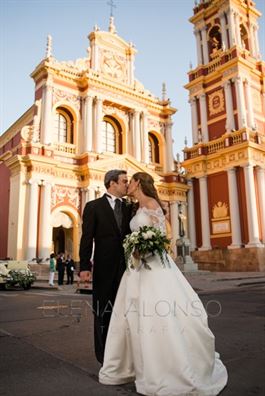 SARAH KATE & JUAN"¦. THEIR STORY
Sarah Kate Sullivan from Birmingham graduated from The University of Alabama in 2007 with a desire to travel the world to learn about different cultures, people, and government. After a stop in Washington DC where she worked in Congress as a press secretary, she won a scholarship to Argentina as a Rotary Ambassadorial Scholar in 2009. Sarah Kate later returned to Argentina to pursue her PhD in Political Science at Universidad Torcuato Di Tella where she happened to meet Juan.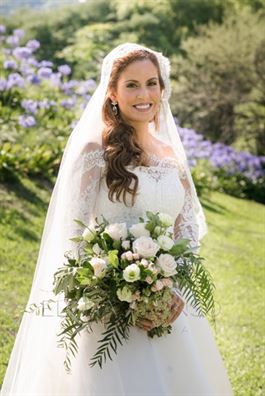 Juan Uriburu Quintana grew up in San Lorenzo, Salta, Argentina as the oldest of three children. He went through law school of Universidad Católica de Salta and then interned for New York Senator D. Patrick Moynihan in Washington, DC. He spent ten years in Asia studying the language of Confucius in Taiwan. He finished his Masters in China Studies and his PhD in Asian Studies there while teaching law school and working as an academic researcher. Juan returned to Argentina where he works as a Mandarin-speaking attorney on infrastructure projects backed by Chinese financing.
HOW THEY MET"¦
In March 2015, Sarah Kate was meeting with the Argentine Ambassador to China for advice on her study on Chinese investment in cargo railroads in Argentina. She was directed to Dr. Juan Uriburu. Sarah Kate arranged an interview with Dr. Uriburu over lunch the following week. The lunch meeting lasted two hours and ended with a dinner date. The pair went out a few more times before Juan left for a seven week business trip to China. When he returned to Buenos Aires, the two became an item and were dating exclusively. Even with their vastly different backgrounds spanning two hemispheres, the couple had a lot in common including many of the same friends. Sarah Kate knew immediately that he was something special and soon after postponed her planned move to Washington, DC. Within ten months they were engaged. The pair planned the wedding in Juan's hometown of Salta so friends and family from around the world could experience it for themselves.
THE PROPOSAL"¦
While formal proposals are not Argentine wedding tradition, Juan wanted to ask Sarah Kate to marry him in a way that was significant for her and for her parents. Engagement rings are also not a tradition in Argentina but Juan honored American tradition and proposed using his mother's emerald and diamond ring set in a wide yellow gold band, a perfect complement to Sarah Kate's mother's yellow gold wedding band. Sarah Kate says to wear rings from both mothers is very special and she was both honored and delighted with Juan's gesture.
Juan also orchestrated for Sarah Kate's parents to watch the proposal via Skype. The couple planned the wedding in Juan's hometown of Salta so friends and family from around the world could experience it for themselves.
ABOUT SALTA"¦
Salta is located in the Lerma Valley in the northwest part of Argentina surrounded by stunning mountains, deserts, salt flats, and lush valleys famous for Torrontes white wine. It is known for spectacular vistas, a thriving artist community, Spanish colonial architecture and Andean heritage. Like most Argentine towns, there is a central town square, 9 de Julio, which is lined with quaint shops centered around the historic Basilica y Convento de San Francisco where Sarah Kate and Juan married.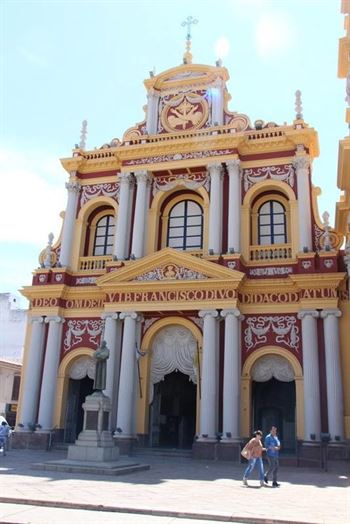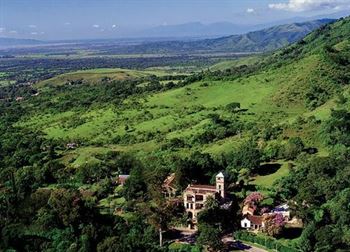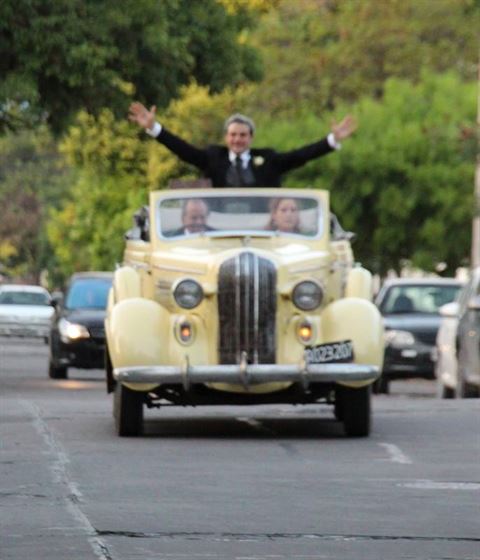 THE WEDDING"¦
Since Sarah Kate and Juan were to marry in a massive, ornate cathedral, Sarah Kate chose a classic bridal gown with a full skirt by British designer Augusta Jones from Carriage House in Homewood, accessorized with a custom long sleeve lace bolero and family heirloom Cathedral length mantilla veil which was her "something borrowed".
After the formal customs of the first dance and the Argentine waltz ended, Sarah Kate removed the bolero and added a hand-beaded silver crystal belt borrowed from her cousin, Allison Mee Lafon.
Sarah Kate's "Something Old" wedding traditions included:
OLD: Lace from her mother's wedding gown. As a surprise, Sarah Kate's mother arranged for the florist to wrap the bridal bouquet with the lace.
NEW: Her wedding gown and accessories.
BORROWED: The cathedral length mantilla veil that belongs to her cousin Ann Blair Gribbin. Sarah Kate was the third cousin in her family to wear the veil. It has been worn in Birmingham, Alabama, Sea Island, Georgia, and now Salta, Argentina.
BLUE: A handmade blue lace garter, given to Sarah Kate by one of her bridesmaids.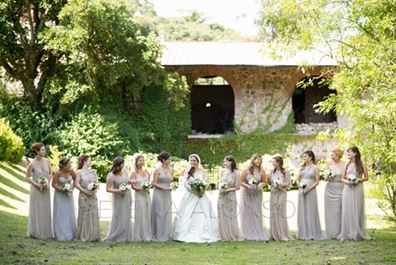 Having bridesmaids is not typical in Argentina so it was fun for Sarah Kate and Juan to introduce the American tradition to Salta. Bridesmaids dresses were designed by Jenny Yoo and Adrianna Pappell and sourced from Bella Bridesmaids in Homewood.
The couple welcomed their first international guests on Thursday evening before the wedding with a wine tasting featuring local wines from Salta, held at the host hotel, Design Suites Salta. The following day there were sightseeing tours of historic Salta and other activities for guests.
On Friday, a traditional Argentine high tea was hosted at Juan's family home. Afterwards, an American-Argentine rehearsal dinner was held at a very old Italian-style stone castle down the street from Juan's house that happens to be owned by Crestline native John Johnston, an Auburn graduate who has lived in Salta for nearly 30 years but grew up only a few blocks from Sarah Kate. The party featured a traditional Argentine guitarreada (guitar circle) with typical local music sung by the groomsmen. The menu included Northern Argentine foods like empanadas, tamales, humitas, asado (grilled meats) paired with locally produced Torrontes white wine.
Juan's family priest married the couple in a brief Catholic wedding mass. Most of the service was in Spanish with some English readings and English language programs.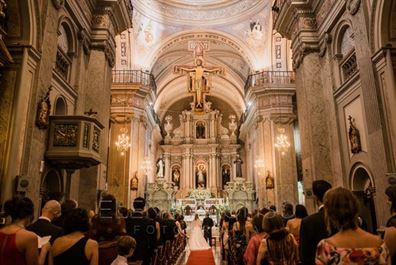 It's fascinating to note that Sarah Kate and Juan happened to marry on Argentine-born Pope Francis' birthday at Saint Francis church in Salta. Sarah Kate's parents married at Saint Francis Catholic Church in Birmingham and Juan's parents also married at Saint Francis in Salta.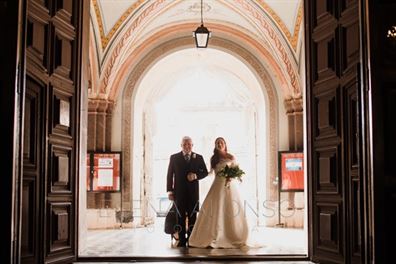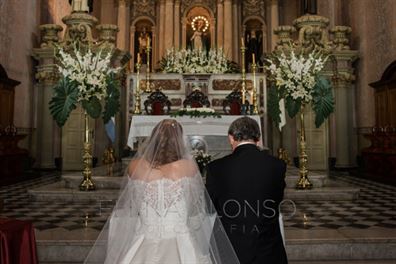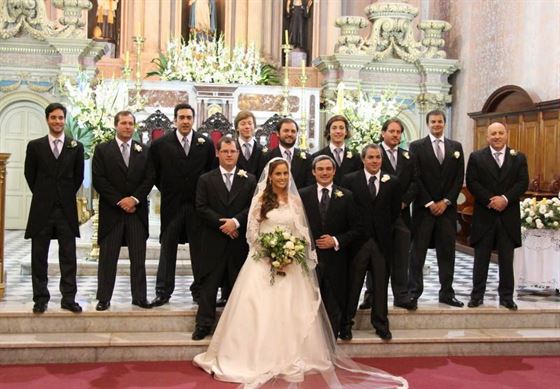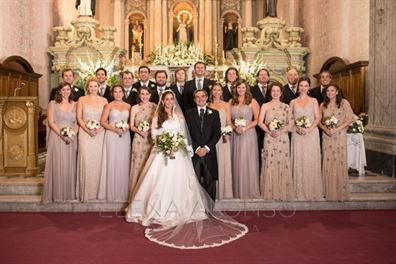 The wedding reception merged Southern elements with Argentine tradition. Held in the ballroom at Juan's club, Club 20 de Febrero. The club was founded in 1858 and is the second oldest private social club in Argentina. The reception began with cocktails and heavy appetizers, followed by a customary seated Argentine steak dinner. Argentine weddings last into the daylight and include traditions like carrying the bride and groom around the dance floor on guests' shoulders. The party ended at 6:30 AM when the club is required by law to shut down a wedding.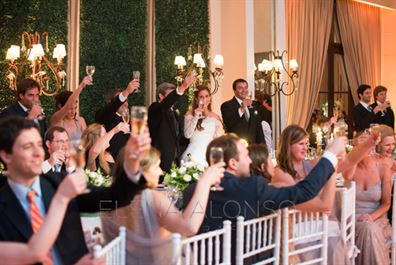 Argentine traditions have some similarity to American wedding traditions; the red and white University of Alabama shakers were a big hit!
The dancing began with a classic waltz, as is custom in Argentina then moved into an Elvis medley for the American first dance.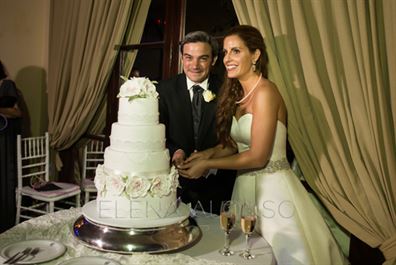 Sarah Kate removed her long sleeved lace bolero and added a beaded belt she borrowed from her cousin.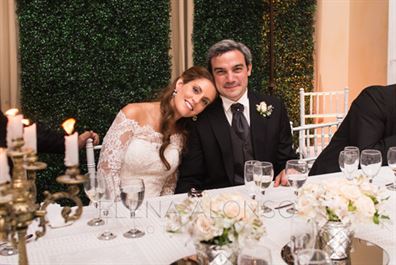 Sarah Kate related some of her favorite moments"¦ "I loved watching my mom having a blast at our Argentine-American wedding. Juan's groomsmen lifted her up on their shoulders and carried her around the dance floor just like they do for the bride and groom, and I have never seen a bigger smile on her face! I was so happy to show so many of my friends and family the beautiful traditions of Argentina and introduce them to Juan's lovely family. It meant the world to me that the last people dancing at sunrise included my four aunts and extended Birmingham family. For my family and friends who could not make it to the end of the world, my bridesmaid's husband put together a video sending well wishes that was played over dinner and made us laugh and cry at the same time. Altogether it was perfect."
Because the wedding was the week before Christmas, the couple chose to honeymoon locally at the beautiful vineyards and mountain retreats in Cafayate, Cachi and Purmamarca. Their official honeymoon will be in Antigua later this year.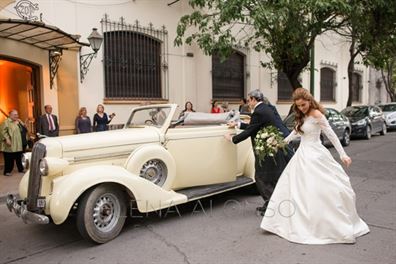 SARAH KATE & JUAN™S BROMBERG™S GIFT REGISTRY:
Formal China: Robert Haviland Colette
Formal Crystal: Waterford Lismore
Sterling Flatware: Lenox Francis 1
Holiday China: Juliska Country Estates Winter Frolic
Casual China: Juliska Berry and Thread and Juliska Le Panier
Congratulations, Sarah Kate and Juan! The Bromberg's family and our entire staff wish you a lifetime of happiness. Thank you for allowing us to share your beautiful wedding.