FEATURED WEDDING: RILEY AND THOMAS
RILEY PHILLIPS AND THOMAS GRIFFIN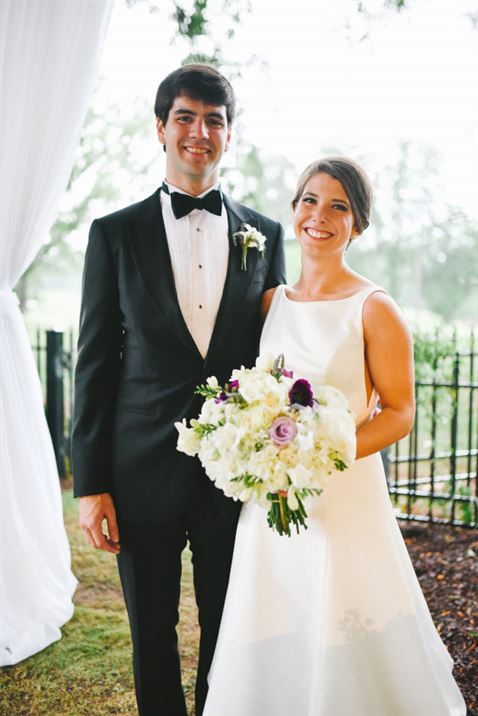 Ceremony & Reception: Parents™ Residence, Tuscaloosa, Alabama
April 22, 2017
Photography by: Sara Beth Turner Photography
Planner: Ray Taylor
A casual date to a college fraternity date party rarely results in a marriage"¦ especially when you didn™t go to the party with the person.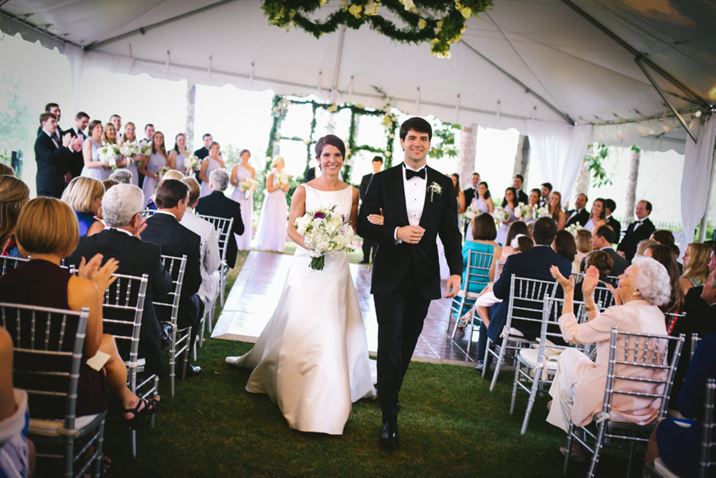 RILEY AND THOMAS"¦. THEIR STORY
During her junior year at the University of Alabama, Riley Phillips was invited to a fraternity date party. At some point in the evening, she met Thomas Griffin. Thomas was immediately taken with Riley and with the help of Riley's friend Liza, he organized another meeting. He got Riley's telephone number and asked her out. Within a month, were dating each other exclusively.
Riley graduated from Alabama in May of 2012 and that fall, she moved away to attend law school at Wake Forest University. Riley and Thomas dated long distance for a very long three years. Riley secured a job at a Birmingham law firm and at the end of her third year, she knew she would be coming home after graduation and they would finally live in the same city again.
A year later, after Riley had taken and passed the bar exam and had settled into her work and life in Birmingham, she hoped an engagement would happen sometime soon. Riley had no idea exactly when or how Thomas would propose but she knew it would not be long before it happened. Thomas went to great lengths to make sure she was completely surprised when he popped the question.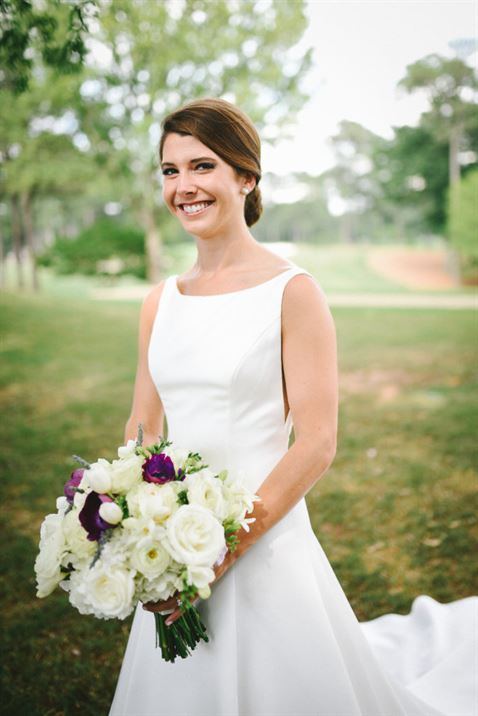 THE PROPOSAL"¦
Riley and Thomas are both big Alabama football fans; both graduated from Alabama and Riley's parents live in Tuscaloosa. Knowing Riley would be suspicious of anything out of the ordinary, Thomas got the family in on his plan. With the Alabama vs Texas A & M game a few weeks away, Thomas told Riley they should make plans to go to the beach that weekend because the family did not have room for them to stay.
After confirming there was "˜no room in the inn™ around Tuscaloosa, they decided to go to the beach for the weekend. Thomas suggested Riley make a reservation at their favorite restaurant, Jesse's in Magnolia Springs. Riley had gotten Thomas a new sport coat that he wanted to wear to dinner that night but she told him he did not need it. Thomas insisted that he wanted to wear the coat which did strike Riley as a bit odd– but what she did not know was that Thomas planned to propose later and had the ring hidden in the coat pocket.
While they were at dinner, Riley and Thomas' families were there to surprise her after the proposal and they set up a quilt, candles, and Champagne on the pier. When they returned to the house, Thomas coaxed Riley down to the pier to look at some new fishing lights that had recently been installed. When Riley saw the candles, she realized what was happening. After Thomas popped the question and Riley said yes, they celebrated their engagement with their families.
The next day, Thomas surprised Riley again when they flew to Tuscaloosa and went to the game but the weekend did not stop there as they celebrated their engagement again in Birmingham the following day.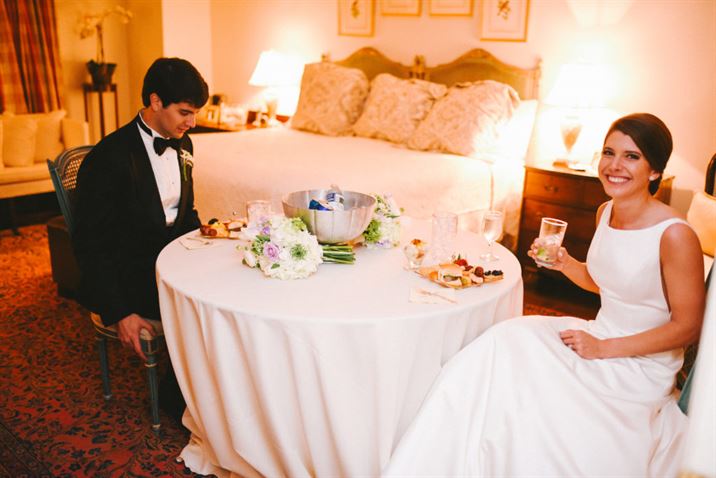 THE WEDDING"¦
Knowing they did not want a long engagement, the couple got to work immediately on their plans. Riley's mother and Tuscaloosa planner Ray Taylor handled most of the planning duties. The wedding and reception were at Riley's parent's home, overlooking Indian Hills Golf Course, A tent was constructed and dressed with white draping, greenery garlands, and white linen drum chandeliers.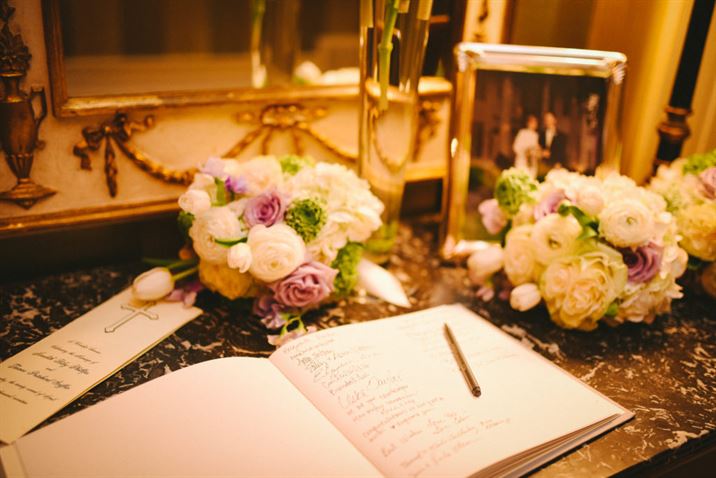 Riley found her perfect gown at The White Room; an unadorned sleeveless A-line Mikaella gown by Paloma Blanca with a bateau neckline, low, square back and a Cathedral length train. It was the fifth gown she tried on; her sister was the one who saw it in the shop and insisted Riley try it on. She borrowed her sister's fingertip length veil to wear for the ceremony.
The bridesmaids wore one-shoulder, floor length Amsale chiffon gowns in lilac from Bella Bridesmaid in Homewood.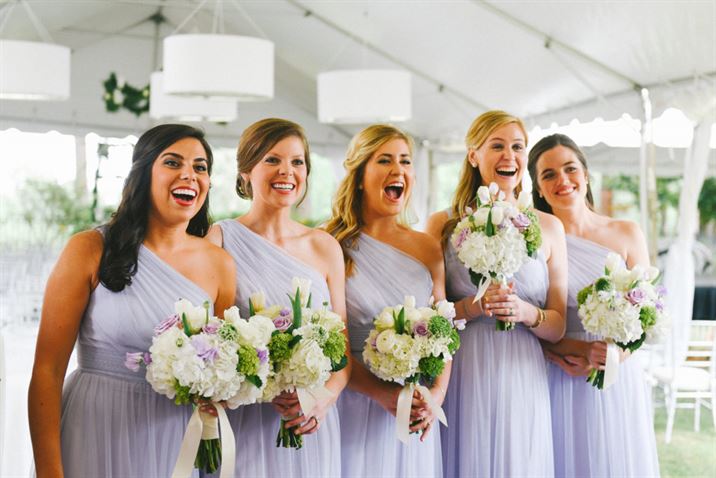 The men wore their own classic black tuxedoes.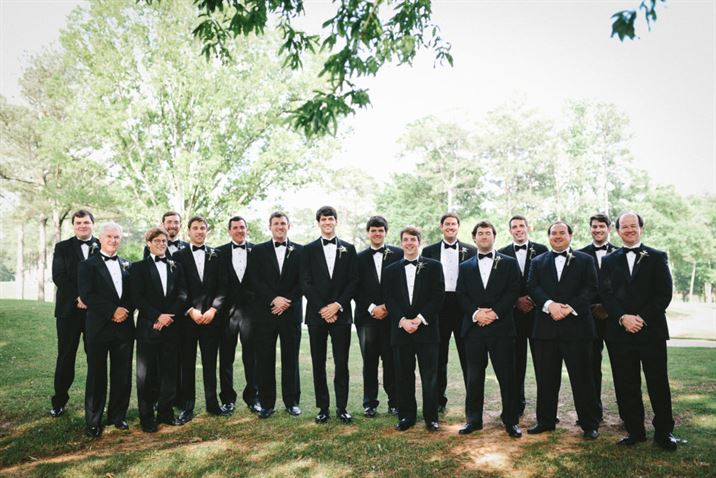 Barb's Cakes did an incredible replica of a Yeti cooler for the groom's cake complete with faux ice and fish. The wedding cake was a four-tier white cake with cream cheese icing, the brides favorite, decorated with fresh flowers.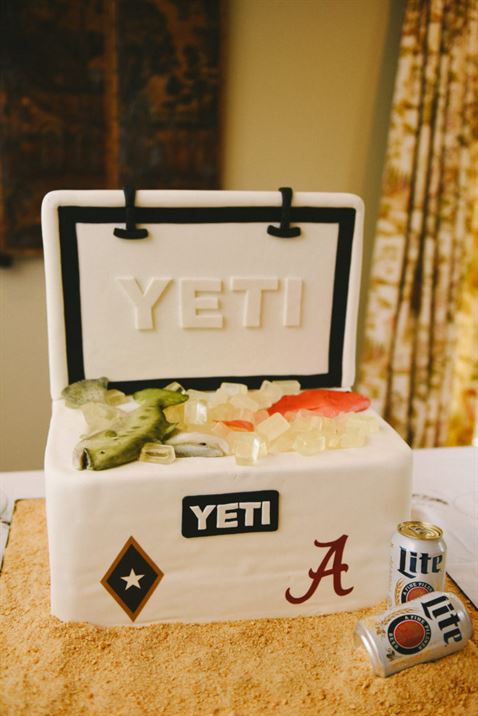 The floral design incorporated fresh white and greenery with purple; Riley's only request was amenomies were used in the arrangements; her bouquet featured deep purple amenomies with white garden roses, tulips, hydrangea and ranunculus.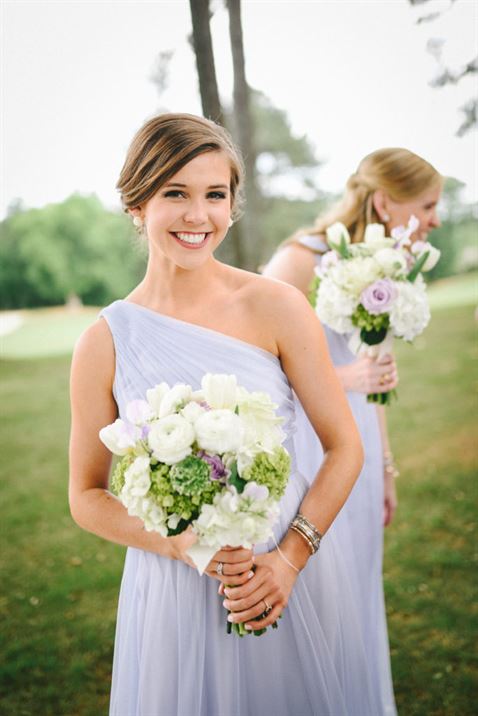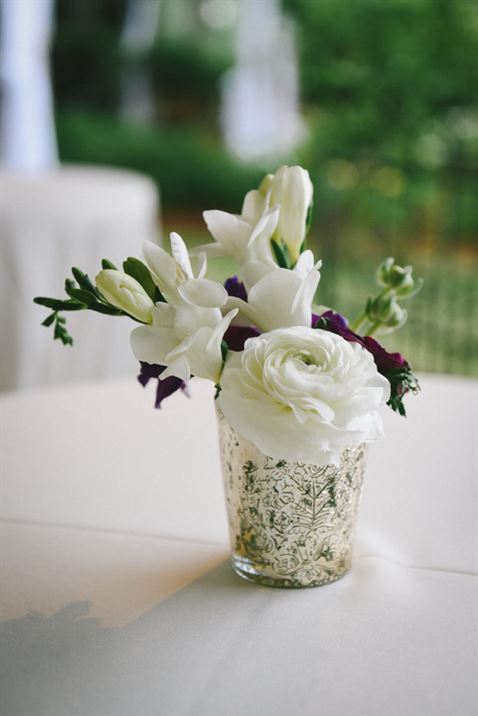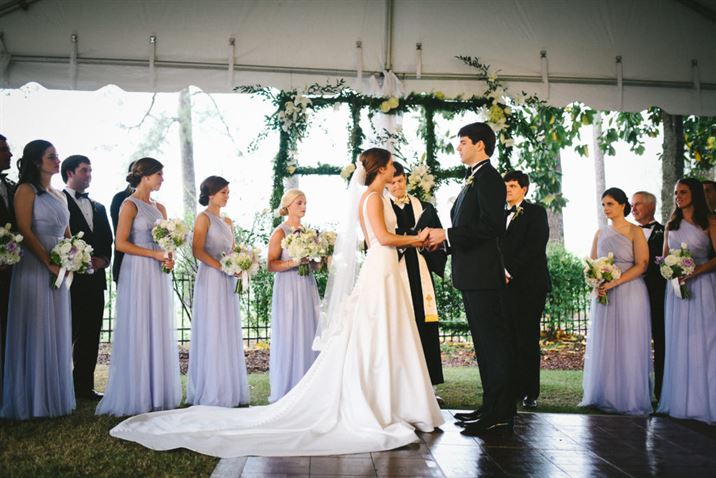 The band for the reception was 2nd Groove Showband playing Motown, Top 40, R&B and Oldies. The couple's first dance was to "Wonderful" by My Morning Jacket played by their friend, Hugh Rowe Thomas.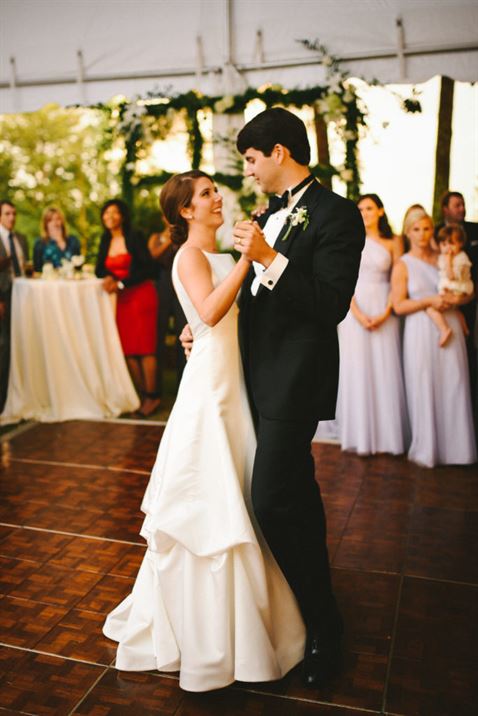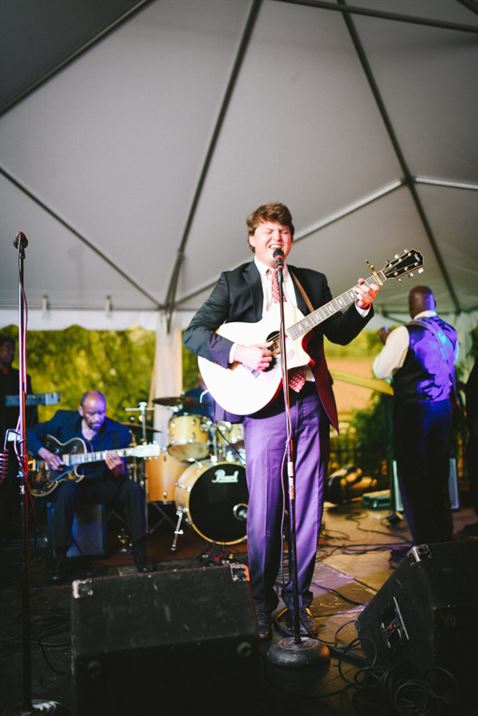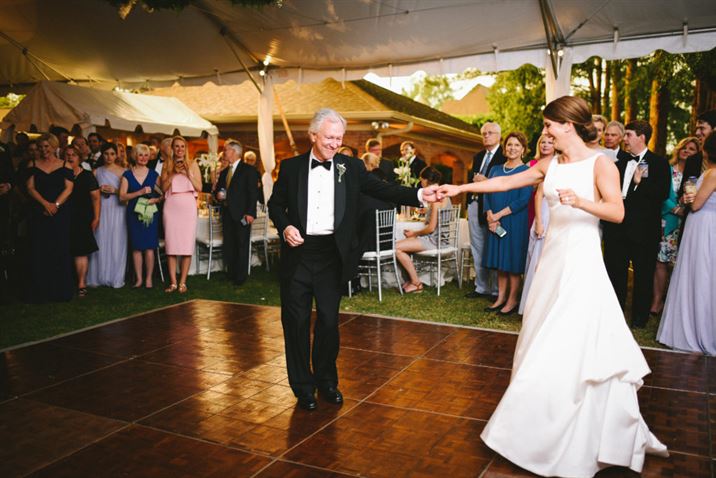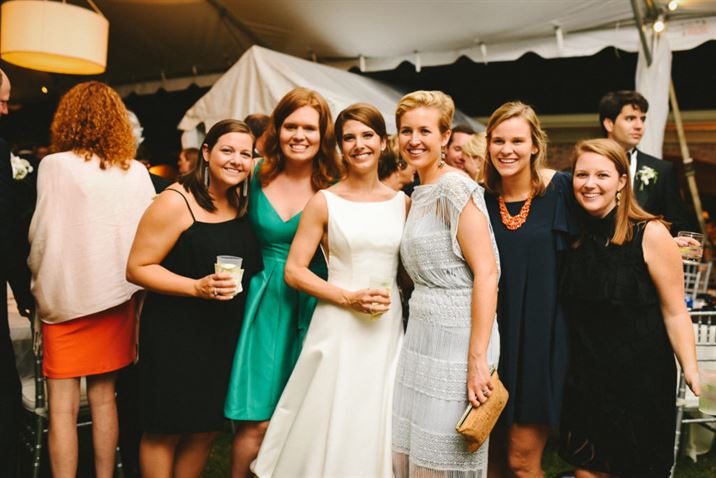 According to Riley, "on our wedding day, it began to rain just before the ceremony which made the ceremony feel very intimate. Just as the ceremony ended, the rain stopped and a rainbow appeared over the golf course. We selected a personal scripture (Deuteronomy 11:10-15) for the wedding which mentioned rain several times so when it rained, everything seemed perfect."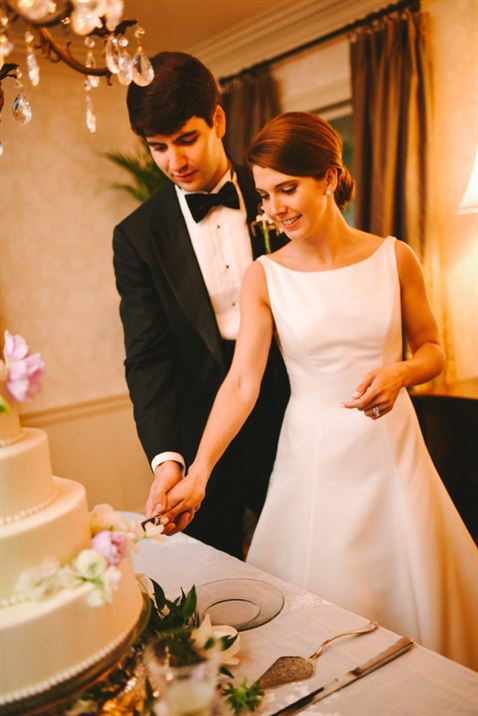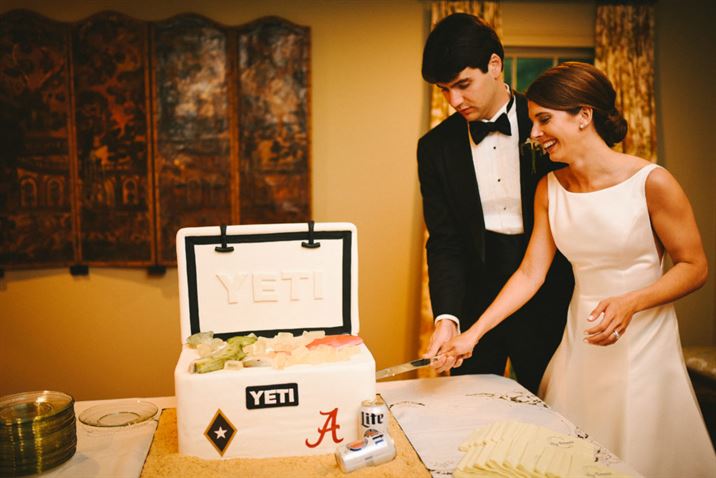 Formal China: Herend Babos Gold Charger with Herend Gwendolyn Dinner Plates and Herend Fishscale Salad Plates in blue.
Formal Crystal: William Yeoward Gloria
Sterling Flatware: Gorham Fairfax
Casual China: Skyros Alegria
Congratulations, Riley and Thomas. The entire Bromberg family and our staff wishes you a long and happy life together.