FEATURED WEDDING: MARY LASSITER WOOD & DREW CHAPMAN
MARY LASSITER WOOD & DREW CHAPMAN
May 7, 2016 | Birmingham, Alabama
CEREMONY: MOUNTAIN BROOK COMMUNITY CHURCH
RECEPTION: VESTAVIA COUNTRY CLUB
Wedding Photography: Simple Color Photography, Brandon & Stacey Gresham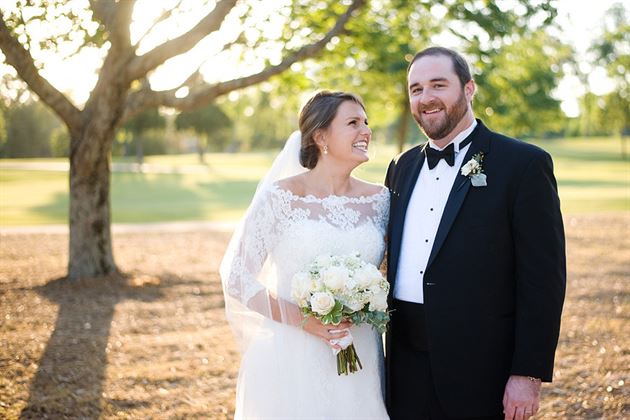 They always crossed paths. They knew the same people. Either he was dating someone or she was but they were never single at the same time. Until they were. After years of hanging out with the same circle of friends during college, the stars aligned for Mary Lassiter Wood and Drew Chapman and one day he said"¦
"I want to be your boyfriend, not just a friend."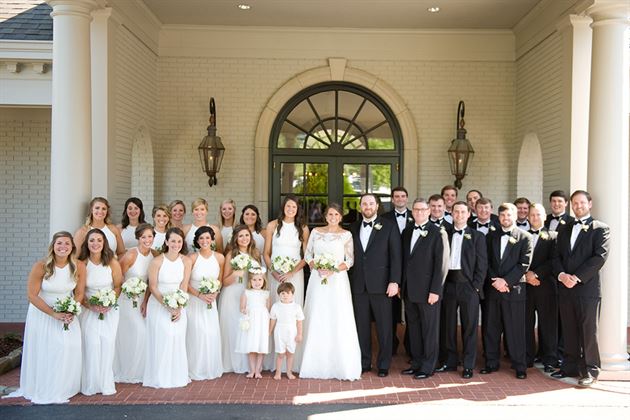 MARY LASSITER AND DREW… THEIR STORY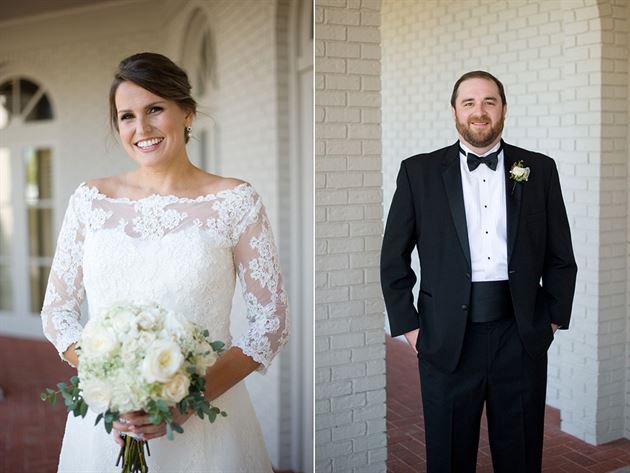 Both Mary Lassiter Wood and Drew Chapman are from Birmingham but did not meet until their freshman year at Auburn where they traveled in the same circles and knew the same people. Drew had a few girlfriends over the years and Mary Lassiter dated different guys but nothing really clicked. After college, Drew moved to Mobile and when he moved back to Birmingham in the summer of 2014, the pair started hanging out occasionally. When Drew and his girlfriend at the time broke up, Mary Lassiter and Drew started spending more time together. It was easy and since they shared the same friends, everyone encouraged their relationship. One particular Saturday, the two hung out at a football game and the next day, Drew asked Mary Lassiter on their first date. They dated six weeks or so before Drew told her he did not want to be just a friend. He wanted to be her boyfriend. The pair started spending all of their time together and it was not long before they talked about marriage.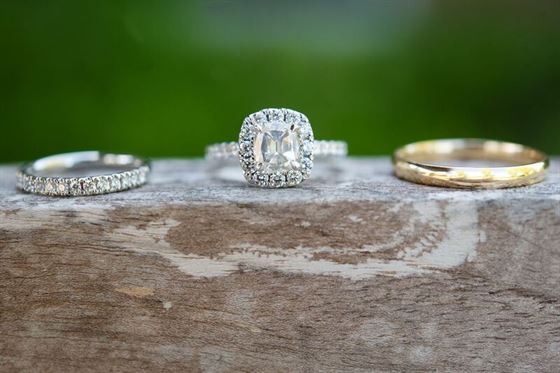 THE PROPOSAL…
While there had already been talk about a future together, about one year after their first date, Mary Lassiter and Drew began to talk seriously about getting engaged. Drew wanted to select the perfect ring for ML so he asked her to look at rings. Mary Lassiter and her mother went to look at rings and Drew began to work on his proposal plan. The plan was for the couple to meet ML's parents for dinner on the night of the proposal; it did not raise any flags with Mary Lassiter because they often spend time with her parents.
Drew went to pick up Mary Lassiter for dinner. Once she was ready to go, she walked in to find Drew on one knee, ring in hand. Once Drew asked Mary Lassiter to be his wife, they went to meet her parents who were equally surprised because while Drew had asked her father for her hand, he did not tell him when he planned to propose.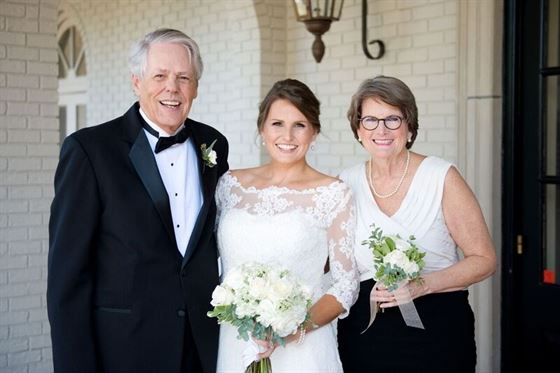 WEDDING PLANS"¦.
The wedding plans started at dinner that night. Mary Lassiter always felt she wanted to get married at Mountain Brook Community Church; she has been a member her entire life and her mother works there. She also knew she wanted to have the reception at Vestavia Country Club where her father is on the board.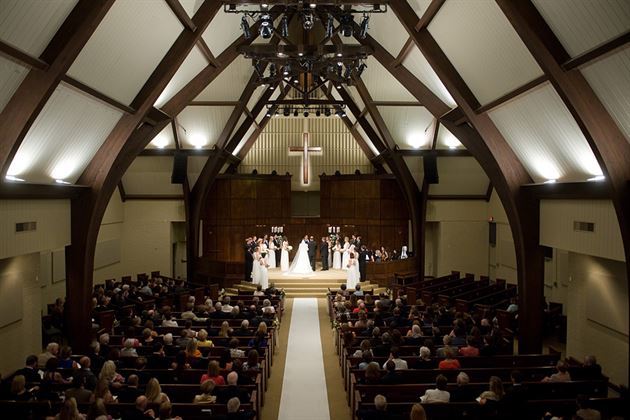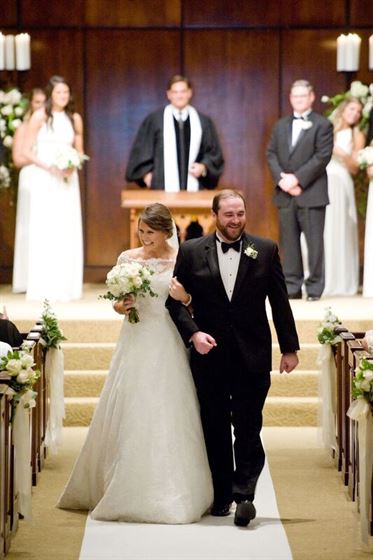 They knew they did not want to get married during Auburn's football season and they also knew they did not want to get married during tax season since Mary Lassiter works for an accounting firm. That left late spring as the only option. Once they found a date that worked for their schedules, they went to work on the other details.
Mary Lassiter and her mother handled most of the planning themselves.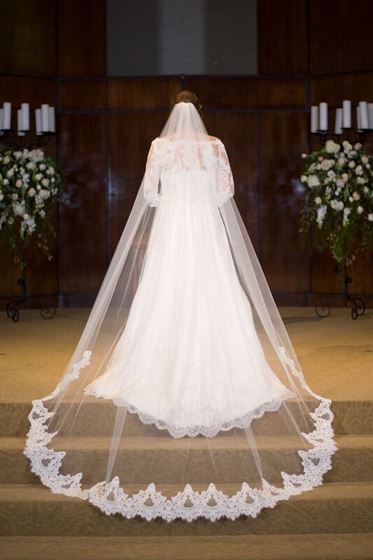 Mary Lassiter found her perfect gown at Ivory and White Boutique in Crestline Village- a beautiful beaded lace Monique Lhullier gown which was customized from a strapless into the perfect gown Mary Lassiter had pictured in her mind "forever""¦. a classic bateau neckline gown of Alencon lace which tipped the edges of her shoulders. She added a Cathedral length veil with an Alencon lace edge. For comfort, Mary Lassiter opted for a pair of off white Tom's crocheted lace flats.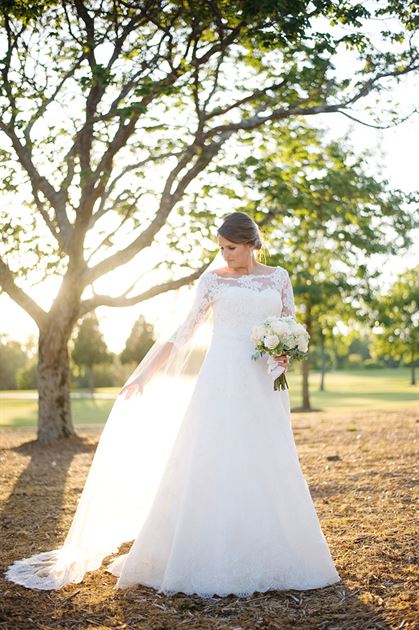 MARY LASSITER™S WEDDING DAY TRADITIONS INCLUDED:
OLD, BORROWED & BLUE: A handkerchief her father gave her the day of her wedding which she wrapped around her bouquet.
NEW: Her wedding gown and pearls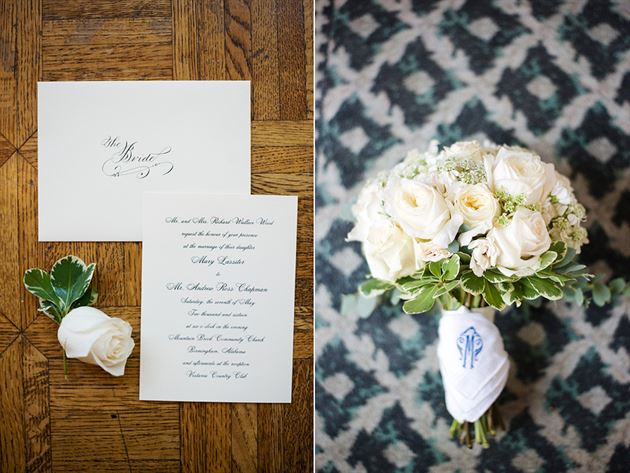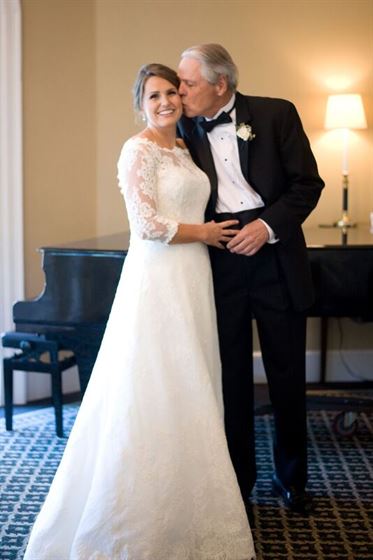 Having been in twelve weddings herself, Mary Lassiter knew she wanted to work with Bella Bridesmaids for the gowns her friends would wear for the wedding. They selected ethereal ivory floor length chiffon gowns; simple, classic and wearable for another occasion. The men wore classic black formal attire.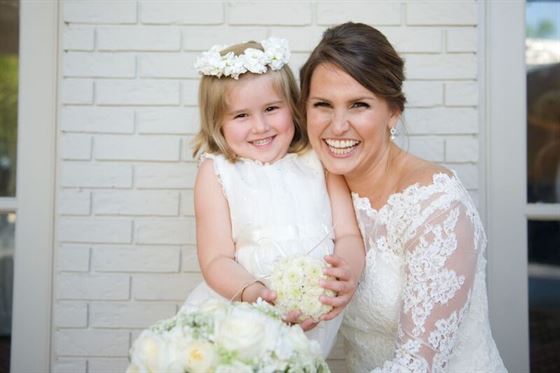 The wedding cake was a classic five tier cake by Diane Olexa with white and chocolate layers. Fresh flowers accented the satin band design. Since Drew loves banana pudding, banana pudding "˜shooters™ were served in lieu of a traditional groom's cake.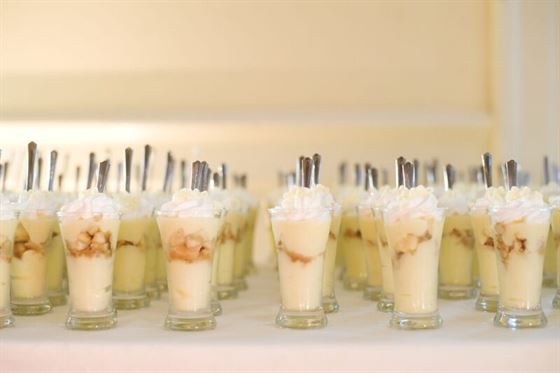 Flowers were designed by Bronwyn Cardwell. White and off white blooms were classically arranged for both the ceremony and reception venues. Beautiful hand crafted wreaths of roses graced the entrances. The tables featured the same monochromatic floral design with silver accents and long, white tapered candles adding a soft glow. Billowy white draping with microlights hung above the guest tables which were set with soft ivory linens and gold Chiavari chairs.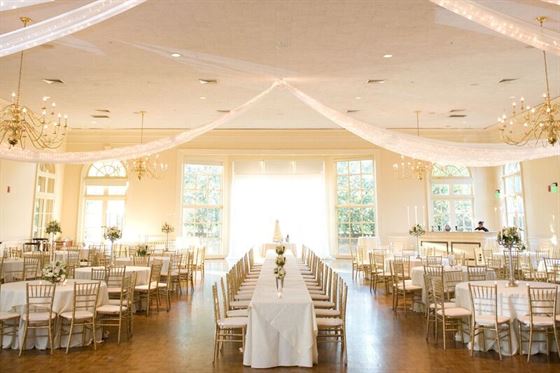 Ginny Hutchinson at The Scribbler designed the couple's paper suite along with wedding koozies, matchbooks, and the ceremony program.
Guests loved the lighted tambourines and glow sticks that were passed out at the reception!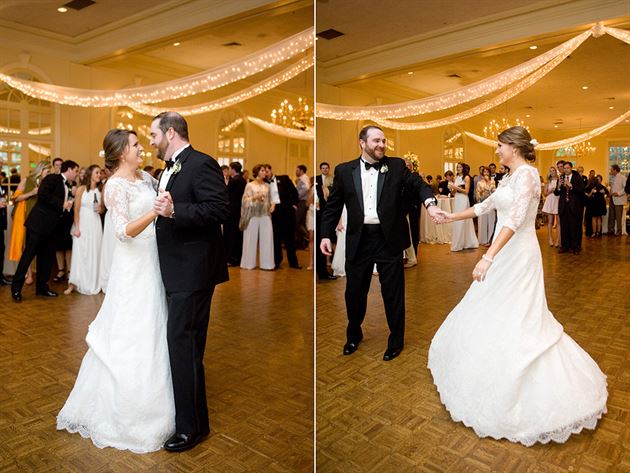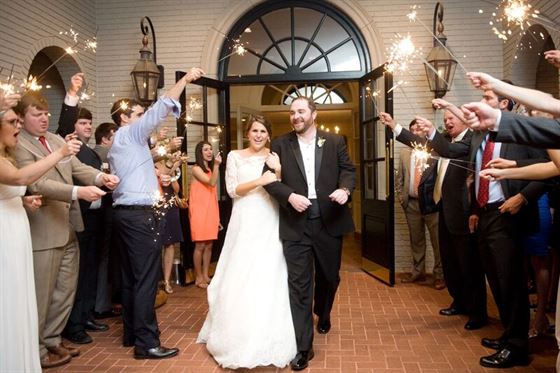 Mary Lassiter and Drew spent their wedding night at Ross Bridge Resort and honeymooned in the Dominican Republic at Excellance Punta Cana. Mary Lassiter and Drew now make Birmingham home and are excited to use their Bromberg's gifts this holiday season to entertain family and friends.
Mary Lassiter and Drew's Bromberg's Gift Registry includes:
Casual China: Vietri Lastra White
Stainless Flatware: Jean Couzon Le Perle
Casual Crystal: Vietri Optic
Congratulations, Mary Lassiter and Drew! The Bromberg family and our entire staff wishes you a lifetime of love and happiness together.