FEATURED WEDDING: MAGGIE HAYES AND JOSIAH HELMS
MAGGIE HAYES & JOSIAH HELMS
CEREMONY: Covenant Presbyterian Church
RECEPTION: Historic Rucker Place/ Birmingham
March 19, 2016
Photos: Angela Blake Photography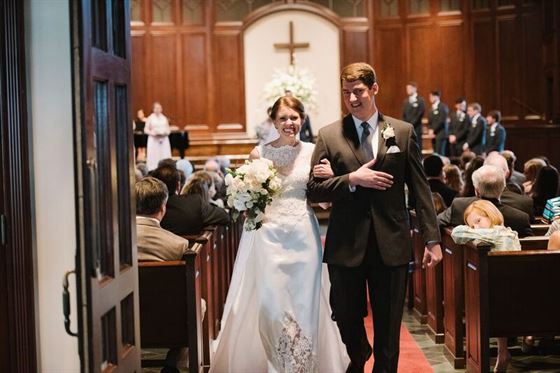 Now that the wait is over
And love has finally shown her my way
Marry me
Today and every day
Marry me.
(Lyrics to Marry Me by Train, Maggie and Josiah's first dance song.)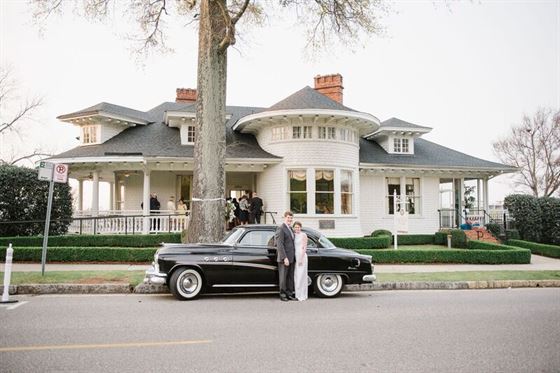 MAGGIE AND JOSIAH…
Maggie Hayes knew who Josiah Helms was as early as her freshman year of college at Birmingham's Samford University. They were both involved in the school's RUF campus ministry and Josiah was a member of the ministry team but they were not officially introduced until the end of Maggie's sophomore year when Maggie joined the ministry team. The two became better acquainted during a team retreat and Josiah's friend Josh encouraged him to ask Maggie out, telling Josiah that he and Maggie would be a perfect pair. Fate helped Josiah out a bit when he and Josh just happened to visit Maggie's church a week later and they had a chance to hang out a bit and talk. Josiah asked Maggie out; their first date at Urban Cookhouse was a bit awkward as they got to know more about each other. They went to Samford's homecoming ball together shortly after that but decided to keep their relationship in the friend zone for the time being.
Maggie very busy with school and not sure she was ready for a relationship. She liked Josiah and they had a lot in common so they continued to spend time together. As time passed, Maggie found Josiah to be genuine, thoughtful, and kind"¦ all the characteristics she would want in a mate and it wasn™t long before she realized it was more than friendship.
Six months after their first date, Josiah asked Maggie again to date him. This time, she wholeheartedly agreed. The couple's second first date was at Nabeel's in Homewood. Afterwards, they walked around Homewood Park. They were inseparable after that and a year later in June of 2015, Maggie and Josiah got engaged.
THE PROPOSAL…
While they were dating, Josiah sent Maggie the Train song "Marry Me" on Spotify with the question: One day? They talked about getting married and spending their lives together but determined they would wait until the summer to get engaged. Josiah needed to select Maggie's ring and talk to her father so Maggie thought it would take a few months for those things to happen. Little did Maggie know that Josiah had already taken care of those details and was carefully planning his proposal.
The pair made plans to hike and picnic at Moss Rock, one of their favorite spots to spend time together. Josiah wanted to hike to the waterfall but Maggie was starving and was ready to stop for lunch. Maggie admits she became curious about what was going on when Josiah began texting someone she had never heard of as they walked along, wondering if this might be the moment Josiah would propose. When they finally stopped for lunch, Josiah had packed some of her favorite things to eat including her favorite blueberry soda. After some post-lunch selfies, Josiah warned Maggie to come down off the rock, afraid she would fall. When Maggie looked back, Josiah was on one knee, ring in hand, and their friend Sarah, who was hiding nearby (and the recipient of the mystery texts) took photos to capture the moment.
And as the song says, love finally did show her his way when Maggie said "yes" to Josiah's sweet proposal. Afterwards, Josiah told Maggie he™d made reservations at a nice restaurant to celebrate but said the time was pushed back. Since they had some time, Josiah suggested they stop by Maggie's parents™ house to tell them the news. When Maggie and Josiah arrived, friends and family were waiting, ready to cheer the couple and the announcement of their marriage.
WEDDING PLANS…
Once a date was set with the church, wedding plans began to come together. The couple secured Pastor Matthew Terrell to perform the ceremony and shortly after that, invited the wedding party. Following a timeless tradition, Maggie wore her mother's wedding gown but had it tweaked a bit by local tailor Mary Saxon who also made the custom veil Maggie wore with the gown.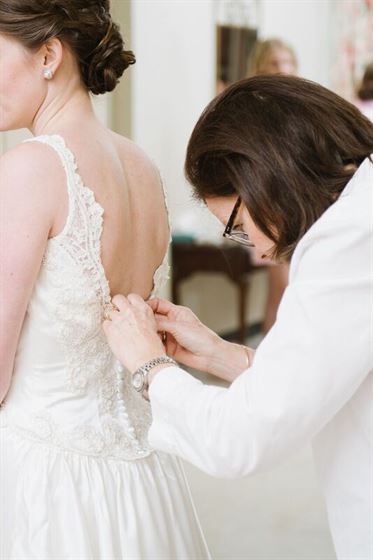 Maggie's bridal day fashion was a total family affair; her sister did her make-up for the wedding and Josiah's sister did her hair.
Maggie's Something Old, New, and Borrowed wedding traditions:
OLD: Her mother's wedding gown
NEW: The custom veil created to match her gown and her pink wedding shoes
BORROWED: Her cousin's earrings
BLUE: The words "I Do" written in blue on the bottom of her shoes
The bridesmaids wore blush colored gowns from Bridesmaids™ Inc. in Homewood and the men sported classic grey suits from Jos A. Bank.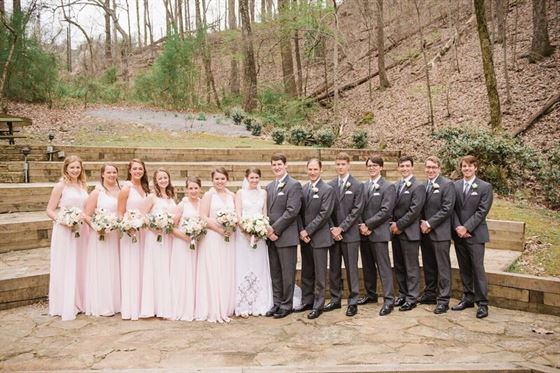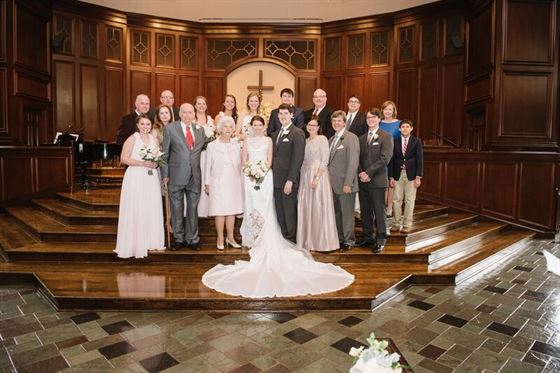 Carol Harris of Lillie Jane designed the flowers using neutral and blush tones. Large urns were filled with hydrangea, white, ivory and blush roses, snapdragons, stock, and greenery. Beautiful handmade floral wreaths were hung at the church with garlands of fresh greenery.
The reception menu was crafted for the couple by Chef Bishop of Savoie Catering, the exclusive caterer for Rucker Place. Magic Muffins created the couple's five-tier classic white buttercream wedding cake as well as the three-tier chocolate and peanut butter groom's cake, a favorite of both the bride and the groom.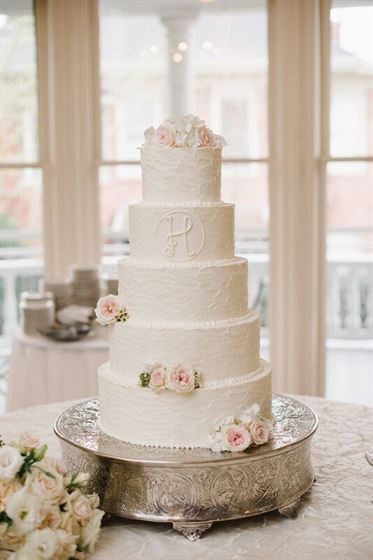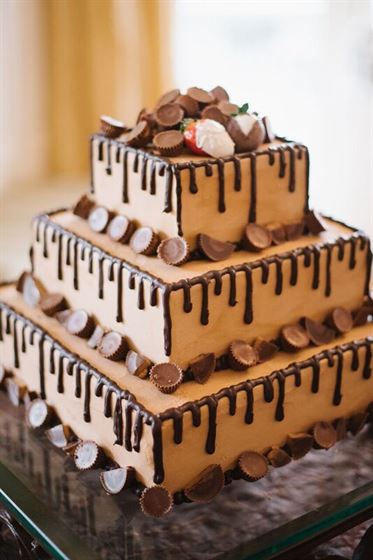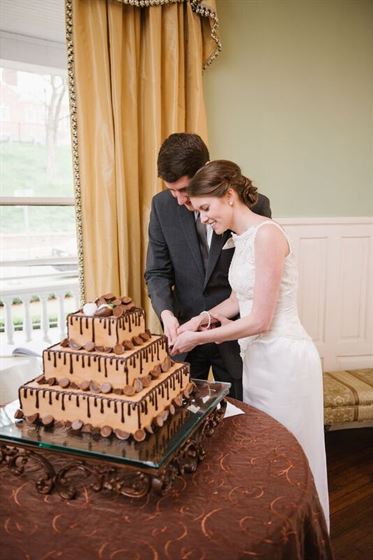 Friends of the couple played music for the ceremony; a childhood friend of Josiah's played piano and Maggie's friends from Samford were violinist and vocalist. Act of Congress played for the reception in the tent on the grounds of Rucker Place. Maggie and Josiah danced their first dance to the Train song Marry Me. The band played My Girl by the Temptations for the father-daughter dance for Maggie and her dad.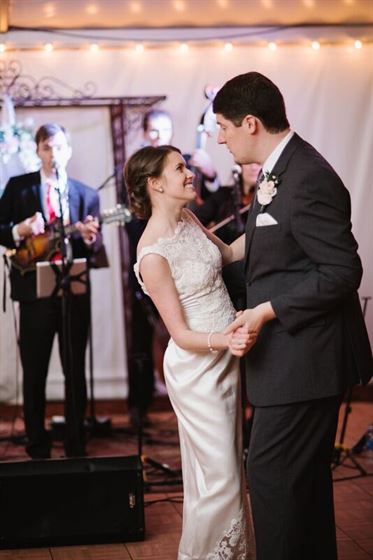 Maggie and Josiah sent guests home with a packet of seeds with the reminder to "Let Love Grow" as a wedding favor.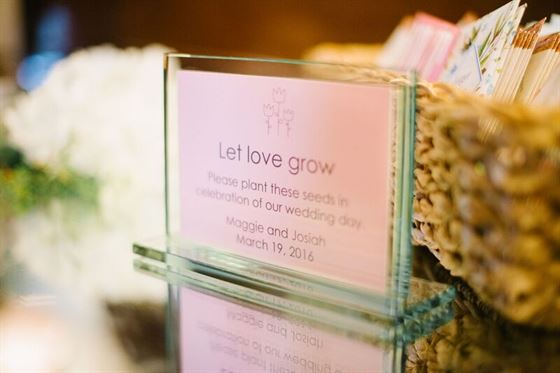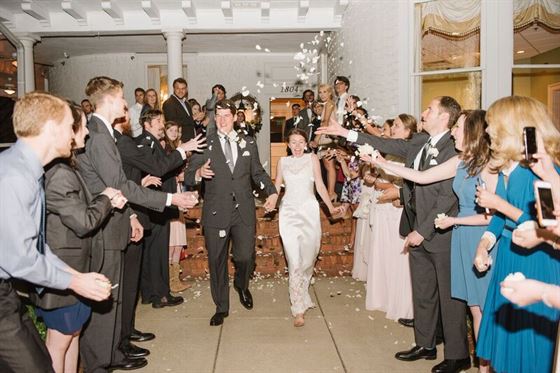 One of Maggie's favorite moments of the day was her first look with Josiah before the wedding. She says those moments gave them time to talk and relax a bit before they said their vows. Maggie's uncle drove them from the church to the reception in a black 1952 Buick which fit the classic theme inspired by Rucker Place.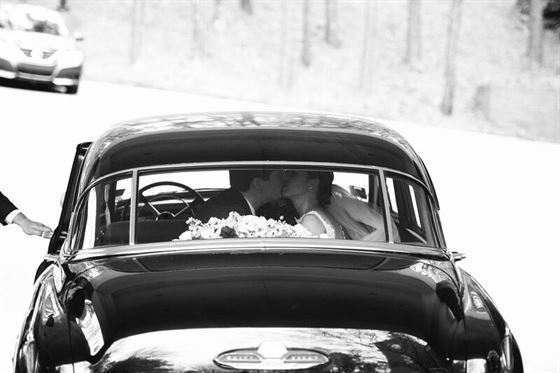 After their honeymoon trip to Rivera Maya, Mexico, Maggie and Josiah are home in Birmingham and enjoying the many gifts they received from their Bromberg's wedding registry. Maggie loves using her Pacific Merchants wooden bowls and chargers and Beatriz Ball platters and bowls when they have friends and family over.
Fine China: Waterford Kilbary Platinum and Bernardaud Torsade
Casual China: Earthborn Pottery Botanicals
Holiday China: Royal China Christmas Tree
Sterling: Gorham Strasbourg
Formal Crystal: Waterford Lismore Essence
Casual Crystal: Skyros Legado
Miscellaneous: Skyros Cantaria, Annie Glass and Beatriz Ball
Congratulations, Maggie and Josiah! Our Bromberg's staff and family wishes you a lifetime of love and happiness together. Thank you for sharing your wedding with us!