FEATURED WEDDING: MADELINE THOMAS MARRIES RAYNOR BOLES
MADELINE THOMAS MARRIES RAYNOR BOLES
CEREMONY: Cathedral Church of the Advent
RECEPTION: Mountain Brook Country Club
January 9, 2016
Wedding by: M Elizabeth Events.
Photos: SIMPLE COLOR PHOTOGRAPHY
Madeline Thomas met Raynor Boles her sophomore year of college and they became inseparable. Seven years, four cities, and thousands of miles later, they got married at Madeline's church. The celebration was one of friends, family and even a little sugar.
Read their story and see their beautiful wedding photos below.
MADELINE AND RAYNOR… THEIR STORY
Madeline somehow managed to lose her cell phone during a sorority-fraternity event her sophomore year. She realized it when Raynor Boles, who happened to be assigned as the fraternity's designated driver for the evening, was driving her home from the event. Raynor was a knight in shining armor who helped locate and retrieve Madeline's phone and then made sure she got safely home afterwards.
The next day, Madeline text Raynor to say thank you for his help. That text started a friendship between the two and soon they were dating. (Raynor likes to say Madeline initiated the relationship since she sent the first text. Madeline of course, says it was simply appropriate and good manners to thank Raynor for going out of his way to help her.) No matter who text first, there was an obvious attraction between the two. Raynor asked Madeline on a date and soon she became his date to every football game and party from then on. Their bond grew stronger and they began to form a large circle of mutual friends through their college years and their lives were totally intertwined by the time they graduated.
After graduation, the couple moved to different cities: Raynor to Huntsville and Madeline to Nashville for graduate school where she lived for three years. They continued to date long distance, each committed to making the 2 hour commute each week to see one another. They had talked about marriage; both knew they would get married one day when the time was right"¦ but before they realized it, more than six years had gone by since they started dating. Madeline suspected Raynor's proposal might be imminent but Raynor was not tipping his hand if it was.
THE PROPOSAL…
One Friday in April 2015, Madeline drove to Huntsville to spend the weekend with Raynor. When she arrived, Raynor told her to stay in the car, that he™d made plans for them to go to Chattanooga for the weekend. Madeline says she thought to herself "surely we are getting engaged!" as she covertly looked at Raynor's pockets for signs of a ring box. After they arrived in Chattanooga, they had a long, lovely dinner together but there was no proposal.
The next day, Raynor planned a hike and had place in mind that had been recommended by a friend. Madeline thought again"¦ "surely we are getting engaged" but as they drove the winding roads to their destination, there was no talk of marriage, their future or any topic that might lead to a proposal. The location for the hike was closed so they drove on, looking for another place to go.
When they finally stopped the car and got out, but there was no beautiful view, just a large, mushroom shaped rock. Madeline had given up on any thought of a proposal happening since the drive had dragged on for so long. They were about to get back into the car when Raynor called out to Madeline to wait a minute. When she turned around to see what he was talking about, Raynor proposed"¦ right by the big mushroom shaped rock. He had the ring in his pocket the whole time.
After a few telephone calls to family and friends, the couple celebrated over pizza and beer. They decided they did not want a long engagement and wedding plans would start as soon as Madeline got home.
WEDDING PLANS"¦.
Madeline and her mother are best friends and planning the wedding together was one of Madeline's favorite things about the whole experience. Madeline knew she wanted to have the wedding at her church, Cathedral Church of the Advent in downtown Birmingham and the reception at Mountain Brook Country Club. Once Madeline was able to match up the available dates (allowing for football season, of course) their wedding date was set.
The first item on Madeline's priority list was finding the perfect band. Madeline and Raynor wanted a band that would keep everyone on the dance floor once the music started. They selected the Atlanta band, Az Izz, a high energy dance band with a playlist covering hits from every generation.
After the band was secured, Madeline and her mom decided to hire a planner to help execute the rest of the details. They hired Meghan Cease and Candice Henderson of M Elizabeth Events and began to round out the remaining wedding details.
WEDDING ATTIRE…
Madeline wanted the entire wedding to have traditional elements with a very simple and polished feel. She wanted the same look for her wedding gown but had a difficult time finding such a gown among the gowns covered with lace and beading. Madeline finally found the perfect gown by Atlanta designer Anne Barge at The White Room in Mountain Brook village with the clean lines and simple silhouette that she wanted. Madeline paired the gown with a lace-edged cathedral length veil from Ivory and White Boutique in Crestline Village and wore her mother's vintage lace wedding shoes to complete her look.
Madeline's Something Old, New, and Borrowed wedding traditions:
OLD: Her mother's wedding shoes
NEW: Her Anne Barge gown
BORROWED: Her mother's earrings that she™d always dreamed she™d wear for her wedding and a beautiful fur on loan from her bridesmaid, Julia Andrews McNair.
Raynor wore a classic black tuxedo with a handcrafted Brackish bowtie of feathers reflecting his love of hunting and the outdoors. (Bromberg's carries a selection of Brackish bowties and lapel pins.)
THE WEDDING PARTY…
THE BRIDESMAIDS…
Madeline has many friends are getting married at the same time so she wanted her bridesmaids to wear a gown of their choosing in gold, taupe, or champagne and loved the way the mismatched gowns paired with the Bella Bridesmaids floor length gowns worn by Raynor's sisters and Madeline's sister, Emily who served as maid of honor.
THE MEN…
The groomsmen and ushers all wore elegant black tuxedos with black bowtie and cummerbund; timeless and classic. Their boutonnieres were similar to Raynor's with a woodland theme.
THE DETAILS…
Since Madeline and Raynor ride horses and spend a lot of time at her family's farm, they incorporated some farm inspiration into their wedding theme. The design included paintings along with feathers, antlers and other farm and hunting references, and their beverage koozies featured a sketch of a mule drawn carriage featuring the farm's mules, Joe and John. A Moscow Mule made with ginger beer and vodka was served in a copper mug to guests as the signature cocktail. The cups, koozies, invitations, and signage were designed by Carol Slaughter at Annabelle's in Vestavia.
The buffet menu prepared by the chefs at the club was elegantly rustic and included Southern favorites like Shrimp and Grits and a wild game buffet. Madeline and Raynor set aside a dedicated dinner hour to visit with friends and family before the band (and the dancing) began. They also wanted to cut the cakes early in the evening so there would be no interruption once they got their guests out onto the dance floor.
The wedding cakes were designed by renowned Birmingham-area baker Barb Sullivan of Barb's Cakes and TLC fame. The wedding cake was a classic, towering six-tier white cake with smooth white fondant icing and gold band accents topped with a porcelain bride and groom figurine which reminded Madeline of a scene from her favorite wedding movie, My Best Friend's Wedding. The groom's cake was also simple and classic–a square three-tier dark chocolate cake with swirls of chocolate buttercream icing.
As luck would have it, just as Madeline and Raynor were getting ready to start the dancing with their first dance song, Sugar, by Adam Levine and Maroon 5, lightening hit the generator, knocking out the band's power and while they waited for it to be repaired, Raynor became nervous about performing their dance in front of everyone. When they finally made their way onto the dance floor, there were 350 of their closest family and friends waiting for them- a huge crowd! When everyone realized what song they were dancing to, a big cheer filled the room and Raynor totally forgot his nerves. As soon as the first dances were over, the guests piled onto the dance floor with Madeline and Raynor up front"¦ and they stayed there throughout the rest of the party.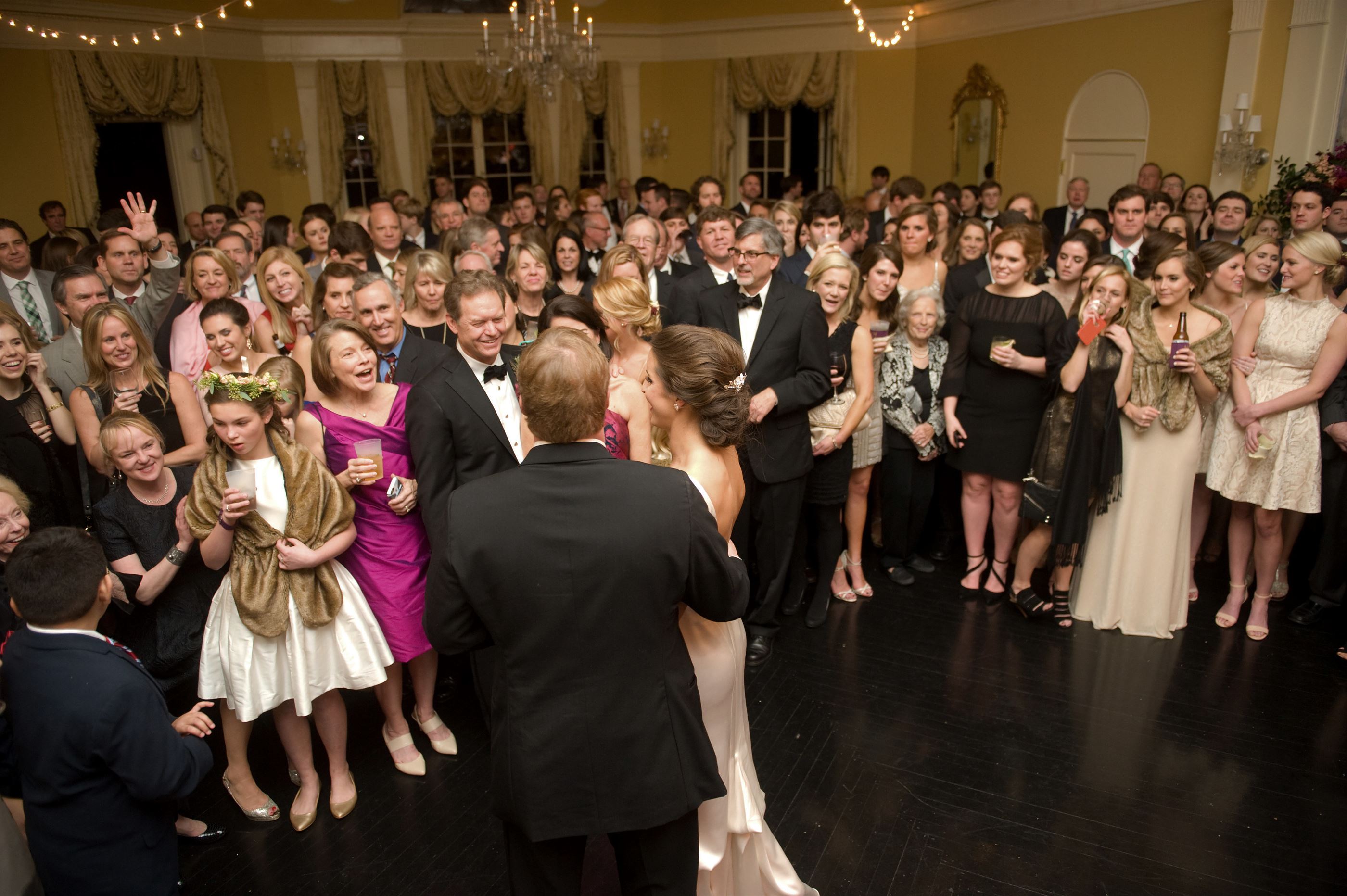 Later on in the reception, another magical moment happened when the bridesmaids surprised Madeline with a choreographed dance number. Her friends know Madeline loves the Beyonce song Love on Top. The bridesmaids learned the dance before the wedding–one of them videoed the moves and shared it with the others. They secretly perfected their dance at home and didn™t tell anyone about it, surprising Madeline during the reception. It was one of her favorite moments of the night.
Madeline said the decision to hire a planner was one of the best decisions she made. Not only did Meghan and Candice help with vendor suggestions and keep them on a schedule to expedite decisions in a timely manner, their attention to detail and their desire to make the day perfect for Madeline, Raynor and their families did not stop until the last guest left. In fact, Madeline says that during the reception, when her father asked for a particular bourbon that wasn™t included on their bourbon bar, Meghan sent someone out to get it. In moments, the father of the bride had his requested bourbon in hand without missing a beat.
Another favorite moment came during the ceremony. "At the ceremony I had a five person African American Gospel Choir featuring Belinda George Peeples. I grew up doing musical theater with Belinda through Red Mountain Theater Company so it was so special to have her sing at my wedding. We walked out to Oh, Happy Day! My brother, Hugh Rowe Thomas, also sang a solo during the ceremony. A traditional Episcopalian version of Hallelujah. He was great too!"
After they departed, the couple felt so loved. According to Madeline, the entire day was so happy and joyous. They felt like it was a reunion of sorts, too, with all of their college friends there to celebrate with them. (Except two friends who gave birth right before the wedding and two others who were involved with the National Championship game who were not able to come.)
Madeline and Raynor's Bromberg's Gift Registry includes:
Fine China: Herend Golden Laurel and Royal Crown Derby Imari Riverside Park
Casual China: Juliska Field of Flowers and Quotidien White
Formal Crystal: Waterford Lismore
Casual Crystal: Rose Ann Hall Condessa
Congratulations, Madeline and Raynor! The Bromberg family and our entire staff wishes you a lifetime of love and happiness together.