Featured Wedding: Madeline and Stewart
MADELINE STIVENDER AND STEWART HERNDON
April 29, 2017
Ceremony: Canterbury United Methodist Church
Reception: Country Club of Birmingham
Photos: 509 Photography
Planner: Mariee Ami Wedding Studio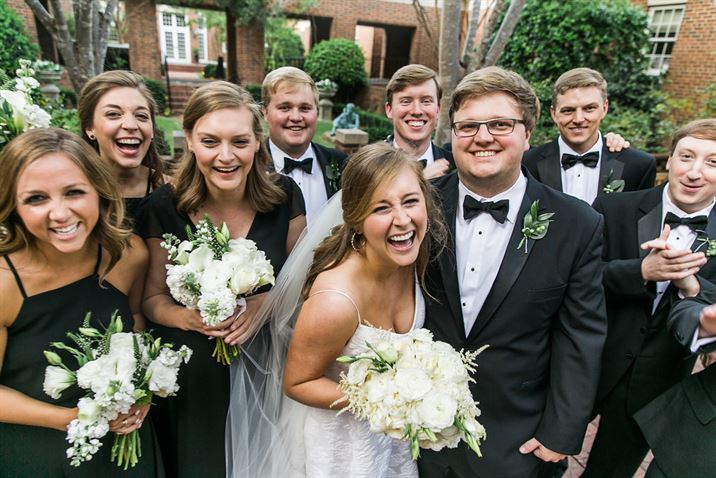 Madeline Stivender met Stewart Herndon at Canterbury Methodist Church in Birmingham when both were in high school. They became friends first but began dating about a year later. Despite the odds, the couple made it through the ups and downs of their high school and college years and the relationship even withstood the trials of dating long distance without breaking up. April 29, 2017, the pair married where they met with family and friends cheering them on. Here's their story.
MADELINE & STEWART"¦
Both Madeline and Stewart grew up attending Canterbury Methodist Church in Mountain Brook. They were both involved with various youth groups at the church and met during high school. They became friends and about a year later, Stewart asked Madeline out on a date. The two went on their first date to the Mellow Mushroom for pizza and never looked back. Madeline graduated and headed to the University of Alabama for college. Stewart followed a year later.
When Madeline graduated, she returned to Birmingham. Stewart graduated and moved back to Birmingham for medical school at UAB. The two talked about getting married eventually but knew it would be a few years down the road- after Stewart graduated from med school- so while the topic would occasionally come up in conversation, Madeline thought marriage was still a few years away.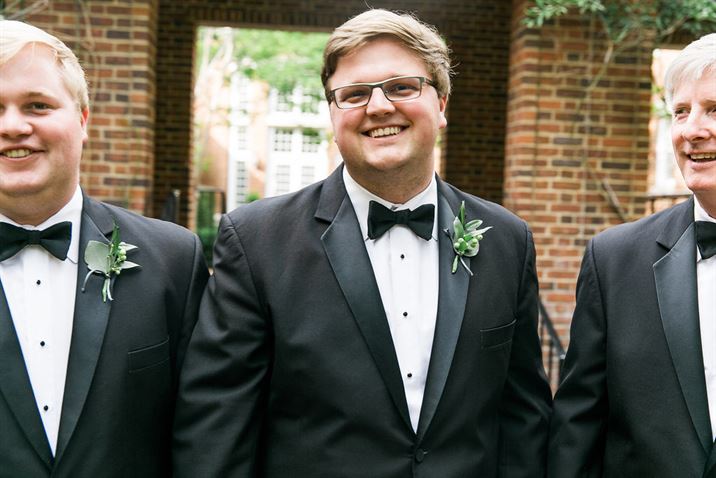 THE PROPOSAL"¦
During the summer before his 3rd year of medical school, Stewart had a surprise in the works. Using a family diamond from his father's mother as the center stone, Stewart turned to Bromberg's in-house Master Jewelry Designer Phillip Flenniken to create the setting for Madeline's engagement ring and began planning his proposal for later that summer. The design featured trapezoid diamonds with baguettes on either side.
The weekend after July 4th, the couple went to the lake. Stewart packed a cooler and the pair went down to the dock to hang out. They spent a long time in conversation about life and their future together. As the sun set, Stewart proposed, producing Madeline's ring from the pocket on the cooler. After she said yes, the pair cooked dinner together and called their families to let them know they were engaged. Both sets of parents came to the lake for lunch the following day to celebrate and begin making wedding plans.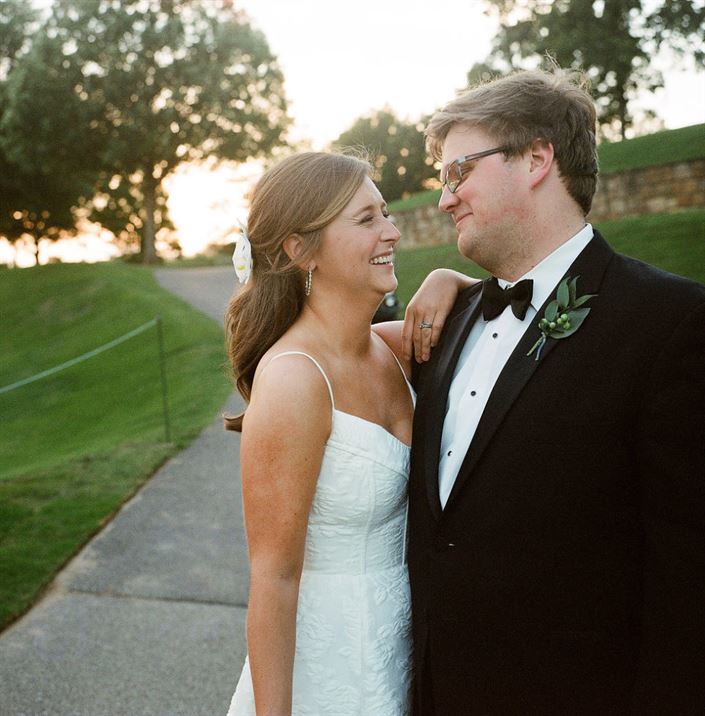 THE WEDDING"¦.
The couple knew there was a very small window of time for a wedding since Stewart was beginning his all-important 3rd year of medical school. The ceremony location was an easy choice and once they had the date reserved at Canterbury, they started on the other details. They enlisted Neillie Kirk Butler and her team at Mariee Ami Wedding Studio to help pull it all together.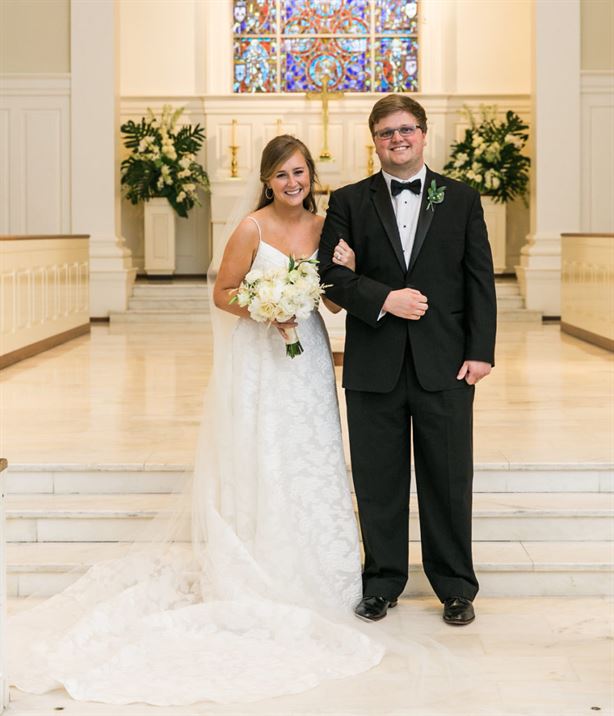 Madeline found her perfect gown by designer Lela Rose at Ivory & White in Crestline Village.
Buffy Hargett was engaged to handle the floral design; Madeline wanted something modern, yet traditional. The design featured lots of ivy and green palm leaves, white flowers along with orchids and tulips. Madeline's bridal bouquet included peonies, roses, and white astilbe.
A two-tier square wedding cake by Magic Muffins featured a white tier and a chocolate tier with traditional buttercream frosting, decorated with fresh orchids.
The bridesmaids wore two-piece Joanna August gowns from Bella Bridesmaids. The groom and groomsmen wore their own tuxedoes.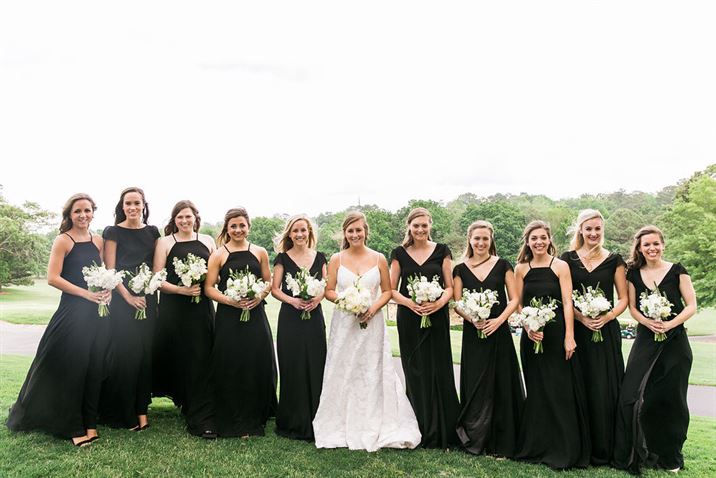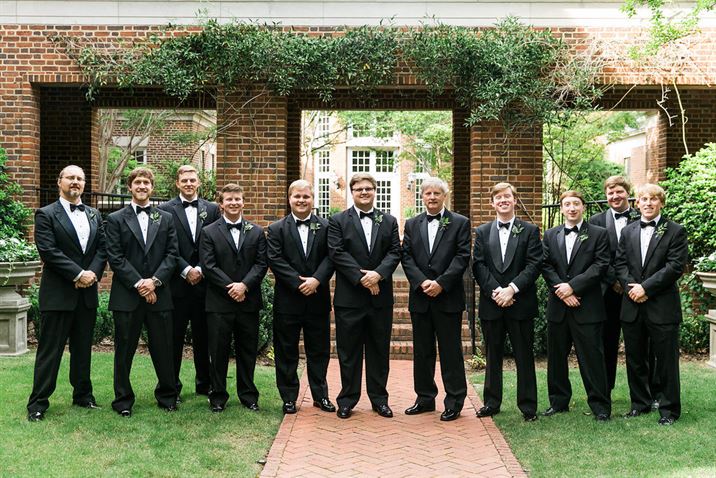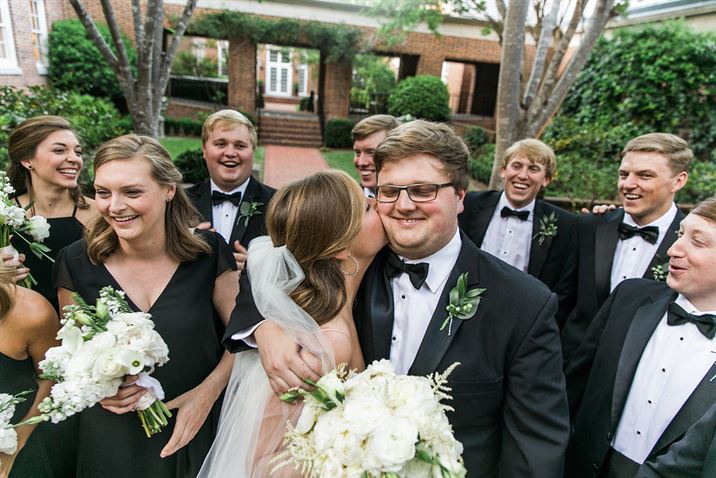 The wedding invitations and stationery suite were by Mariee Ami and Jan Prewitt Calligraphy.
The band City Heat performed for the reception and played Stevie Wonder's Signed, Sealed, Delivered (I™m Yours) for the couple's first dance.
Madeline's "Something Old" wedding traditions included:
OLD: A handkerchief from Madeline's grandmother.
NEW: Her gown.
BORROWED: A veil borrowed from a dear family friend.
BLUE: Her garter.
After their honeymoon in St. Lucia, Madeline and Stewart returned to Birmingham but are excited about residency matching in March and Stewart's graduation next summer. Meanwhile, the couple are excited to use their Bromberg's wedding registry gifts during the upcoming holiday season including her Tena Payne Earthborn Pottery, Vietri, and Annieglass patterns.
MADELINE & STEWART™S BROMBERG™S GIFT REGISTRY INCLUDES:
FORMAL CHINA: Pickard Necklace
CASUAL CHINA: Annieglass Roman Antique / Vietri Forma Cloud / Earthborn Pottery
STERLING FLATWARE: Gorham Chantilly
STAINLESS FLATWARE: Wedgwood Vera Wang Polished
CASUAL STEMWARE: Riedel Stemless Vinum Collection
Congratulations, Madeline and Stewart! The Bromberg family and staff wishes you a lifetime of happiness together.