FEATURED WEDDING: LEIGHTON & JOHN
LEIGHTON BROWN & JOHN BURKETT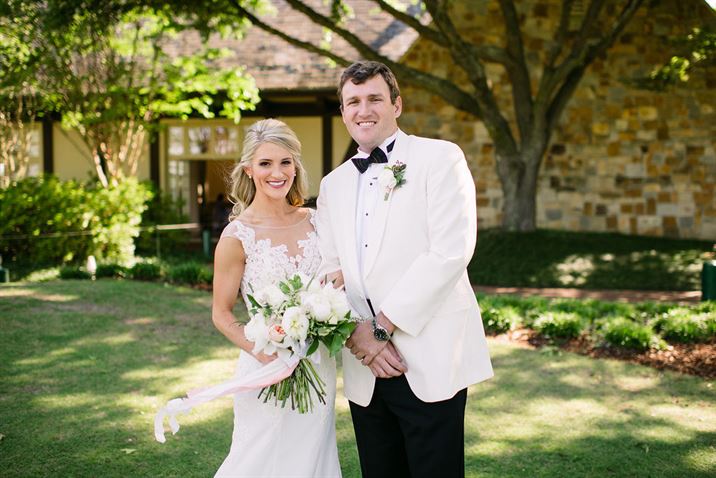 Ceremony: Canterbury United Methodist Church
Reception: The Country Club of Birmingham
May 6, 2017
Photography by: Kellen Jacob Photography
Planner: Mariee Ami Planning Studio
Leighton and John met during their freshman year at the University of Alabama and became friends but it was during their junior year that the friendship "turned a little sweeter" and the pair became a couple.
Four years and several moves later, the couple married in John's hometown of Birmingham where he and Leighton have made their home together.
Here's their wedding story.
THE BEGINNING…
After several years of friendship, Leighton and John began dating during their junior year at Alabama. After graduation, John moved to Birmingham for his job and Leighton moved to Washington D.C. for hers. The couple knew they had something special so they endured a Birmingham to D.C. long distance relationship for more than three years. Both knew they would eventually marry but nothing definite had been determined— it was just a matter of timing and there were lots of logistics to work out before they could live in the same city.
THE PROPOSAL…
Leighton did not suspect anything unusual when she landed in Birmingham for a friend's wedding in March 2016. John had been at his usual "wing night" gathering at Otey's before picking up Leighton at the airport. They stopped by John's house to drop off her luggage before going on to have drinks with friends. When they entered the house, Leighton was in front of John. She turned around to ask him a question and he knelt in front of her, ring in hand, and asked her to be his wife.
John and his family surprised Leighton with an intimate engagement party at his grandmother's home; Leighton's mother, other family members and friends were there to celebrate with them.
THE WEDDING DETAILS…
Once Leighton was sure of her move to Birmingham, she called on Neillie Butler and Mariee Ami Wedding Planning Studio to begin wedding plans. Giving Neille a vision for what she wanted, Leighton left it all in Neillie's capable hands and was thrilled with the results. Leighton is from Florida so she wanted her family and friends to experience her new hometown of Birmingham for the wedding.
Leighton and John chose to have the wedding at the chapel at Canterbury United Methodist Church, where John attended church as he grew up. The couple led their guests in communion as their first act as a married couple.

The reception was held at The Country Club of Birmingham.
Leighton found her perfect gown at The White Room. It featured a jewel illusion neckline with lace bodice and deep v-back which she paired with a lace-edged veil for the ceremony. She exchanged it for fresh orchids for the reception.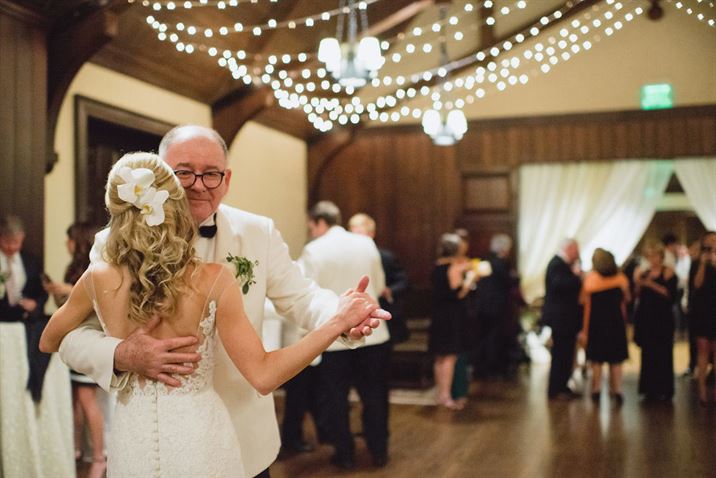 LEIGHTON™S OLD, NEW, BORROWED, AND BLUE WEDDING TRADITIONS INCLUDED:
OLD: Buttons from her mother's wedding gown were used on Leighton's gown. She also borrowed John's mother's veil so she had something from both. Her third "something old" was a diamond tennis bracelet, given to her by her mother and father. NEW: Her gown and shoes. BORROWED: A dainty locket with a photo of a dear friend who had passed away was loaned to Leighton and pinned to her bridal bouquet. BLUE: A handkerchief with a delicate blue edge, a gift from Leighton's Maid of Honor and mother, was carried with her bridal bouquet.
The bridesmaids wore elegant floor length navy gowns with a string halter top that tied behind the neck.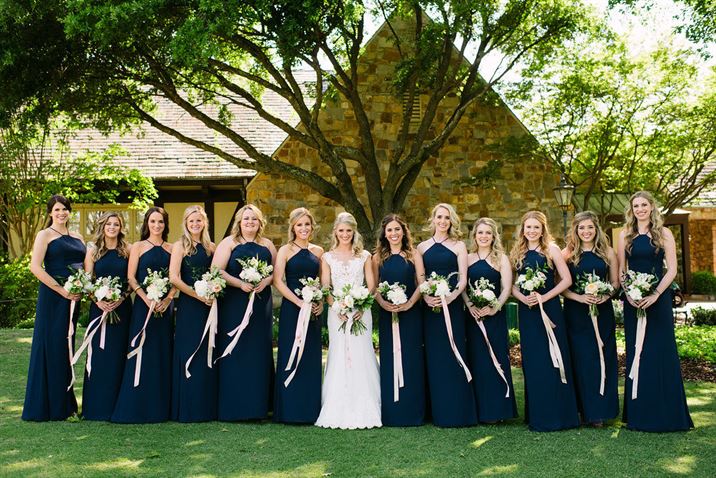 John and his groomsmen wore white dinner jackets paired with a classic black bow tie and cummerbund.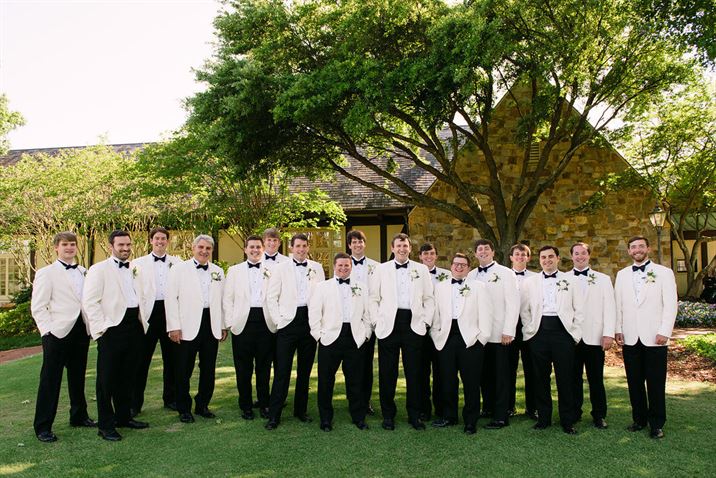 Since John is an avid outdoorsman, Leighton gave him a handcrafted Brackish feather bow-tie from Bromberg's to wear for the wedding.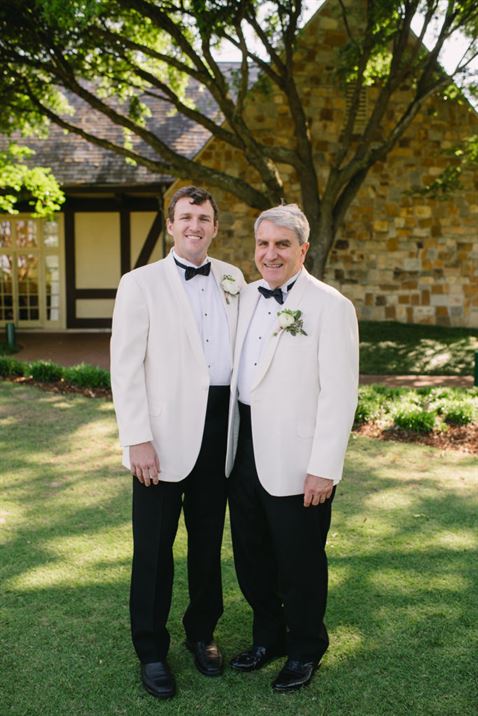 The flowers were by Kathleen Varner, Edna K Design and designed around beautiful blush and white peonies with lots of greenery to give it a just-picked spring garden feel. Bouquets were lush and tied with silk ribbons of white and blush. The same "just picked" design was used for the table arrangements; ivory linens and gold Chivari chairs created a timeless setting.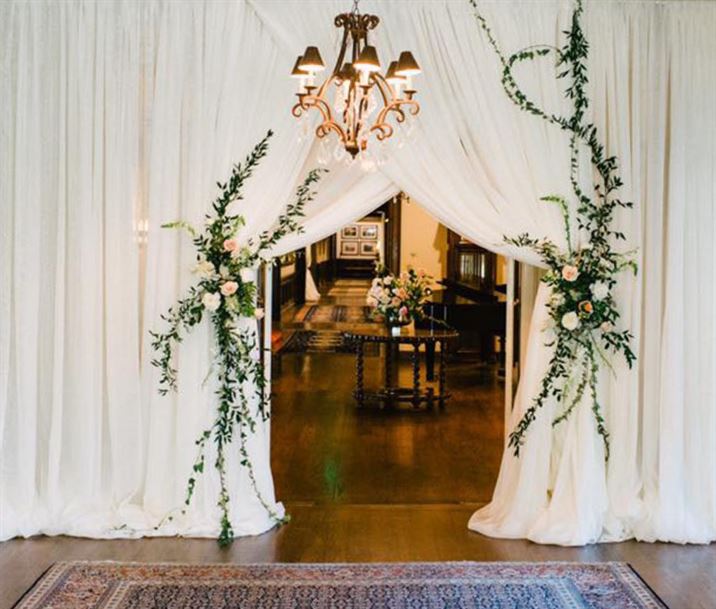 The Refined Pen lettered the elegant calligraphy and paper goods were provided by the in-house team at Mariee Ami.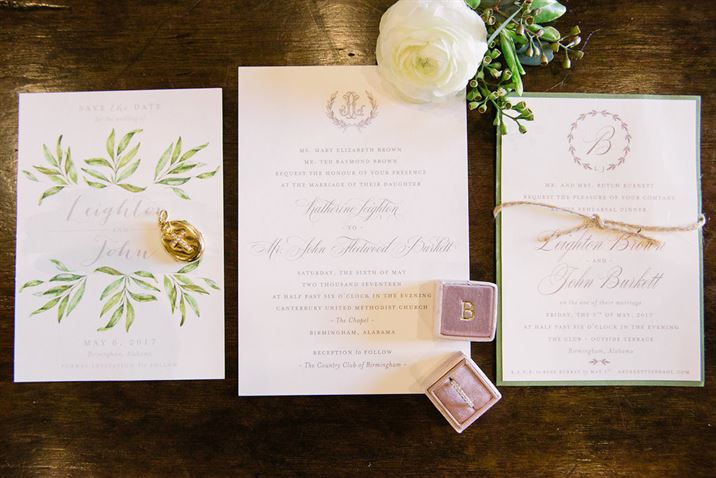 Leighton's "something old" wedding traditions.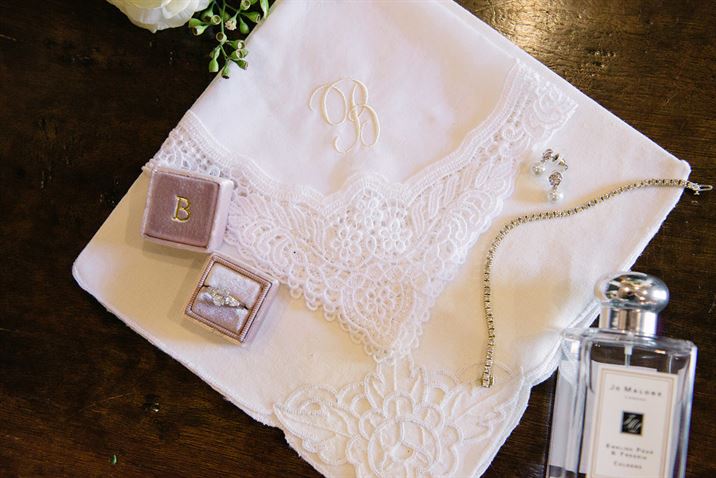 Cakes were designed by Barb Sullivan of Cakes by Barb. The wedding cake was a five-tier white cake with alternating layers of French Almond Vanilla and Strawberry cake with buttercream icing and an asymmetrical garland of roses and peonies cascading down the tiers. John's cake was a multi-shaped three-tier cake of chocolate ganache with a bold chocolate "B" monogram on the middle tier.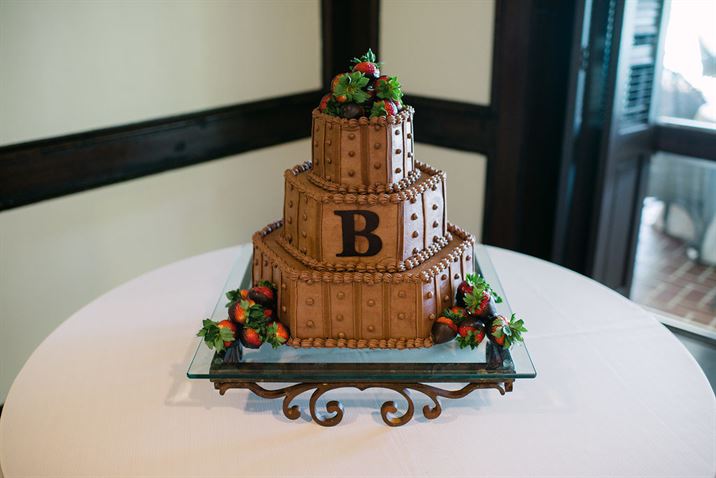 Guests had a ball dancing at the reception to old school classics and current dance favorites by Momentum Party Band. Leighton and John danced their first dance as a married couple to Until You by Dave Barnes.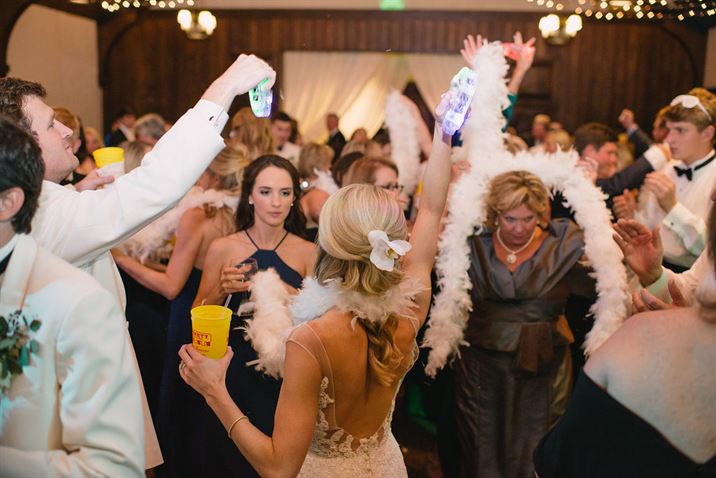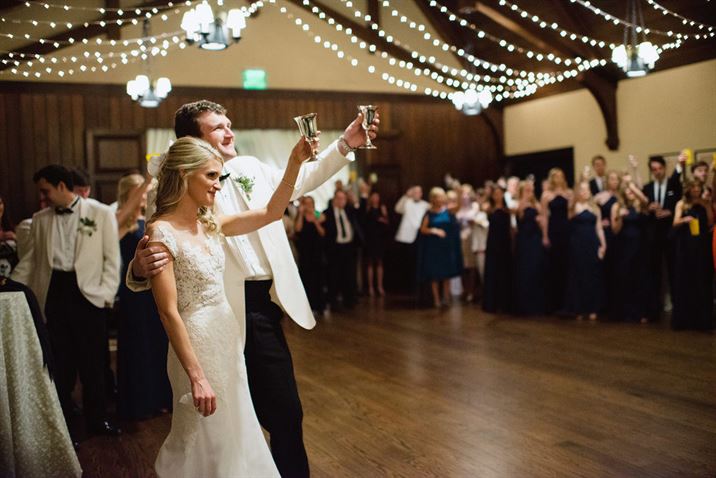 The signature Mariee Ami tambourines and koozies given out to guests were a big hit as were the custom designed bright yellow "Burkett Yellow Hammer" stadium cups.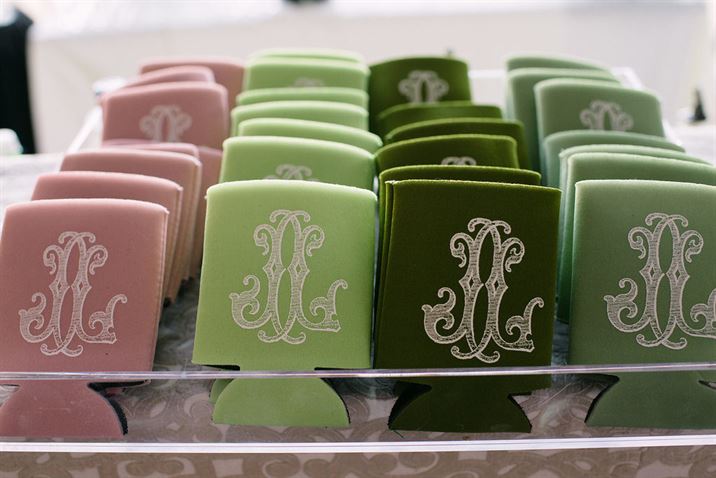 The farewell to guests before the couple departed for the historic Tutwiler Hotel in a classic Rolls Royce limousine. On Monday, they left Birmingham for their honeymoon in Antiqua.
LEIGHTON AND JOHN™S BROMBERG™S GIFT REGISTRY INCLUDES:
Formal China: Haviland Collette
Formal Crystal: Waterford Lismore Essence
Casual China: Annieglass Edgey Gold
Holiday China: Arte Italica Natale
Congratulations, Leighton and John! The Bromberg family and our entire staff wish you a long and happy life together.
Planning: Mariee Amie Wedding Studio | Flowers: Kathleen Varner, Edna K Design | Wedding Dress: The White Room | Calligraphy: The Refined Pen | Wedding Cakes: Barb Sulllivan, Barb's Cakes | Hair and Make-Up: Frivolous Talents | Transportation: Rare Transportation | Linens: La Tavola Linen | Band: Momentum Party Band, East Coast Entertainment | Lighting & Drapery: Design Productions