FEATURED WEDDING: LAUREN AND REESE
LAUREN BELCHER AND ROBERT REESE GOODE
February 25, 2017
CEREMONY: Canterbury Methodist Church
RECEPTION: The Club
Photography: Leslie Hollingsworth
Wedding: Mariee Ami Wedding Studio
They say there are no coincidences"¦. Lauren Belcher had a fun night out planned with her friends at a favorite neighborhood spot. Lauren's college acquaintance Reese Goode had the same plans with his friends. Their chance encounter that night turned out to be the beginning of something BIG.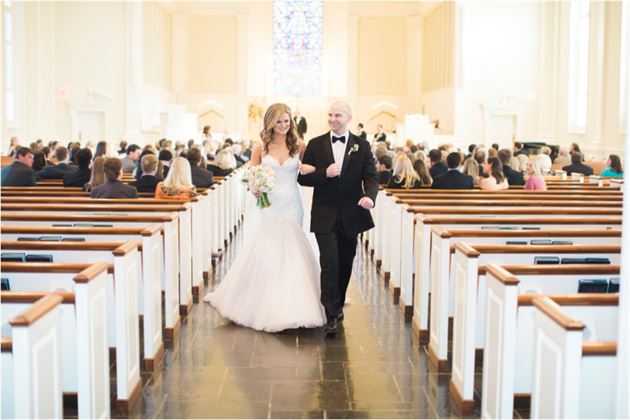 LAUREN & REESE"¦
Lauren and Reese were acquaintances from their college days at the University of Alabama where Reese's mom was Lauren's sorority rush advisor. Lauren and Reese did not have the same friends or hang out in the same circles during college and after graduation in 2004, Lauren moved to Birmingham and Reese moved several times to different cities for his work. Their paths didn™t cross again until a fateful night at Saw's Juke Joint in 2013. Lauren and her friends were out for dinner that night; Reese and his friends were, too.
The two were reacquainted at the restaurant and a little spark was obvious; both were single and both thought the other very cute. Reese asked Lauren's friends for her number that night and soon after, called to invite her out on their first date. That was in the fall of 2013. Lauren liked that Reese was persistent and nice; he called her for dates courting her in a way that felt so mature and By New Year's Eve, the pair felt like they were a couple and went on to date for two years- even continuing to date long distance while Reese was living in Atlanta. By this time, Lauren and Reese knew they had made a commitment to a future together; it was just a matter of time before they made it official.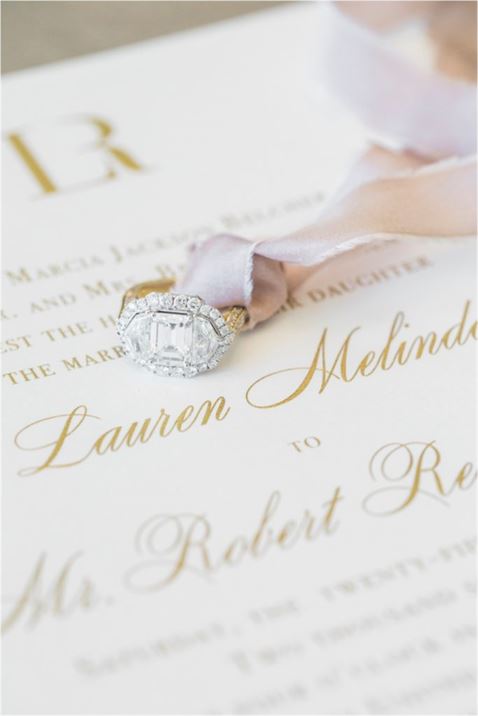 THE PROPOSAL"¦
Once Reese moved back to Birmingham, talk of a ring and proposal began. Lauren is impossible to surprise- in fact, she says she is "unsurpriseable". She always guesses what her gifts are from Reese before he gives them to her so she felt there would be no way he could surprise her with a proposal.
Late in the summer of 2016, Lauren felt Reese might pop the question any time. She was convinced he™d plan an elaborate proposal because Reese is very creative but the summer came and went. On Labor Day, the couple planned to join Lauren's family for a day at the pool and they were running late. Lauren was rushing around, packing her beach bag and grabbing towels for the day, urging Reese to hurry. Reese said, "I loved our stay-cation this weekend. I want to do this forever". Lauren realized what was happening as the towels she held slipped to the floor about the time Reese knelt to propose.
The diamond was an heirloom from Bromberg's which had been passed down from her mother and redesigned for Lauren. Bromberg's melted down two gold bands that had been left to Lauren to craft the couple's custom wedding bands.
After he asked and she said yes, Lauren and Reese went to tell the family; they celebrated with Champagne and began talking about wedding plans.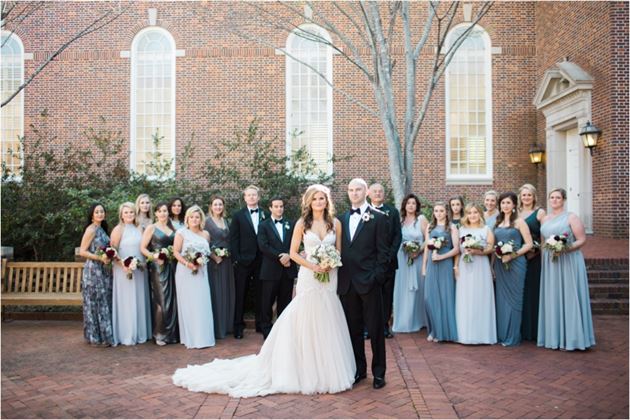 WEDDING DETAILS"¦
Having gone to Alabama with Neillie Butler of Mariee Ami Wedding Studio, Lauren knew who to call for help with the wedding. Says Lauren "I was terrified of the wedding planning process but Mariée Ami took care of all the details so I could enjoy my engagement time and wedding day!"
Neillie and her team started with a bouquet in blush, peach, plum, and green which Lauren had seen on Pinterest to help define the vision for the wedding.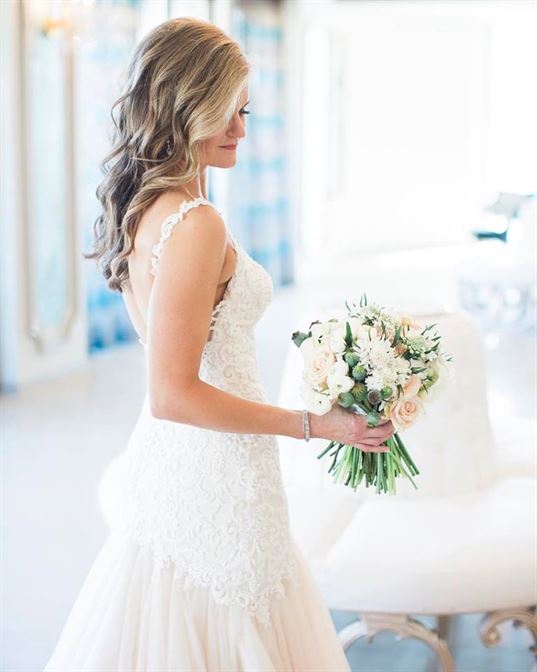 Lauren wanted a gown that reflected a modern and elegant feel; she found the perfect blush wedding gown by Martina Liana at Ivory & White in Crestline Village. After that, the gown became the inspiration for the remainder of the floral design and room décor.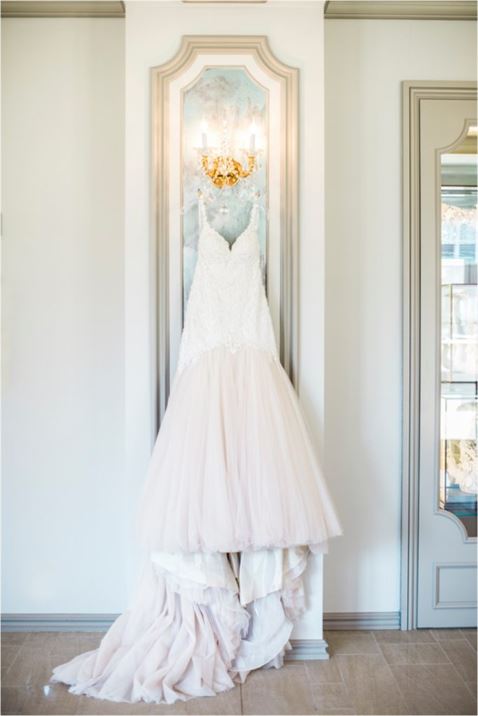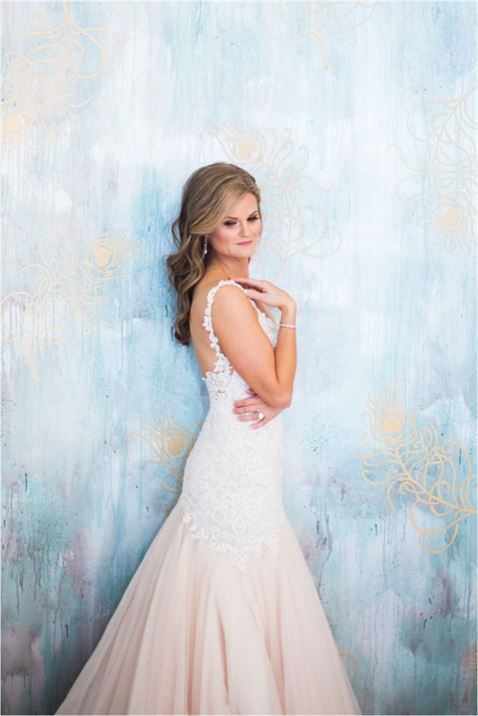 Bridesmaids wore Amsale gowns from Bella Bridesmaid in Homewood in a soft blue grey color palette. Reese and the groomsmen wore classic black tuxedoes.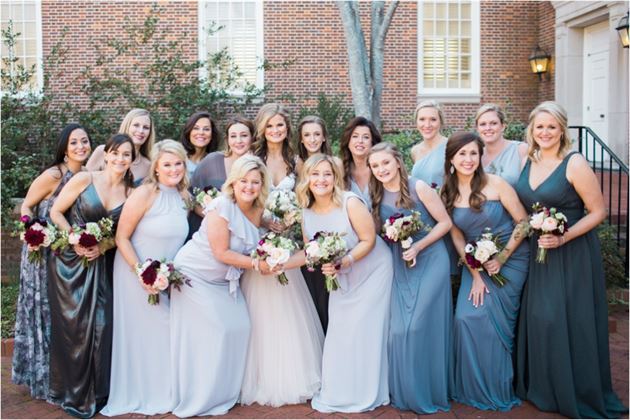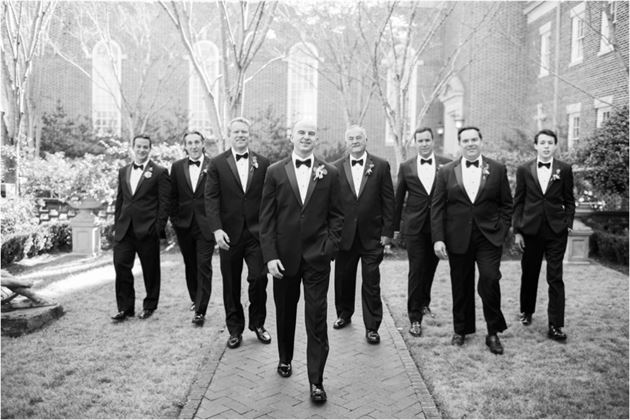 The reception would be held at The Club on top of Red Mountain. The rooms feature an entire wall of windows overlooking Birmingham. Buffy Hargett was selected for the flowers; Lauren felt like she™d create something that was as unique as her gown and something she hadn™t seen before. Ghost chairs were used so the beautiful view of the city was not obstructed and luxury linens with a soft champagne stripe complimented the color of the sky just after sunset.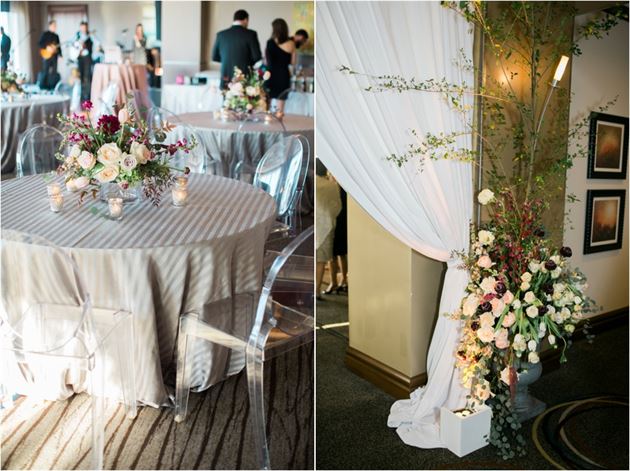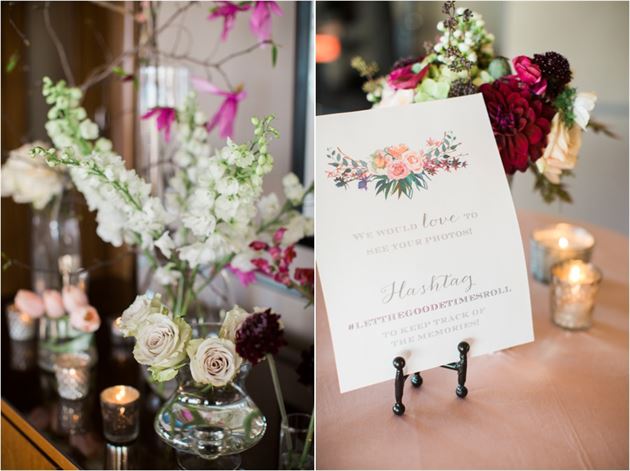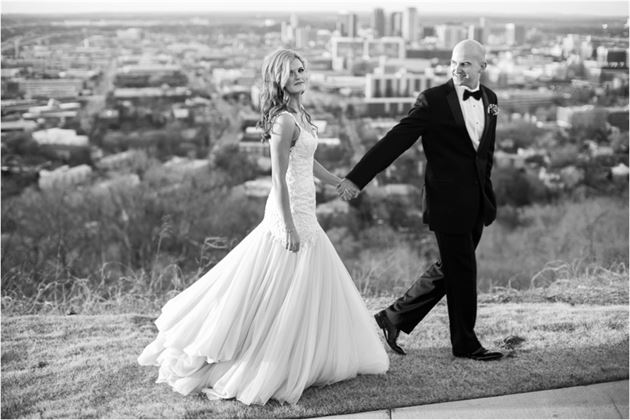 The paper suite included a modern, open gold "˜LR™ monogram designed by Mariee Ami. One of Lauren's favorite details was the light up tambourines that created a perfect party atmosphere to celebrate with friends and family.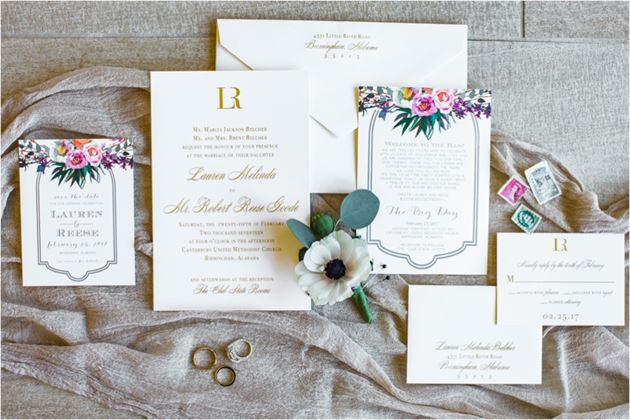 The wedding cake designed by Magic Muffins was a four-tiered cake with classically modern flair. Each tier was a different shape with white on white scrollwork and a "˜G™ monogram; fresh flowers accented the top and side of the cake which was prominently positioned on a stunning square mirrored cake base.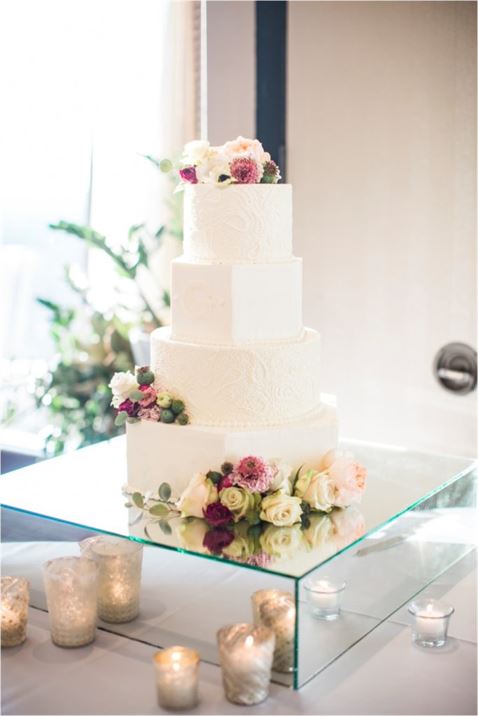 WEDDING TRADITIONS"¦
Lauren's favorite moment of the day, should she have to choose one would be her first look moment with Reese. Her something old, something new traditions included:
OLD: Reese's grandmother's sapphire and diamond bracelet.
NEW: Her wedding gown.
BORROWED: Reese's grandmother's diamond brooch.
BLUE: Her grandmother's blue handkerchief, which was used along with the brooch for her wedding bouquet.
WEDDING VENDORS
Photography: Leslie Hollingsworth
Florals: Buffy Hargett
Wedding Dress: Ivory and White Crestline Village
Bridesmaids Dresses: Bella Bridesmaids
Reese & Groomsmen Attire: Mr. Burch Formal Wear Mountain Brook
Wedding Cake: Magic Muffins
Hair/Make-Up: Brittany B. Massey
Invitations and Paper Suite: Mariée Ami
Band: The Negotiators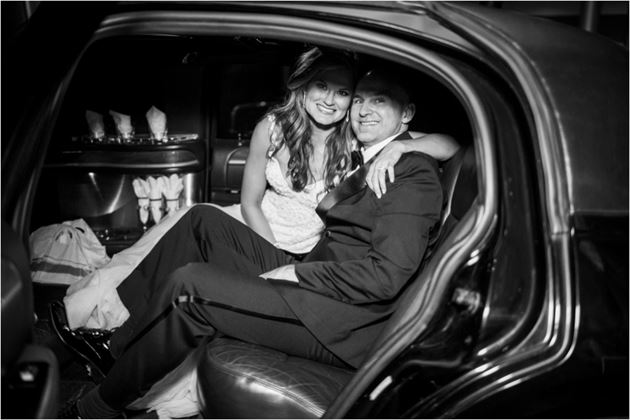 THE HONEYMOON"¦.
Lauren and Jeff went to St. Lucia on their honeymoon and loved it. The island is lush with vegetation and turquoise blue water. There's a lot to see and do in St. Lucia, which is why they chose it- mud baths, waterfalls, snorkeling, etc. They stayed at the Sandals Regency La Toc Golf Resort & Spa. We loved it and recommend any of the Sandals properties on St. Lucia. Their only regret was not staying longer. They are at home, enjoying their many wedding gifts from Bromberg's"¦ especially their Juliska everyday china!
Dear Lauren & Reese: The Bromberg family and our staff wish you a lifetime of happiness. Congratulations!