FEATURED WEDDING: HOLLY AND RYAN
BROMBERG™S FEATURED WEDDING
HOLLY & RYAN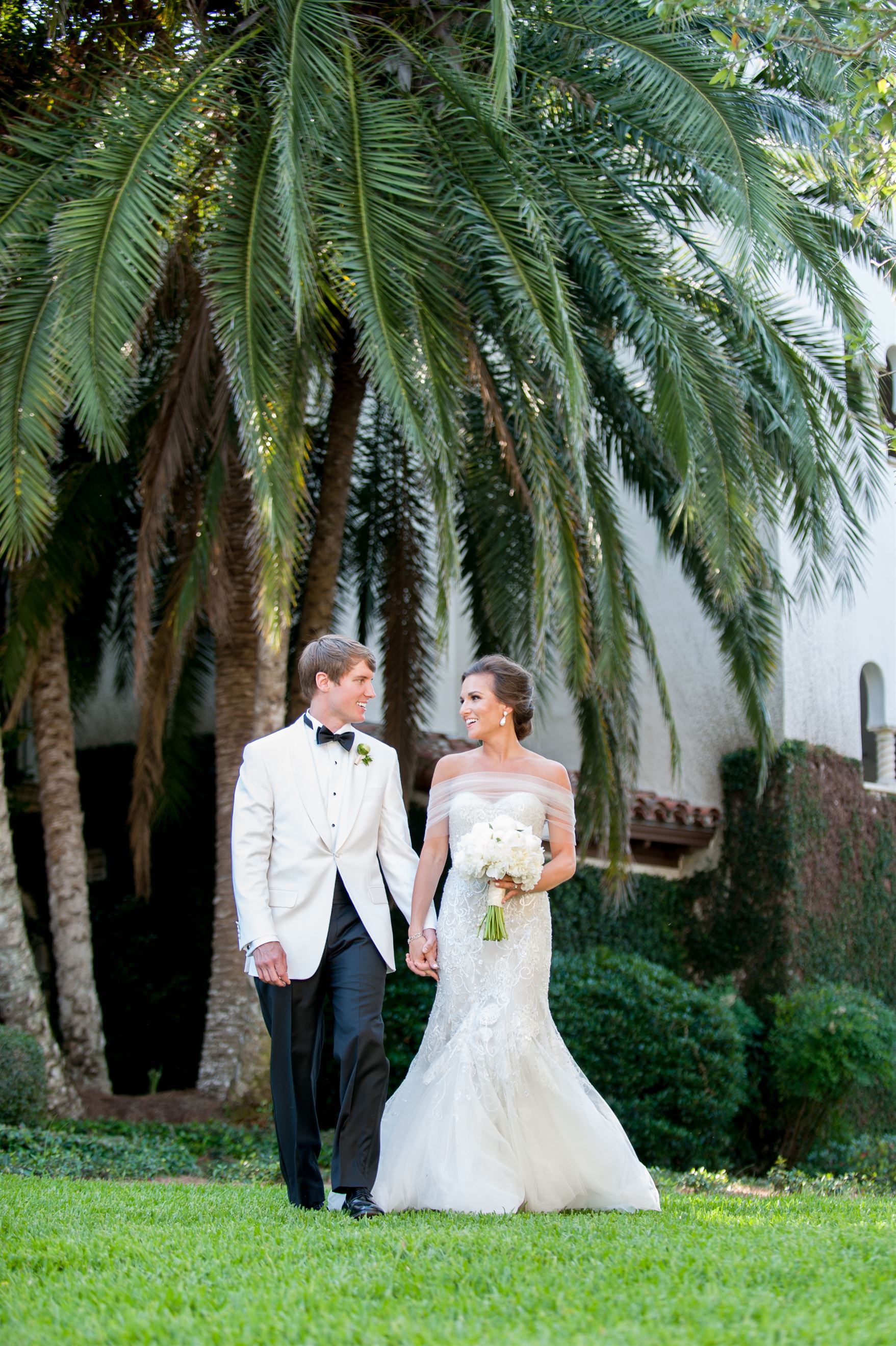 HOLLY SIMPSON & RYAN SIMS
MAY 14, 2016
SEA ISLAND, GEORGIA
CEREMONY: THE CLOISTER GARDEN
RECEPTION: THE OCEAN ROOM PATIO, COURTYARD, AND LAWN AT THE BEACH CLUB
Wedding by: Mariee Ami Wedding Studio, Mountain Brook, Alabama with Kacee Popa at Sea Island
Photos: 6 of Four Photography
Baby We've come a long way And baby You know I hope and I pray That you believe me When I say this love will never fade away
Oh, because You are the best thing (you're the best thing) You are the best thing (you're the best thing, baby) You are the best thing (you're the best thing, oh) Ever happened to me.
(Lyrics to Ray LaMontagne's You Are the Best Thing, Holly & Ryan's first dance song)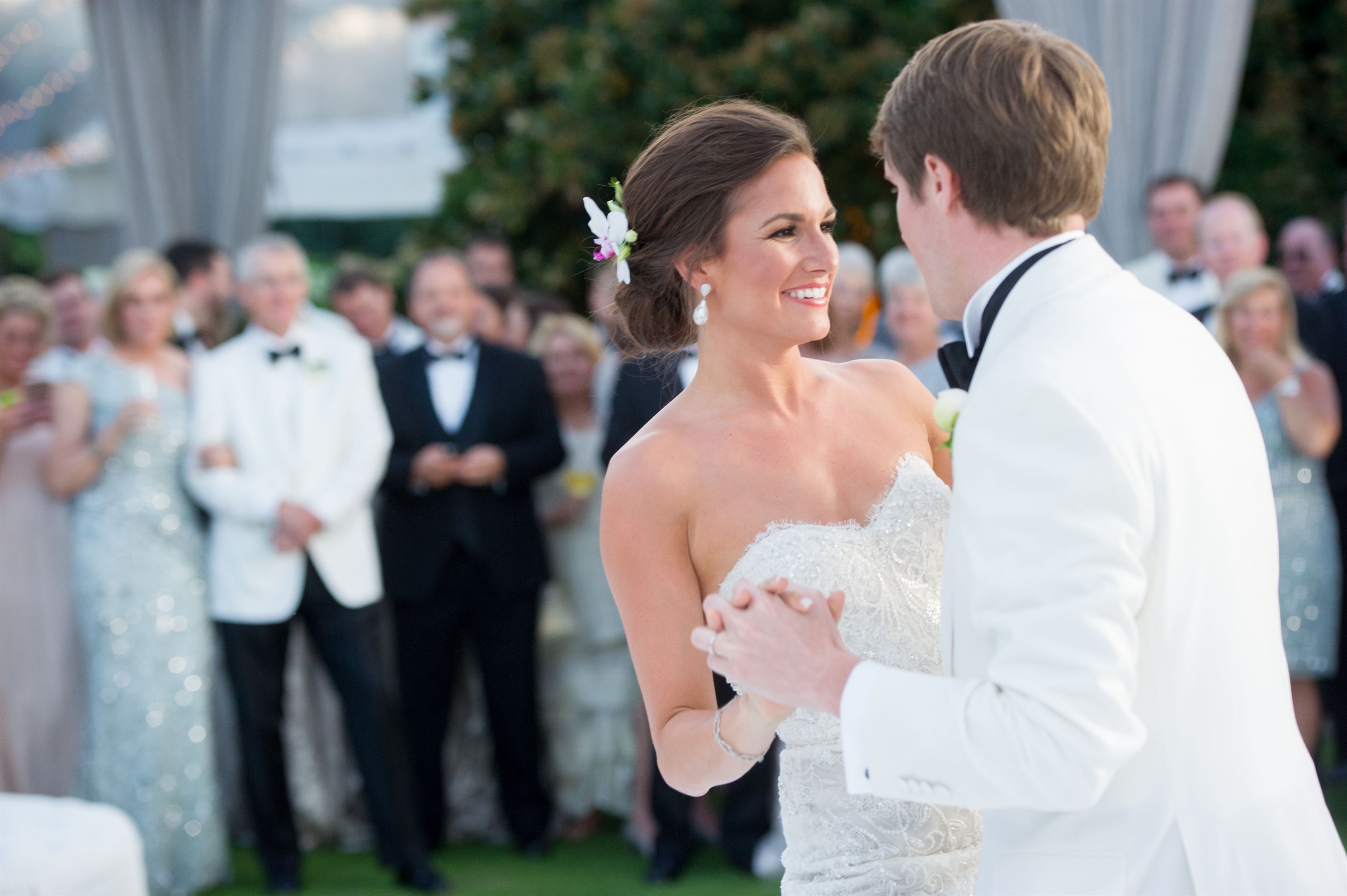 HOLLY AND RYAN… THEIR STORY
Holly Simpson and her best friend Lauren were juniors at Alabama. Ryan Sims and his best friend Barry were juniors at Auburn. When Barry and Lauren began dating, it was inevitable that Holly and Ryan would meet. Barry invited Lauren to bring some of her UA friends over to his family's lake house. Holly went with Lauren and Ryan came along as part of Barry's group. Holly says she and Ryan hit it off and soon they were frequently talking and texting. A few weeks later, Ryan invited Holly to a date party at Auburn and after that, the pair became a couple. They traveled back and forth between Tuscaloosa and Auburn almost every weekend to be together. A few months later, Ryan accompanied Holly to her sister's wedding and met her family. Holly says she and Ryan knew very early in their relationship that they would marry, and when he fit in so well with her family, they all realized it, too.
The couple continued to date long distance from Birmingham to Auburn after Holly graduated and their commute became longer after Ryan graduated and moved to Nashville and then Chattanooga for his work. Holly started pharmacy school in Birmingham and for over three years, the pair continued their long distance romance, taking turns making the commute on weekends.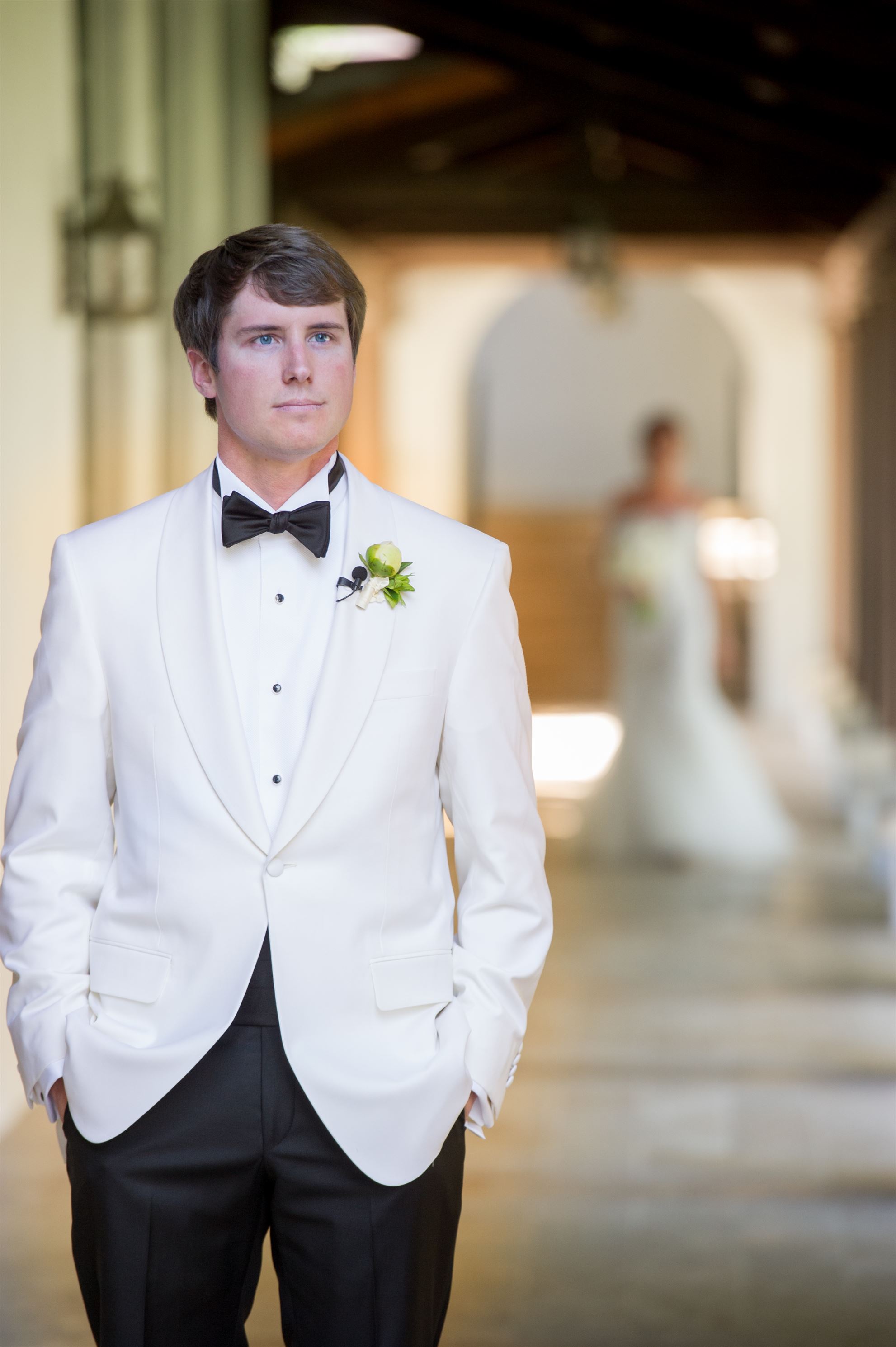 THE PROPOSAL…
Holly and Ryan had talked about marriage over the years and had even discussed rings so Ryan had a good idea of Holly's perfect engagement ring. Ryan knew Holly wanted the proposal to be a big surprise and she suspected they would get engaged in 2016, during her last year of pharmacy school.
Fast forward to May 2015. Holly was ready to celebrate being out of school for the summer; she had just taken her final exams on what happened to be her brother-in-law's birthday. Both sets of parents were in town and Holly's family was busy making plans for the birthday celebration later that evening. When Holly arrived at her sister's house for what she thought was a pre-party drink, she walked into a room strewn with rose petals. Ryan was there waiting for her, ring in hand, with a surprise proposal that was months in the making and a whole year earlier than Holly expected. Ryan had the entire family assembled and hiding out two doors down. Once Holly said yes, the celebration began. After dinner at Ocean, Holly's sister had Champagne at her house for their family and all of Holly and Ryan's friends to toast the occasion and the wedding plans began soon after.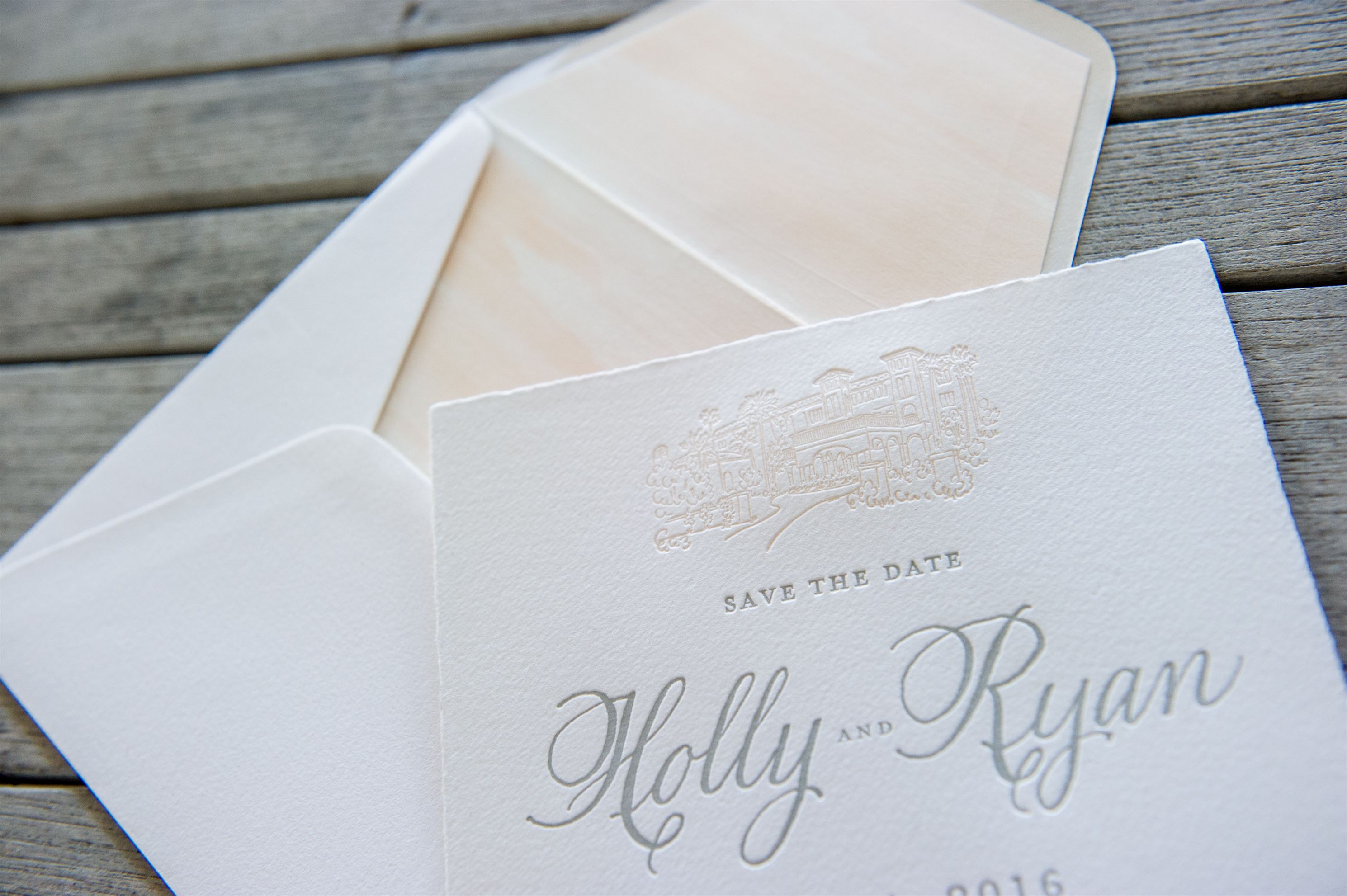 WEDDING PLANS"¦.
Since Holly had the summer off from school, she and her mother had time to plan. Holly always wanted a destination wedding and since she had fallen in love with Sea Island, Georgia, she wanted to share it with her family and friends. Holly's main objective was to plan a wedding weekend which not only celebrated their marriage, but which left guests with wonderful memories of their time at Sea Island.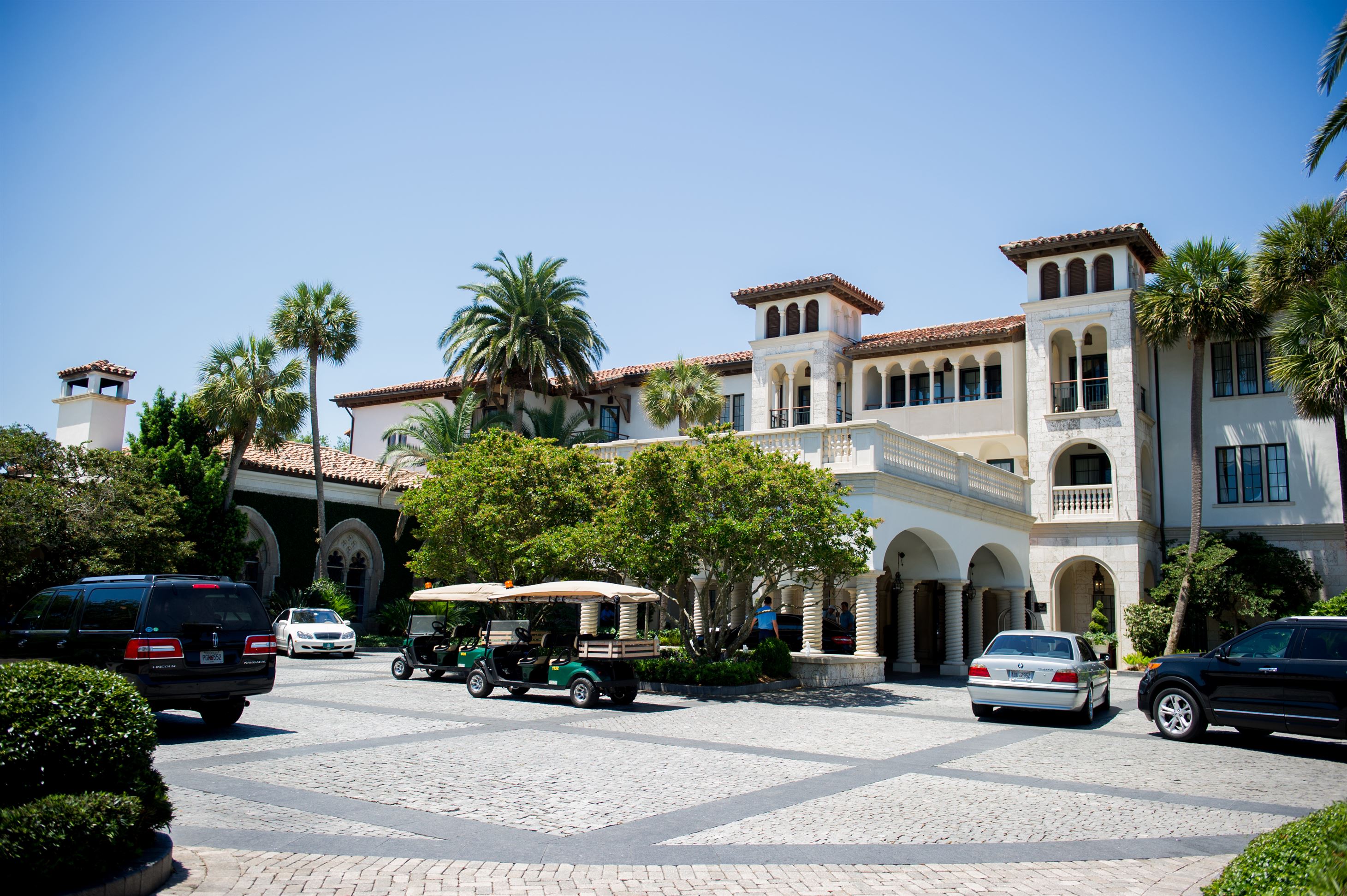 They immediately hired Neillie, Louise and Emma from Mariee Ami in Birmingham and Kaci Popa in Sea Island to help coordinate all of the wedding details. After a site visit, most of the plans came together quickly and the vendors were selected. The Vine in St. Simon's Island created Holly's vision for the floral design with clusters of peonies in white and pale peach.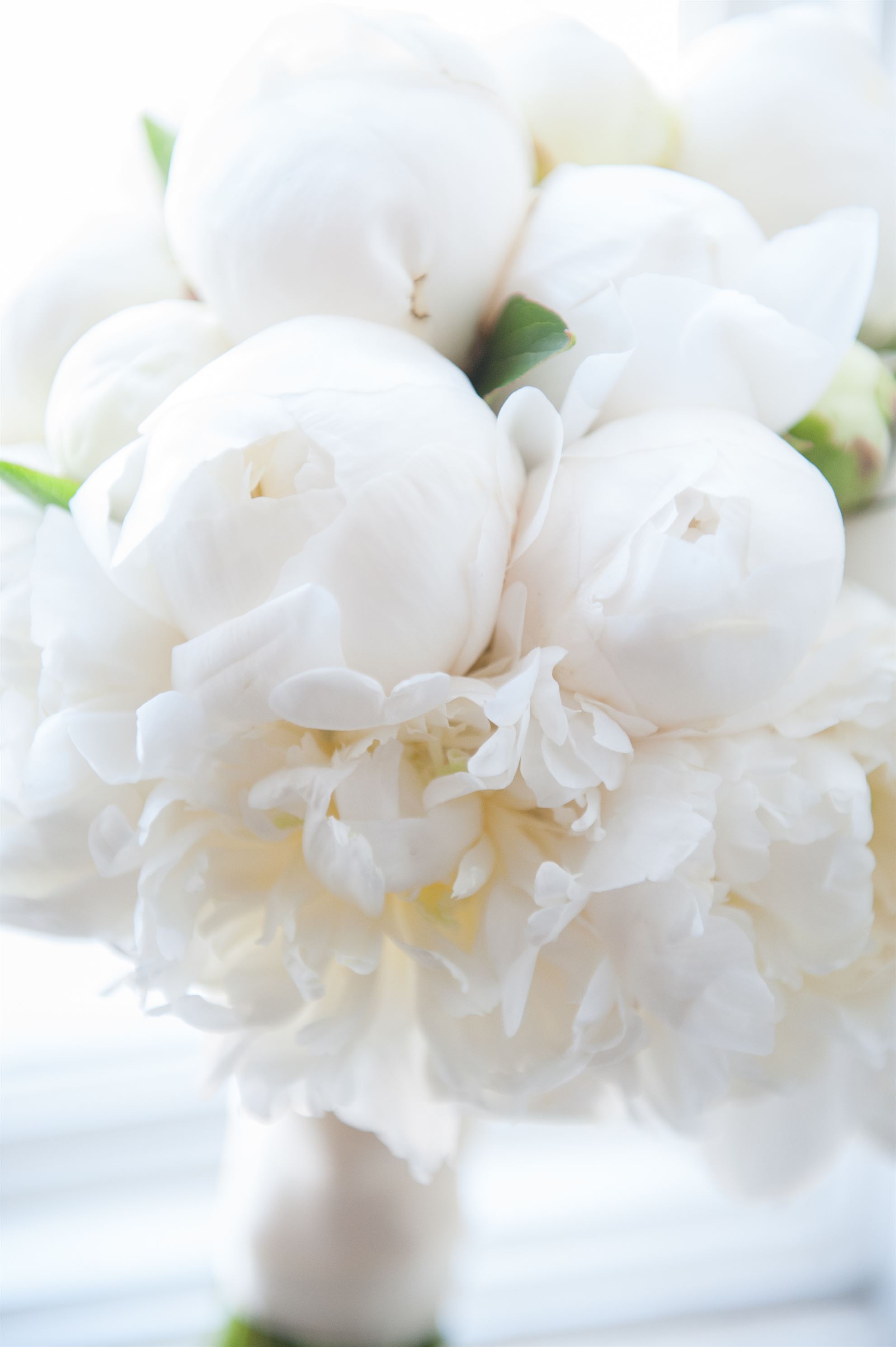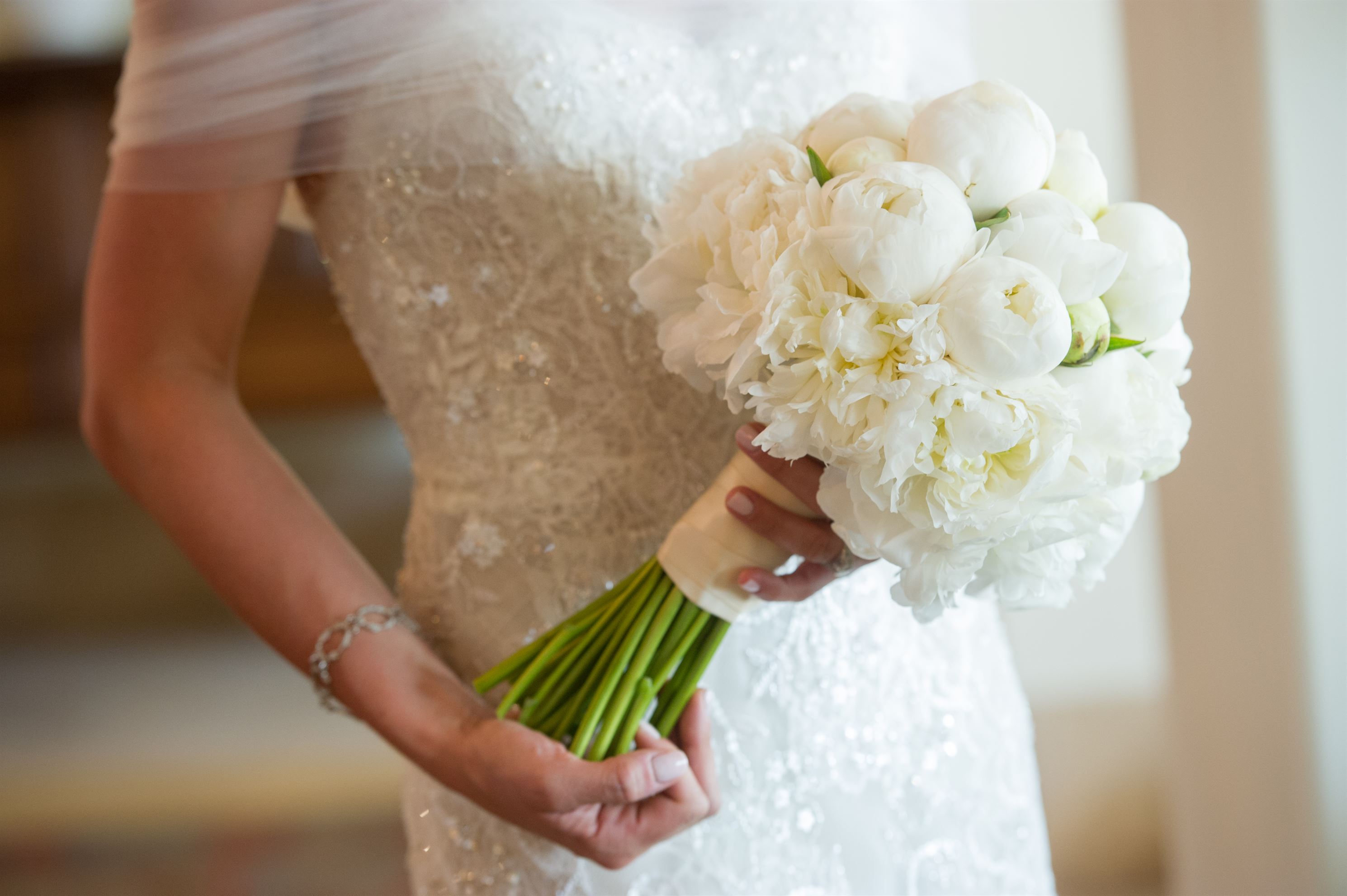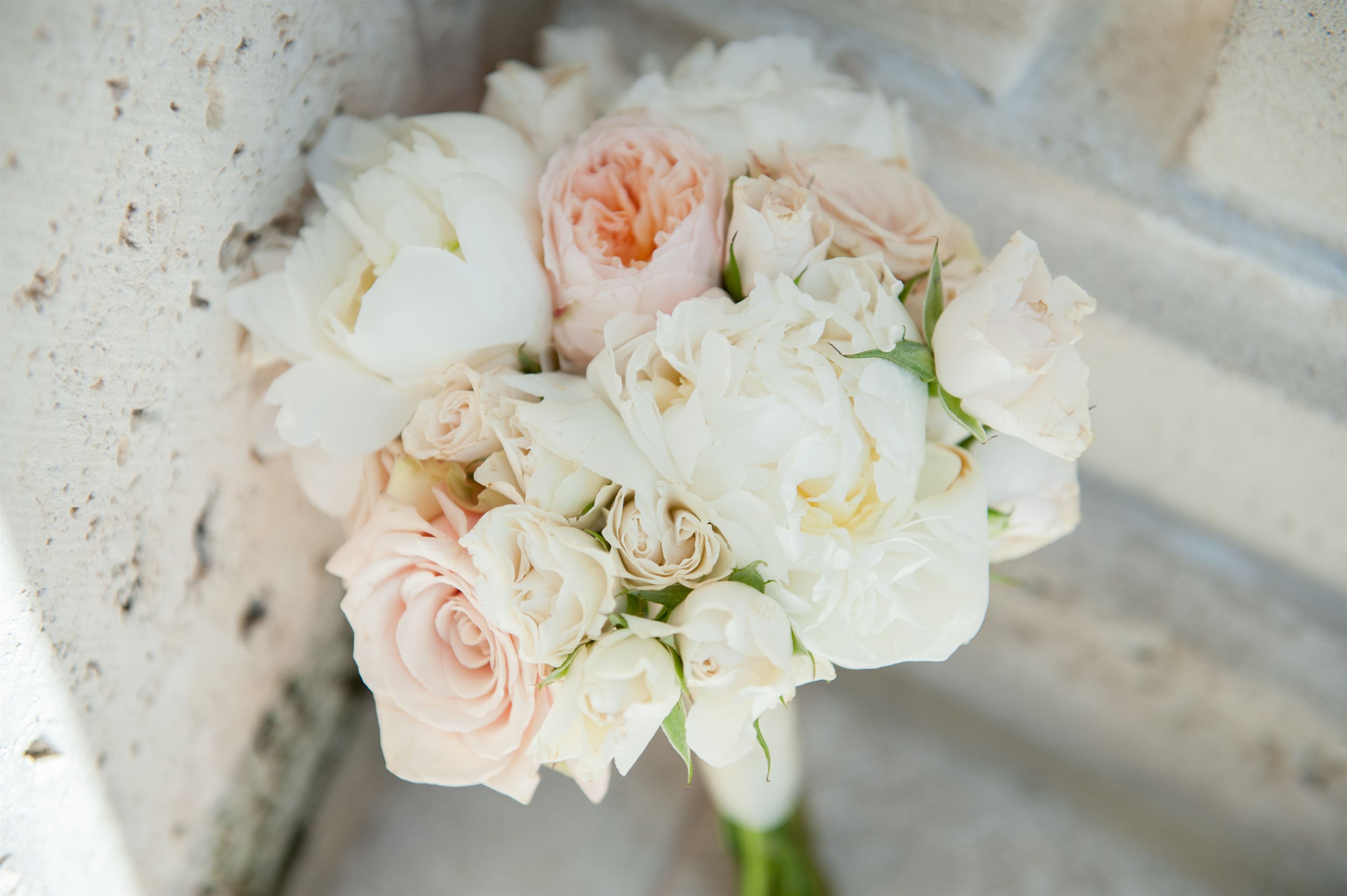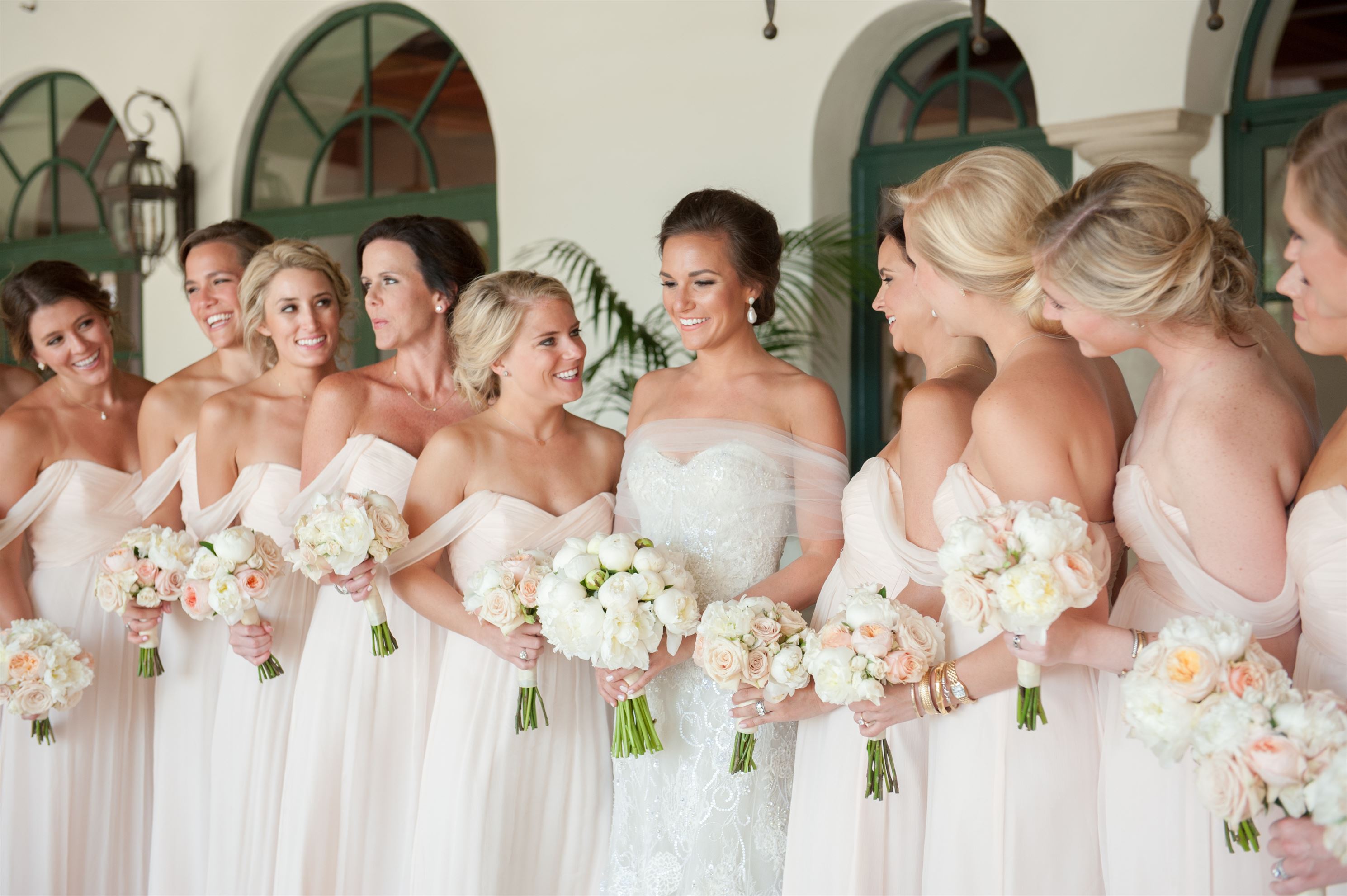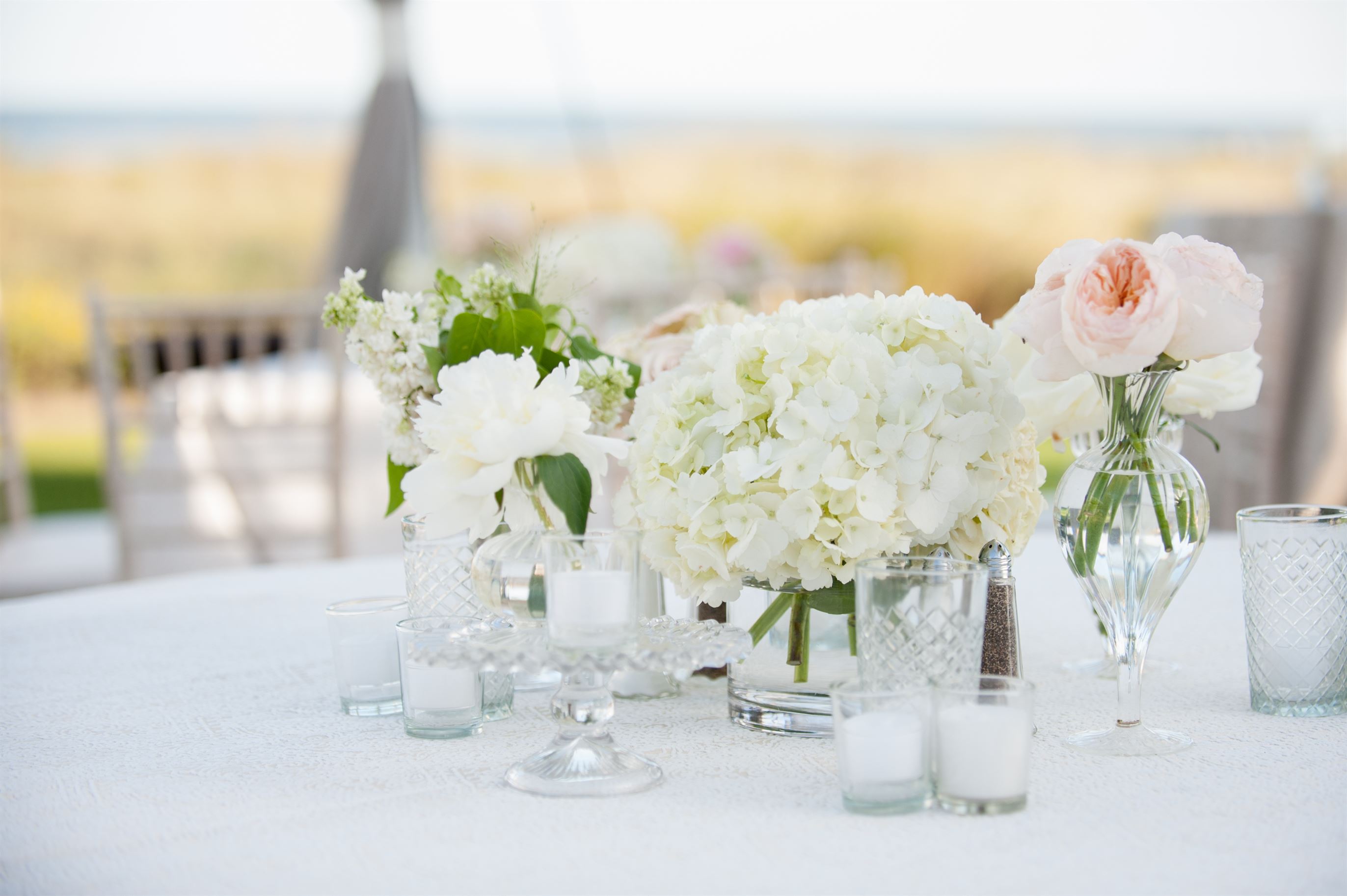 The beautiful Sea Island beach view was one of the most important features Holly wanted guests to experience. A clear tent by Beach View Rentals was constructed for the reception so guests had amazing 360° views.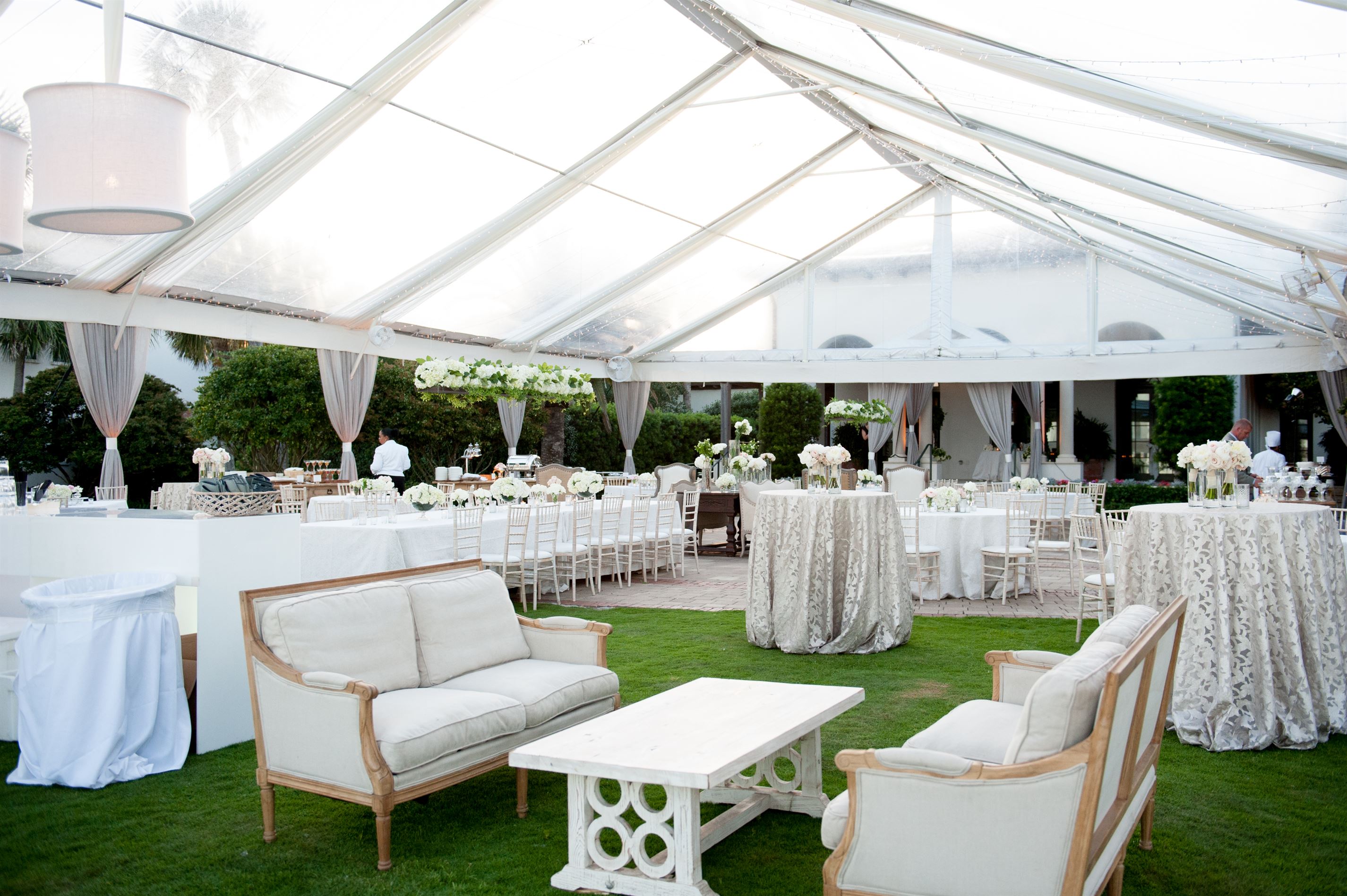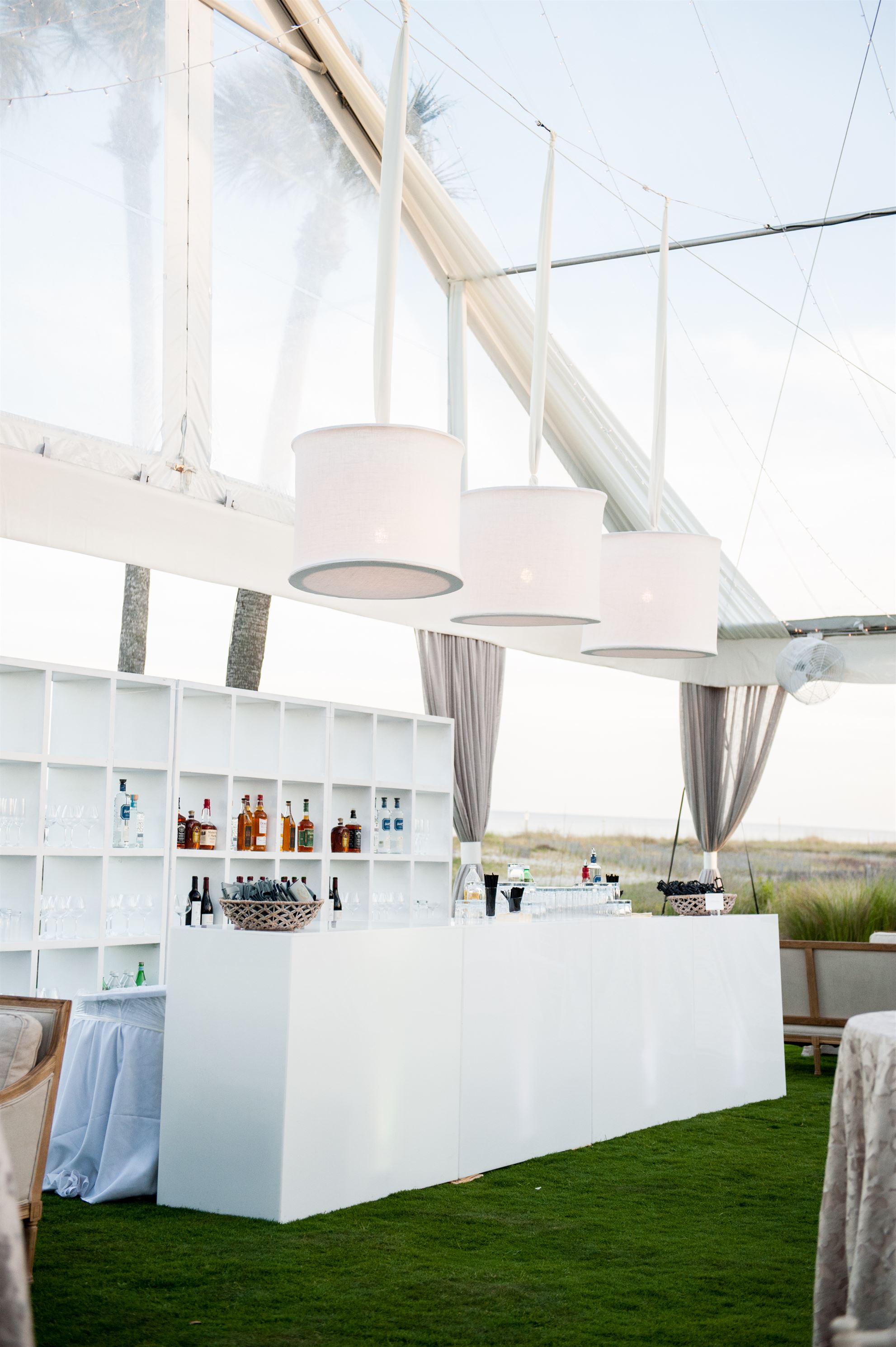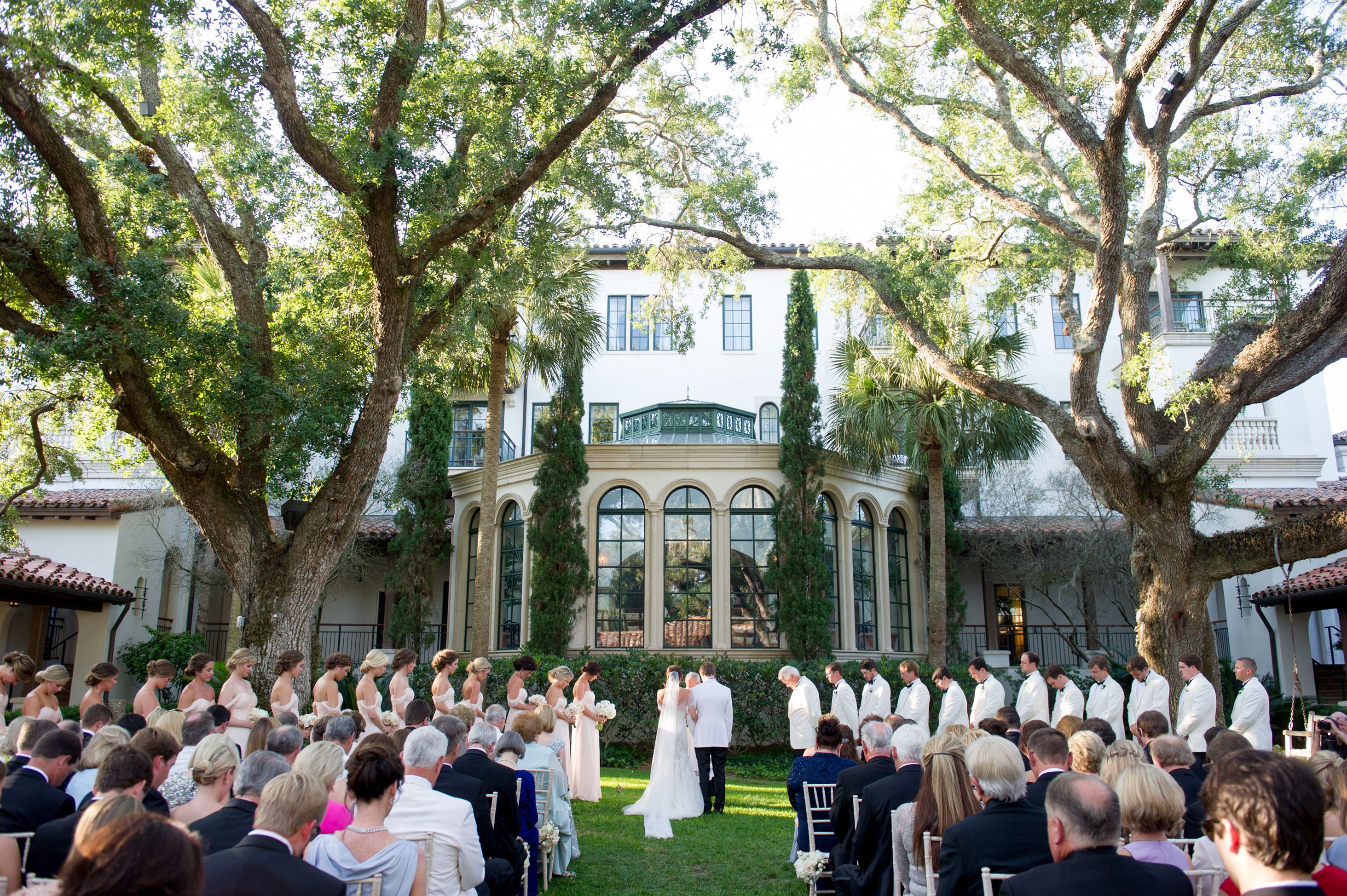 Holly found her perfect gown at Ivory and White Boutique in Crestline Village- a beautiful beaded lace Monique Lhullier gown which she paired with Jimmy Choo wedges.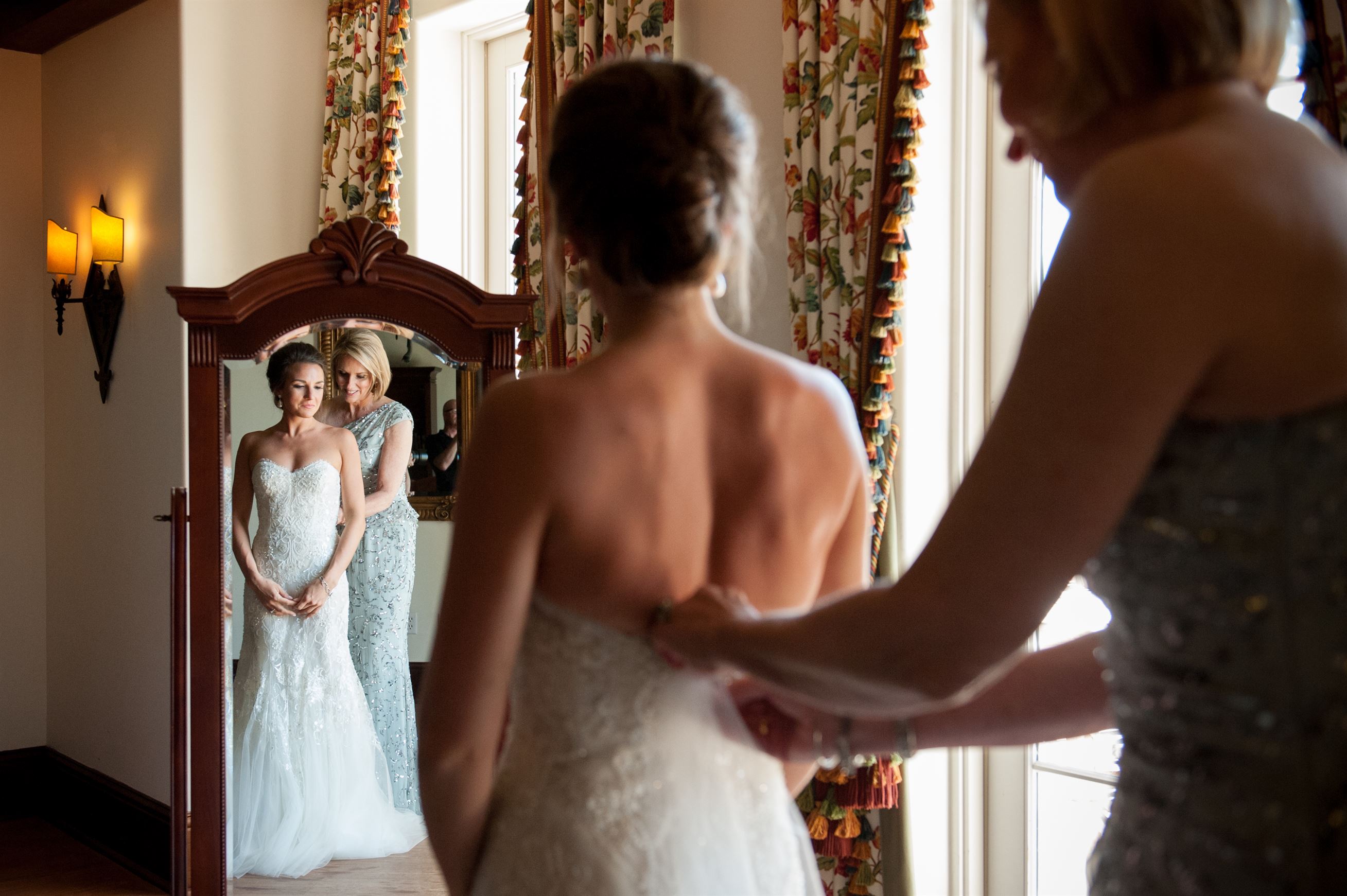 Hair and make-up was by Brittany Massey from Tuscaloosa.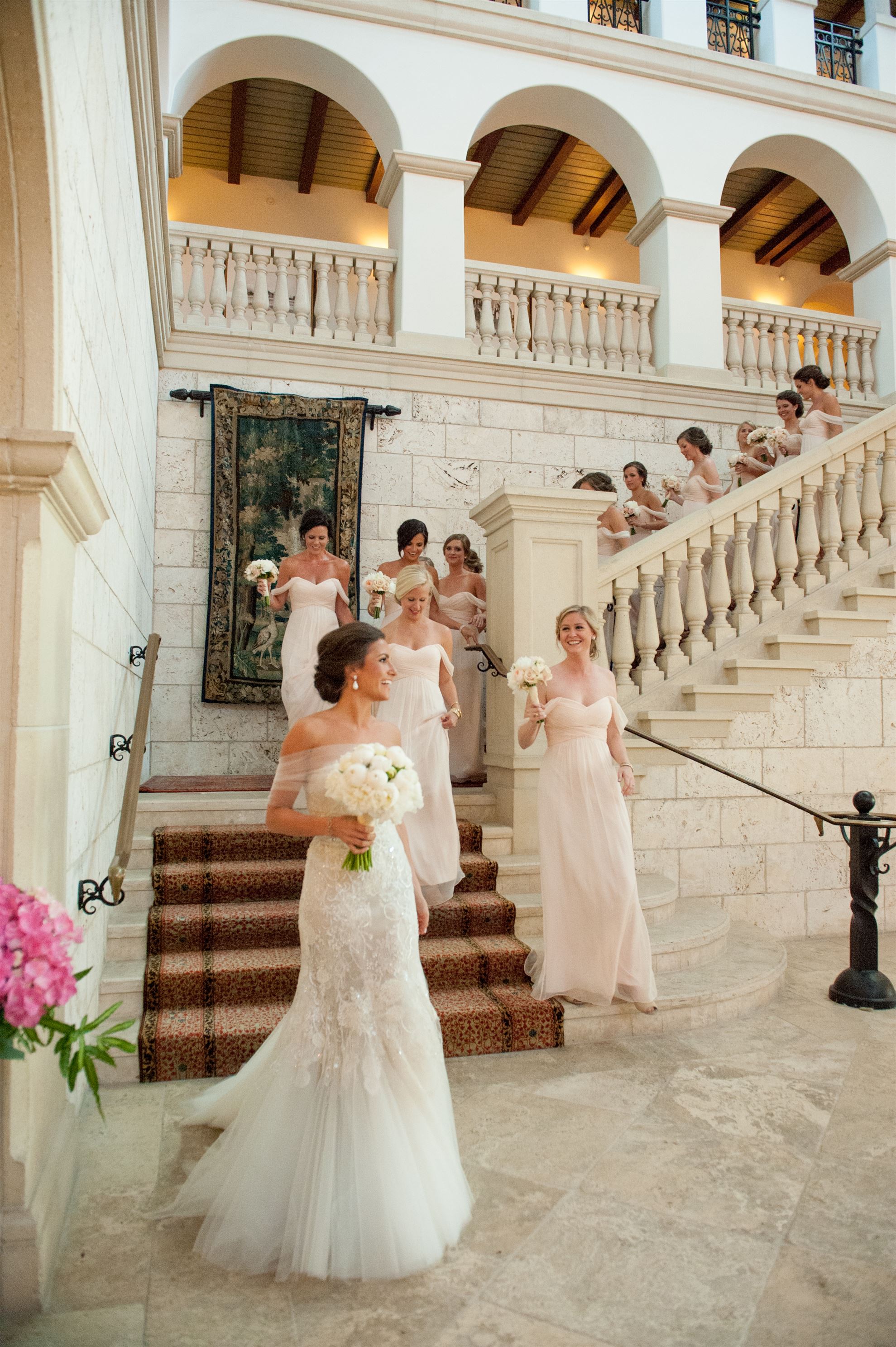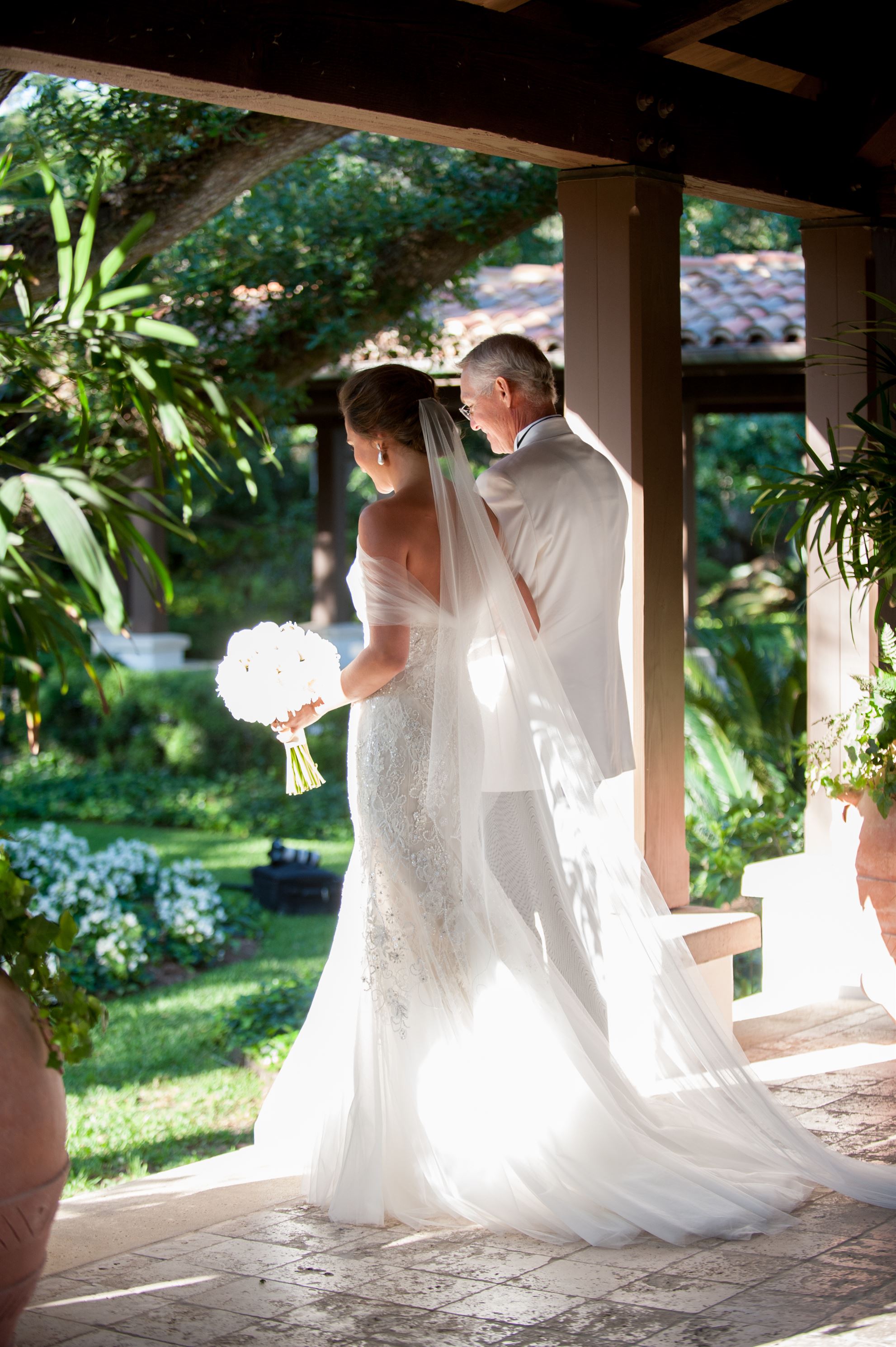 Holly's bridesmaids wore Amsale gowns in pale peach from Bella Bridesmaids in Homewood.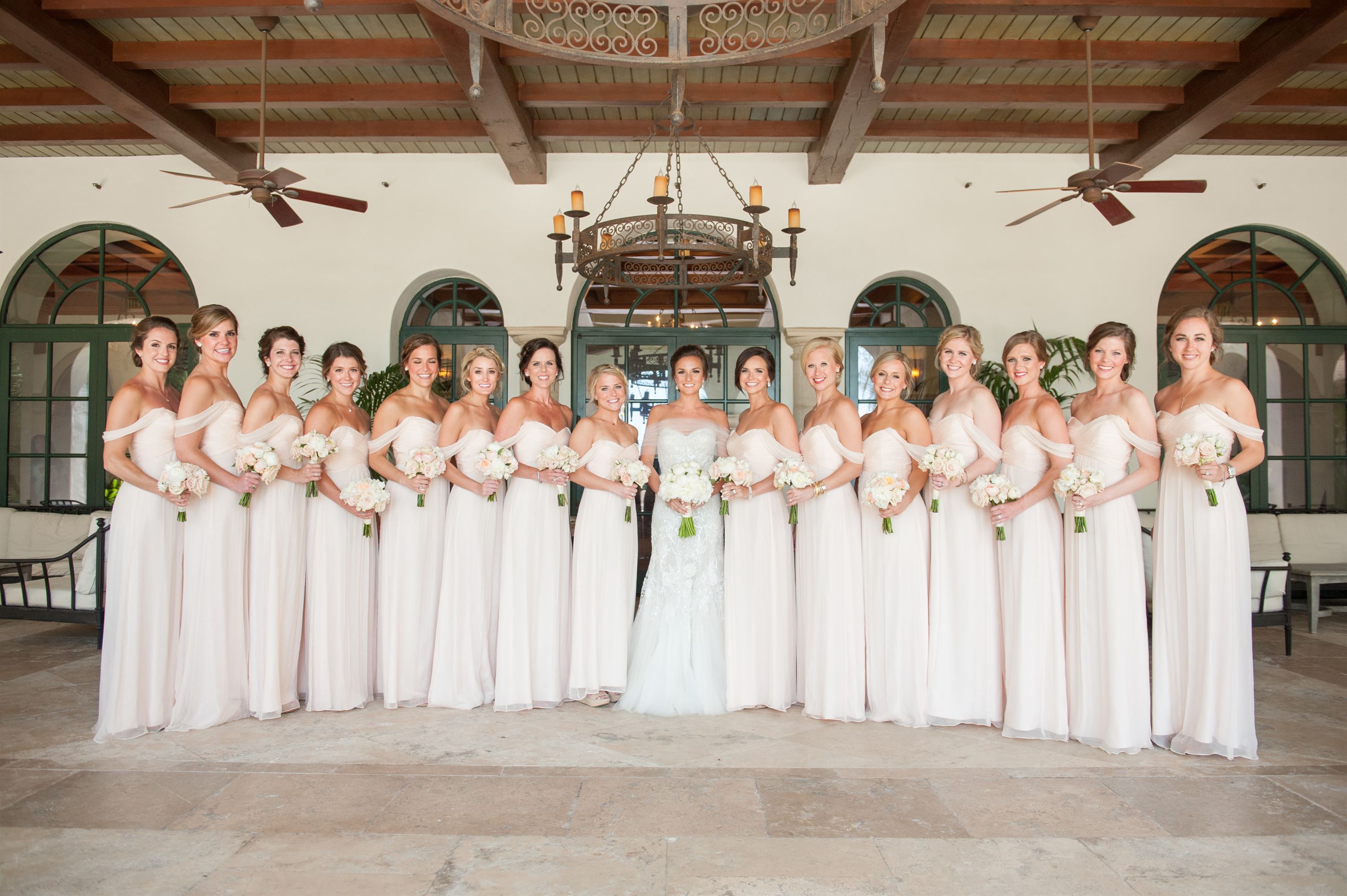 Holly's wedding day traditions included:
NEW: Beautiful pearl earrings, a gift from her parents for the wedding.
OLD + BORROWED: Her sister's diamond bracelet which she wore on her own wedding day.
BLUE: Her garter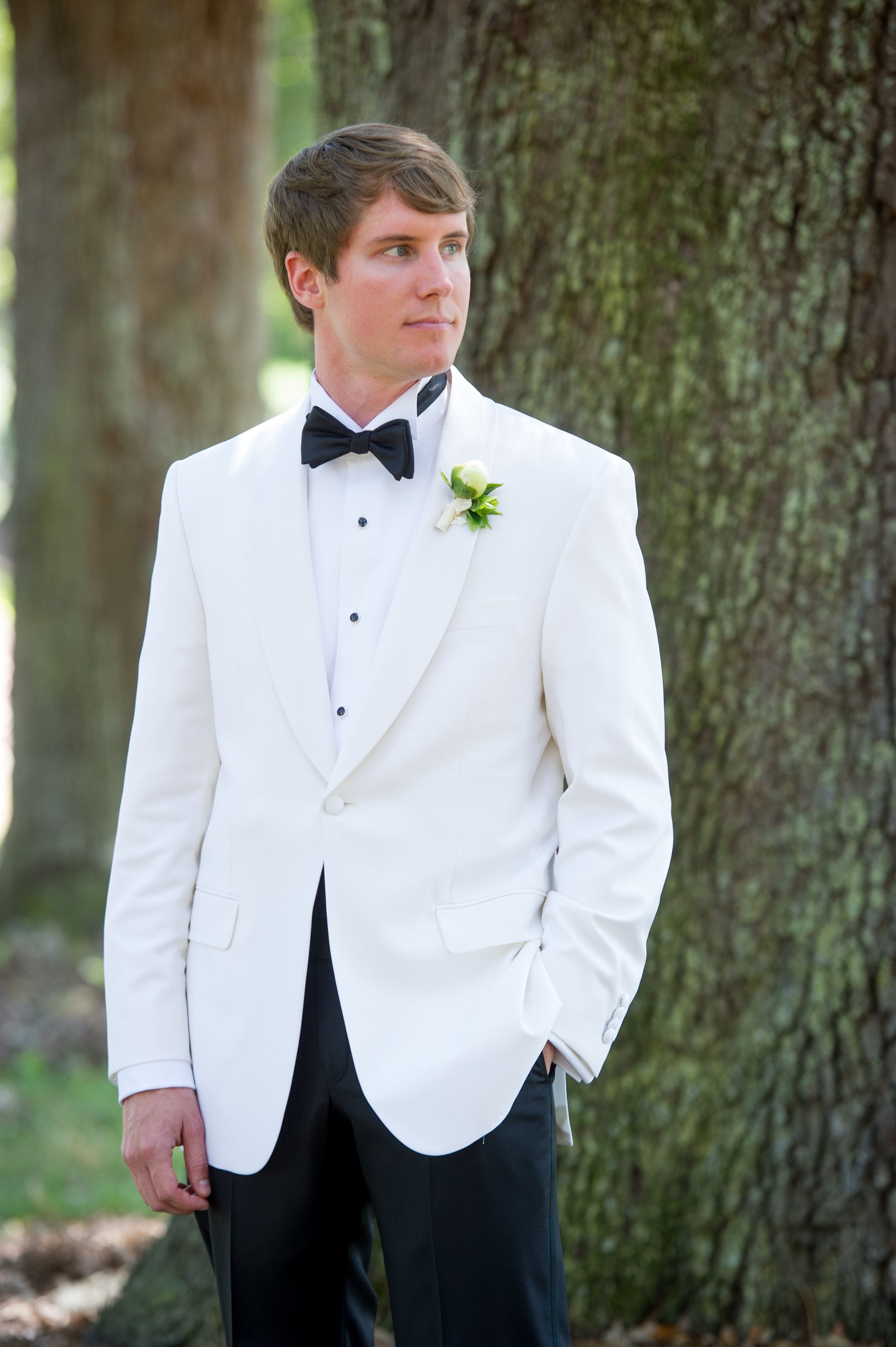 Ryan wore a custom Hickey-Freeman tuxedo by Mobley & Sons in Tuscaloosa.
The rest of the men wore classic white dinner jackets from Mr. Burch Formal Wear in Mountain Brook.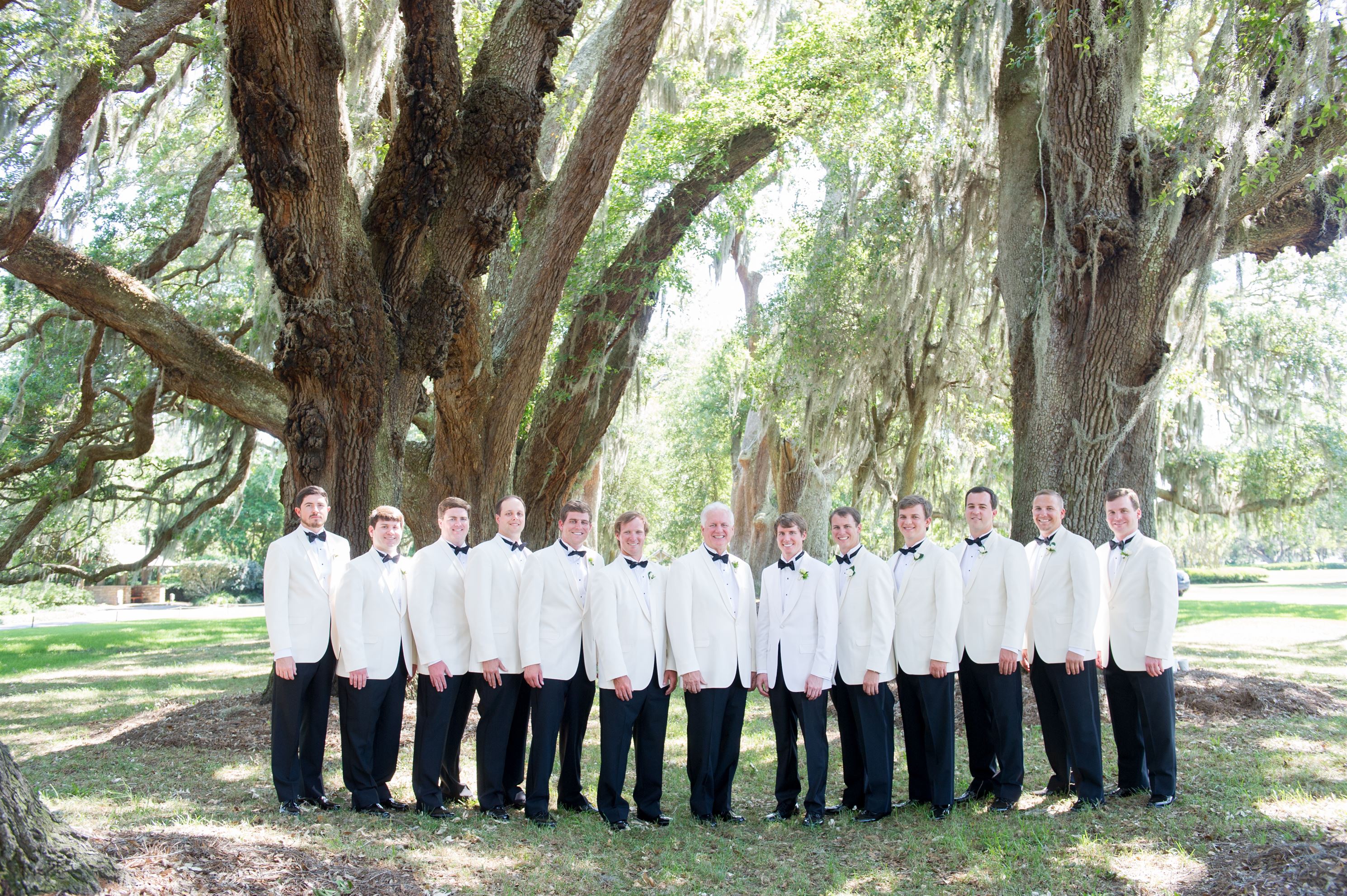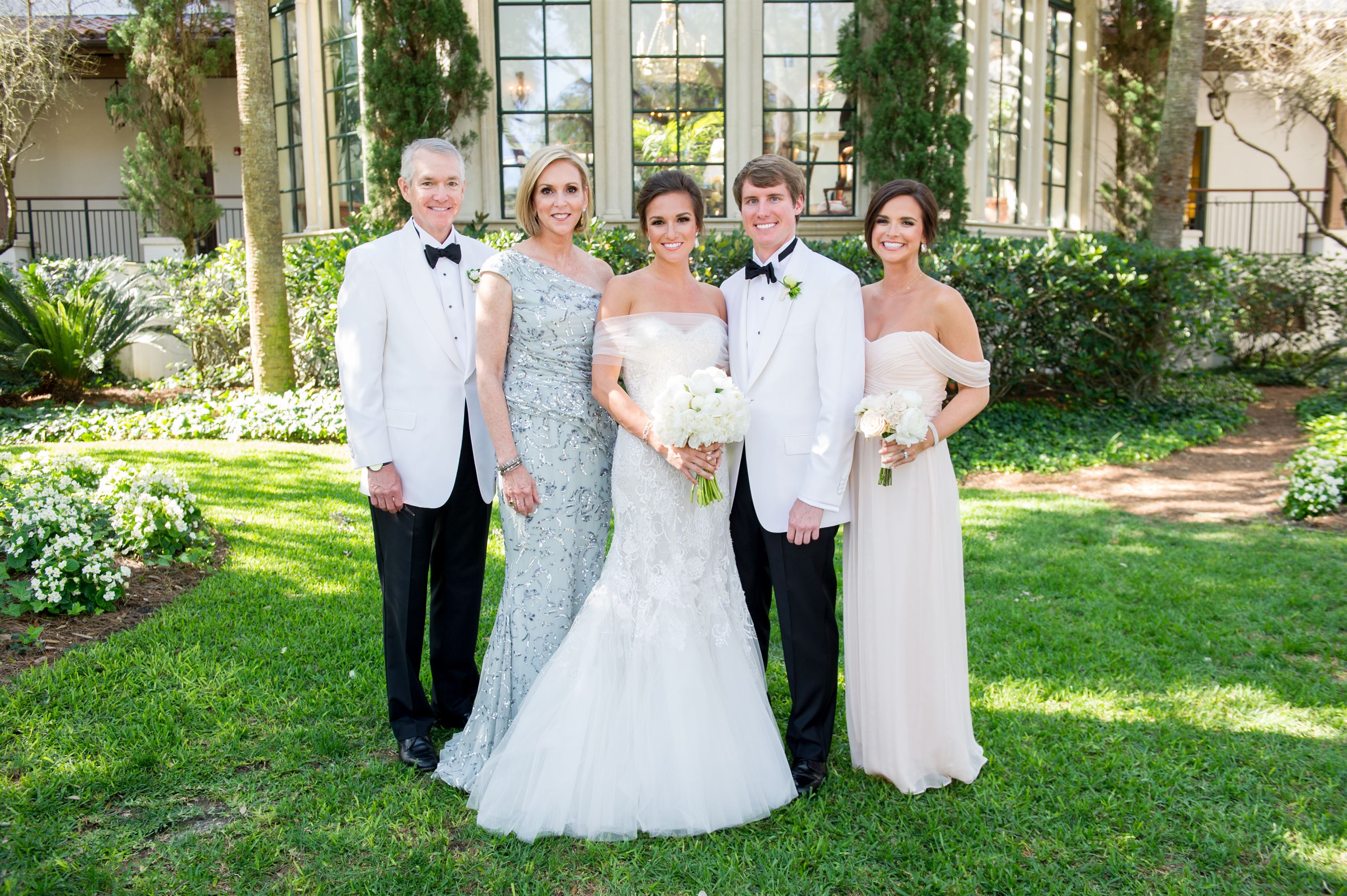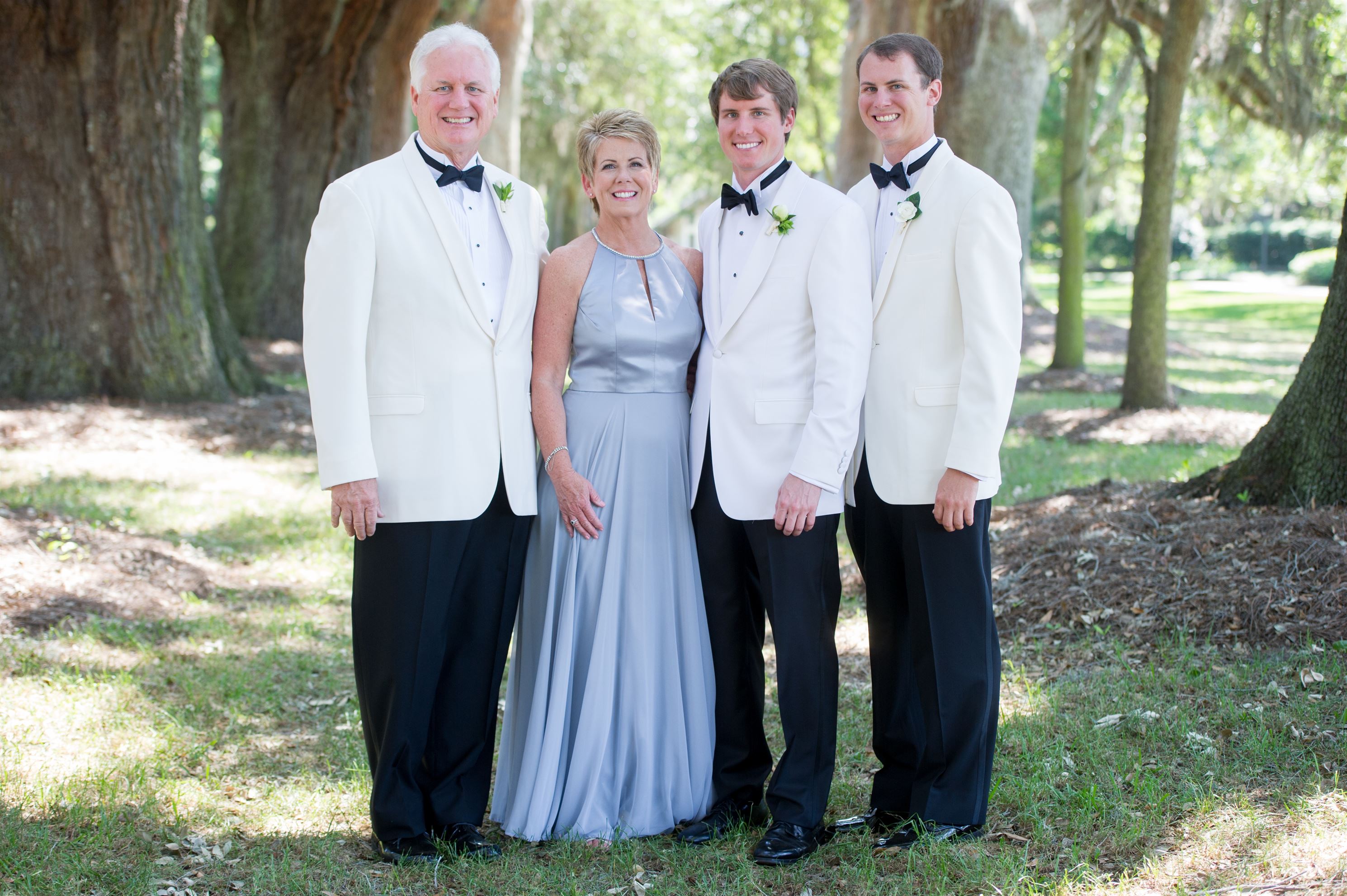 The unique details are what makes any event memorable. Holly and Ryan's invitations, hand-colored map, program, and incredible stationery suite were designed around the wedding colors and the destination theme. Wedding invitation and program was designed by Shelley Kyle of Kyle Fine Stationery in Tuscaloosa. Mariee Ami Wedding Studio in Mountain Brook designed the save-the-date announcements, beverage koozies, napkins, and personalized cups. Caroline Borders at Sincerely Me in Columbia, South Carolina designed the beautiful watercolor map. She also crafted wonderfully thoughtful hotel arrival boxes for guests which included a "˜remedy kit™ for anyone who might have been struggling a bit after too much fun the night before.Alyssa Reeves made a weekend guide to help guests find their way around Sea Island to all of the wedding events.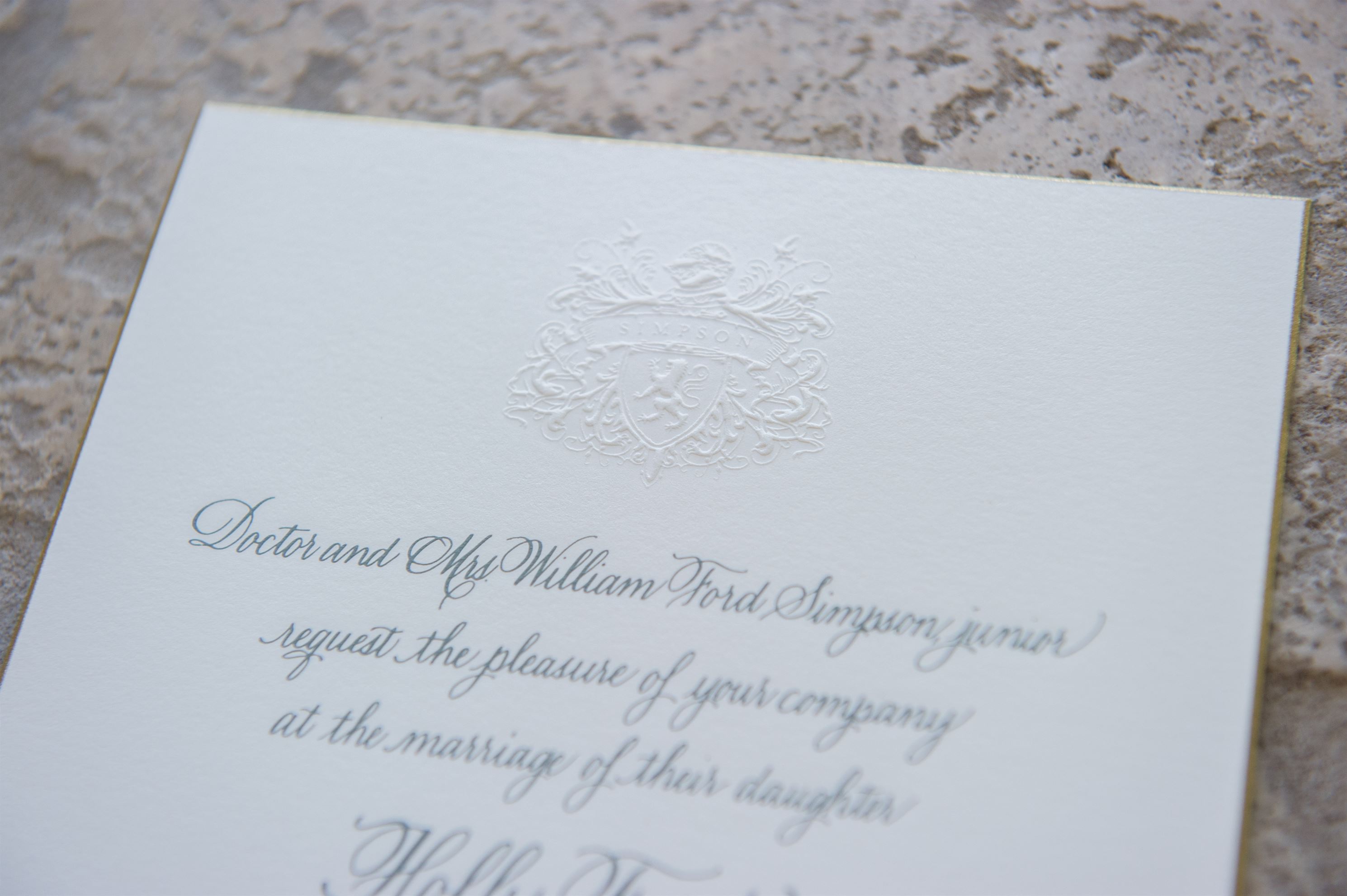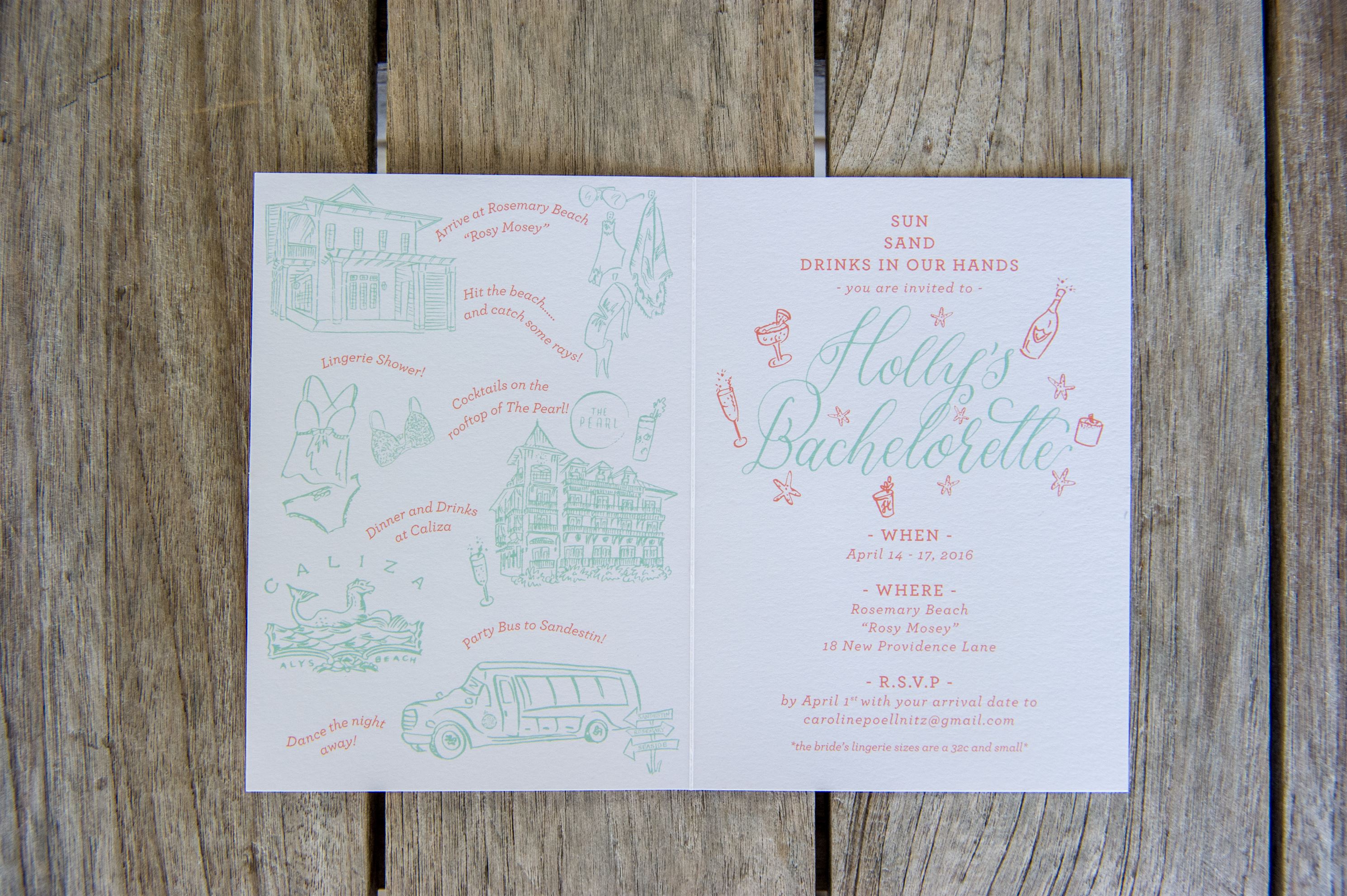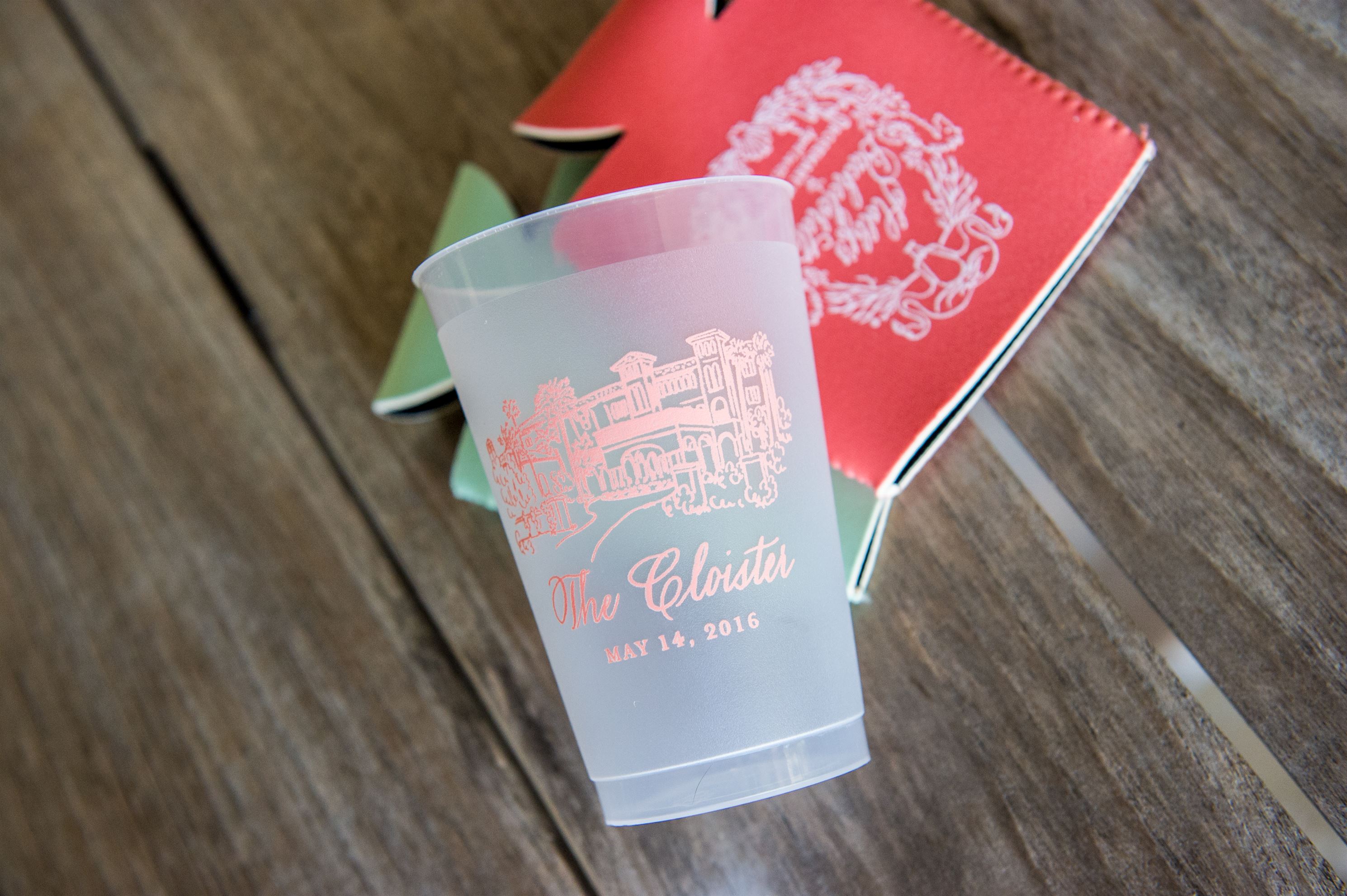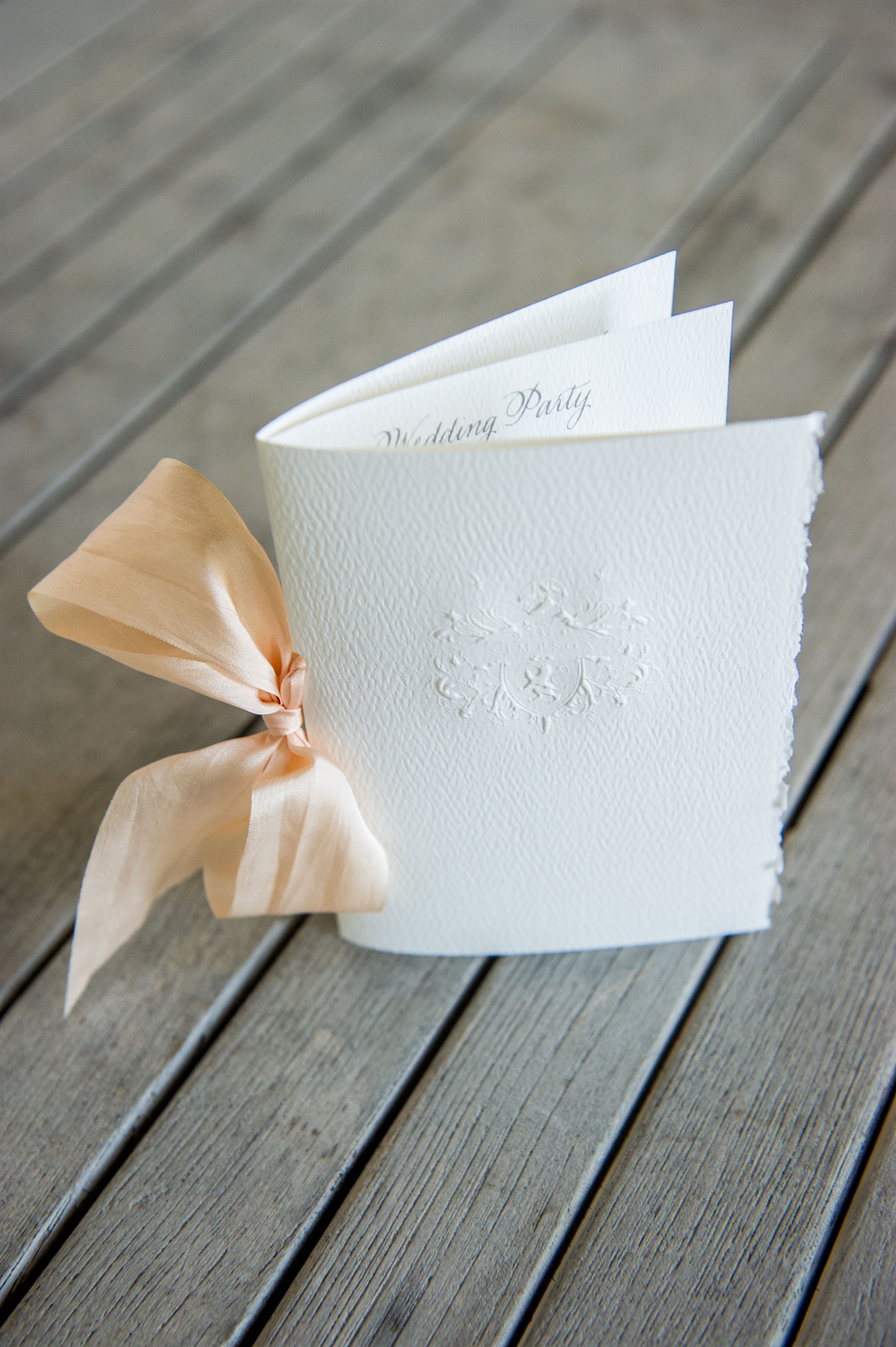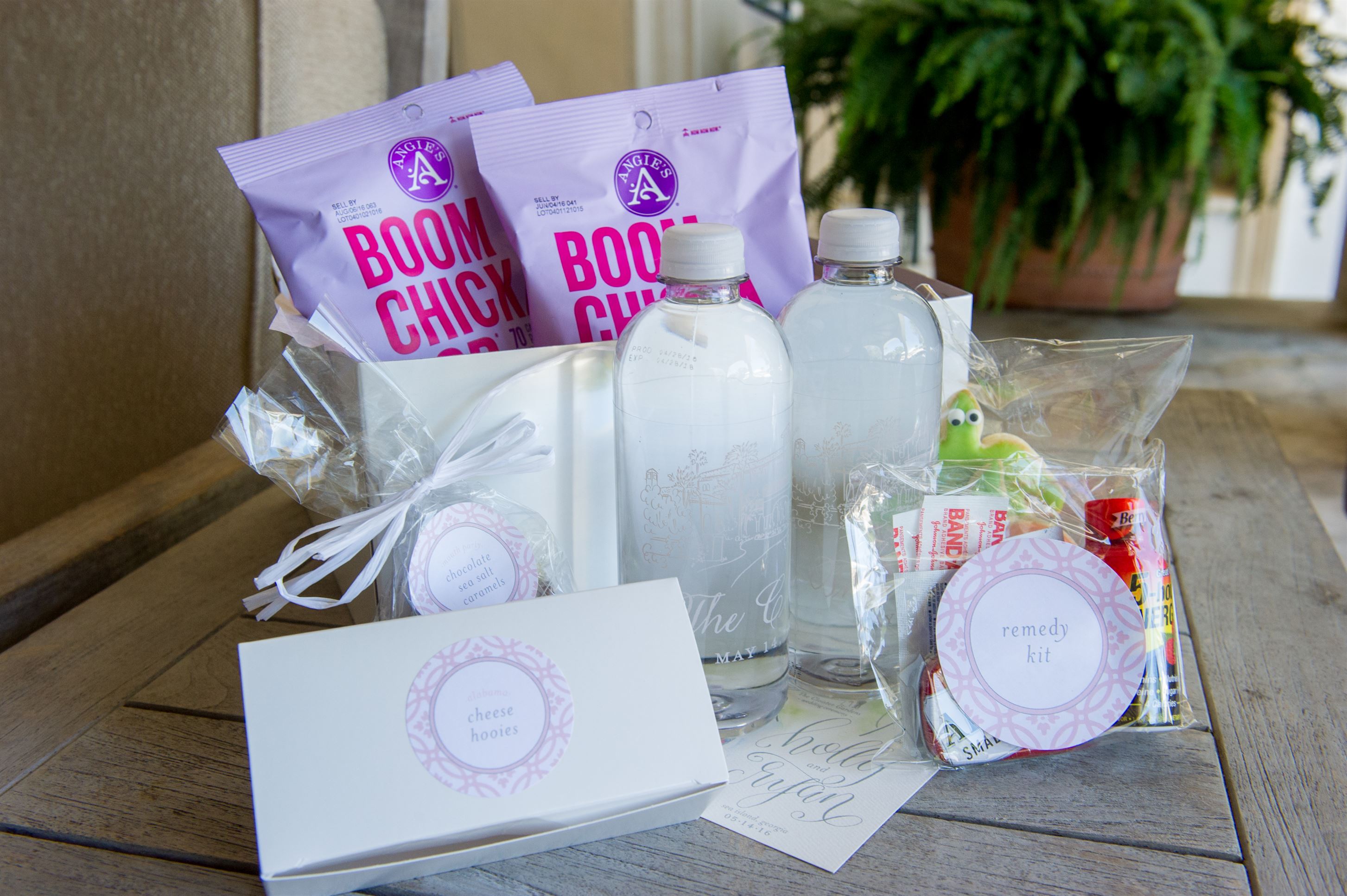 Sea Island resort provided the catering and the wedding cakes. The menu included passed hors D'oeuvres during cocktail hour and a lavish menu with classic Southern favorites for dinner. A late night snack of sliders and truffle fries ended the evening. Holly and Ryan sent everyone home to sweet dreams with their dark chocolate sea turtle party favors.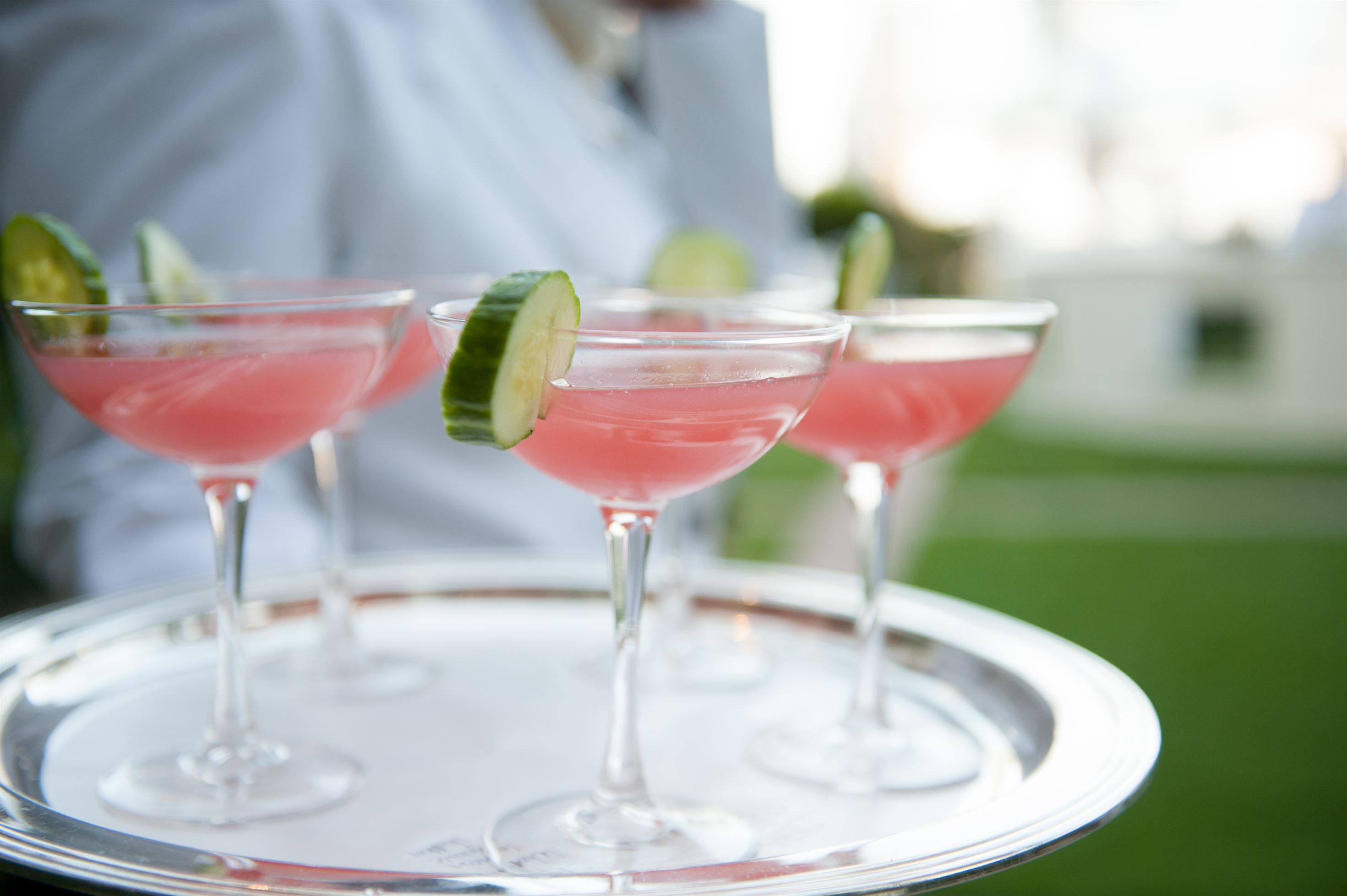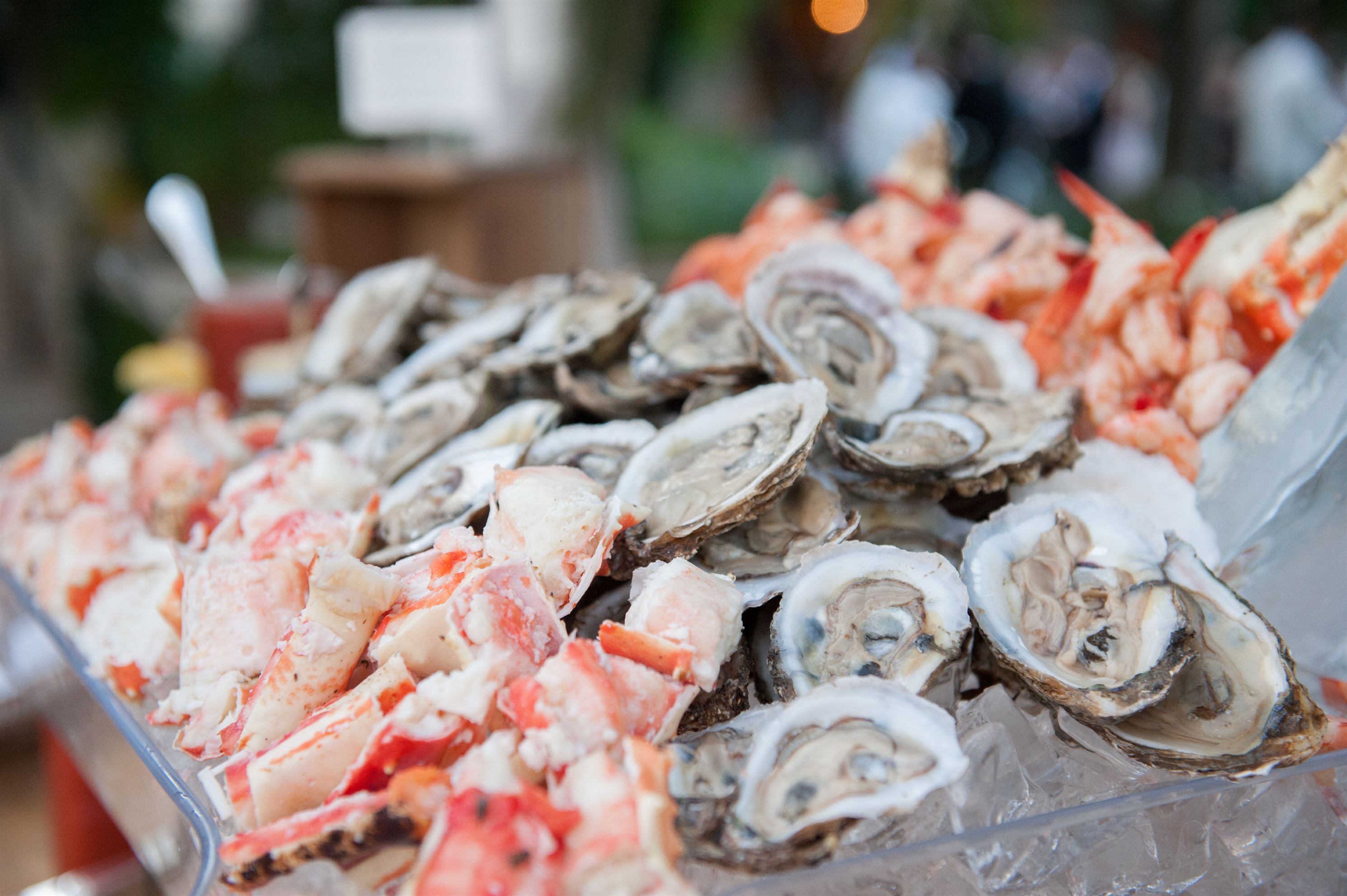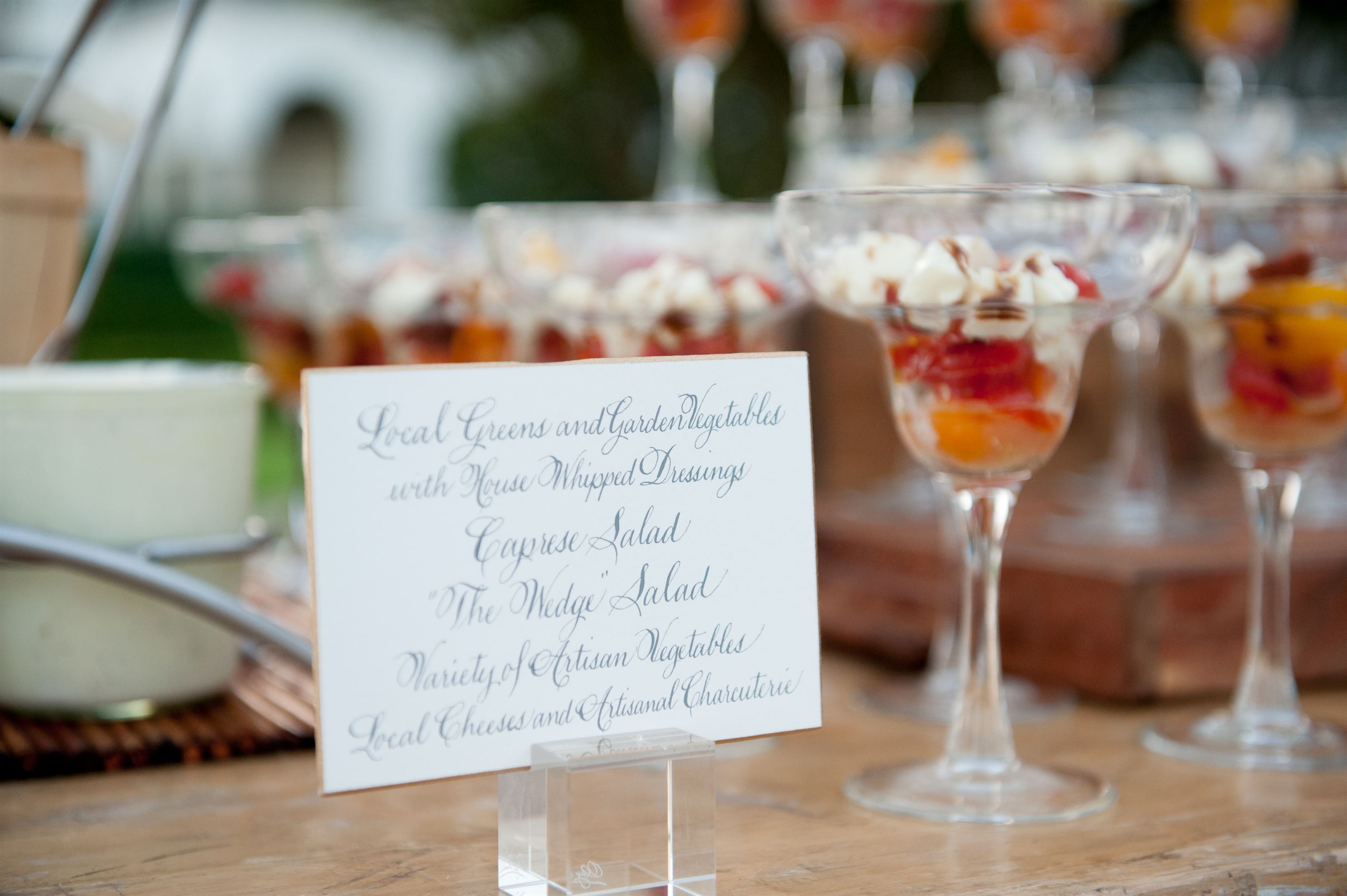 Holly and Ryan's wedding cake was a stunning six-tier white buttercream cake with alternating layers of vanilla Genoise and limoncello cake and raspberries, lavishly decorated with cascading flowers. The groom's cake was red velvet with cream cheese icing made in the shape of Auburn's Jordan-Hare Stadium.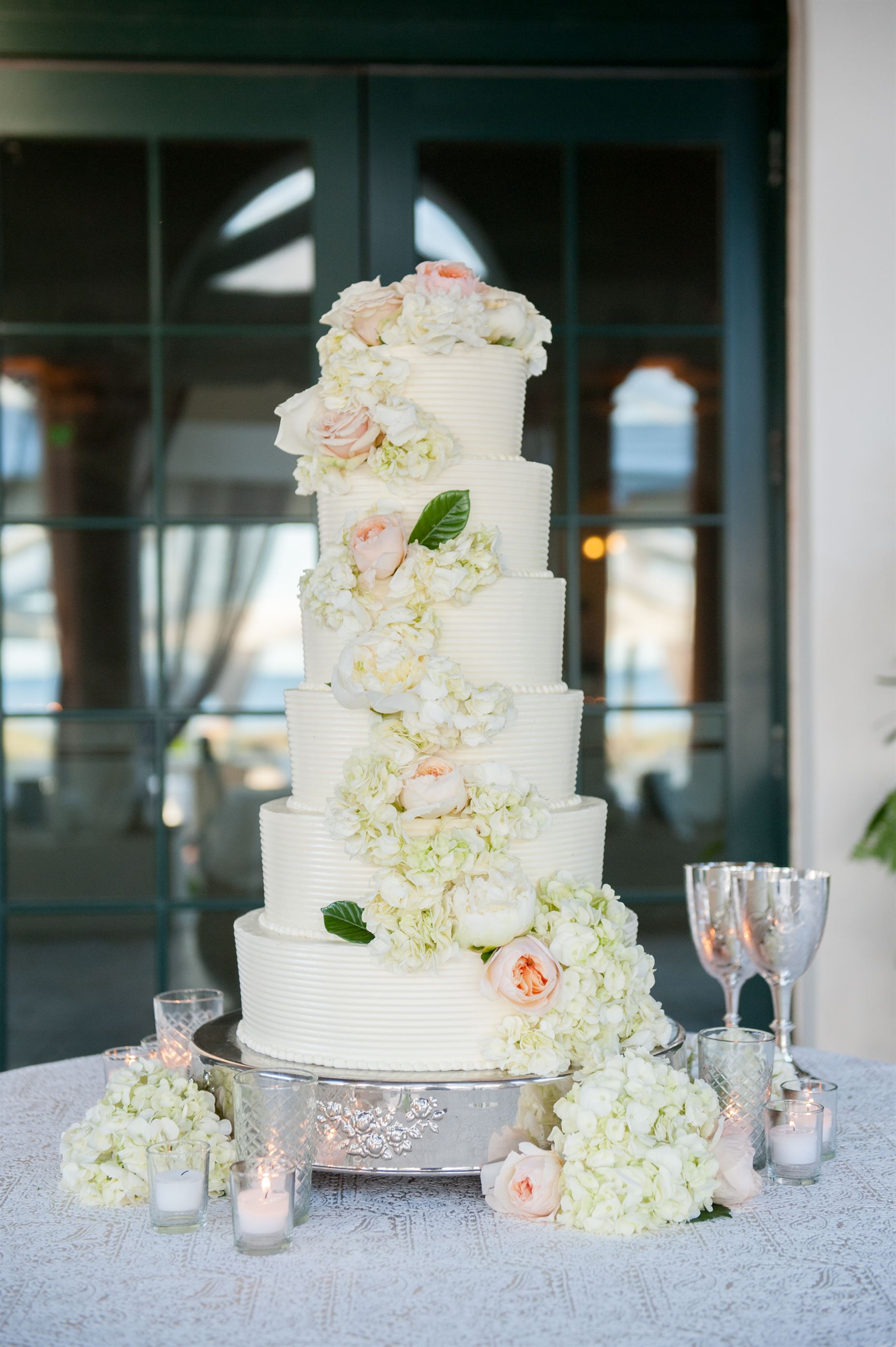 Holly and Ryan continued a Simpson family tradition using gorgeous silver wine goblets from Holly's parent's wedding for their toast. The goblets are engraved with the initials and wedding dates of all the Simpson family members who have used them thus far; Holly and Ryan's initials and wedding date were added just before the wedding.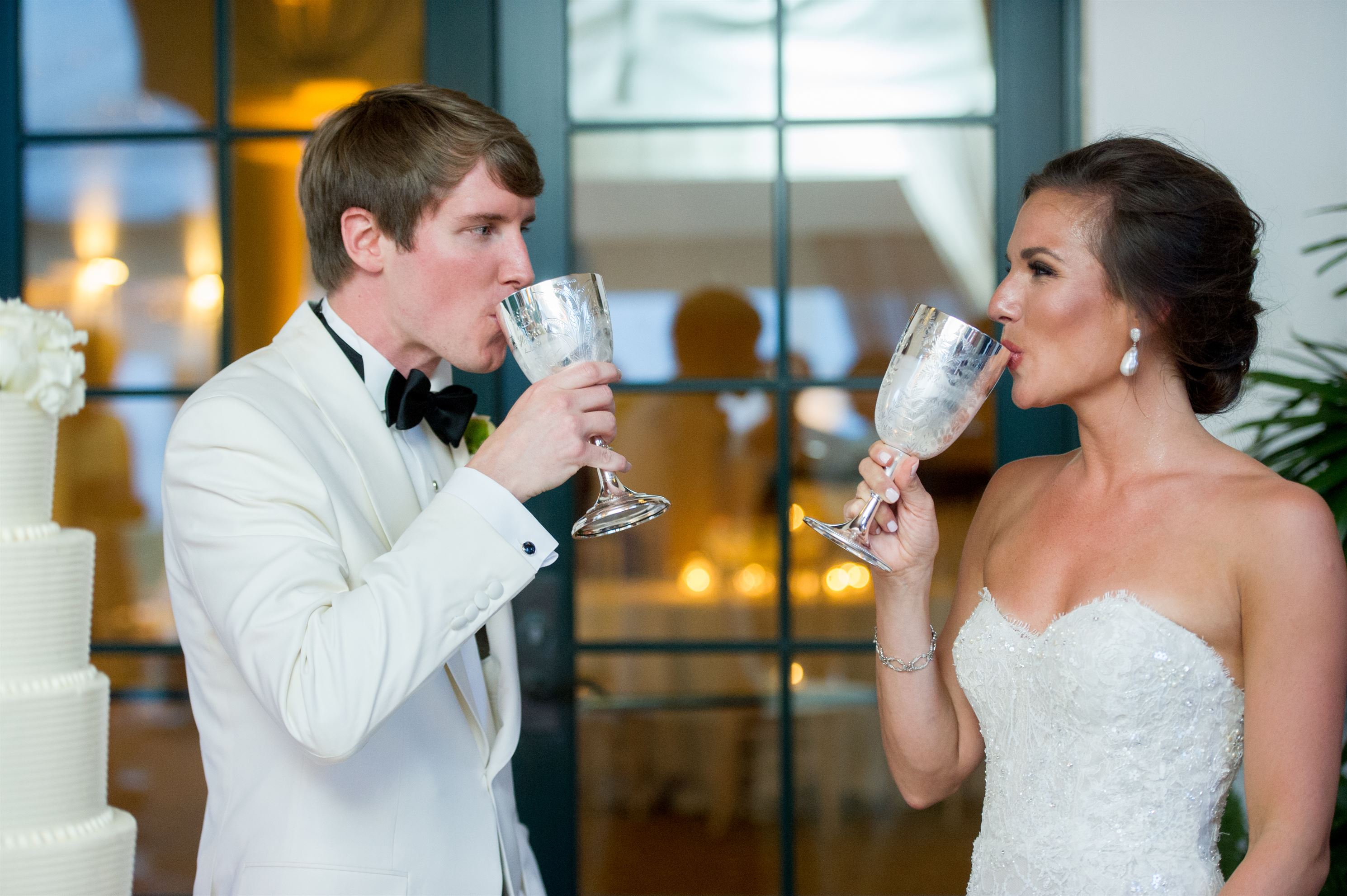 Since fun was on the agenda, the couple wanted a band that would keep guests of all ages on the dance floor throughout the evening and selected Simply Irresistible to play classic and current songs for the reception. Holly and Ryan danced to Ray LaMontagne's You Are the Best Thing for their first dance together as husband and wife.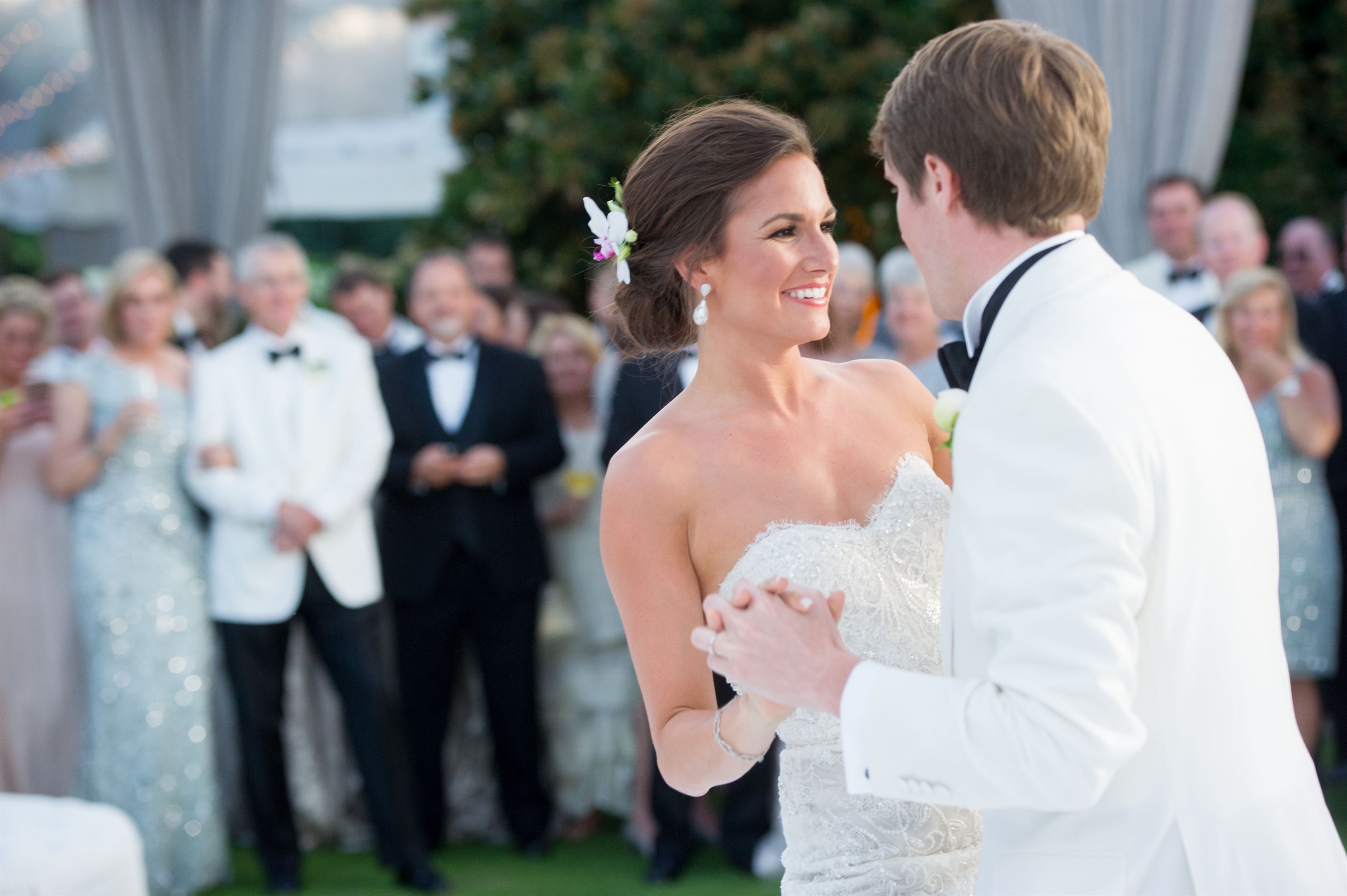 Wedding guests loved the party accessories the couple provided for the reception: glow-in-the-dark tambourines and glow sticks were a huge hit but their personalized selfie sticks with the wedding hashtag won the night.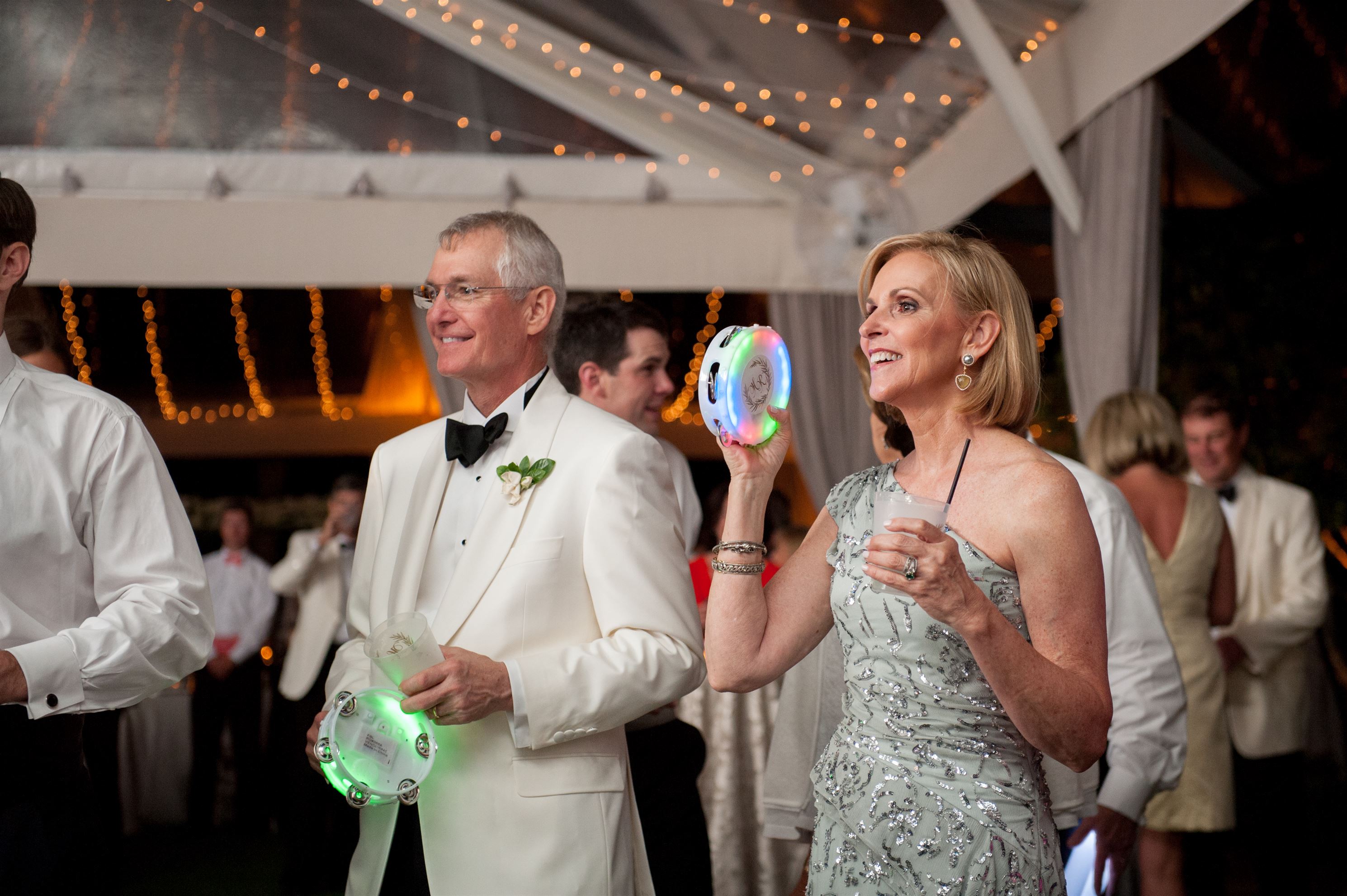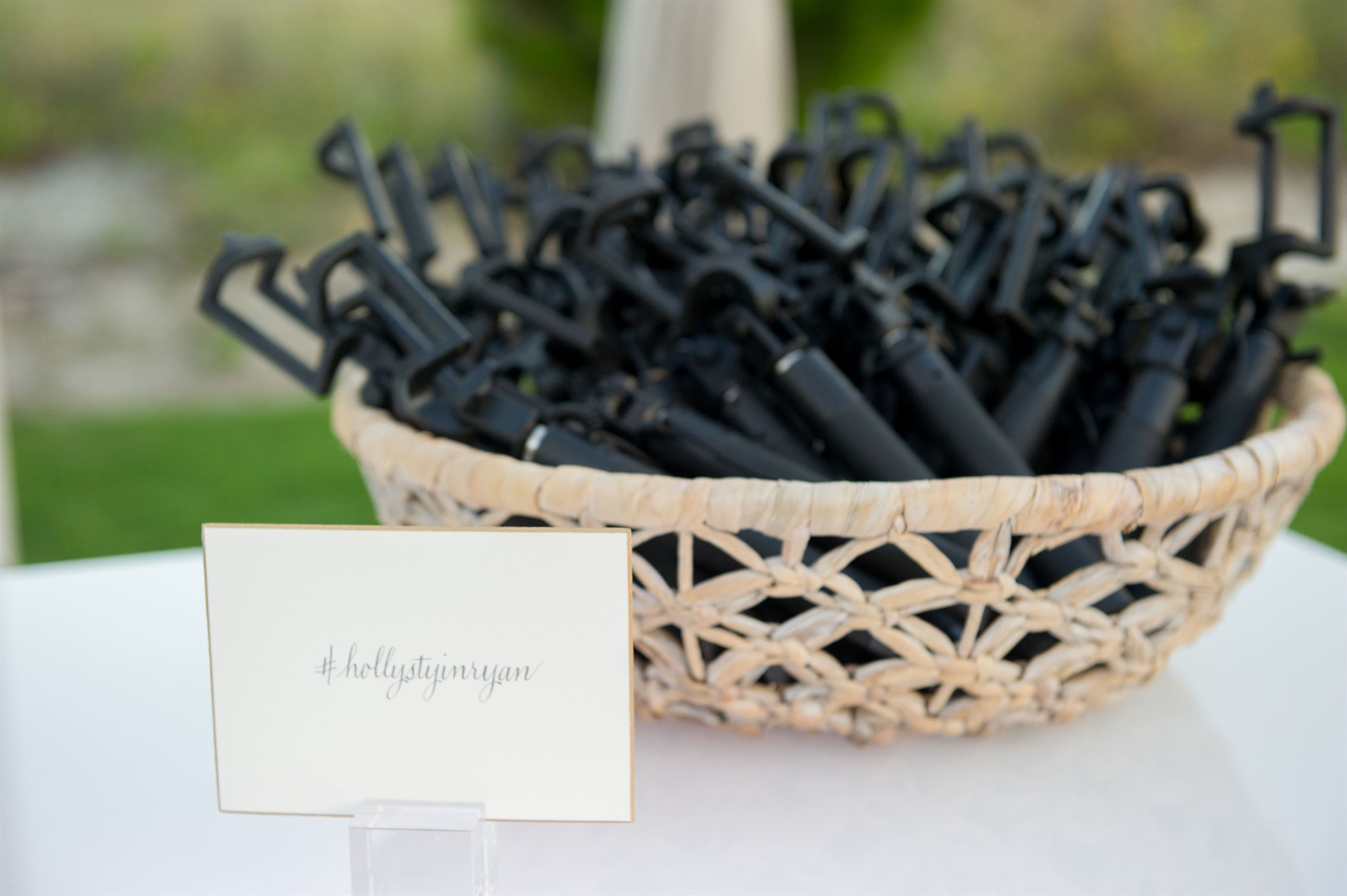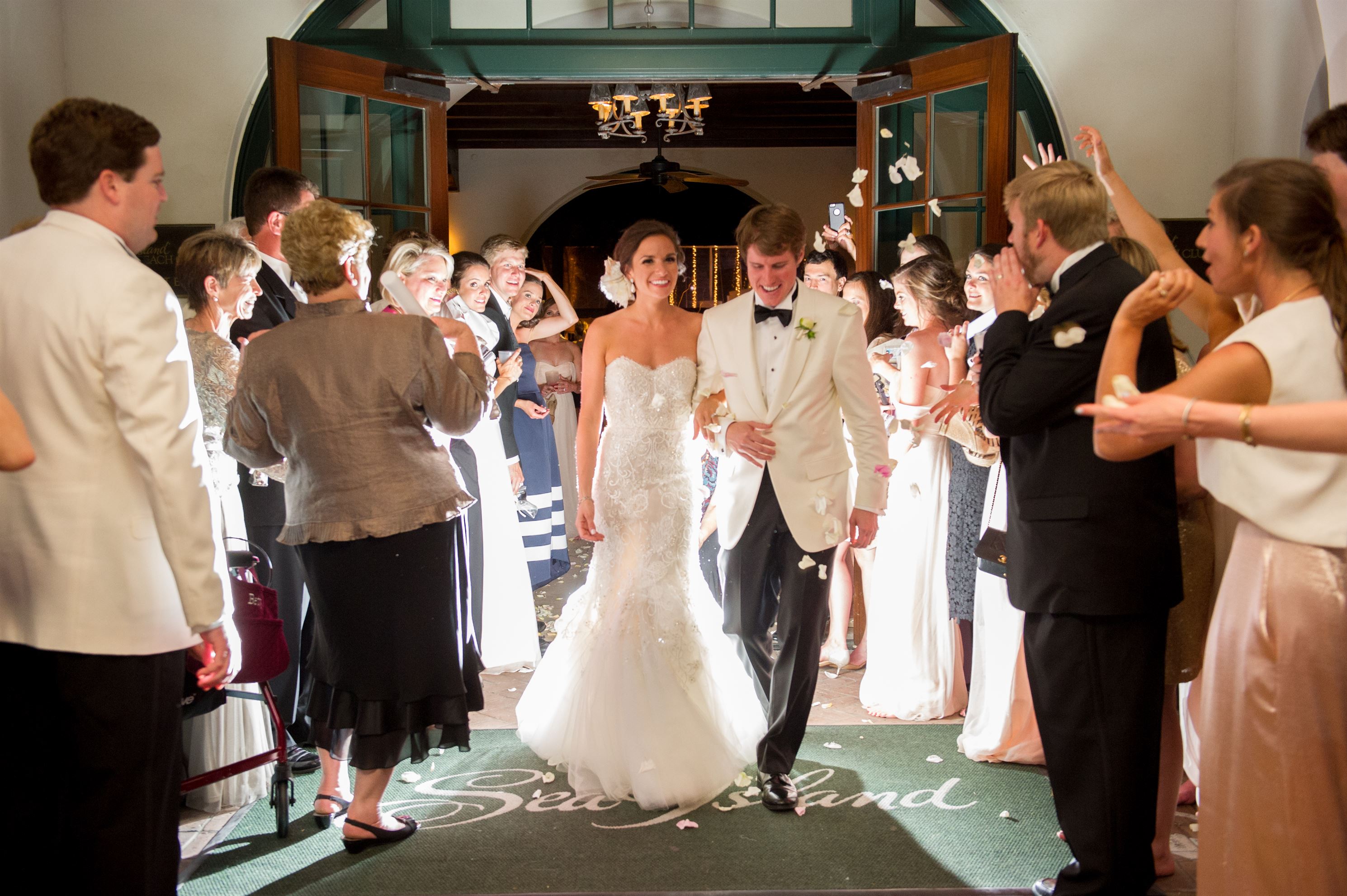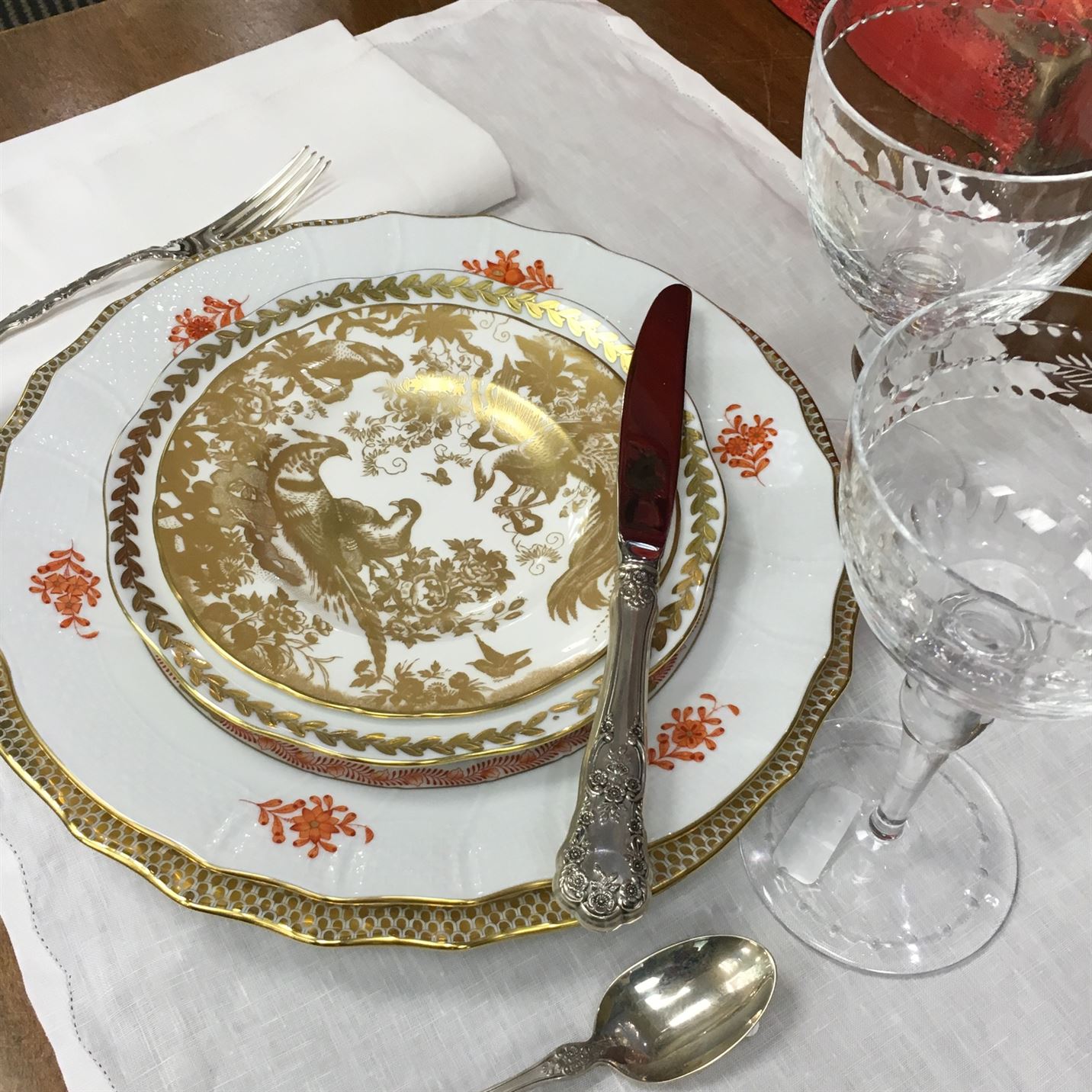 Fine China: Royal Crown Derby Gold Aves; Herend Chinese Bouquet, Fishscale, and Golden Laurel
Sterling: Gorham Buttercup
Formal Crystal: William Yeoward Camilla, Claire
Casual Crystal: Simon Pearce Barre
Congratulations, Holly and Ryan! The Bromberg family and our entire staff wishes you a lifetime of love and happiness together.
SIMPSON/SIMS WEDDING VENDORS:
Planner: Mariee Ami Wedding Studio, Mountain Brook, AL
Local Planner: Kacee Popa, Sea Island, GA
Photography: 6 of Four Photography, Atlanta, GA
Video: Buzz Media
Ceremony Venue: The Cloister Garden at Sea Island
Reception Venue: The Ocean Room- The Beach Club at Sea Island
Tent: Beach View Rental, Sea Island, GA
Lighting: PSAV, Sea Island, GA
Catering: The Cloister, Sea Island, GA
Wedding Cake and Groom's Cake: The Cloister, Sea Island, GA
Floral Design: The Vine, St Simons Island, GA
Wedding Gown: Ivory and White Boutique, Birmingham, AL
Bridal Shoes: Jimmy Choo
Hair and Make-Up: Brittany Massey, Tuscaloosa, AL
Bridesmaid Gowns: Bella Bridesmaid, Homewood, AL
Groom's Attire: Hickey Freeman custom tuxedo Mobley & Sons, Tuscaloosa, AL
Groomsmen Attire: Mr. Burch Formal Wear, Mountain Brook, AL
Wedding Invitation and Program: Shelley Kyle, Kyle Fine Stationery, Tuscaloosa, AL
Save the Date, Cups and Napkins: Mariee Ami Wedding Studio, Mountain Brook, AL
Watercolor Map: Caroline Borders at Sincerely Me, Columbia, SC
Ceremony Music: Music by Pegge
Reception Music: Simply Irresistible | East Coast Entertainment