Featured Wedding: Eve & Robert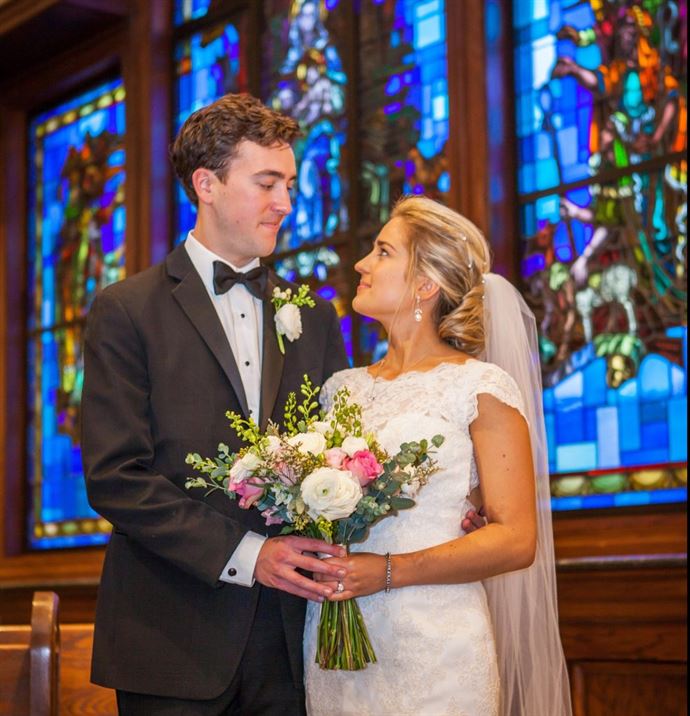 EVELYN VIRGINIA WALD AND ROBERT REMSEN BYRNE
Wedding Date: March 17, 2020
Ceremony: St. Francis Xavier Catholic Church Chapel
Reception: The Donnelly House
Photography: Mike Wald
Many of our couples have had to drastically alter their wedding plans due the changes brought upon by the spread of coronavirus, but Eve and Robert Byrne wouldn't let a pandemic sabotage their happy day! They threw out their original plan for a large celebratory wedding on March 21st for a smaller but equally joyous ceremony and reception with their closest friends and family.
Eve and Robert: Their Story
Robert and Eve were introduced by mutual friends during their senior year at Auburn University, and they hit it off right away, always seeming to find each other even in a large crowd. After their first date, the couple was inseparable!
The Proposal
Robert had quite the time popping the question to Eve! On the day of the proposal, Eve decided to work late, not knowing that Robert had scheduled a photographer to hide in wait for them at Zilker Park in Austin, Texas. To complicate matters more, the photographer discovered the park was closed! Robert quickly changed his plan and took Eve to Lou Neff Point overlooking the river on the edge of Zilker Park. After a picnic dinner, Robert proposed and Eve said yes!
The Wedding Day
While Eve and Robert planned for a large celebration, their wedding day fell during an uncertain time for our world as the pandemic spread. With only days before their original wedding date, churches began to restrict the size of services, and they knew they needed to change their plans before it became impossible to have a wedding at all. With a new wedding date of March 17th, the couple added some fun St. Patrick's Day details to their special day, including shamrock petit fours from Savage's Bakery and festive green socks for Robert. It will surely be a fun anniversary date for them!
The Ceremony
While the wedding plans were drastically changed, Robert and Eve had a beautiful ceremony in the chapel of St. Francis Xavier Catholic Church with 20 people, only their siblings, parents, and bridal party. Eve recounts the most memorable moment from their wedding day as "hearing Father Bob Sullivan, who married us, tell us that even though the wedding day was different from how we had originally planned and much smaller, that it wasn™t about having a big party. It was about Robert and I taking this step together as husband and wife and our commitment to each other."
The Reception

The Wedding Heroes
While some of their original vendors couldn™t provide their services with such short notice, a band of talented vendors stepped up to make Eve and Robert's day run smoothly and beautifully. Michelle Wright with AMWright Design saved the day and created ceremony bouquets and reception arrangements. Savage's Bakery produced a stunning tiered cake in only one day. The historic Donnelly House catered the reception and were even able to serve their orginal menu on their Tuesday wedding!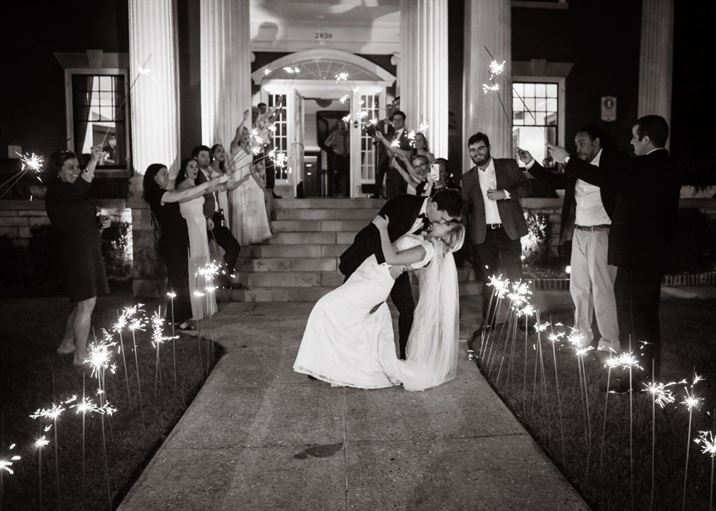 Eve and Robert registered for Arte Italica Tesora formal china, Casa Fina Pearl White everyday china, Vietri Lastra Holiday Christmas china, Vietri Drop glassware, and Mepra USA Perla stainless steel flatware.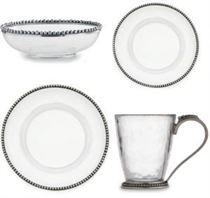 Formal China: Arte Italica Tesora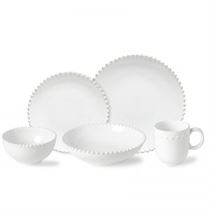 Casual China: Casa Fina Pearl White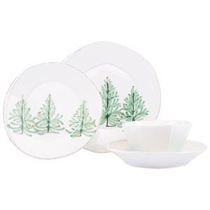 Christmas China: Vietri Lasta Holida
Casual Glassware: Vietri Drop Wine Glass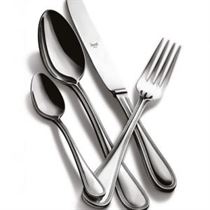 Stainless Flatware: Mepra USA Perla
Wedding Vendor Details
Bridal Gown: Lillian West
Bridesmaid gowns: Azazie
Cake: Savage's Bakery
Caterer: The Donnelly House
Floral: AMWright Design, Michelle Wright
Furniture/Accessory Rental: The Donnelly House
Groom & Groomsmen Attire: Mr. Burch Formal Wear
Congratulations, Eve and Robert! The Bromberg family and staff wish you a lifetime of happiness together.