FEATURED WEDDING: EMILY AND PATRICK
EMILY SHARP AND PATRICK BISCEGLIA
February 11, 2017
CEREMONY: Cathedral Church of the Advent
RECEPTION: Country Club of Birmingham
Wedding by: Emily Ellison Studio
Photos: Something Wild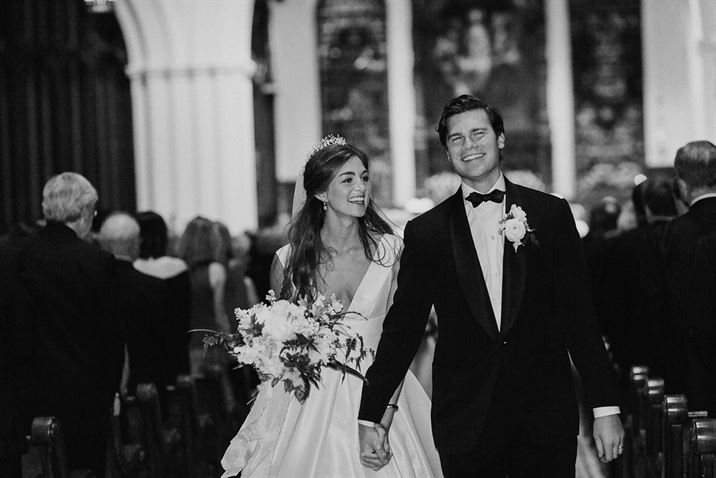 An Alabama girl living in New York with a summer share in the Hamptons meets a Boston boy who happened to be there visiting his sister that fateful summer. The outcome? A family wedding in the bride's hometown of Birmingham where Southern hospitality and tradition merged with classic big city style.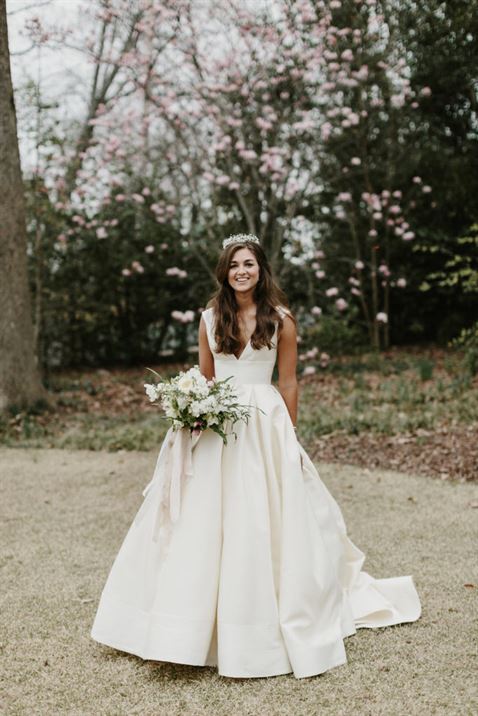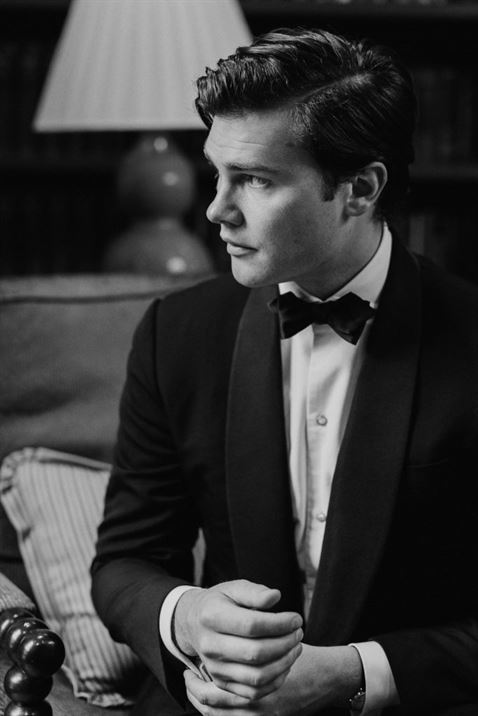 EMILY & PATRICK"¦THEIR STORY
It's not often that meeting someone in the Hamptons over the summer results in a relationship that lasts. In fact, when summer fades and the shares end, most Hamptons friendships fade right along with summer. Emily was living and working as an event designer in New York. Patrick lived in Boston. She had a summer share in the Hamptons that summer and Patrick was in the Hamptons visiting his sister when the two met at a local landmark. Both Patrick and Emily knew it was a bit different right from the start but neither would have readily admitted it– because dating in New York is not like dating anywhere else. When the summer ended, they kept seeing each other but they took it slow. The pair kept a long-distance relationship going for the next two years, traveling back and forth from New York to Boston. Of course, there was the occasional trip to Birmingham, too. Everyone realized Patrick was truly a keeper when he™d accompany Emily to her events, always happy to chip in to help where he was needed.
THE PROPOSAL"¦
Emily and Patrick had talked about marriage and both knew it was simply a matter of the right timing before Emily transitioned her life and business to Boston. In the summer of 2016, Patrick purchased a new apartment in Boston and Emily suspected a proposal might happen soon because the timing was perfect as she was in the process of deciding if she would stay or leave New York. The weekend they moved Patrick into the new apartment, he proposed. Once she said yes, the couple rode bikes around the Charles River to celebrate their engagement, and what would become their new home together.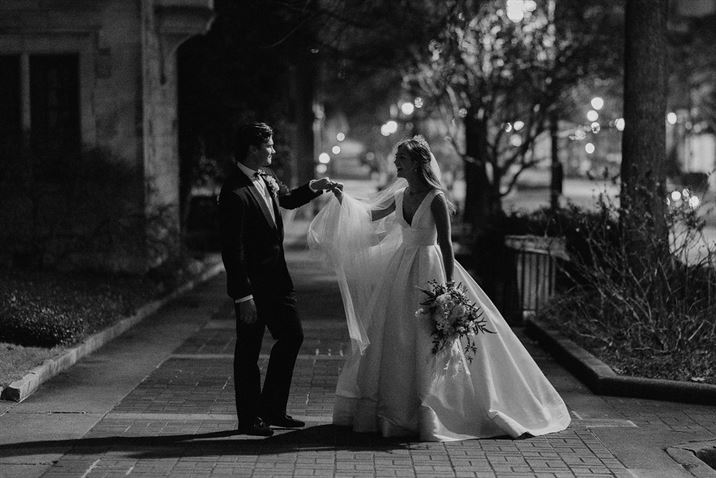 WEDDING DETAILS"¦
Since Emily is an event designer, her firm handled the wedding design and execution. Working with her mother, they had most of the plans nailed down within two weeks of Patrick's proposal.
The ceremony was held in the church Emily grew up attending which is one of the city's oldest and most beautiful downtown churches, Cathedral Church of the Advent. The reception was held at her family's country club, Country Club of Birmingham, another area landmark.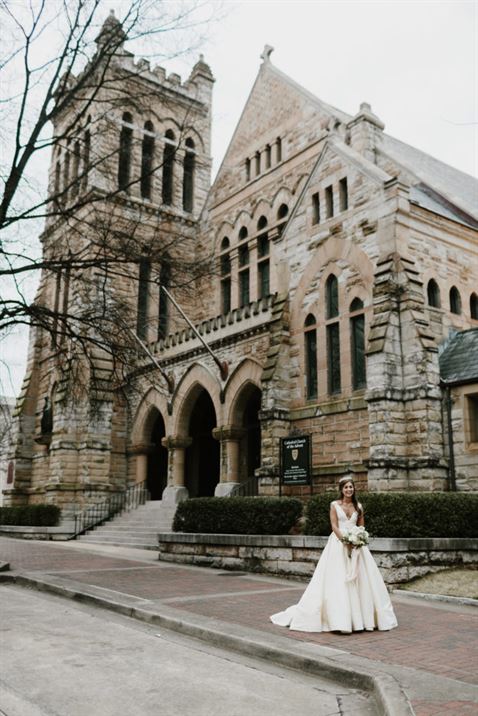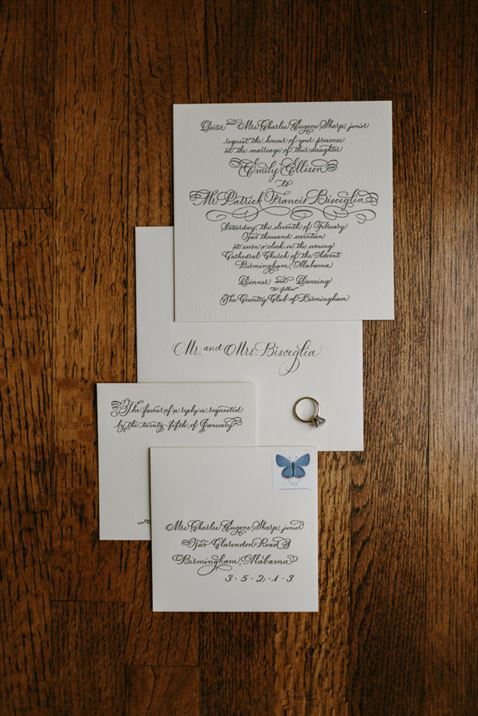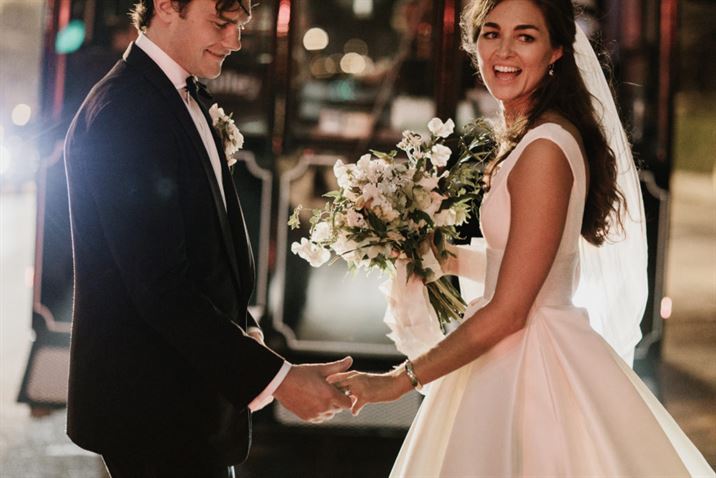 For the reception, a winter garden wonderland – Southern style – was designed to bring the outdoors of the season into the country club. Working with Sybil Sylvester and her team at Wildflowers Designs, Emily wanted to build around her favorite flower, the Lenten Rose (Helleborus)which typically blooms in the late winter months just prior to the end of Lent.
Since it was too cold to host the party outdoors, large hanging trellises of greenery created the garden feel Emily wanted. Sheer celadon-hued hanging panels and string lighting hung above the band replicated a tent. Massive urns were filled with garden blooms in white and hints of "mauvy" purple, synonymous with Lenten rose. Tall bare branches with tiny white flowers beginning to bud created a tree effect throughout the room.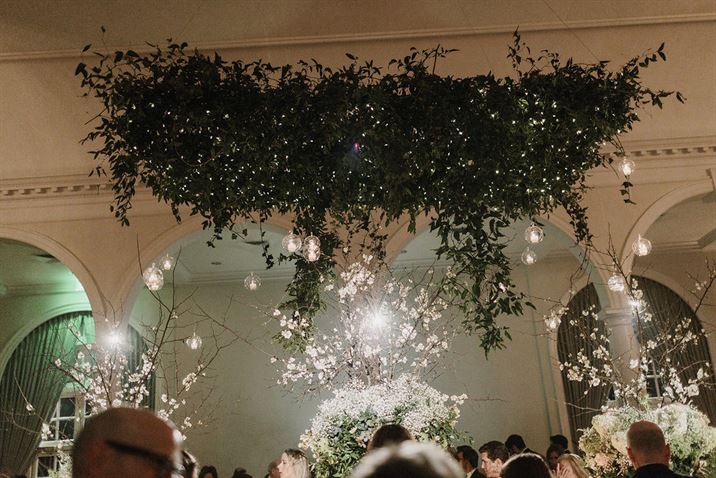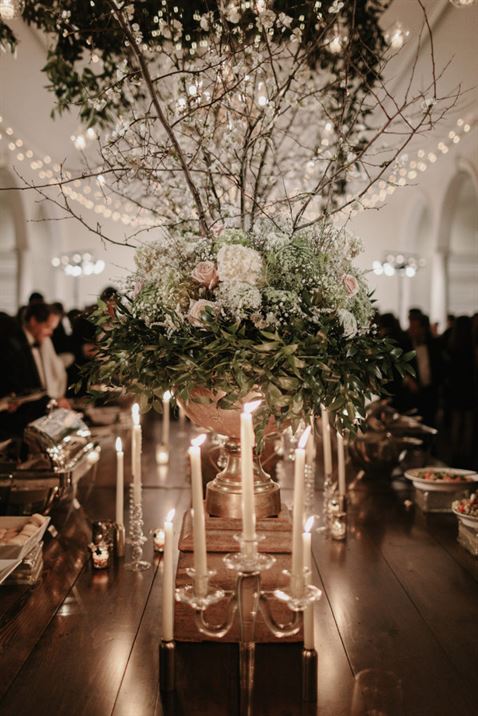 Stately silver candelabras with elegant white tapers and golden etageres filled with flickering votives created a soft, romantic glow.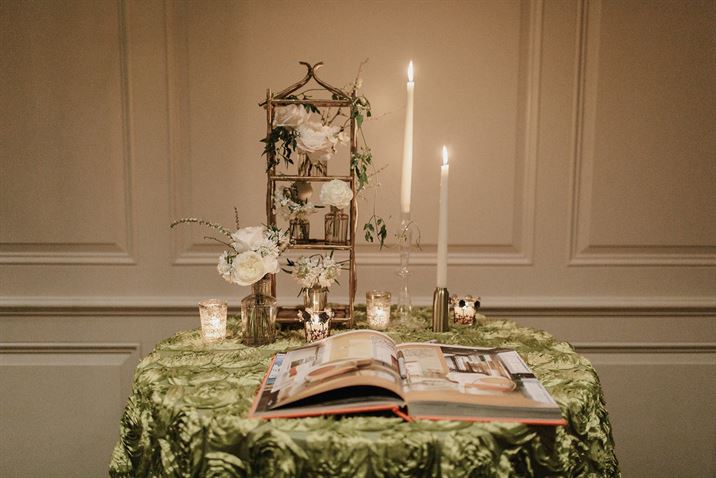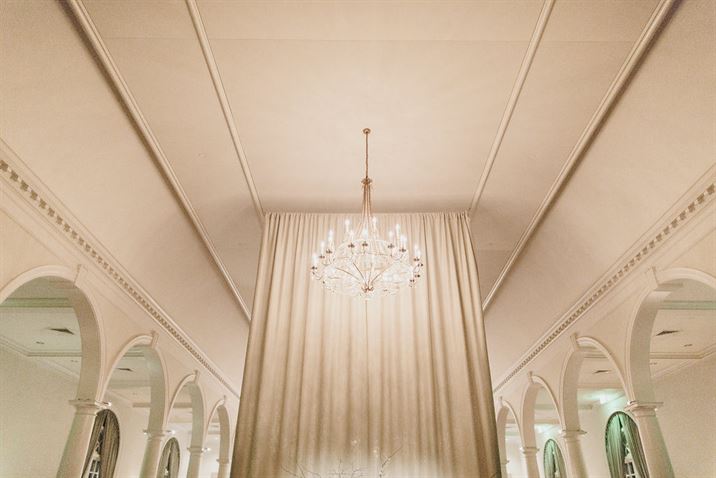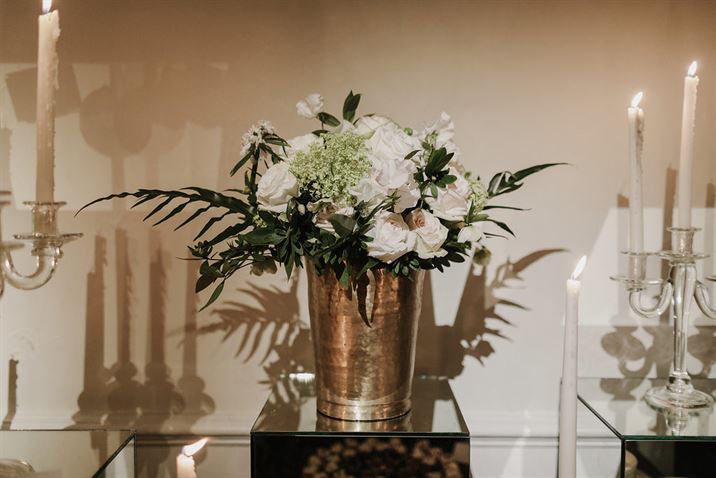 The bouquets looked as if they were just picked from the field and tied with a silk ribbon.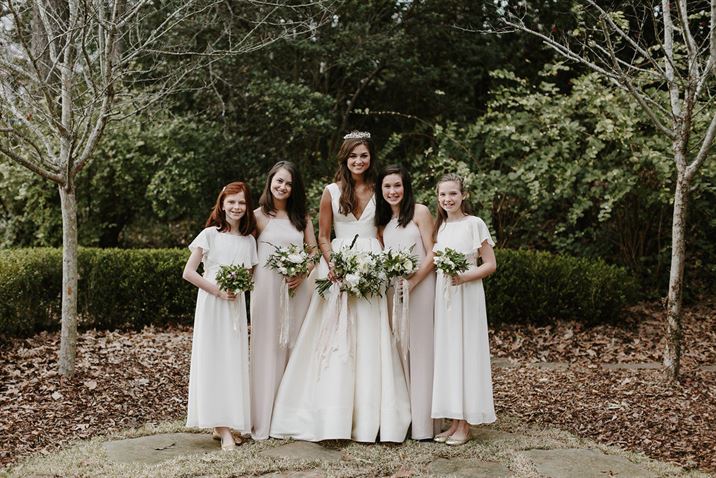 Emily's bridal gown from The White Room in Mountain Brook was designed by Anne Barge. Named Langham, its full, sweeping, pleated ball gown featured a deep bias band at the hemline and a deep V, tip-of-the-shoulder neckline. The neckline and waist which were outlined in soutache. Emily's favorite detail of the gown was the pockets, hidden within the skirt pleating. Emily wore her maternal grandmother's headpiece; all of the women in her family have worn it for their respective weddings. A Cathedral length veil completed her ensemble.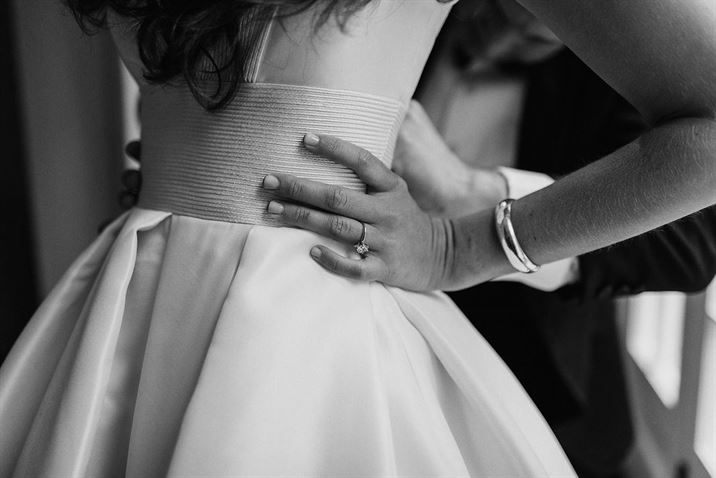 The bridesmaids wore a v-neck ruffle front, wrap bodice Joanna August chiffon gown in a soft neutral color called All Tomorrow's Parties that fit each girl perfectly.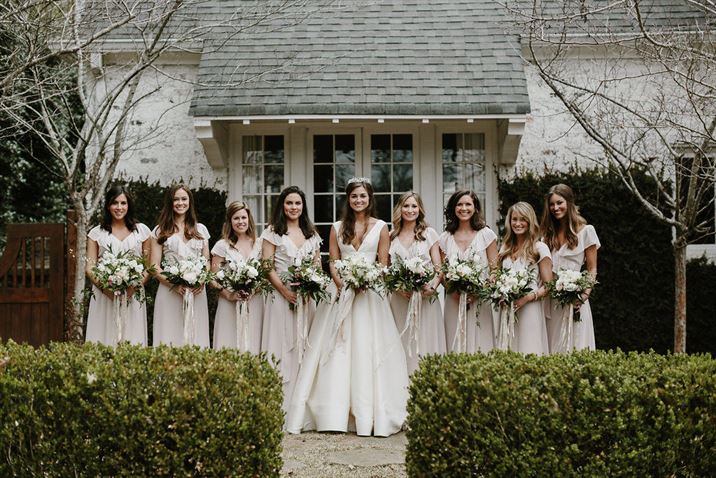 Patrick wore his own classic black tuxedo as did all the men in the wedding party.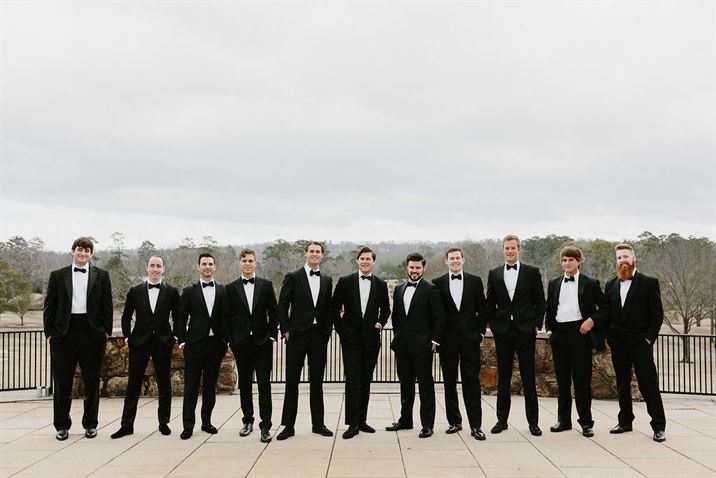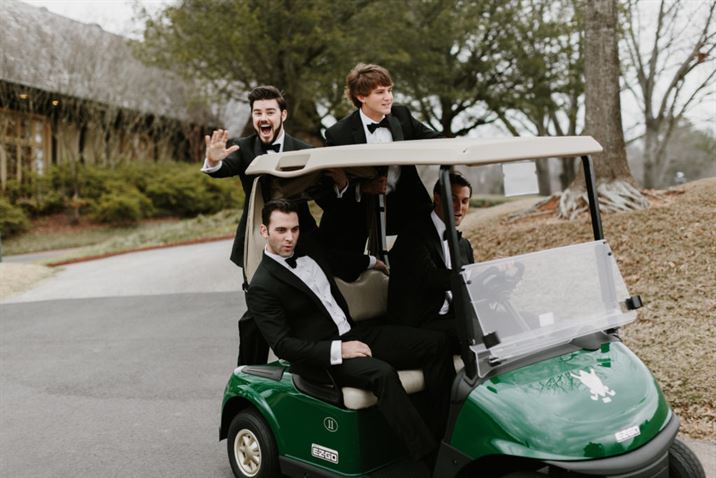 The reception buffet included beef tenderloin and freshly shucked Gulf oysters on the half shell. The wedding cake from Magic Muffins was five tiers of alternating lemon and Swiss almond filled white cake layers with vanilla buttercream. Instead of a groom's cake, the club served an assortment of mini pie bites.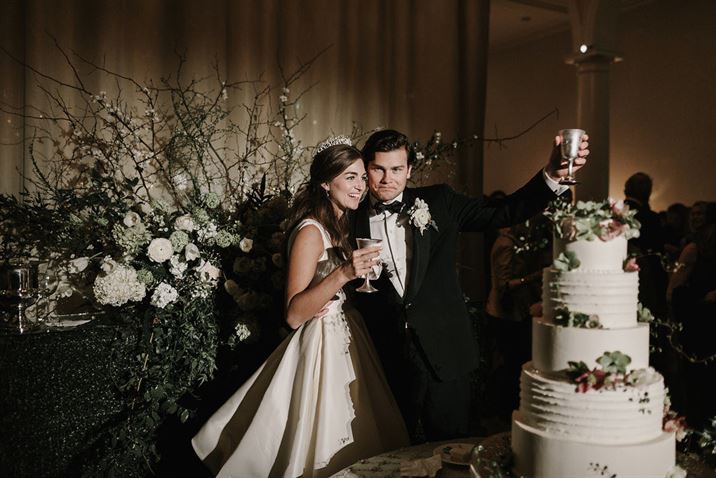 Guests stayed on the dance floor all night with music from Atlanta Rhythm and Groove.
WEDDING TRADITIONS"¦ Emily's wedding day traditions included:
OLD: Her maternal grandmother's headpiece and gold bangle bracelet.
NEW: Her wedding gown.
BORROWED: Her veil, on loan from her cousin Catherine Jones.
BLUE: Her lingerie.
---
WEDDING VENDORS
Photography: Someplace Wild
Floral Design: Sybil Sylvester / Wildflower Designs
Wedding Dress: Anne Barge / The White Room / Mountain Brook
Bridesmaids Dresses: Joanna August
Wedding Cake: Magic Muffins
Invitations and Paper Suite: The Scribbler Homewood / Jenny Hutchinson
Calligraphy: Jan Prewitt
Band: Atlanta Rhythm and Groove
---
Emily and Patrick's Bromberg's wedding gift registry includes:
Formal China: Herend Victoria Blue and Rothschild Bird
Casual China: Vietri Lastra
Formal Crystal: Simon Pearce Cavendish
Formal Crystal: William Yeoward Camilla and Claire
Casual Crystal: Juliska Carine
Sterling: Lenox Francis 1
Dear Emily and Patrick: The Bromberg family and staff wishes you a lifetime of love and happiness. Congratulations!