FEATURED WEDDING: ELLEN AND ED
ELLEN JOHNSON MARRIES ED HAUSER
CEREMONY & RECEPTION: Fort Deposit, Alabama
May 30, 2015
Photos: Caroline Sparrow
"When I fall in love, it will be forever." "" Jane Austen
Ellen and Ed worked in the same industry and, at 32 and 34 years old, were probably the last two single people most of their friends knew. Mutual friends wanted to set the couple up for a while but it was never the right time. When the time came and they were finally introduced, it was kismet. A year and a half later, they were married outside of Ellen's hometown of Greenville, Alabama. (Read their full wedding story below the images.)
ELLEN AND ED…
Ellen Johnson and Ed Hauser both worked in the design and construction industry at major Birmingham firms"¦ they even worked on some of the same projects over the years but they never met. Ellen was dating someone else when she was first asked about going out with Ed. Ellen declined but offered to introduce Ed to some of her single friends –which he declined. Months later, a different friend asked Ellen if she would be interested in going out with Ed but she declined again. When Ellen's relationship ended, she remembered Ed and an introduction was arranged. The two met for their first date at Vino in English Village. They soon discovered that Ed had known Ellen's sister since college, and that they knew a lot of the same people. Both raised in small towns, the pair found they had a great deal in common and instantly became a couple. Ellen says she thought Ed might be the one when she invited him to be her date for a wedding. Ed danced with her mother and was a big hit with her friends. As Ellen began to see in Ed the qualities she had always hoped for in a husband, she knew their relationship was exactly the way a relationship was supposed to be and it wasn™t too long before they both knew they would marry.
THE PROPOSAL
The Tuesday before Thanksgiving in 2014, Ed told Ellen that their friend Robby (the first friend who had wanted to fix them up) had invited them to dinner at Highlands Bar and Grill. They were on their way to the restaurant when Robby called to say their sitter had fallen through and they were going to have to cancel but Ellen and Ed should go anyway. When Ellen and Ed arrived, the restaurant made a big deal of resetting the table for two people. Ellen had no idea that the table switch and the phone call had all been part of Ed's plan for a romantic date night that would end in a proposal. The plans changed slightly when a friend sent a bottle of Champagne to the table that arrived early; Ed worried Ellen was tipped off to his plan but she simply thought the friend was being considerate and still had no idea the proposal was coming. Little did Ellen know that family and friends were already gathering at Ed's house. As he drove Ellen home from the restaurant, Ed suggested they stop and look at his cousin's new home and the view overlooking the city. Van Morrison was playing on the radio when Ed suggested they get out and look at the city lights. When Ed dropped to one knee to ask Ellen to be his wife, a woman suddenly appeared on a nearby front porch, and told them to leave. Ed calmly responded "would you please go back inside? I™m trying to propose!" Ed finally did propose and Ellen said yes. Afterwards, they went to his house to celebrate with friends and family and discuss the wedding.
WEDDING PLANS
Neither Ellen nor Ed wanted a long engagement. They wanted to get married as soon as dates and plans could come together. Once they decided to marry on Ellen's family farm in Fort Deposit, near her hometown of Greenville, Alabama, everything started to come together quickly. The farm is a place that means a great deal to Ellen; it has been in her family for five generations, and growing up, she spent many years there with her family. Another sentimental choice was Ellen's wedding gown. When her sister married, her mother suggested that Ellen, too, might one day wear the strapless Marisa gown with the Alencon lace jacket for her own wedding. Ellen never thought she would but agreed to try the gown on for her mother. When she put it on, Ellen fell in love with her sister's gown. She added a veil borrowed from her cousin.
ALL THE DETAILS
Ellen and Ed wanted a classic Southern family wedding and came up with other sentimental ways to incorporate family traditions into their day.
Ed made the cross for the altar and used a wood burning tool to inscribe a favorite Bible verse, Philippians 1:3 which reads, "I thank my God every time I think of you.", which was the scripture Ellen had engraved inside Ed's wedding ring.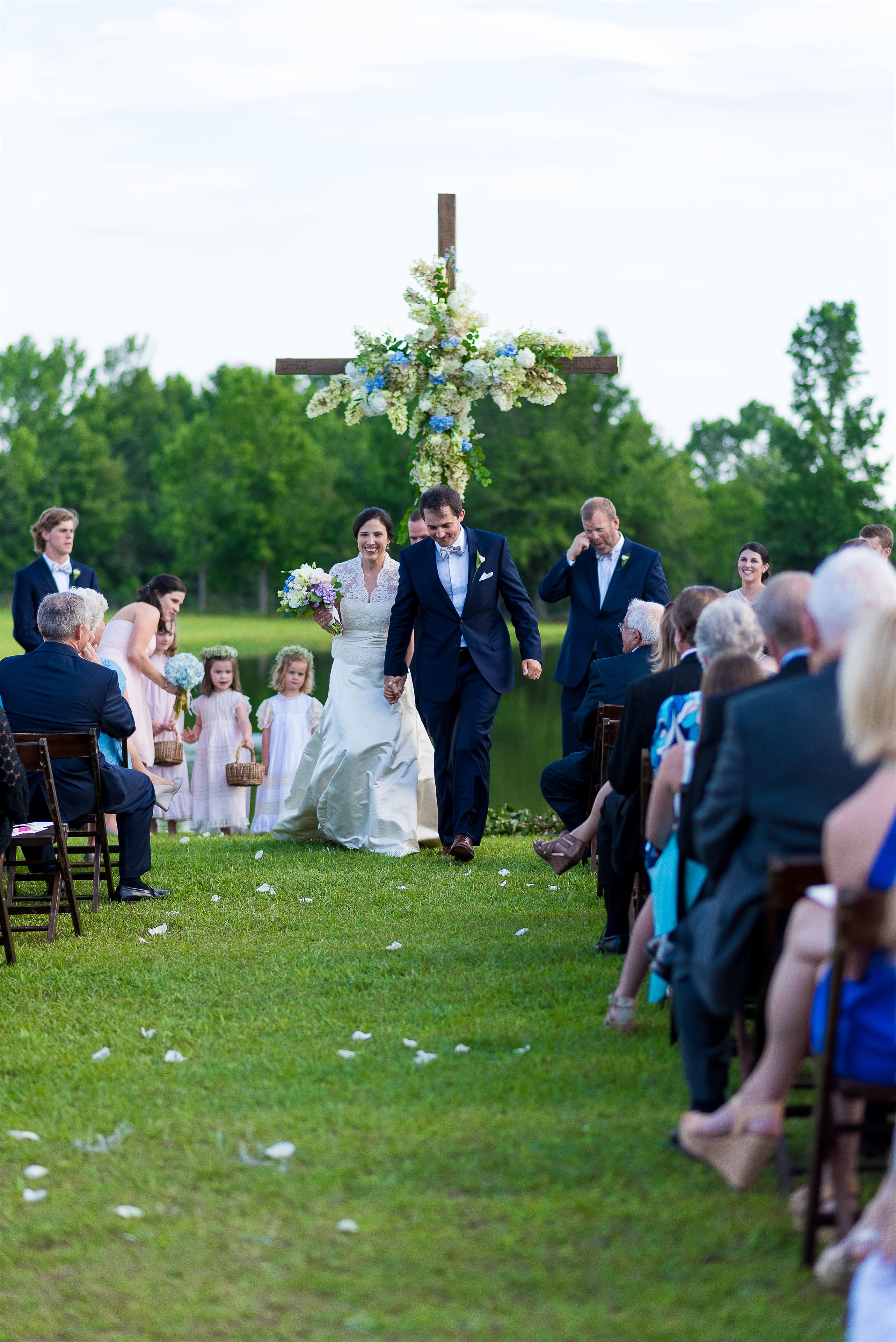 Shirley Sweeney had made wedding cakes for Ed's family before so the couple asked her to make theirs as well. The wedding cake was a traditional five tier vanilla buttercream cake decorated with a spiral garland of roses. There were three different groom's cakes: chocolate, strawberry, and caramel.
Another wonderful detail was the 1959 Chevy Corvette getaway car"¦ this wasn™t just any car. The Corvette originally belonged to Ed's father and was sold some years ago. Ed's parents had driven off in the Corvette after their own wedding. They tracked down the new owner of the car who trailered it to the wedding so that Ed and Ellen could leave in it"¦ and Ed's parents got to take an updated photo in the car as well. The original photos were used to decorate the groom's cake table.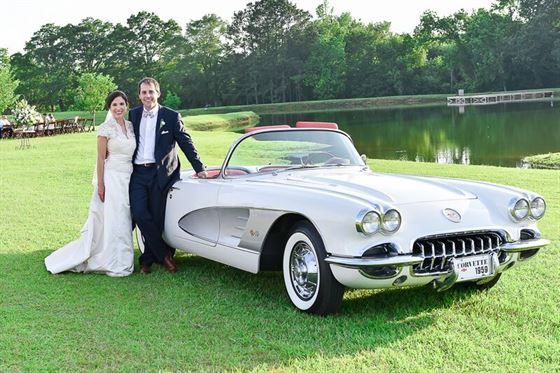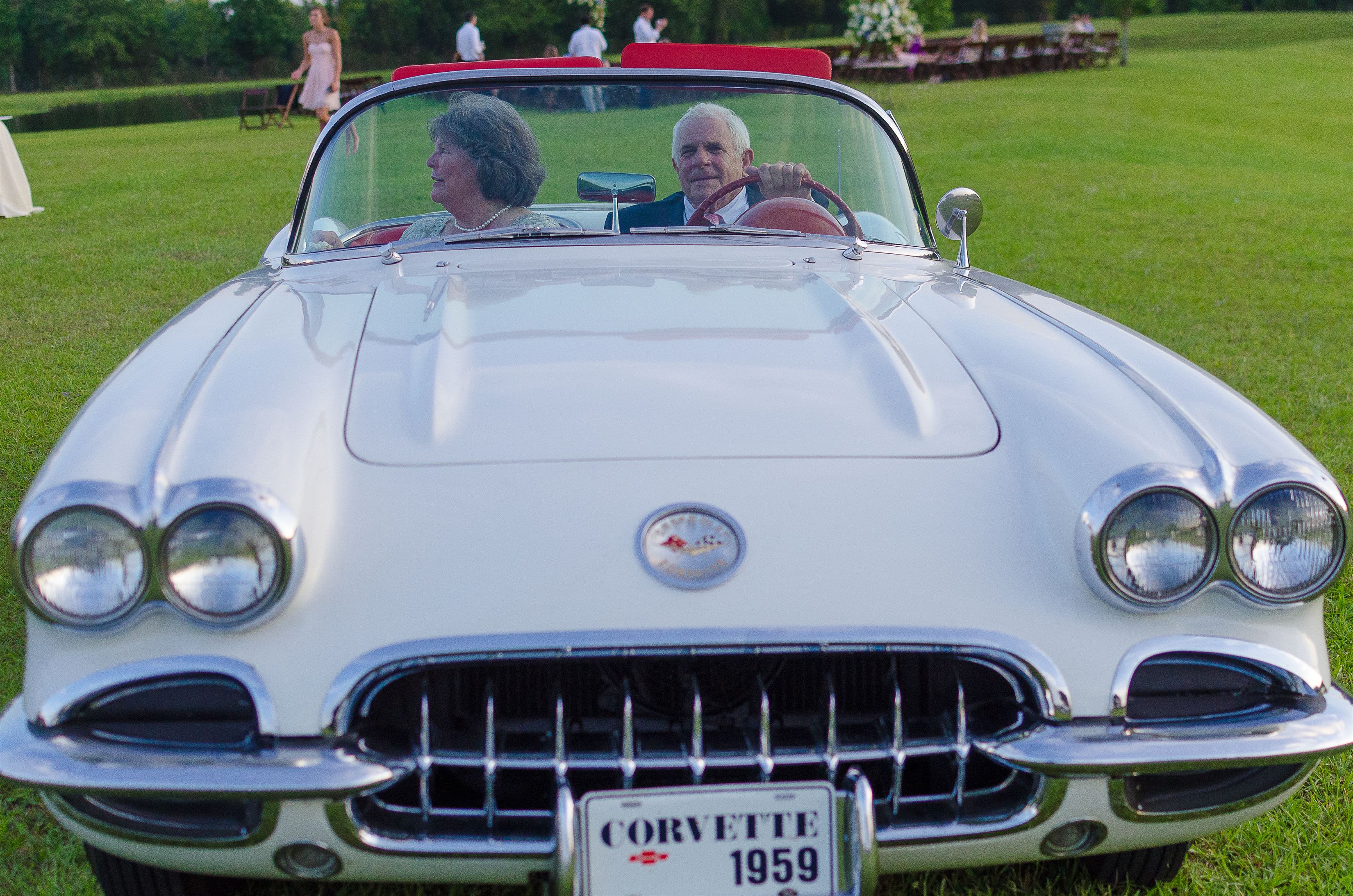 Ellen's Something Old, New, Borrowed and Blue traditions included:
OLD: A handkerchief from each of Ed's great grandmothers.
NEW: Her shoes.
BORROWED: Ellen borrowed her sister's gown and her cousin's veil.
BLUE: Ellen carried blue hydrangea in her bouquet.
Ellen's favorite moment was when she and Ed shared a dance with her 91 year old grandmother. Her favorite memory of the day was when she and Ed looked around to see all of the friends and family who had traveled so far to be there for the wedding.
The couple toured Greece on their honeymoon, visiting Mykonos, Santorini, and Athens.
Fine China: Herend Gwendolyn and Herend Princess Victoria Light Blue
Casual China: Spode Woodlands
Formal Crystal: Waterford Colleen Essence
Sterling Flatware: Towle Old Master
Congratulations, Ellen and Ed! The Bromberg's family and staff wishes you a lifetime of love and happiness together.