Featured Wedding: Chrissy and Eric
CHRISSY CLEVELAND AND ERIC BENNEY
Wedding date: November 10, 2018
Ceremony and reception: Hamilton Place at Pursell Farms
Wedding planning and design: Invision Events
Photos by Anna Shackleford Photography
Here at Bromberg's, we are excited for each and every engaged couple that we meet but nothing thrills us more than when we get to help celebrate a couple that is a part of our work family. So when Chrissy Cleveland, an associate at our Summit location, became engaged we couldn't have been happier. Chrissy was kind enough to allow us to interview her about her beautiful wedding and everything that led up to the big day.
Bromberg's: How and where did you meet you and Eric meet and when was your first date?
Chrissy: Eric and I met at Carrigan's Public House. I thought he was handsome but was too shy to say hi. Lucky for me, Eric recommended a drink choice and invited my friend and me to sit at his table. Our first date was in December of 2013 at the StarDome Comedy Club. We weren't ready for the night to end, so we went to the Garage afterward, a dive bar that is still one of our go to spots!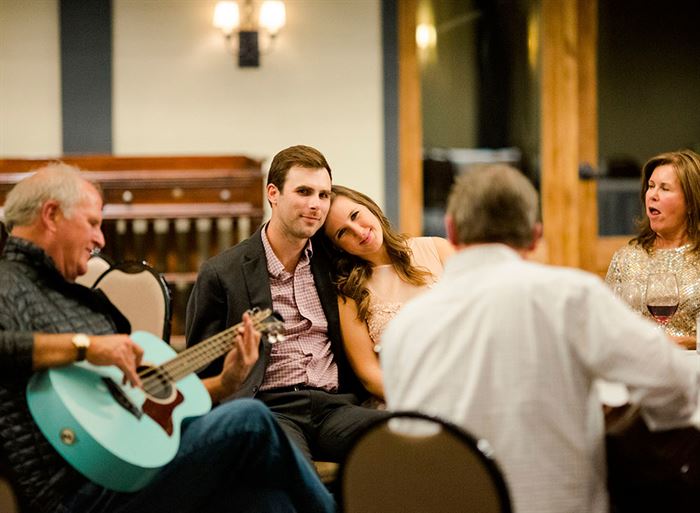 Bromberg's: When did you realize you had found "the one?"
Chrissy: We both knew our relationship was something very special only a few months in. I invited Eric to my sister's destination wedding and was very nervous about him meeting my family and being trapped with them all weekend. They are very picky! My family immediately fell in love with him, and it was so effortless, fun, and full of joy. Those are adjectives we now use to describe the five years we've been together.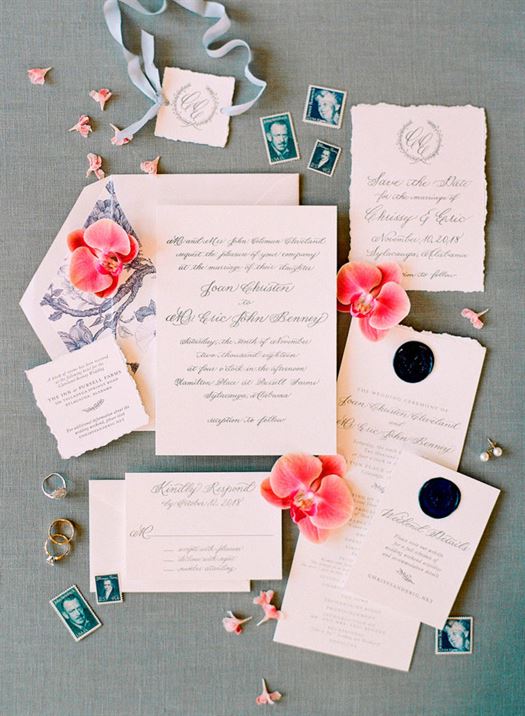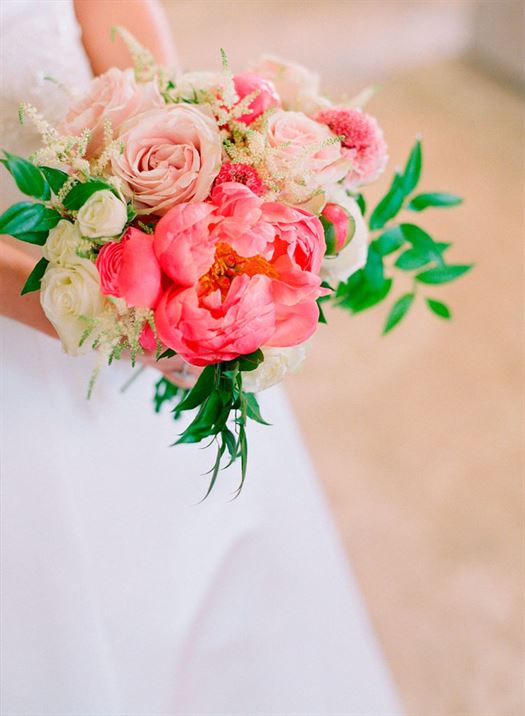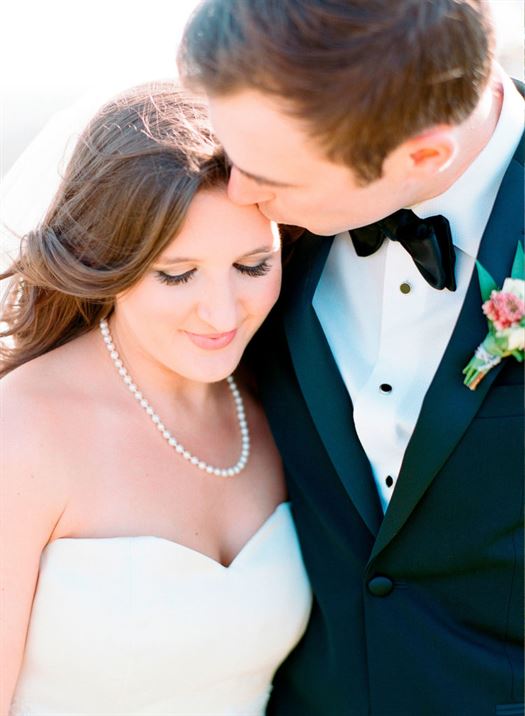 Bromberg's: How did Eric pick out a ring without news of it getting back to you?
Chrissy: Eric was very sneaky! Knowing that anyone I worked with at Bromberg's at the Summit wouldn't be able to keep a secret, he called Brian Hood, the Manager of Bromberg's in Mountain Brook, and set up an appointment to look at diamonds. He had some ideas of what I wanted (yellow gold solitaire with a pretty diamond, either round or Asscher cut), but he knew he needed some guidance since I'd worked in the jewelry business for a few years.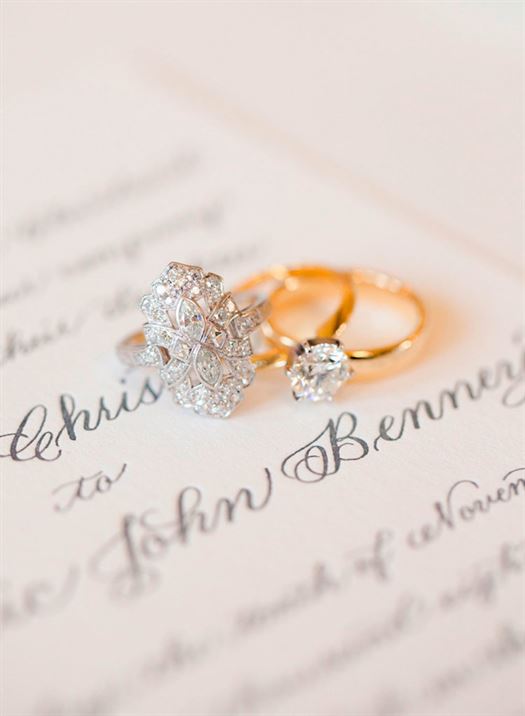 Chrissy's classic round brilliant Forevermark diamond engagement ring shown alongside her Grandmother's vintage diamond cocktail ring which was her "Something Borrowed" and Eric's timeless yellow gold Benchmark wedding band.
Chrissy: Eric picked out a beautiful round brilliant Forevermark diamond, and Bromberg's Master Jeweler Philip Flenniken created the setting for me – an 18 karat yellow gold solitaire band with platinum prongs. It's perfect! I ordered Eric's band from Benchmark (18K YG to match my ring), and Philip made my wedding band too. It has 11 round diamonds that came from one of my Granny's brooches.
Bromberg's: Tell us all about the proposal…
Chrissy: I was moving into a new apartment, my first place all on my own! Usually moving is a total chore, but Eric helped me out with all smiles and laughs the whole weekend. On Sunday after I was settled in, Eric brought over a Mellow Mushroom pizza for our first dinner in my new place. I should have been tipped off because he also brought over a beautiful bouquet of flowers and a bottle of 1989 Chateau Bel Air Lagrave that I knew he had been saving for a special occasion. He popped the question, and we were so ecstatic during our first dinner as an engaged couple that we forgot to call our family and friends to share the news for a couple of hours! I didn't have to live alone for long-Eric moved into my apartment days before the wedding, and now it's our home!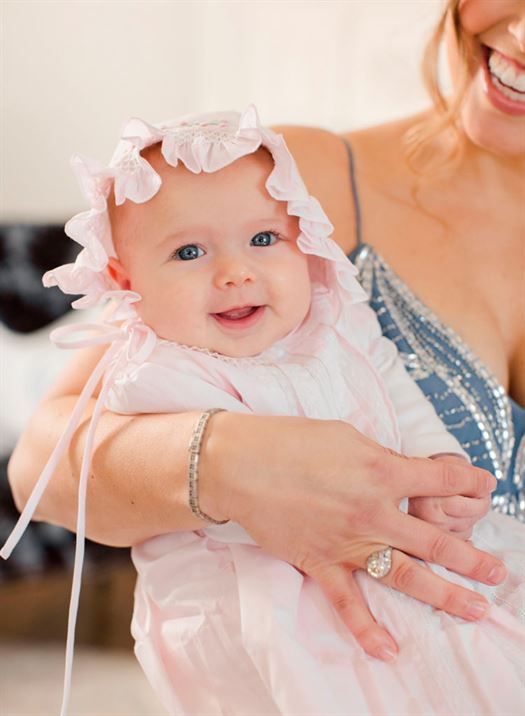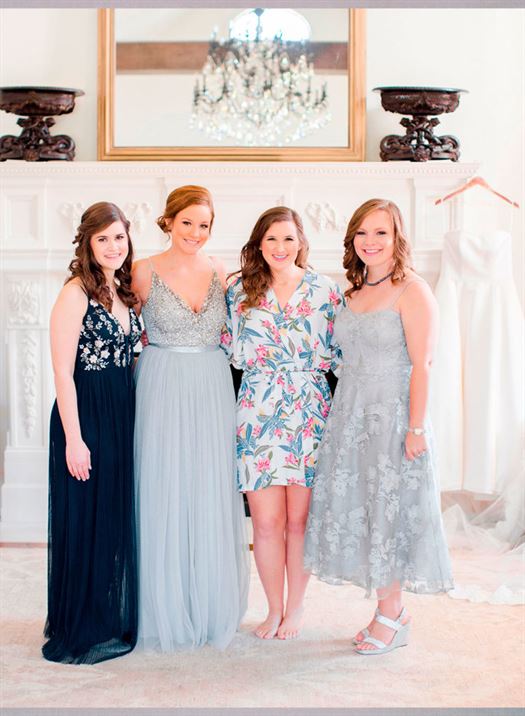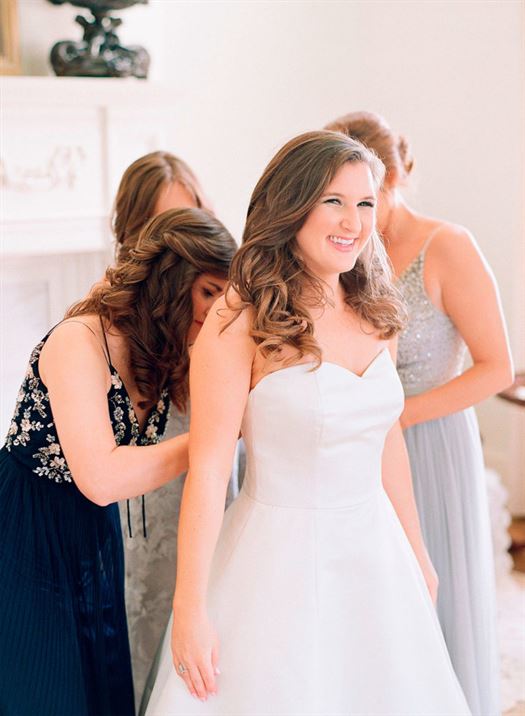 Bromberg's: Tell us about your beautiful dress and Eric's timeless Tuxedo…
Chrissy: I purchased my Augusta Jones wedding gown (my "something new") from Carriage House (just like my two older sisters) along with a lace belt with pearl details. My veil was my favorite part-I channeled Meghan Markle with a long lace veil that my two little nephews held up as I walked down the aisle. Eric wore a classic black tuxedo he purchased from Remon's Clothiers along with mother of pearl cuff links and black onyx studs.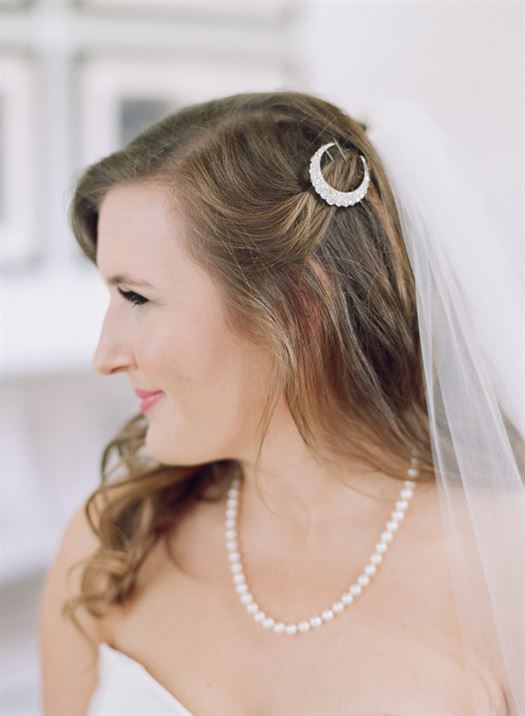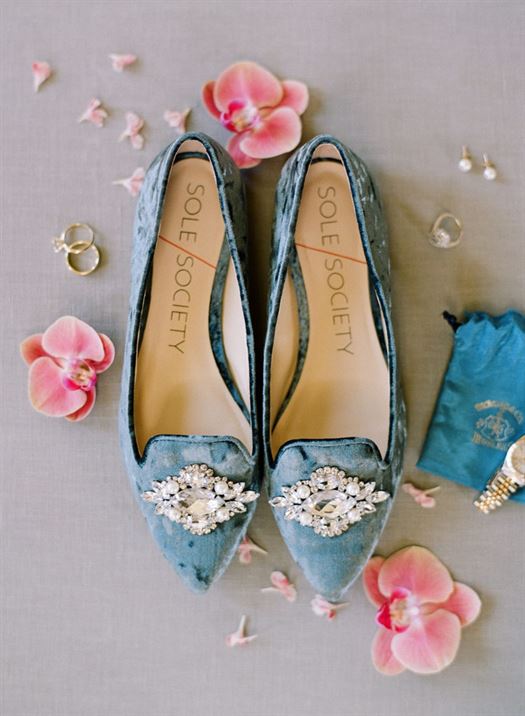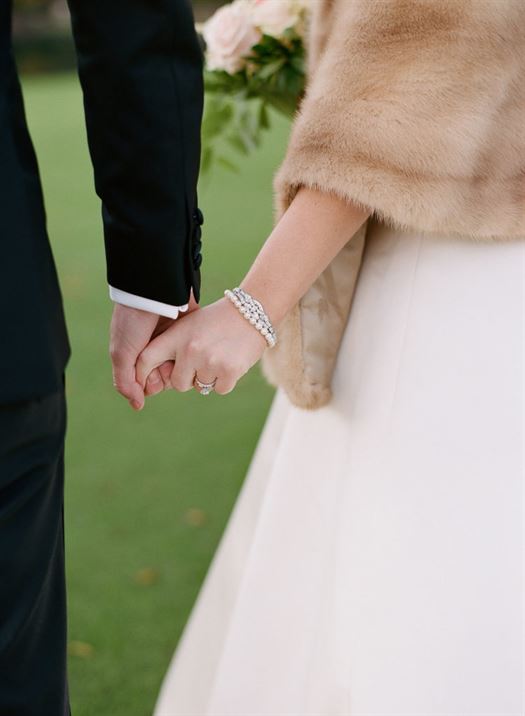 Bromberg's: Tell us about the jewelry and accessories you wore on your wedding day.
Chrissy: I wore the pearl necklace I received as a gift from my parents when I went to college along with my Bromberg's Mikimoto pearl studs (also given by my parents when I turned 18). I wore my Granny's diamond cocktail ring on my right hand and for my "something borrowed" along with my mother's diamond bracelet. For my "something old" Bromberg's Bench Jeweler Luke Johnsey converted a diamond crescent moon brooch that had belonged to my Granny into a hairpin. For "something blue" I wore my blue velvet flats. (No heels for this bride!) Eric wore his Tudor Black Bay Steel that I gave him the summer before. I wore my Rolex, which was purchased at Bromberg's 26 years earlier for my granny and passed down to me.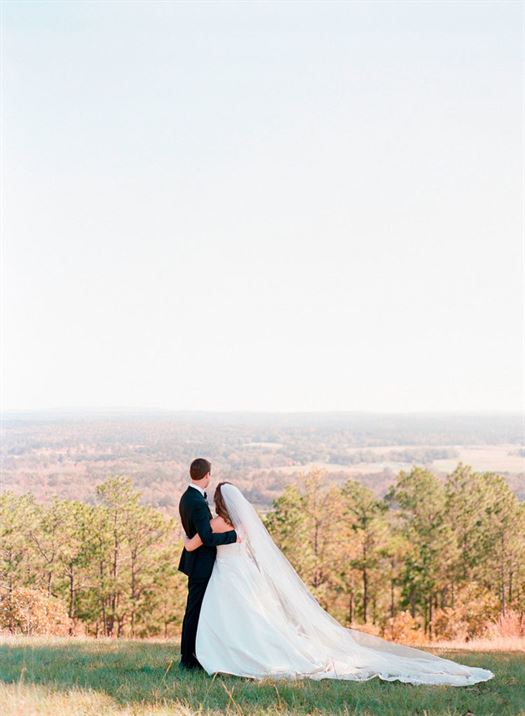 Bromberg's: What were the most memorable moments of the day?
Chrissy: Because of a time crunch with the early setting sun, we had to have a first look before the ceremony-something my superstitious self wasn't fully on board with. It turned out to be one of our favorite parts of the day, though. Eric was waiting for me on top of the mountain on Pursell Farms property as the car taking me up got stuck along the way. After changing vehicles and drivers, I finally made it to my groom, and we loved sharing some quiet moments together. We exchanged letters that we had written for each other that I know we will cherish forever. We soaked in the beautiful view and took our bridal portraits. It was such a nice break from the busy day and so special! Eric showed me my wedding band for the first time as we exchanged letters. My dear friend Katy Rose Uffinger, who I work with at the Summit, was instrumental in helping have it made without me even seeing it.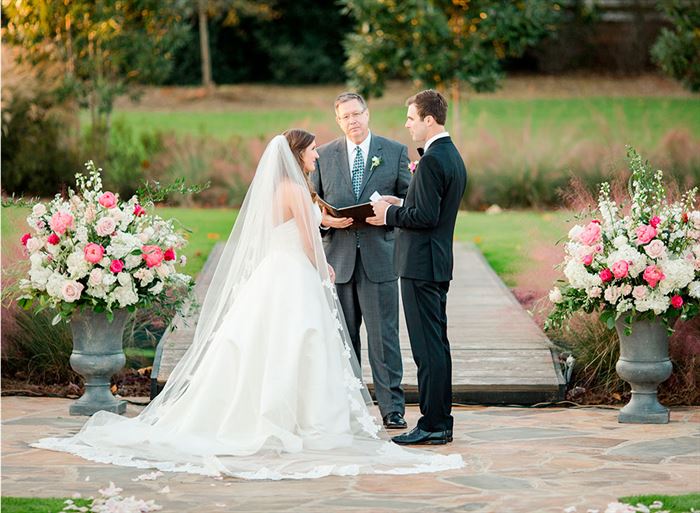 Chrissy: Our preacher, the Reverend Paul Wilson of Wadley Baptist Church, has known me since I was a little girl so our ceremony was deeply personal. We felt like it was completely tailored to our relationship. My favorite part was exchanging our vows, though; we wrote our own and read them to each other for the first time at the ceremony. It was perfect. Our readings were Ruth 1:16-17 and an excerpt from Shakespeare's Romeo and Juliet ("My bounty is as boundless as the sea, My love as deep; the more I give to thee, The more I have, for both are infinite"). We wanted both a traditional scripture and a literary reading since I have an English degree.
Chrissy: Another favorite moment was when my two sweet nephews held my veil as I walked down the aisle to music performed by The Auburn Quartet. Wynne (age 4) was so excited to be included and did a great job until he stepped on the veil halfway down and almost pulled it out of my hair! Campbell (age 2) had other plans and decided to make a beeline towards the lake instead of fulfilling his veil holding duties.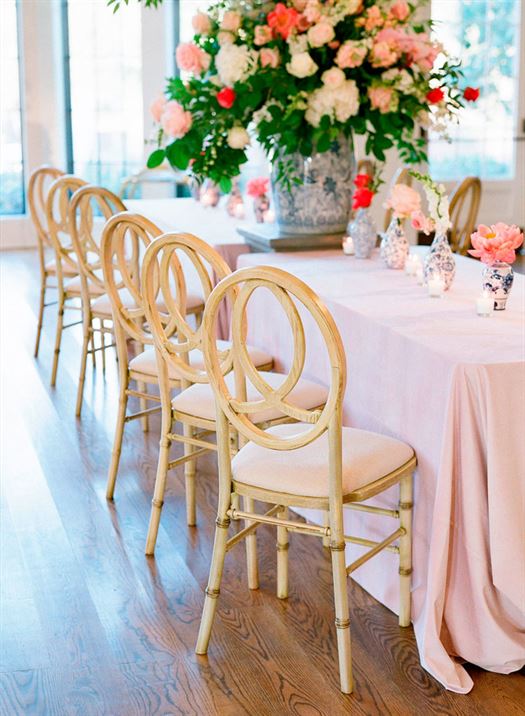 Bromberg's: Tell us about your reception. It looked so beautiful and like so much fun!
Chrissy: It was! Julie Bunkley and Courtney Wolf at Invision Events made sure every detail was expertly seen to, from the gorgeous flowers by Buffy Hargett Flowers to the photo booth by ShutterXpress that featured custom props to suit our interests: horses for my family farm, a chefs hat since Eric loves to cook, and a glitter backdrop for me along with our custom monogram on the photos. We had the Emerald Empire Band play at the reception and a classic vanilla wedding cake from Olexa's with a toppings bar that included fresh strawberries, chocolate shavings, lemon whipped cream, butter bourbon caramel, and several other offerings.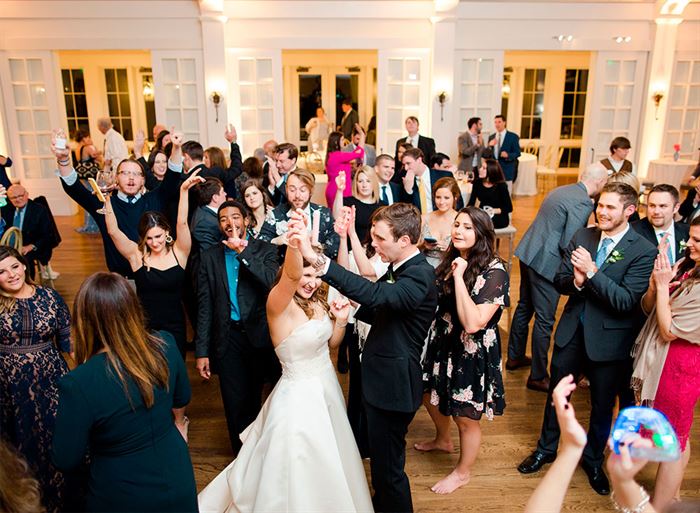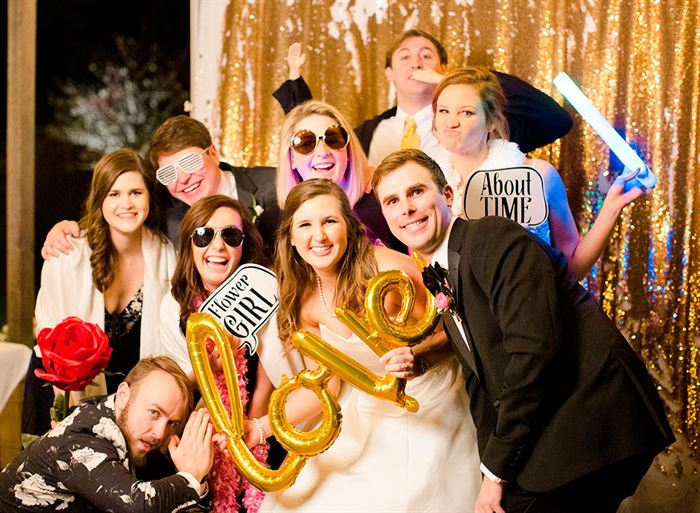 Bromberg's: Tell us about any special traditions upheld on your wedding day.
Chrissy: We buried a bottle of bourbon exactly a month before our wedding day at the venue to ensure we had good weather. It was rainy the day before, but Saturday was bright and sunshiny! We dug the bottle up afterward for Eric to enjoy with some of his groomsmen and guests.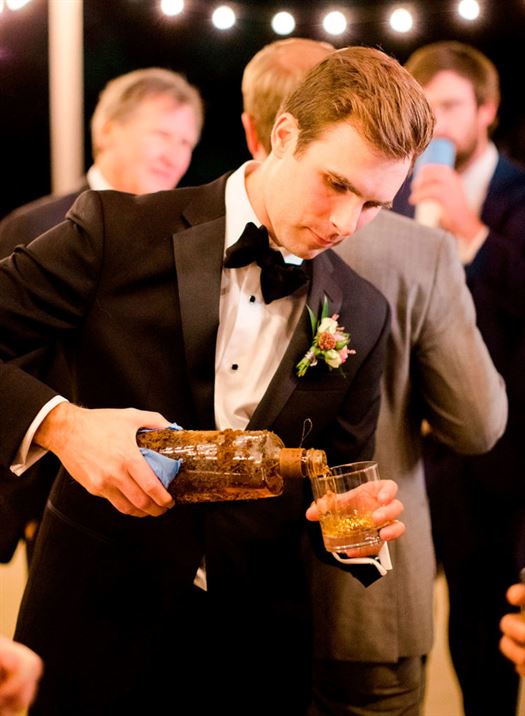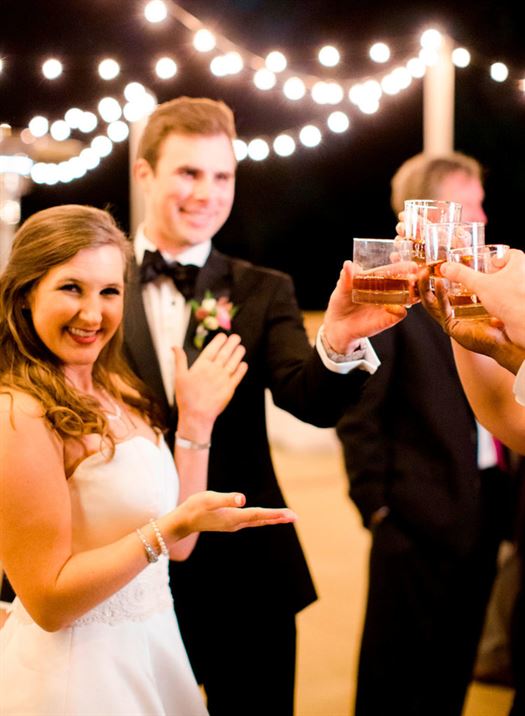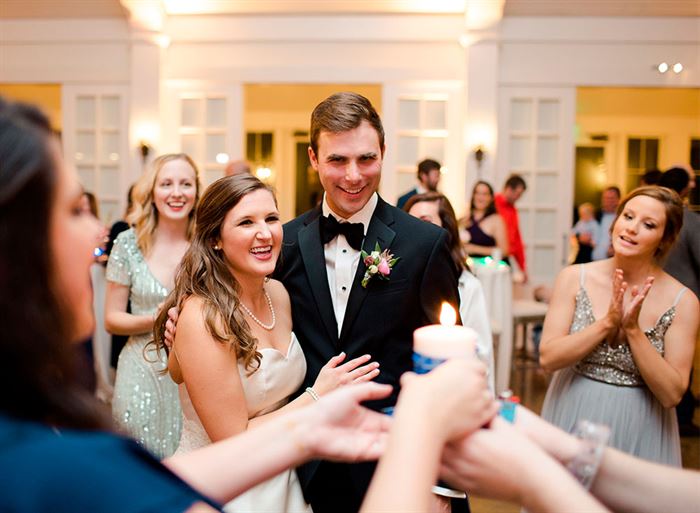 Chrissy: Also, my sorority sisters (Alpha Omicron Pi, Birmingham-Southern College) sang our sweetheart song and passed a candle around a circle with Eric and me in the middle. It was such a sweet moment to have a throwback to our college days and include Eric in one of our traditions since we didn't meet until after we graduated.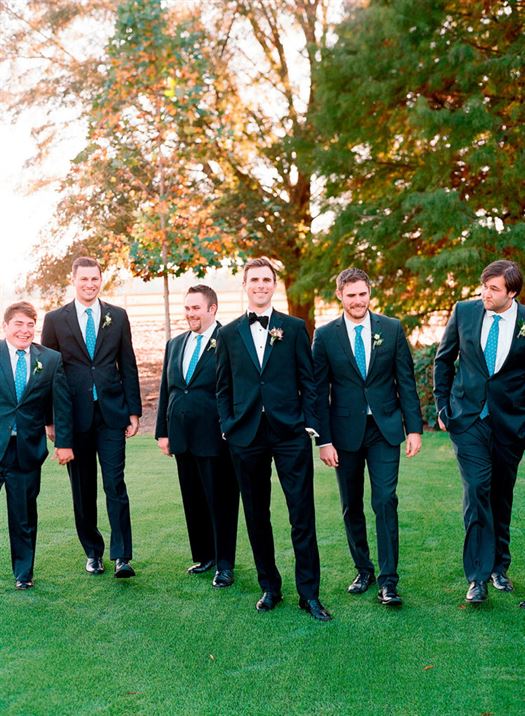 Bromberg's: What did the bridesmaids and groomsmen wear?
Chrissy: The bridesmaids picked out their own long blue dresses. I wanted them in a shade and shape of dress that they would be comfortable in, and I love mixing patterns, shades, and textures! I really l like the way everyone looked! It was a chilly day, so I gave them cream pashminas to have a little warmth during our outdoor ceremony. The groomsmen wore grey suits with blue ties.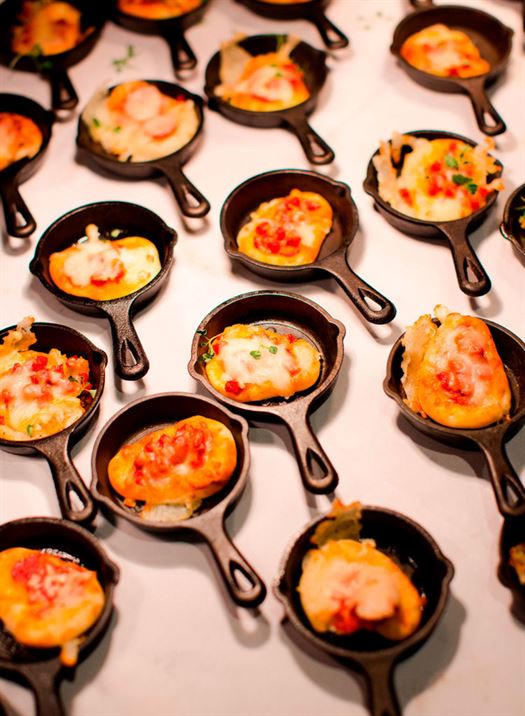 Bromberg's: Tell us a little about your Rehearsal Dinner.
Chrissy: Eric's family embraced my southern roots and hosted a barbecue at The Barn at Pursell Farms, where Eric's mother arranged the beautiful flower centerpieces herself. Speeches were given by Eric's father and two brothers, and rather than a traditional speech, my two sisters performed a cheer, complete with pom-poms and our old high school cheers were rewritten for the special occasion, instead of a customary Matron of Honor speech. Their motions needed some work, but the entertainment value was perfect! Eric is from a small city outside of Chicago, so his family had to travel a lot further than my family for the wedding. Despite the distance, he had many family members and friends make the trip for us, and it was so nice to have all of them together with my family and our Birmingham friends.
Bromberg's: Tell us about any especially cherished gifts you received and special moments leading up to your wedding.
Chrissy: Eric's parents have a tradition of giving champagne flutes to their sons as engagement gifts to use during the cake cutting at the reception. They gifted us Waterford Lismore flutes and my granddad (called Jim instead of a "grandfather" name) gave us a Waterford cake knife along with our silverware (Alencon Lace by Gorham). Also, my childhood best friend cross-stitched 1 Corinthians 13 and framed it for us. It was her first completed cross stitch, and it's beautiful! Another special gift was from one of Eric's cousins from out of town, who gave us a gift card to Highland's Bar & Grill after hearing us talk about how great it was in passing. To top everything off we were surprised by our "wedding logo" on the Pursell Farms welcome sign, and our planners gifted us with two pillows that we used at the reception and now in our home.
I'm OBSESSED with all our china…I had to register for formal (Herend Gwendolyn), casual (Wedgwood Vera Wang Venato Imperial), and Christmas (Juliska Country Estate), along with Waterford Lismore everything.
Herend Gwendolyn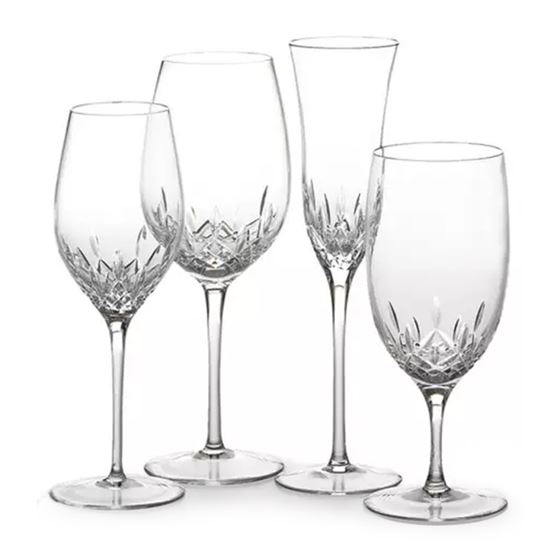 Waterford Lisore Essence
Wedgwood Vera Wang Venato Imperial
Juliska Country Estate Winter Frolic
My bridesmaids' luncheon was hosted by my two aunts and two family friends at The Arrington (at Pursell Farms). For this special occasion, our family friend baked a strawberry cake (my favorite), and we had a charm pull where everyone pulled a charm from underneath the cake that had a special meaning.
HAPPILY EVER AFTER…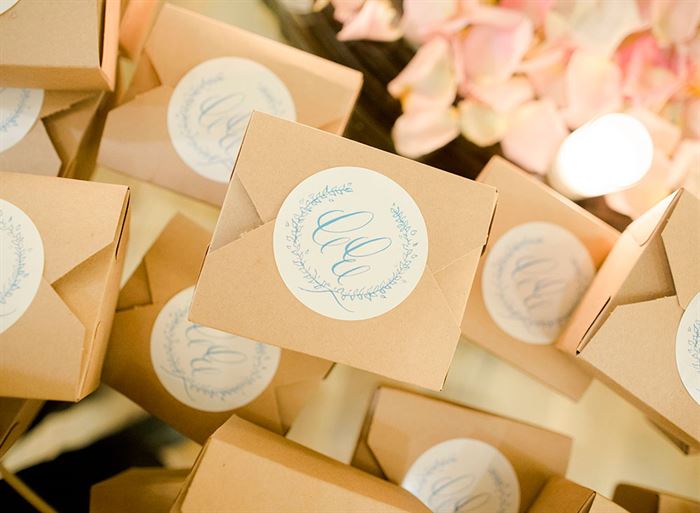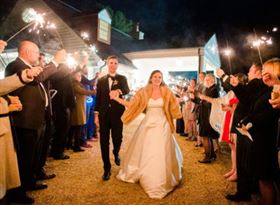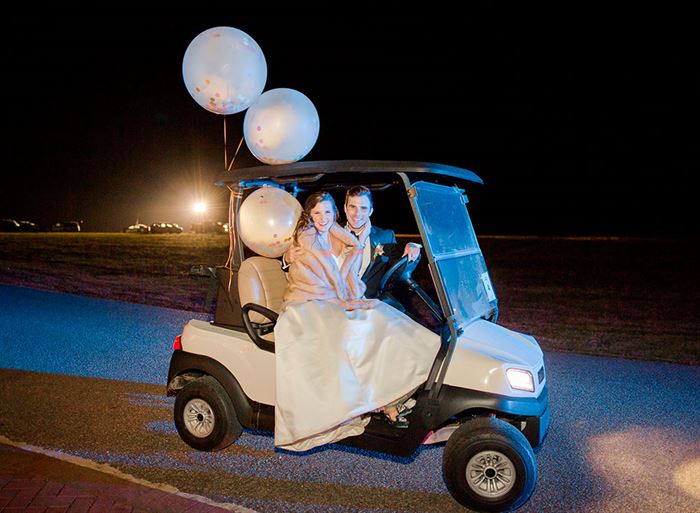 Bromberg's: After their reception, Chrissy and Eric exited to the light of sparklers and rode off in a golf cart decorated with balloons and confetti. They honeymooned at Caye Caulker, Belize where they went scuba diving and enjoyed the sunshine and fresh seafood. The happy couple lives in Forrest Park in Birmingham, Alabama, where Eric is a federal bank examiner, and Chrissy manages the repair department at Bromberg's Summit location and has her own calligraphy business.
MORE DETAILS…
Paper: Amberly Shelton Paperie
Caligraphy: All by the bride herself! Chrissy has a calligraphy business called Penned by Chrissy Cleveland. She created several Calligraphy Items including a mirror welcome sign, glass food labels, bridesmaids' gifts, cocktail napkins, "to go" cake boxes for guests, welcome bags, and reception cups.
Hair and Make-up: The Moore Agency