FEATURED WEDDING: CARRIE AND BRETT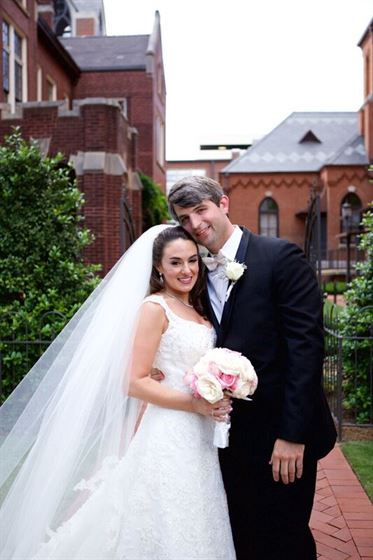 CARRIE JULIANO AND BRETT LANEY
CEREMONY: The Cathedral of St. Paul, Birmingham
RECEPTION: The Club
May 21, 2016
Photos: Arden Photography
"Accept the things to which fate binds you, and love the people with whom fate brings you together, but do so with all your heart." "" Marcus Aurelius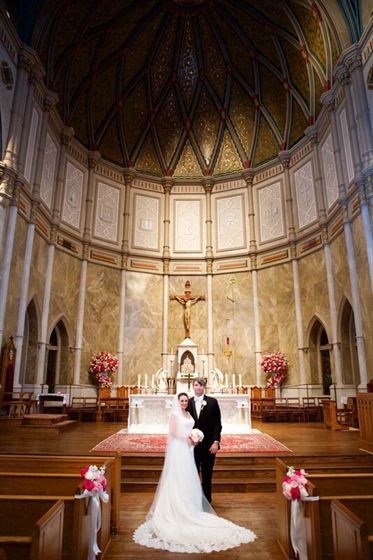 CARRIE AND BRETT… THEIR STORY
"Carrie, what do you think? That love will just walk up to you?" –A quote from Carrie's mom
#loveatfirstflight "¦ A very fitting wedding hashtag since Carrie Juliano and Brett Laney first met on a Southwest flight to Birmingham from Las Vegas. Carrie had been in Vegas with friends to see Britney Spears in concert and Brett was there for a friend's bachelor party weekend. When the plane boarded, there was an open seat beside Carrie and Brett took it. The two talked during the four hour flight home and discovered they had a lot in common along with several mutual friends since both had attended the University of Alabama. Brett even knew Carrie's brother and texted him to say he™d met her on the plane.
Carrie was living in Birmingham and Brett was in Tuscaloosa and they discussed getting together the next time Carrie was in Tuscaloosa since she was frequently there for work. Brett did not wait for that to happen. He called Carrie the next day to ask her to have lunch with him that week. Two days later, they had their first date- lunch at DePalma's Italian Restaurant in Tuscaloosa which she felt was very thoughtful, considering her family is Italian. Carrie says from the beginning, she knew Brett was different"¦ a real gentleman and a breath of fresh air. They soon made plans to meet up in Atlanta at the first Alabama football game of the season and after that, Carrie says, they were a couple and Brett says after that weekend, he knew he wanted to marry Carrie. Brett won over the whole family a week later when he came over for the Juliano's Labor Day cookout. Carrie and her mother laughed about how the pair met because her mother would often tell Carrie she needed to make more of an effort to look for a relationship because "a man is not going to just walk up and find you". Perhaps mother doesn™t always know best, especially when fate decides to intervene.
The couple began conversations about their future very early in the relationship; they both knew they were meant for one another and talked about marriage and a wedding. Carrie and Brett had been dating for eleven months and decided to plan a trip to New York. Little did Carrie know, Brett had a surprise planned for her while they were there.
THE PROPOSAL…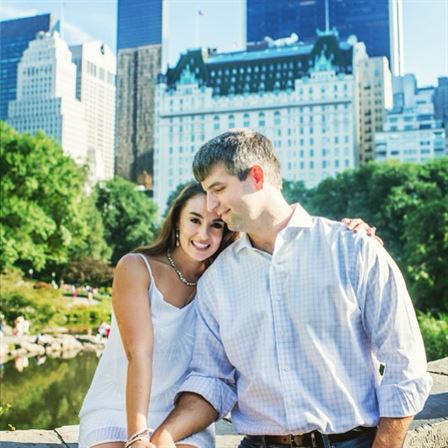 Brett invited Carrie's father to lunch to ask for Carrie's hand and to discuss his plan to propose in New York City. Brett knew that New York is very special to Carrie"¦ her father had often taken the family to New York over the years and she loved the city, the Yankees, and Central Park. Brett wanted to include all of her favorite things in his plan including a Yankees™ game and dinner at some of her favorite restaurants.
On the day of the proposal, Carrie thought she and Brett were going to meet a friend for a drink at the Boathouse at Central Park. The pair planned to walk through the park first; Carrie wanted Brett to see Bethesda Fountain with its famous Angel of the Waters statue on the way to their meeting. Carrie had no idea that Brett had a photographer hired to capture his proposal and when they were about an hour late leaving the hotel, Brett's plan started to become complicated. Carrie saw Brett continuously texting someone but she assumed he was texting his friend who was supposedly waiting for them at the Boathouse. In fact, Brett was texting the photographer with their revised location, the South end of the Mall at Central Park known as the Literary Walk. As soon as the photographer let Brett know she was ready, he dropped to one knee and asked Carrie "will you marry me?"
Carrie was so shocked, she didn™t immediately answer and Brett had to ask her again. Once she said yes, the couple and the photographer walked around Central Park and took photos along the way. The friend who was supposed to be at the Boathouse was waiting for them back at their hotel where they celebrated with Champagne.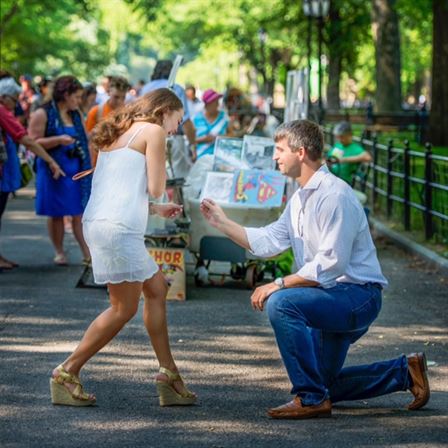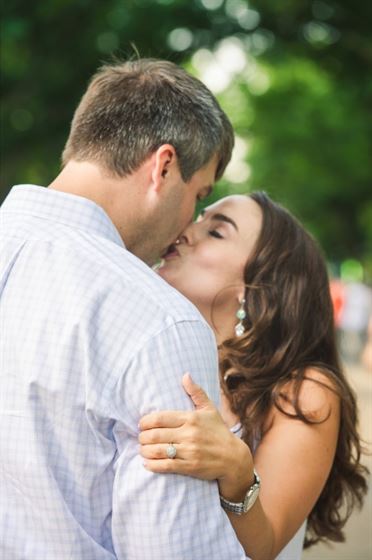 THE WEDDING"¦.
Upon their return home, Carrie's mother hosted an engagement party for them and of course, the conversation centered around the wedding. Since Carrie and Brett are big Alabama fans, they knew a wedding during football season would not work so a spring wedding date was set once the found the dates with the church and The Club.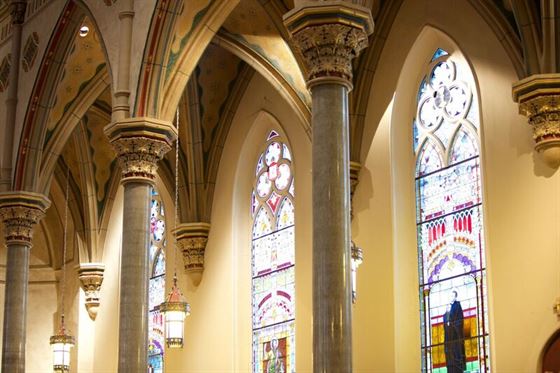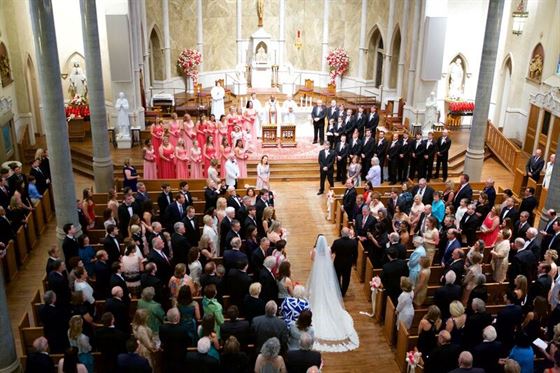 Carrie's mother designed much of the wedding and enlisted the help of Neillie Butler and the team at Mariee Ami Wedding Studio to help with the final execution the month before the wedding. Just like Shelby (played by Julia Roberts) in Steel Magnolias, Carrie wanted her signature color, pink, as the central design element. There were lots of laughs about "blush and bashful" according to Carrie.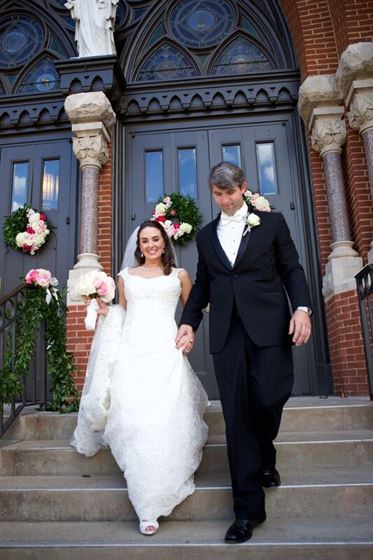 Carole Sullivan of Lagniappe Design in Crestline Village created an "out of this world" floral design for the wedding and reception featuring three different shades of pink: soft pink, rosy pink, and fuchsia. Gorgeous arrangements of roses in various shades of pink filled massive urns at the altar for the ceremony and reception.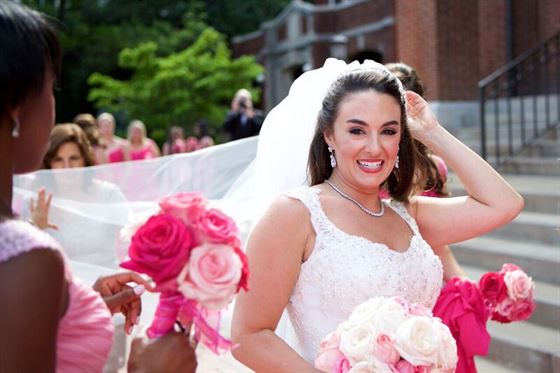 Carrie knew her gown the moment she saw it at Ivory and White Salon in Crestline. She tried on a few others just to be sure but the A-line, all-lace gown was exactly what she had envisioned. After custom beading was added, it was perfect. One of Carrie's favorite accessories was her custom Badgley Mischka wedding shoes, adorned with lace from her wedding gown and inscribed with her wedding date.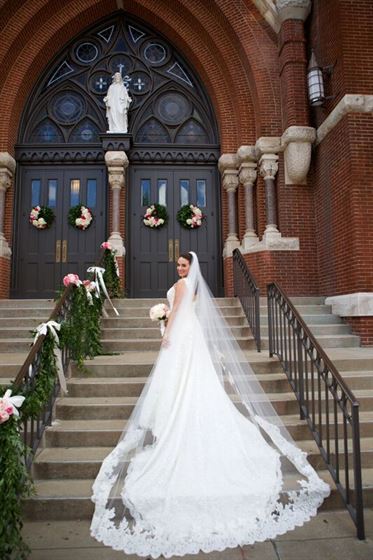 Carrie's Something Old, New, and Borrowed wedding traditions:
OLD: Her mother's rosary beads.
NEW: A pink tourmaline ring from Bromberg's– a gift from her father.
BORROWED: Her mother's diamond necklace.
BLUE: Her grandfather had given her mother a penny for her shoe on her wedding day that was in a blue holder and her mother passed it on to Carrie.
The bridesmaids wore gowns from Bridesmaids, Inc. in Homewood in three shades of pink.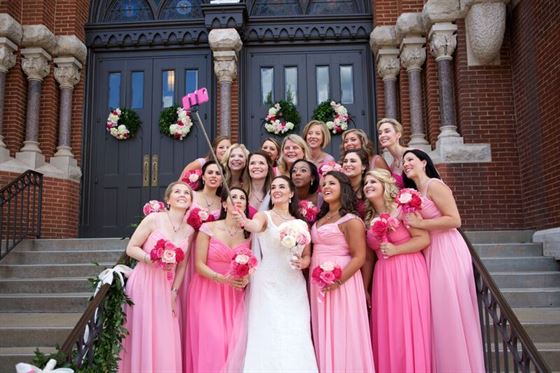 The men wore classic black tuxedos with a white tie from Baldone Tailoring Company, owned by Carrie's uncle.
Janet Allen created the couple's wedding cake, inspired by Jessica Simpson and Nick Lachey's wedding cake. Carrie was thrilled when she saw the spectacular seven-tier cake with hundreds of handcrafted pink spun sugar roses. The cake topper was the same one her parents had used on their wedding cake with the lace on the bride's gown changed to the actual lace from Carrie's gown.
Another Juliano family tradition is Carrie's father's pasta sauce. The Club's culinary team created his recipe for the pasta bar, a huge hit with family and guests.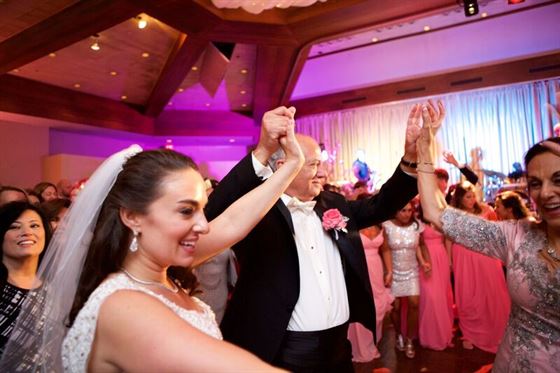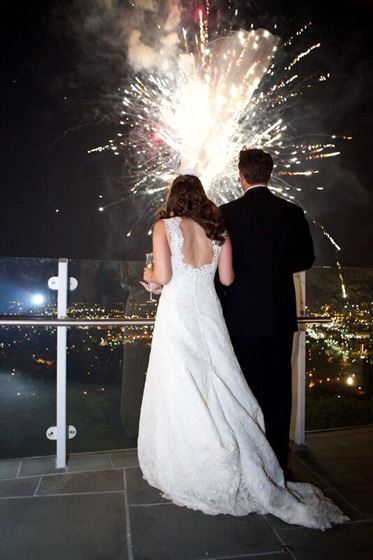 The couple heard Platinum Band from Atlanta at Carrie's brother's wedding and remembered how much fun they were. The couple's first dance song was Ray Lamontagne's You Are The Best Thing; they wanted something not too slow so they could show off the dance lessons they took before the wedding. Carrie is a dancer so Brett was a bit nervous about their dance and bid on the lessons at a Junior League benefit so they could practice together before the wedding. The band kept the dance floor full all night Carrie said they had so much fun they did not want to leave. After a fantastic fireworks display, the couple made their exit in a vintage limousine.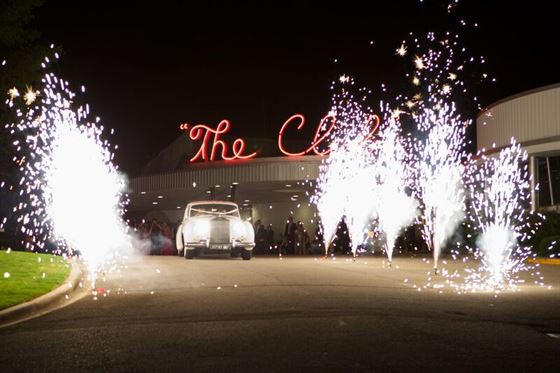 After their honeymoon trip to Grand Velas in Puerto Vallarta, Mexico, Carrie and Brett are back home and enjoying their many beautiful wedding gifts from Bromberg's. Carrie said registering at Bromberg's was so special because she™d grown up with Bromberg's; special gifts and presents always came from Bromberg's. Even Brett enjoyed going into the store for their gift registry and he purchased his groomsmen gifts there; (ICYMI- Bromberg's offers a discount and gift wrapping for attendant gifts for our registered couples.) When they struggled to find the perfect china, Janice set up a display for them which made the decision easier.
Fine China: Bernardaud Eden Platinum
Casual China: Skyros Legado
Sterling: Towle King Richard
Formal Crystal: Waterford Kelsey
Congratulations, Carrie and Brett! The Bromberg family and our entire staff wishes you a lifetime of love and happiness together.