FEATURED WEDDING: CAROLYNE NIX AND ALEXANDER KONTOMITRAS

CAROLYNE NIX & ALEXANDER KONTOMITRAS
MARRIED: AUGUST 6, 2016
CEREMONY: ST. MARY'S ON THE HIGHLANDS EPISCOPAL CHURCH
RECEPTION: THE COUNTRY CLUB OF BIRMINGHAM
PHOTOGRAPHY: KELLEN JACOB PHOTOGRAPHY
Love is patient, love is kind. It does not envy, it does not boast, it is not proud. It does not dishonor others, it is not self-seeking, it is not easily angered, it keeps no record of wrongs. Love does not delight in evil but rejoices with the truth. It always protects, always trusts, always hopes, always perseveres"¦ And now these three remain: faith, hope and love. But the greatest of these is love.
When I was a child, I talked like a child, I thought like a child, I reasoned like a child. When I became a man, I put the ways of childhood behind me. For now we see only a reflection as in a mirror; then we shall see face to face. Now I know in part; then I shall know fully, even as I am fully known. – 1 Corinthians 13:4 – 13
(Read during the wedding ceremony of Carolyne Nix to Alexander Kontomitras.)
CAROLYNE & ALEXANDER…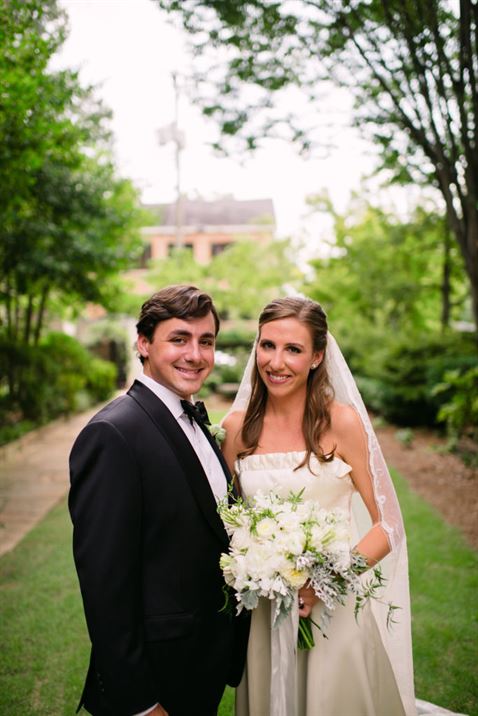 Alexander Kontomitras needed a date for his high school senior prom when a mutual friend encouraged him to ask Carolyne Nix as his date. A few days later, when Alexander called Carolyne to ask her to the prom, she accepted but immediately ran to tell her mother she was going to prom and had no idea what her date looked like! Before prom, Alexander and Carolyne went out a few times with friends to get to know each other. That was in 2010 and they have been together ever since.
Carolyne and Alexander experienced a lot together: high school days at Mountain Brook, college days at the University of Alabama, first jobs after college, and even a year where they lived in different cities. Everyone knew they would get married one day. On August 6th, 2016, Carolyne, Alexander, and their families came together to celebrate their long-anticipated marriage"¦ a wedding with family and faith as the foundation for their future. Here's their wedding story.
THE PROPOSAL…
Fast forward six years to March 2016"¦ around Easter. Carolyne and Alexander had been discussing the possibility she might move in with some college friends and he encouraged her to wait before making her decision. Carolyne felt she was in a holding pattern and was a bit frustrated. Knowing this, Alexander decided they should take a trip down to the lake the next day"¦ with an engagement ring in his pocket.
Lake Martin has always been a special place for Carolyne. Her family had a home there and while they were dating, his family began building a home there as well. During the building process, the couple would often jump in the car and drive down; they loved to hang out on the pier and talk.
Alexander had been waiting for the right moment to propose and had spoken to Carolyne's father to ask for her hand in marriage. Carolyne's mother heard about the anticipated proposal through the Mountain Brook grapevine and got confirmation from Carolyne's father, who swore her to secrecy so Carolyne would not find out. The two sets of parents began to plan an engagement party to happen the evening of the proposal.
After Alexander popped the question, the couple Facetimed with their parents and their friends to share the news and rushed back home to the party; all their family and friends were there to celebrate as the wedding planning began.
THE BIG DAY… FAITH & FAMILY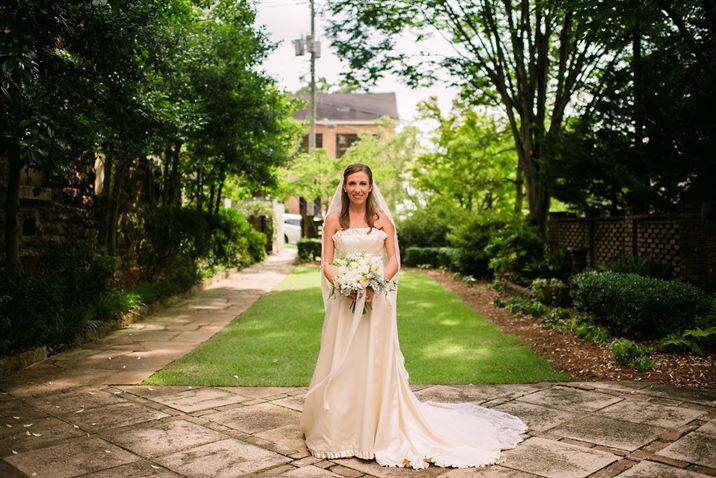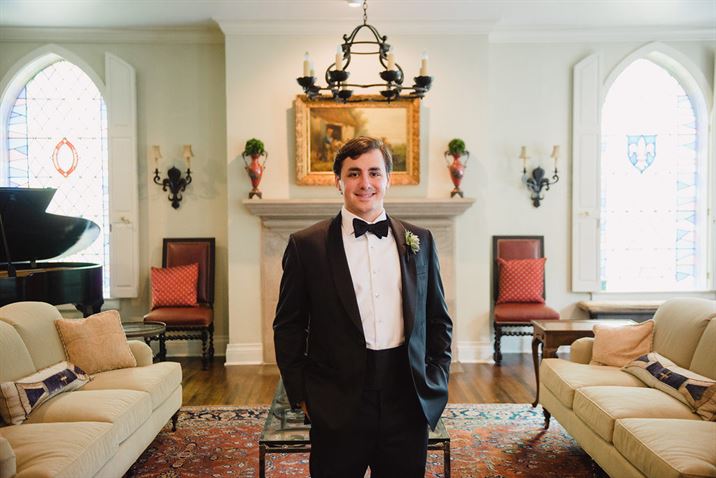 Neither Carolyne nor Alexander wanted a long engagement and they also knew they would not get married in the fall (Alexander actively follows Alabama football) so they decided to take the first date both the church and the club were available. Since Carolyne's mother works with Carole Sullivan at Lagniappe Designs, she knows quite a bit about weddings and took the lead on the planning. They hired Mariee Ami to plan the day and began to make decisions. Carolyne wanted an intimate, joyful day centered on her faith and the number one value in her life, Jesus. The wedding party was comprised of family members and included the couple's young nieces and nephews.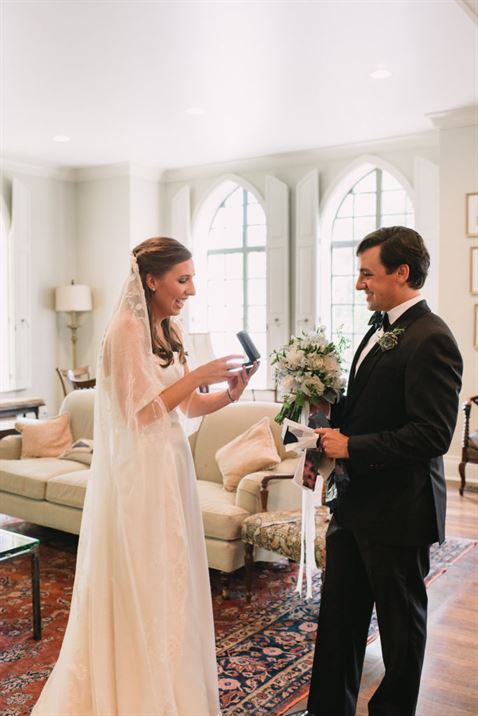 Before the wedding, Carolyne and Alexander read letters from one to the other and opened their gifts. Alexander gave Carolyne a classic "diamonds-by-the-inch" necklace from Bromberg's and she gave him a new grill, just in time for football season.
Carolyne could not wait to wear her wedding gown, a family heirloom that has been passed down and worn by brides in her family for years. Aged to a soft, creamy ivory, the gown features a delicate ruffle around the strapless neckline and hem. A cathedral length veil- a treasured heirloom borrowed from a friend-was paired with the gown for the ceremony. It was removed for the reception and replaced with fresh orchids.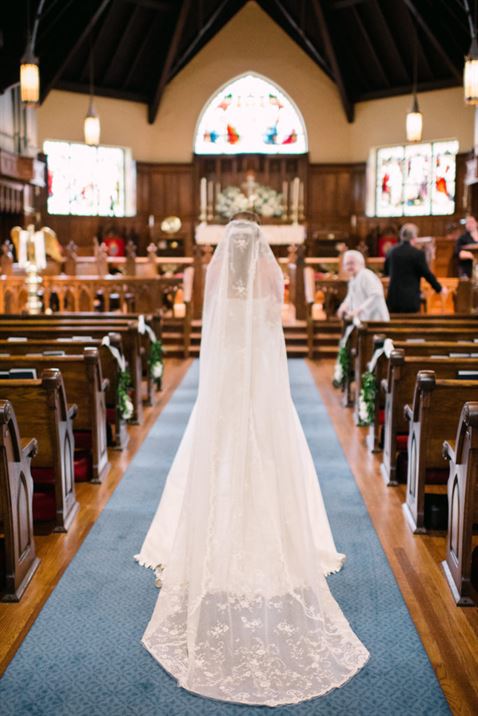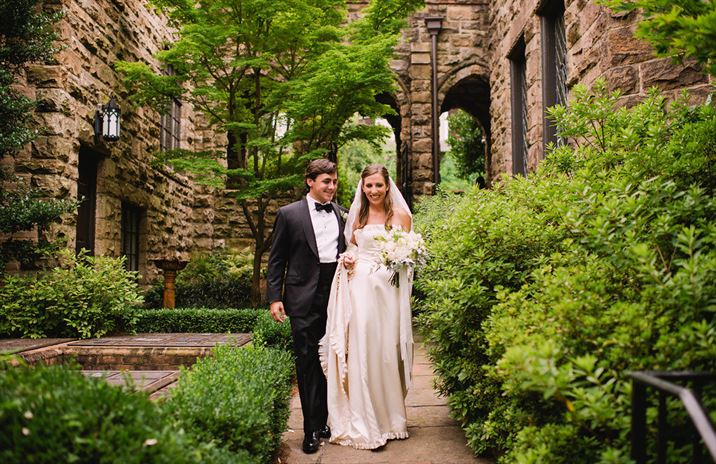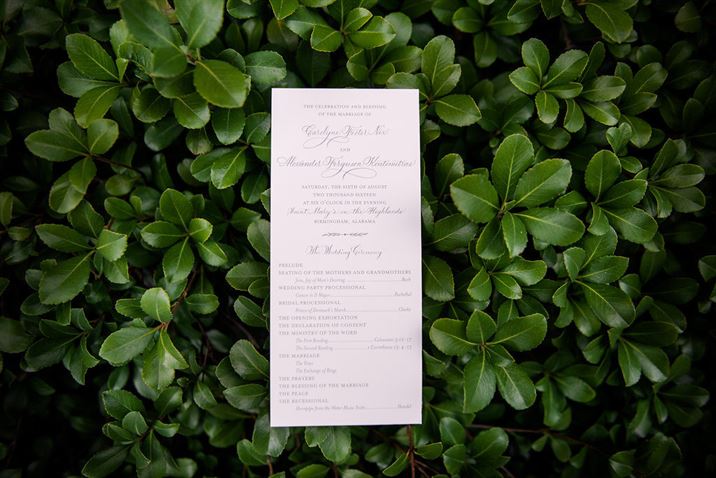 Carolyne's mother, Lee Nix, and Lagniappe designed the flowers; all white flowers and lush garlands of greenery were used for the church. For the reception, summer colors of orange and pink were used with the greenery. The wedding cake was created by Magic Muffins. The invitations were one of Carolyne's favorite details; the calligraphy was by Jan Pruitt.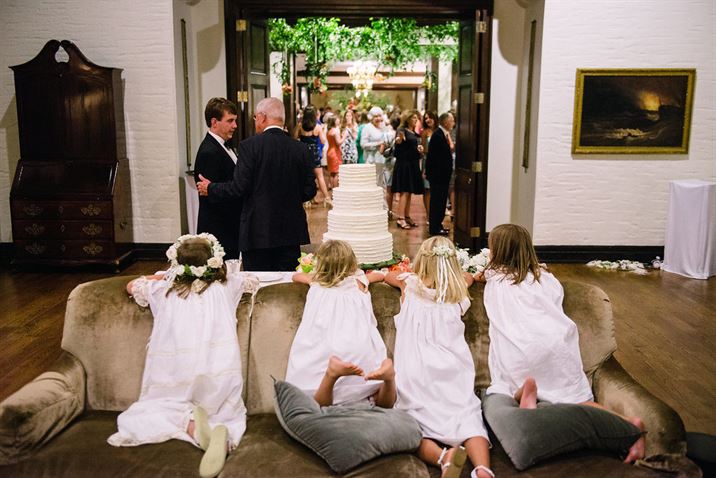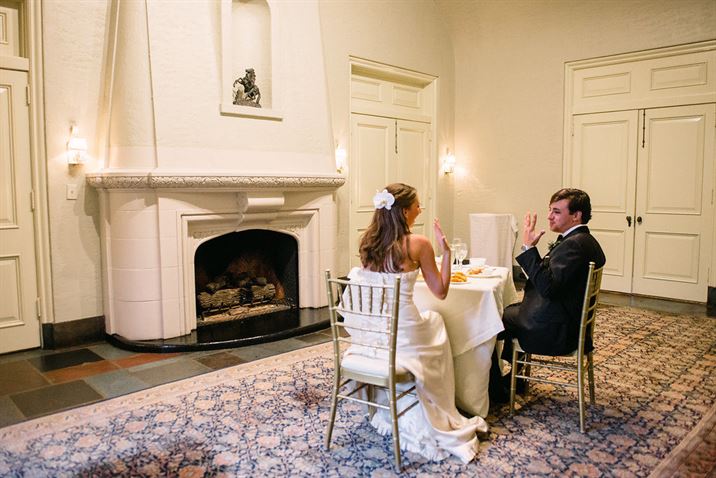 For their first dance, Carolyne and Alexander chose If I Could Build My World Around You by Marvin Gaye and Tammy Terrell. Carolyne's father loves a good surprise. Since she's always been called "C", her father surprised Carolyne with giant initial "C" letters he had made for the guests to hold up as they danced to Vann Morrison's Tupelo Honey.

CAROLYNE'S "SOMETHING" TRADITIONS
OLD: Her gown. Worn by generations of brides in her family, Carolyne was the fourth cousin to wear it with many more waiting their turn. She also wore her great aunt Kaki's bracelet which had been passed down to her mother.
NEW: Her wedding shoes.
BORROWED: Her veil- a family heirloom on loan from her friend Penny Page.
BLUE: Her garter.

After a honeymoon trip to Hermitage Bay in Antiqua, the couple came home and exchanged their many Bromberg's gift letters. Carolyne says they have loved using their china and everyday Skyros Eternity crystal- especially during their first Christmas holidays as a married couple.
CAROLYNE & ALEXANDER'S BROMBERG'S GIFT REGISTRY
Carolyne & Alexander have loved using their wedding gifts from their Bromberg's Gift Registry, especially during their first Christmas holiday season as a married couple. Their wedding registry includes:
FINE CHINA: HEREND / GWENDOLYN
STERLING FLATWARE: GORHAM / STRASBOURG
CASUAL CHINA: VIETRI / FORMA CLOUD
CASUAL GLASSWARE: NAPA HOME & GARDEN / PORTLAND AND SKYROS / ETERNITY
Congratulations, Carolyne and Alexander. The Bromberg family and staff wish you a lifetime of happiness, love, and joy.