Featured Wedding: Caroline and Brennan
OUR FEATURED WEDDING:
CAROLINE GIVEN & BRENNAN PECK
May 13, 2017
Ceremony: Church in the Pines, Lake Martin, Alabama
Reception: Willow Point Country Club, Lake Martin, Alabama
Photos: Holland Williams Photography
"When I saw you, I fell in love and you smiled because you knew." Arrigo Boito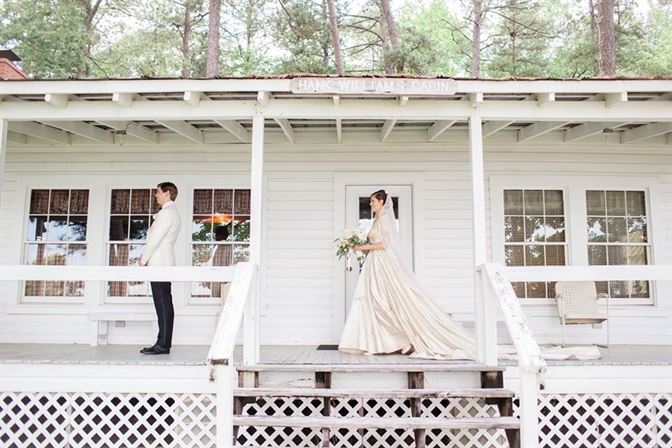 CAROLINE AND BRENNAN"¦
It is highly unlikely you will marry your 11th grade boyfriend"¦ a boy you met in the 7th grade. It is even more unlikely you and your 11th grade boyfriend will stay together through college while attending schools nine hours apart. Caroline Given and Brennan Peck may have been young when they met and started dating but the couple just knew they were to be together and never even considered anything else. Here is their wedding story"¦
Brennan's offer to go to homecoming together in the 11th grade resulted in a first date for the pair. They tried to go to Brio but found it too crowded. When Brennan called a friend for advice on where to take Caroline, he suggested Fleming's. Shortly after they arrived, five guys showed up on their date. They went back to Brio, so they might get to know each other better "" without an entourage.
Caroline found Brennan smart and genuine; a gentleman very close to his family and with a close-knit group of friends that Caroline liked. The two instantly became inseparable. Even when the pair made their college choices- Brennan going to Washington and Lee in Lexington, Virginia and Caroline to Auburn University, (a mere 583 miles and nine hours apart) they never even considered ending the relationship and decided to put in the commitment to making it work.
Caroline and Brennan spent their holidays together and spent a lot of time on Skype calls and driving back and forth. Brennan's best friends went to Auburn so he came down to Auburn quite often. Caroline's brother went to W&L so she often made the trip there with her family. Perhaps it was not ideal, but it worked and the years flew by. Indeed, by their junior year, Caroline and Brennan knew there would be a marriage in their future.
Summers were never together. Caroline studied abroad and they always seemed to find summer jobs in different cities. After graduation, since they had not lived in the same place since high school, they decided both would move to Birmingham and establish themselves before getting engaged. A year and a half later and after 7 years of dating, Brennan popped the question. Nine months later, they were married.
THE PROPOSAL"¦
Brennan had a family diamond he wanted to present to Caroline when he proposed. The ring, set in yellow gold, was passed down from Brennan's great-grandmother, to his grandmother, to his mother. Brennan had Bromberg's restore the ring so that he could give it to Caroline- who had always wanted a gold setting for her engagement ring but had never mentioned it to Brennan.
The proposal involved several people and working parts. Brennan owns an online men's custom clothier, Hartbrook Custom Clothier, which also happens to specialize in men's wedding apparel. Brennan knew Caroline wanted him to wear a white dinner jacket for their wedding so he had one made for himself. He also happened to make one for client George Holman. George's wife Val is Caroline's supervisor at work. Caroline's co-workers even tricked her into getting her nails done the day before the Brennan proposed.
Brennan told Caroline he was planning a photo shoot for his collection and asked Caroline to see if Val would loan George's jacket for the shoot. Of course, Val already knew about the planned proposal and agreed to bring the jacket to work. Caroline took the jacket to Brennan at the studio where the photo shoot was taking place. It was raining outside so Brennan asked her if she wanted to stay for a bit. The photographer, a family friend, encouraged Caroline to help Brennan get ready. Caroline adjusted Brennan's tie and when he hugged her, Caroline felt him become suddenly nervous.
Brennan confessed his secret, telling his future bride that it was not George's dinner jacket he was wearing at all-it was the jacket he made for their wedding day. With that declaration, Brennan got down on one knee and asked Caroline to be his wife.
After Caroline said yes, they went to Brennan's parents™ home where they celebrated with family and friends. Naturally, wedding plans began almost instantly.
THE WEDDING"¦.
After dating Brennan for 7 years, Caroline had some solid ideas about what she wanted for her wedding day. Caroline knew she wanted to wear the same wedding gown her mother, Roxanne Raley Given, had worn when she married on August 2, 1986. It is a gown with quite a history also worn on April 21, 1954 by Caroline's grandmother, Ellen Pratt Wilkerson Given, who borrowed it from her best friend Katherine "Tink" Springs Milnor. Tink originally wore it for her wedding on June 15, 1951.
As the story goes, when she got engaged, Tink's parents took her to New York to shop for her gown. They saw the Italian silk satin and French Point de Lyon lace gown at the legendary Jay Thorpe European atelier in Midtown Manhattan but were told it was for an upcoming runway show and not for sale. After seeing her in the gown, Tink's mother was not willing to leave without it and after seeing his daughter in the gown, neither was her father. The rest, as they say, is history. Many brides have since worn the gown and there was a display at the wedding featuring photographs of each bride wearing Tink's legendary gown.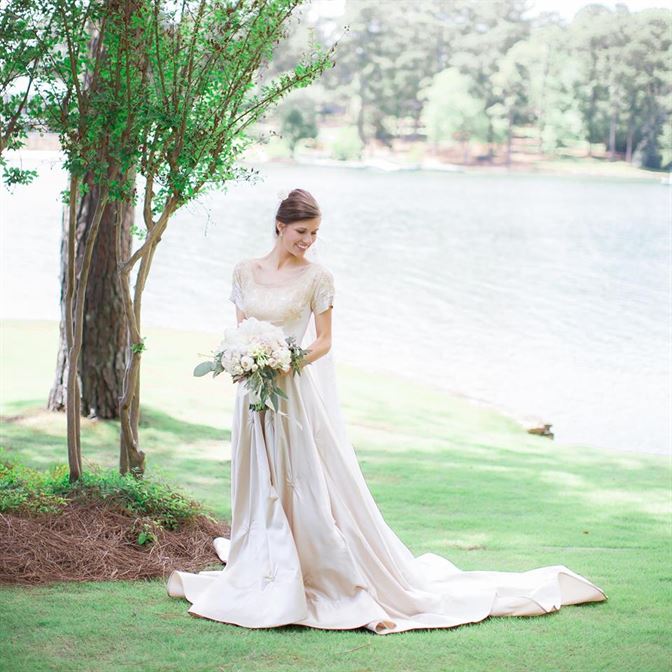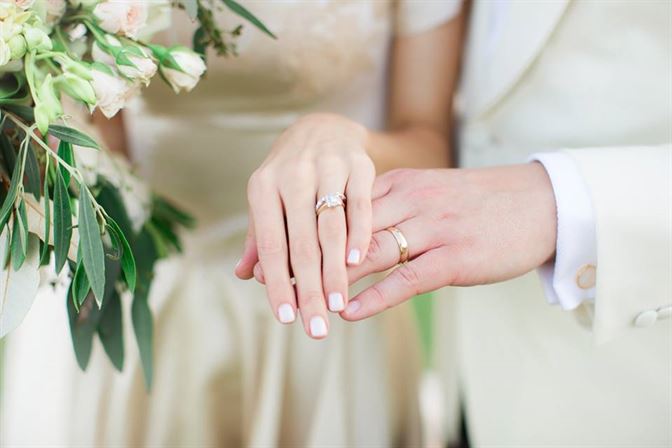 Brennan wore the white dinner jacket he designed for the wedding and created jackets for his groomsmen.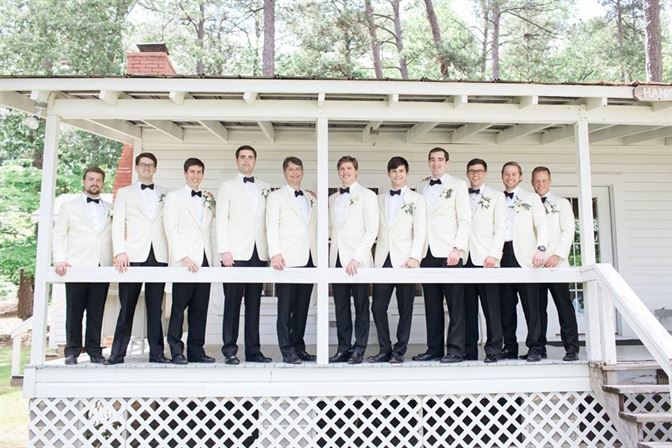 Bridesmaids wore Jenny Yoo gowns by Bella Bridesmaid in Homewood.
The music for the wedding was very intentional. They used several pieces her parents had also used for the ceremony and four longtime friends of the bride, John Canada, Benjamin Dow, David Mandt and Skipper Stradtman sang a Cappella.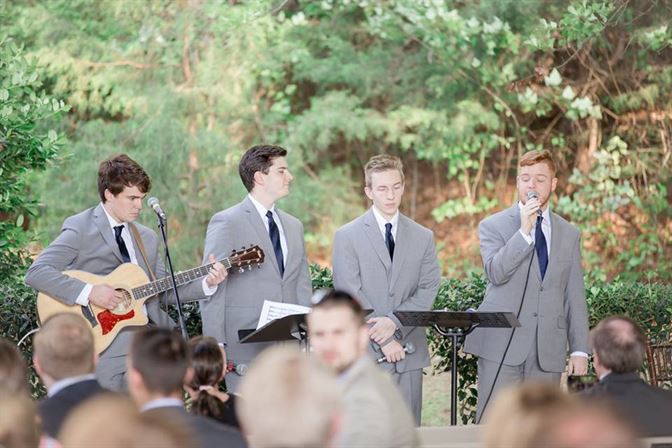 Cakes were created by Magic Muffins in Cahaba Heights. The wedding cake was 6 tiers made of 6 different flavors: vanilla, chocolate, red velvet, strawberry, peanut butter, and lemon. The icing was designed to replicate the lace on Caroline's Brussels lace veil.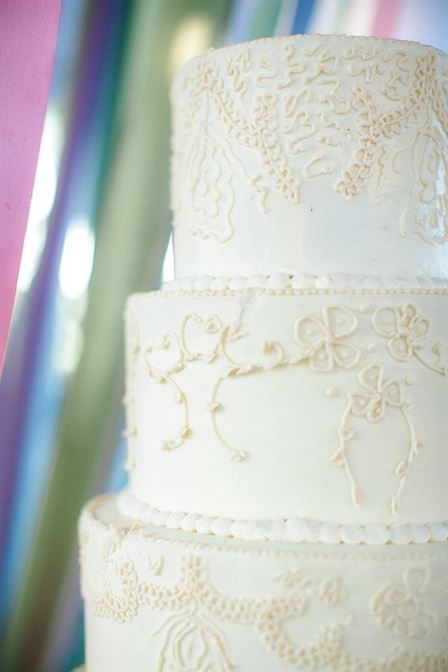 Rather than a traditional chocolate groom's cake, Brennan opted for 3 different types of pie- served a la mode along with handwritten copies of the family recipes.
The bride and groom toasted each other and sipped Champagne from a sterling wedding cup that was also used at several family weddings. Each couple that used the loving cup for their wedding had their initials and wedding dates engraved on it.
Flowers were by Sarah Peinhardt Productions who also helped Caroline and her mother with the planning.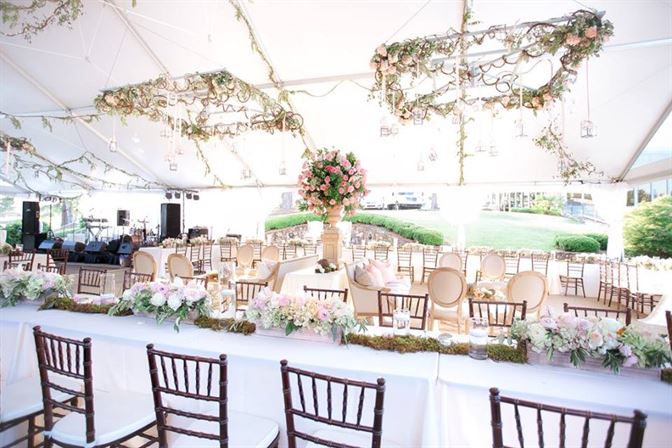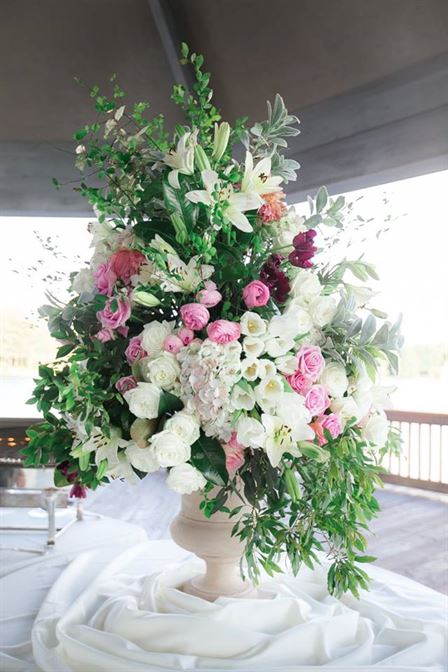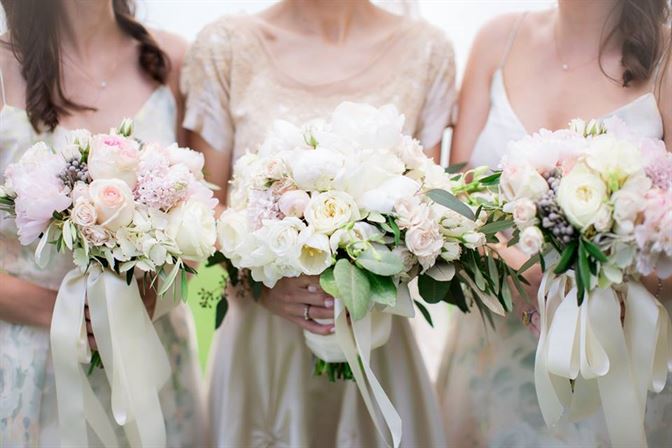 Caroline recalls two of her favorite moments of the day-one was when family and their bridal party surrounded the couple and laid hands on them, covering them in prayer.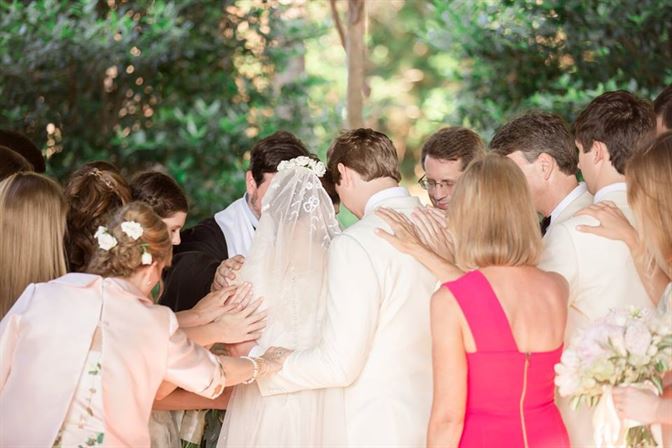 The other was when the band played Sweet Caroline at the reception and guests lifted them up onto the stage while everyone sang.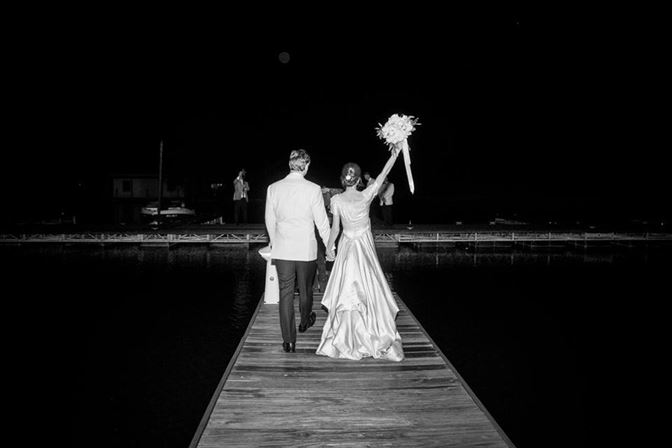 Caroline's "Something Old" wedding traditions included:
OLD: Brennan's great-grandmother's ring was the engagement ring
NEW: Diamond earrings from the groom and his parents
BORROWED: Her wedding gown and veil, Caroline wore a family heirloom Brussels lace veil which more than 20 brides have worn previously.
BLUE: Her garter, made of family lace and tatting and handmade crochet.
CAROLINE & BRENNAN™S BROMBERG™S GIFT REGISTRY INCLUDES:
FORMAL CHINA: Lenox Eternal, Lenox Tuxedo, and Lenox Westchester
CASUAL CHINA: Earthborn Botanicals
FORMAL STEMWARE: Waterford Lismore
CASUAL STEMWARE: Napa Home & Garden Portland
STERLING FLATWARE: Gorham Strasbourg
STAINLESS FLATWARE: Ricci Argentieri Modigliani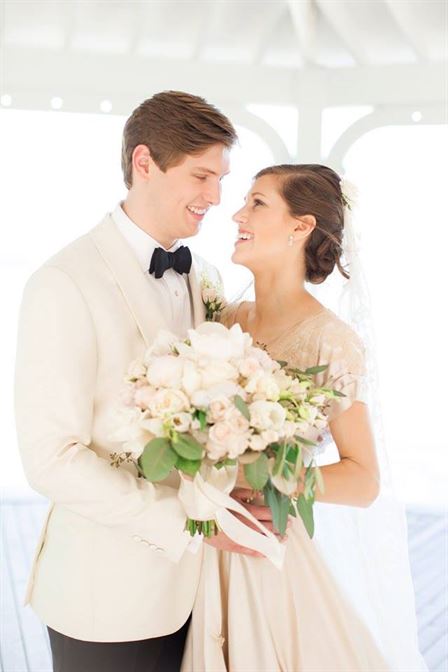 Congratulations, Caroline and Brennan! The Bromberg family and staff wishes you a lifetime of happiness together.