Featured Wedding: Callie and Malcolm
FEATURED WEDDING
CALLIE MCCRANEY & MALCOLM TAYLOR

May 27, 2017
Ceremony: Cathedral Church of the Advent
Reception: Mountain Brook Country Club
Photos: Margaret Hiden
CALLIE AND MALCOLM"¦
Around 2008, Callie McCraney met Malcolm Taylor in a 11th grade AP History class at Mountain Brook High School. By the 12th grade, they were dating. Callie says she knew from the beginning Malcolm was special- even telling her best friend he was the kind of guy she wanted to marry. She also told Malcolm when they first met that she wanted to marry him one day so they could have red-headed children together.
When time came to go off to college, they went their separate ways but stayed together. Callie went to the University of Alabama and Malcolm went to Sewanee. They dated long distance between Tuscaloosa and Sewanee for four years going back and forth when they could and meeting back home in Birmingham for holidays and other special occasions.
Callie says she knew they would ultimately get engaged; she was just waiting for Malcolm to catch up. They dated for 8 years before Malcolm popped the question.

THE PROPOSAL"¦
In the summer of 2011, Callie saw a ring she loved and mentioned to Malcolm. Years later, when Malcolm was preparing to propose, he went back and bought the ring and had it about a month before he proposed to Callie. He told his parents about the proposal but knowing that Callie had a way of finding out surprises, Malcolm kept the rest of the details to himself, even waiting until just 2 hours before he proposed to ask her father for her hand, telling him that he intended to ask her "soon". Two hours later, on October 14, 2016, Malcom asked Callie to be his wife.
THE WEDDING"¦
With Malcom's residency beginning that next year, they only had a small window of time to have the wedding. Once they found a day that worked for both the church and the club, the date was set. They did not enlist the help of a planner; Callie and her mother did the planning themselves and Malcolm helped with many of the details, planning the details of the ceremony himself. The ceremony included a choir and full Communion.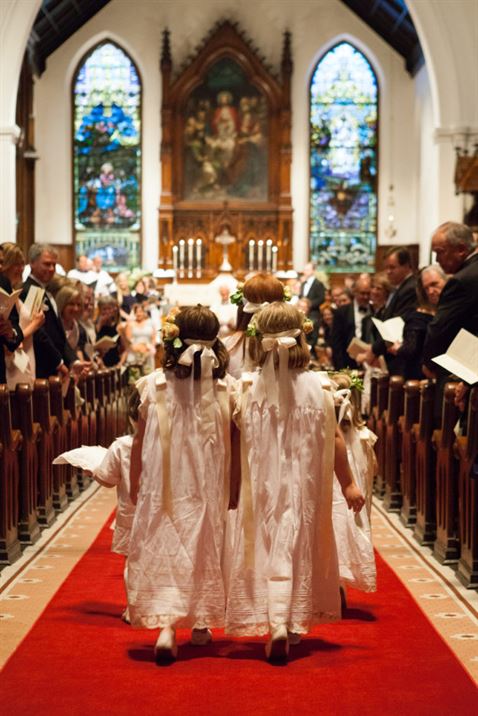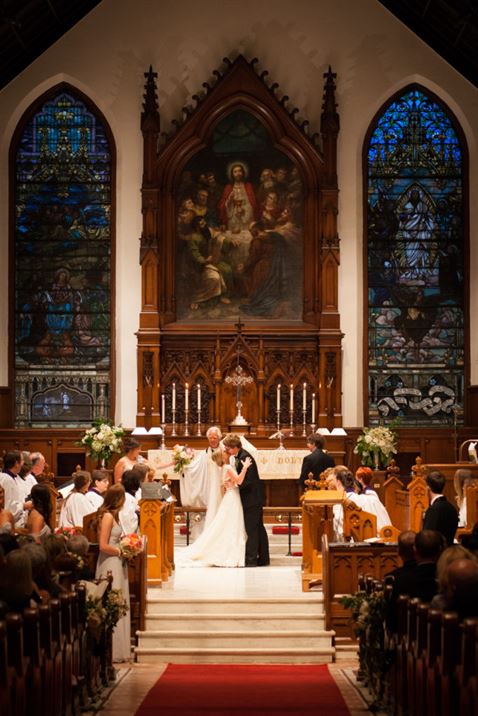 Callie found her Martina Liana bridal gown at Ivory and White Boutique in Crestline Village. A custom lace bodice made it perfect. She paired the gown with an heirloom veil which had been worn by brides from her father's side of the family for decades.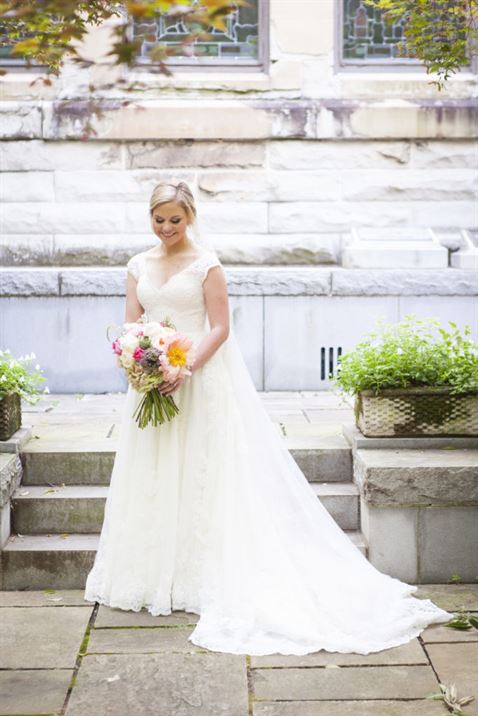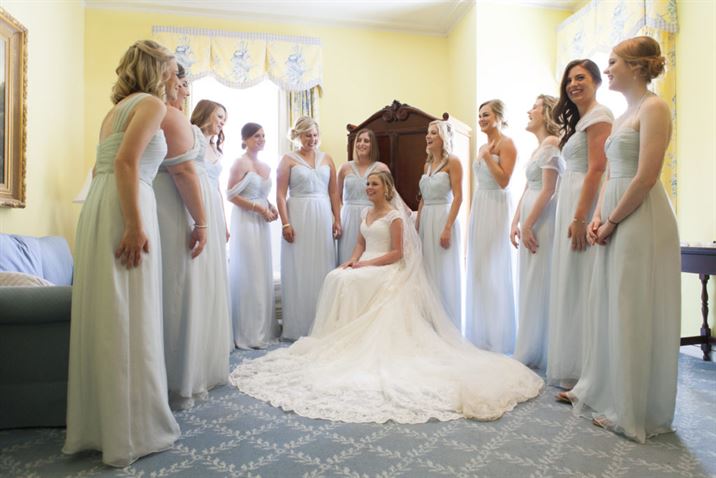 Marigold Designs designed the flowers. Callie didn™t want all white; she wanted the flowers to be bright and fun and felt they were absolutely perfect- just what she wanted. The colors centered around a custom crest the couple had designed for the wedding. Using spring blooms in pastel colors, Callie's bridal bouquet and the bridesmaid flowers were designed with peonies, roses, hydrangea, and white astilbe.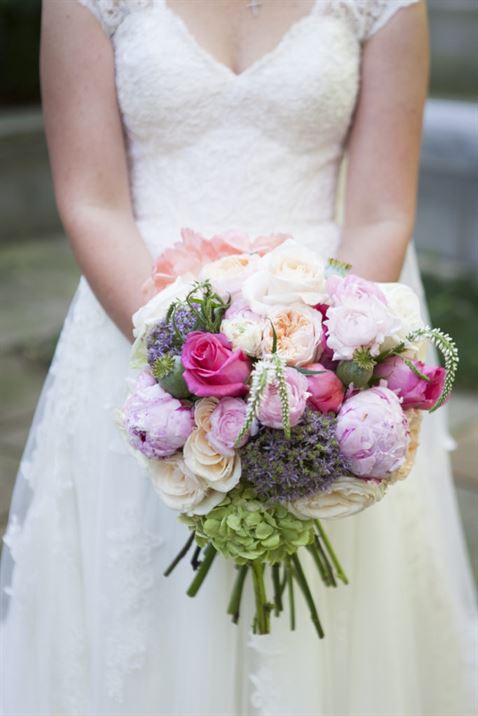 The bridesmaids wore Ice Blue Amsale gowns from Bella Bridesmaids in Homewood.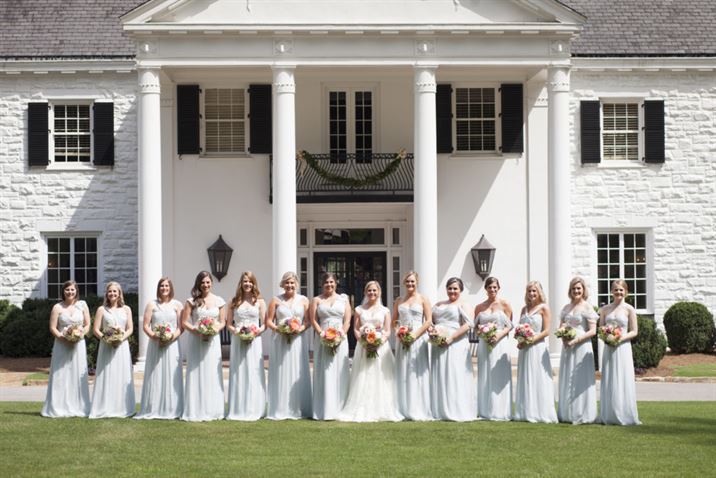 The men wore classic black tuxedoes with black bow tie and cummerbund.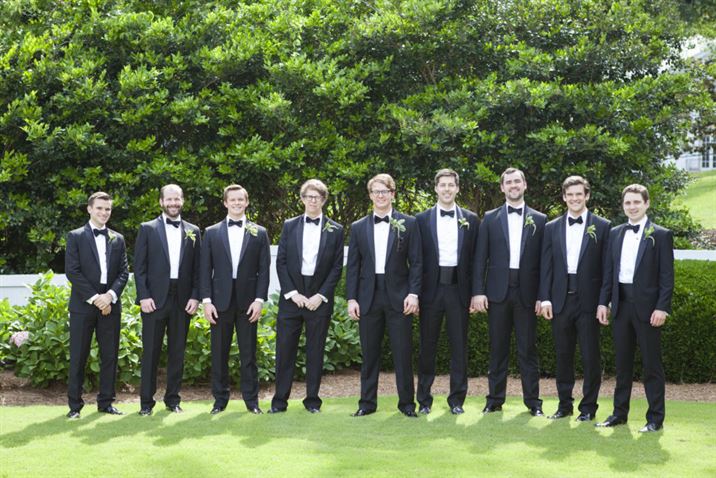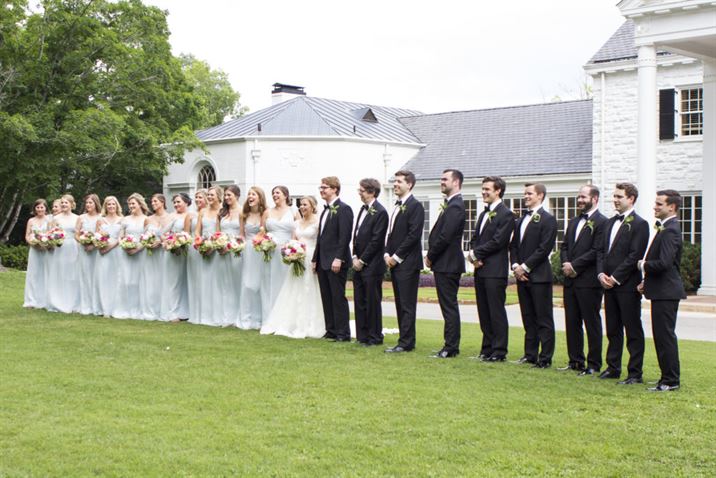 In addition, there were seven children in the wedding who wore handmade lace dresses with flower halos.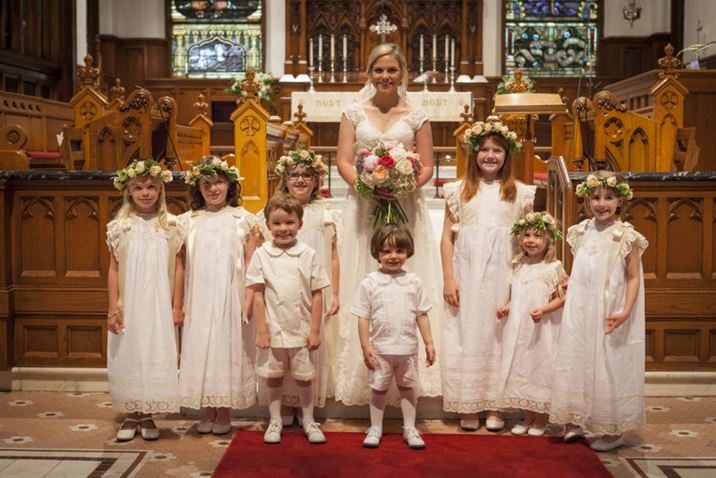 When guests arrived, they were greeted by a member of the band playing a welcome from the balcony of the club.
The wedding cake by Barb's Cakes was four alternating tiers of strawberry and vanilla cake with vanilla buttercream featuring a monogram on the middle tier with clusters of fresh peonies on each tier and a crown of peonies on the top.
Malcolm's groom's cake was a square two-tier chocolate cake with a stethoscope design motif which Malcolm helped design.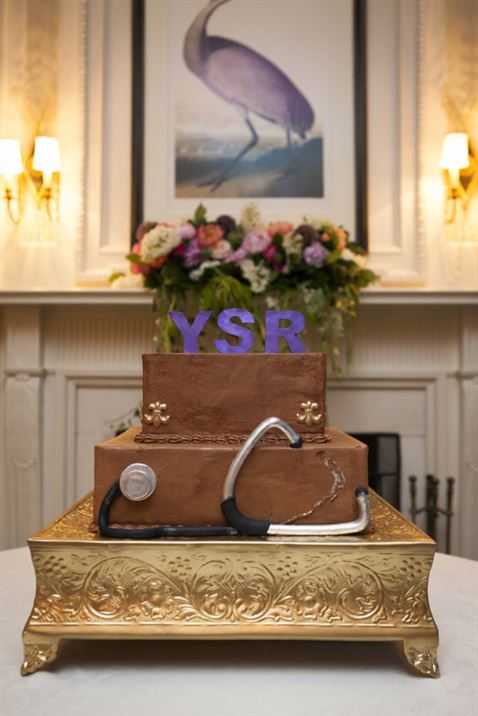 There was a lavish dinner buffet with many different options for guests to select from including one thing Callie always knew she wanted at her wedding: a chicken finger and French fry bar with lots of different dipping sauces- guests loved it.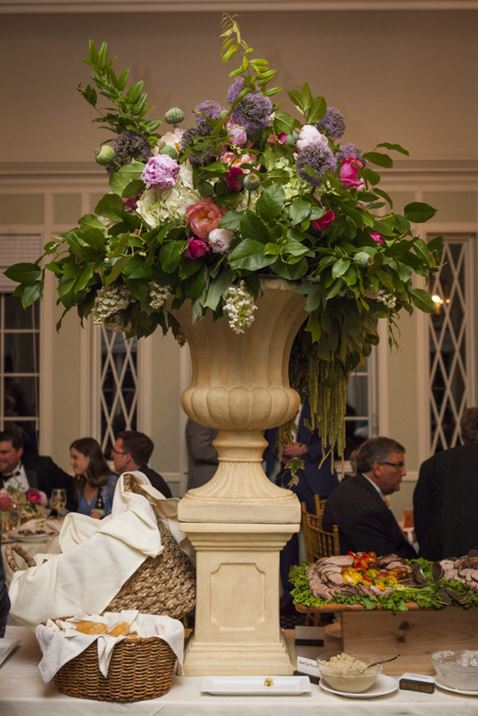 The band was the most important detail for Callie and Malcolm. Ascension from East Coast Entertainment– a fantastic Motown party band with swing dancers kept guests on the dance floor all night. Callie and Malcolm had been practicing their dancing for years and danced their first dance to Stevie Wonder's For Once in My Life.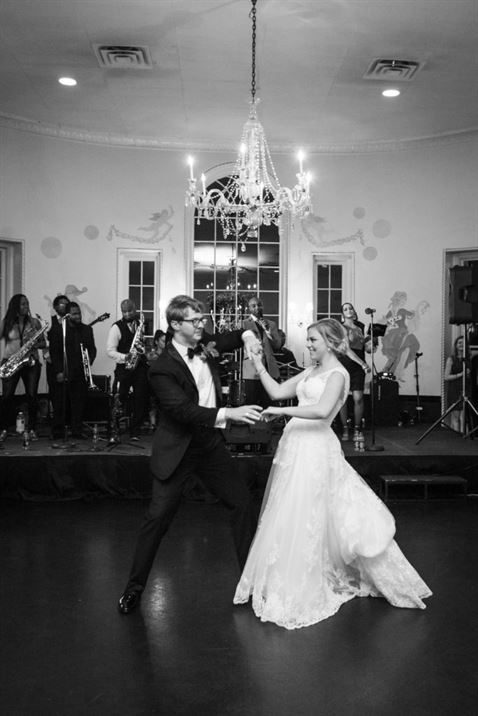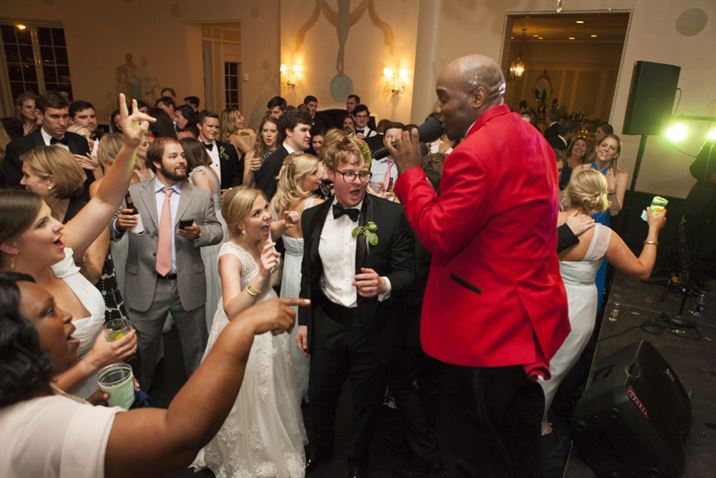 Since the couple relocated to New Orleans for Malcolm's residency, the band led guests in a traditional New Orleans style Second Line processional to "When the Saints Go Marching In" out to the couple's waiting getaway car.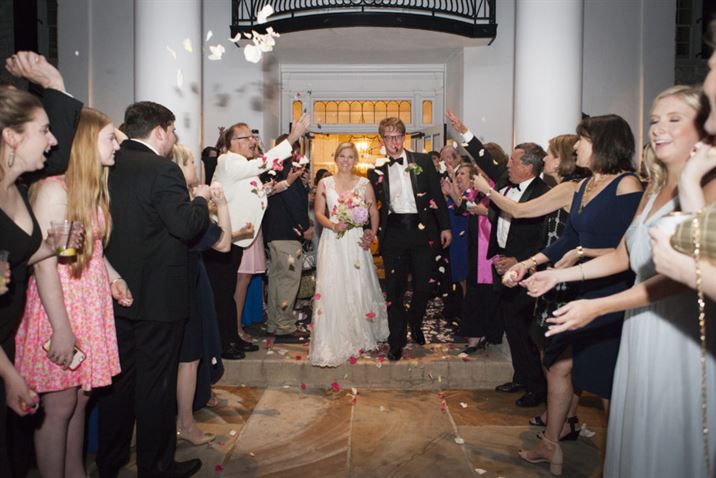 When Callie realized she had not tossed her bouquet, Malcolm helped her onto the hood of the car so she could toss it before they departed.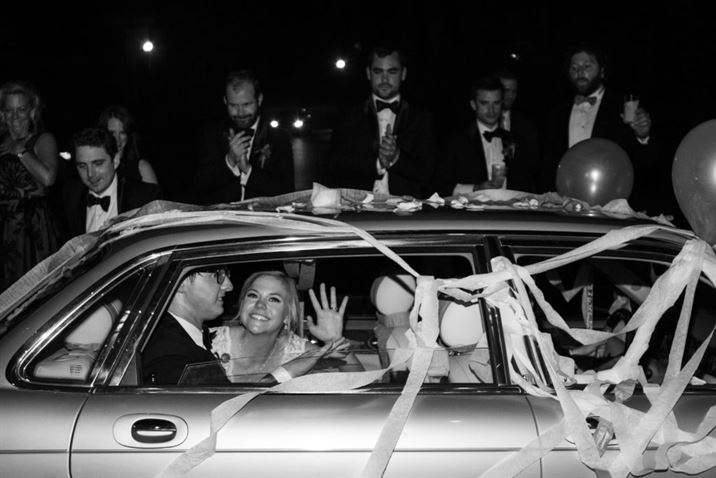 CALLIE'S WEDDING TRADITIONS INCLUDED:
OLD: Her grandmother's garter and a family heirloom lace veil from her father's side of the family which had been worn in many family weddings.
NEW: Her wedding gown.
BORROWED: Earrings loaned by her grandmother's sister which she wore in her own wedding.
BLUE: A sapphire ring Malcolm gave to her a long time ago.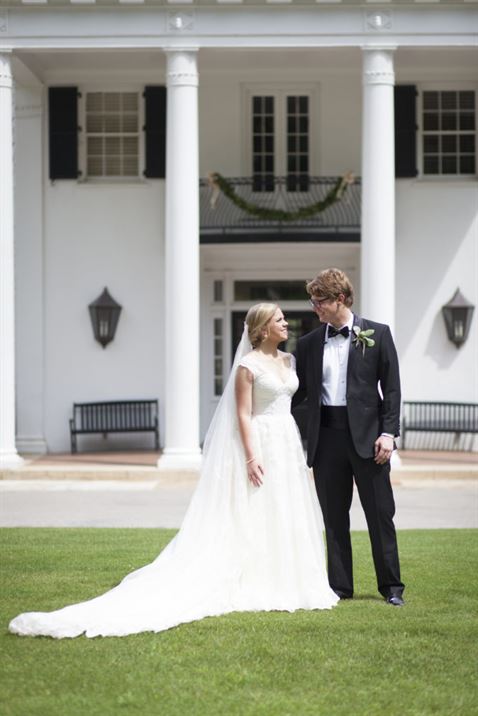 CALLIE AND MALCOLM™S BROMBERG™S GIFT REGISTRY INCLUDES:
FORMAL CHINA: Herend Golden Laurel
CASUAL CHINA: Annieglass Ruffle, Mikasa Antique
FORMAL STEMWARE: Moser Royal
CASUAL STEMWARE: Vietri Optic Clear
BARWARE & ACCESSORIES: Simon Pearce Decanter, Ice Bucket
Congratulations, Callie and Malcolm! The Bromberg family and staff wishes you a lifetime of happiness together.