Featured Wedding: Adelaide and Jackson
FEATURED WEDDING:
ADELAIDE MILLER AND JACKSON NIKETAS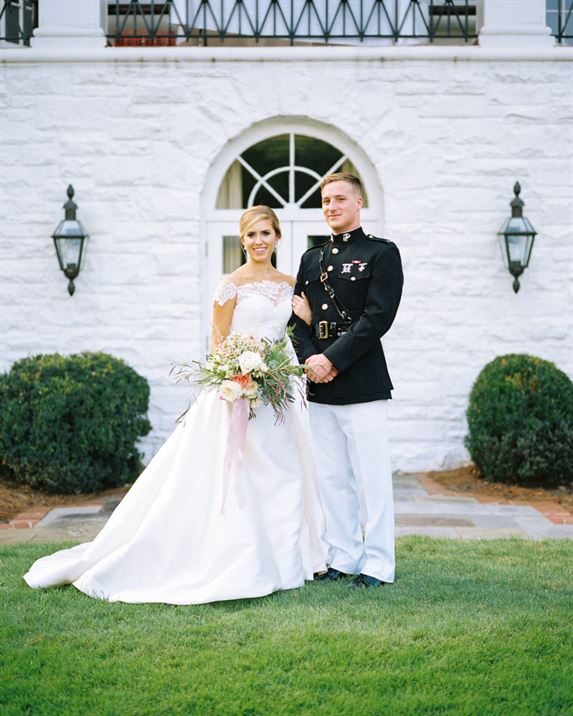 October 6, 2018
Ceremony: Third Presbyterian Church
Reception: Mountain Brook Club
Photography: Rachel and Noah Ray Photography
Planner: Mariee Ami Wedding Studio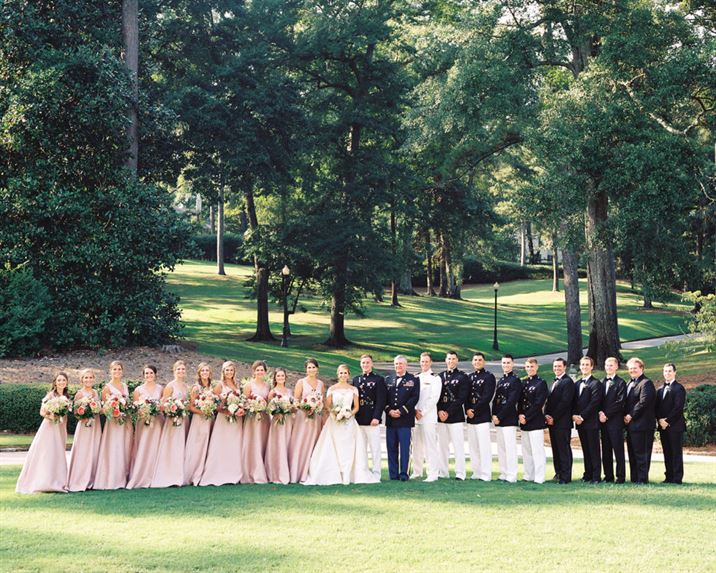 Three days. That is all the leave U.S. Marine Corps 1st Lieutenant and third generation helicopter pilot Jackson Niketas had in his hometown of Birmingham before he dispatched to his duty station for flight school training. Adelaide Miller just happened to be in Birmingham that weekend, too, home from her senior year at the University of Georgia. When the pair reconnected through mutual friends, those remaining days at home became the beginning of the rest of their lives.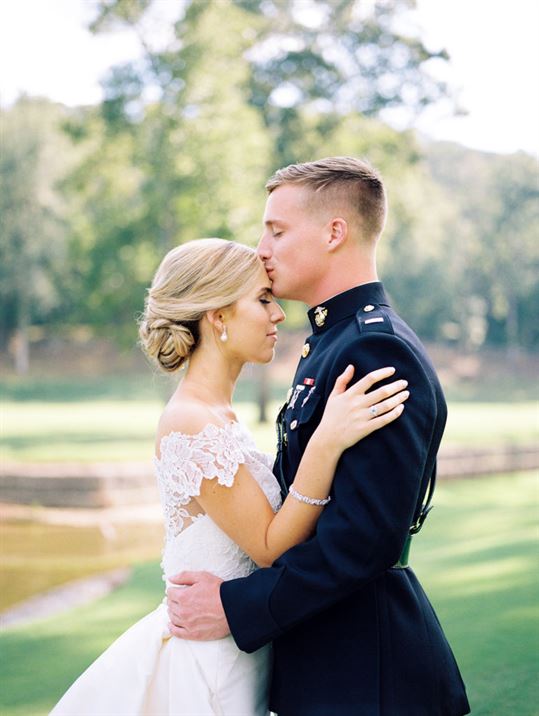 ADELAIDE AND JACKSON: THEIR STORY"¦
While the two knew each other from their days at Mountain Brook High School, they were nothing more than acquaintances during that time- even through Adelaide admits she had a little crush on the upperclassman Jackson back then. When they met again, Adelaide said she knew almost instantly that Jackson was the man she would marry.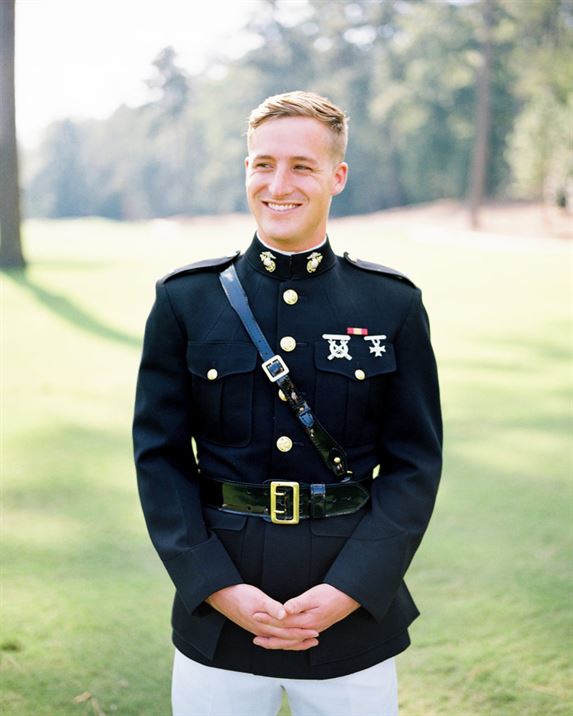 Jackson asked Adelaide on their first date, a hike around Ruffner Mountain. Afterwards, their pair left town but stayed in touch. Jackson was persistent; he kept in touch and made dating long distance easy. The pair dated long distance for a year and a half. Jackson knew D.C. very well from his time at Annapolis and visited Adelaide often there. The couple met in Birmingham over holidays and family events and talked about marriage one day. Jackson convinced Adelaide that a wedding was in the distant future since he still had a lot of training to finish before he was dispatched to a duty station, so she had no clue that he was busy planning the perfect proposal.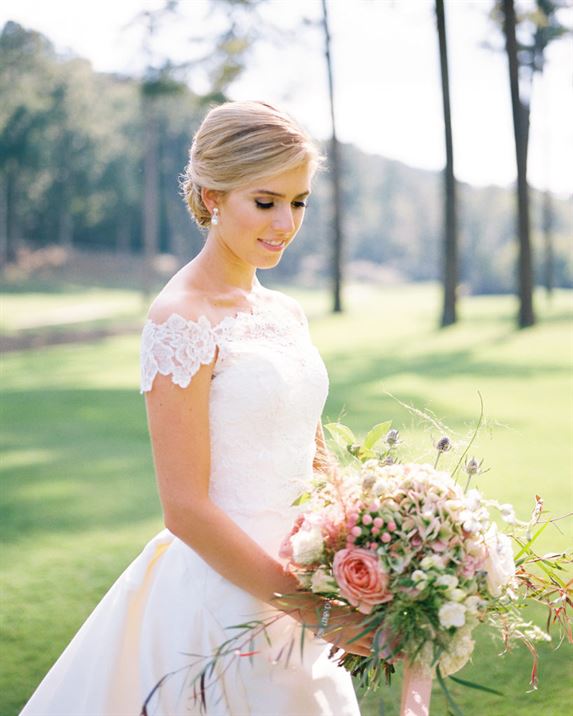 THE PROPOSAL…
Since Jackson had a great love of the outdoors and the couple often spent their time hiking or kayaking, on the day of the proposal, Adelaide was not even slightly suspicious when Jackson suggested an outing- even though she had friends visiting. Jackson took Adelaide to Great Falls, a place he frequented during his time at Annapolis and a favorite spot of theirs for hiking. While Jackson took Adelaide to a special spot for the proposal, the friends and family including Adelaide's parents, who had come to D.C., were assembling to surprise Adelaide and celebrate the proposal. During the hike, Jackson got down on one knee and asked Adelaide to be his wife. After she said yes, the couple met up with the crowd and the wedding plans began.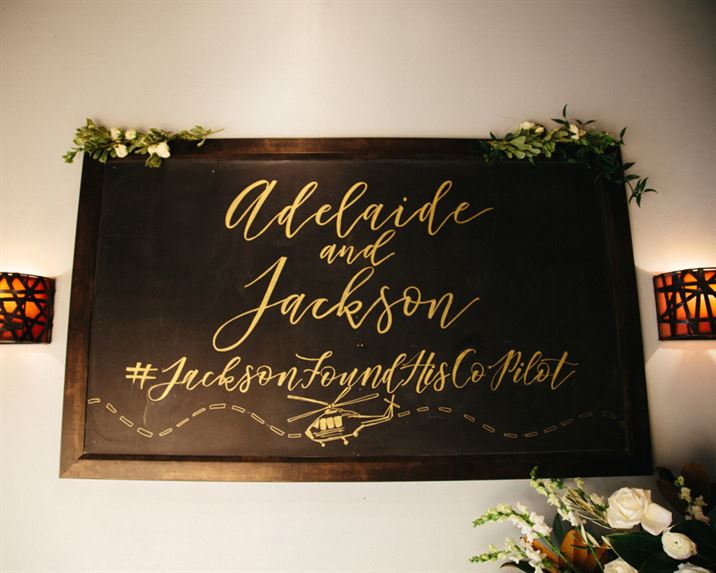 THE WEDDING…
As Adelaide's mother knew well in advance of the proposal and knew that the timing for the wedding would be crucial with Jackson's military orders, she reached out to Birmingham wedding planner Neillie Butler of Mariee Ami Wedding Studio and got the ball rolling. Since her mother is a renowned Birmingham area landscape architect, she and Adelaide discussed creative ideas for the wedding and floral design. They hired Buffy Hargett for the floral design. They wanted an organic woodlands effect in both design and feel; flowers included roses, zinnias, dahlias, hydrangea, and wildflowers in fall colors of rust, gold, mahogany, and dark greens.
Adelaide's mother designed her daughter's bridal bouquet tied with silk ribbon in soft lilac.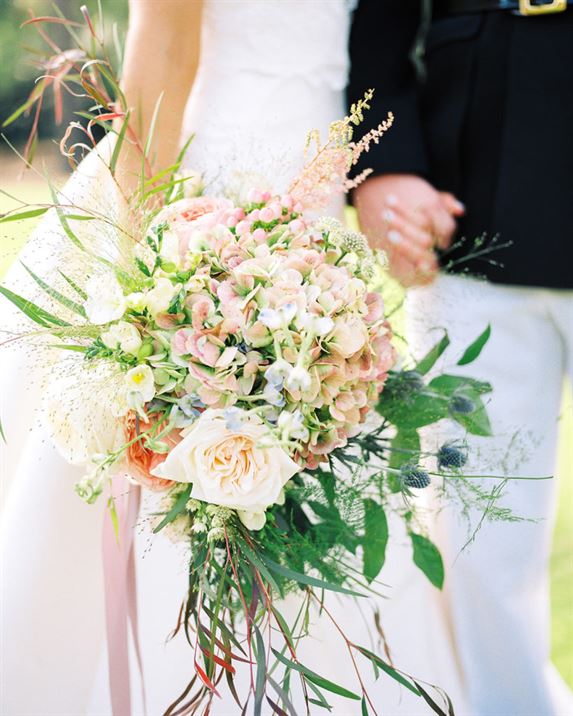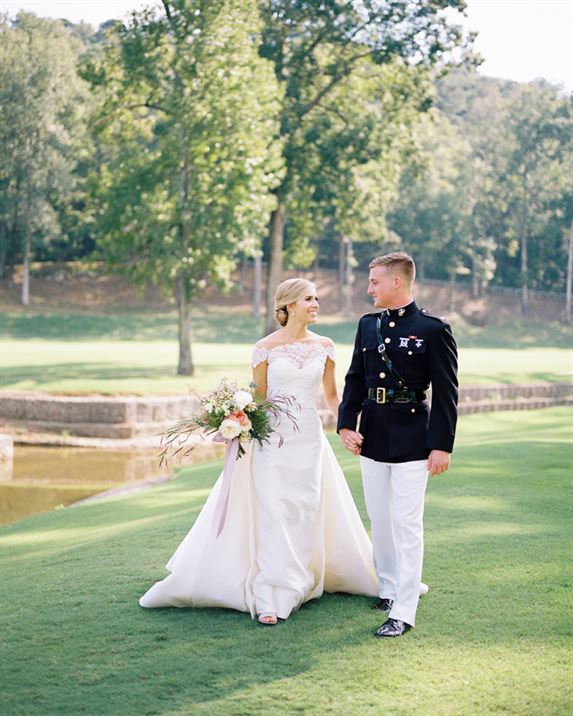 After an extensive search in D.C., Adelaide found the perfect Anne Barge gown at The White Room in Mountain Brook Village; a silk satin gown with sweetheart neckline with an off-the-shoulder removeable Alencon lace jacket.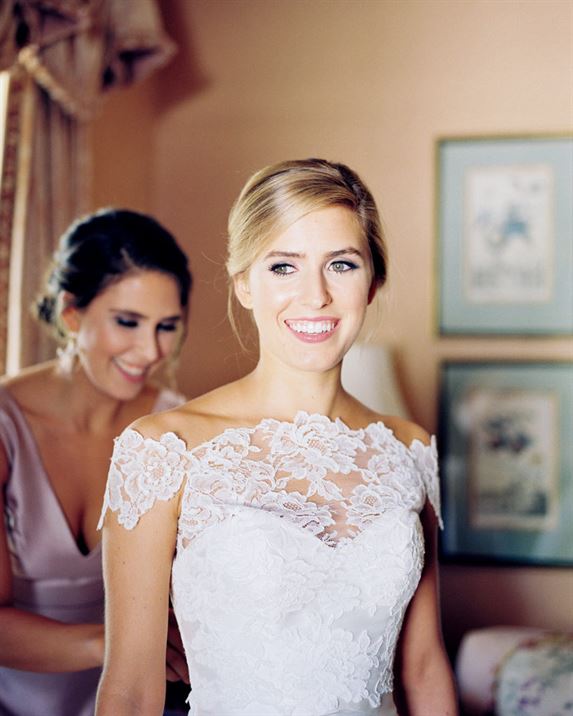 Accessories included a family heirloom veil and her grandmother's platinum and diamond bracelet and a pair of bright blue Manolo Blahnik wedding shoes she had long dreamt of wearing for her wedding day.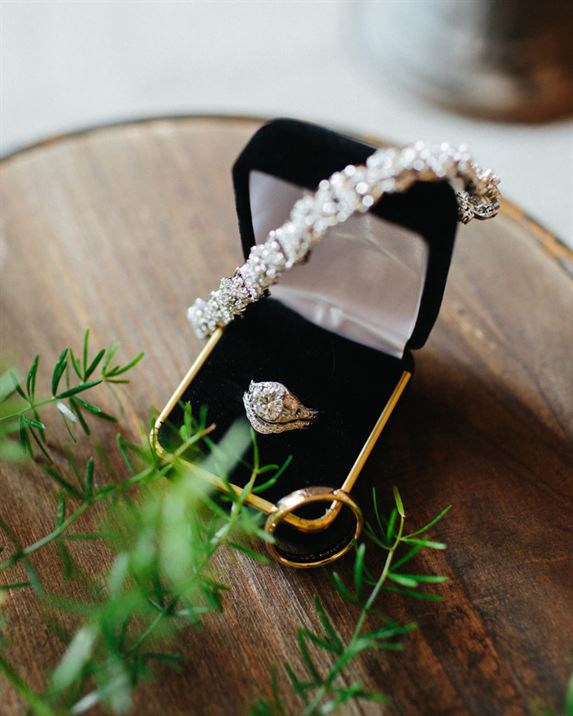 The bridesmaids wore gowns soft lilac colored gowns from Bella Bridesmaids.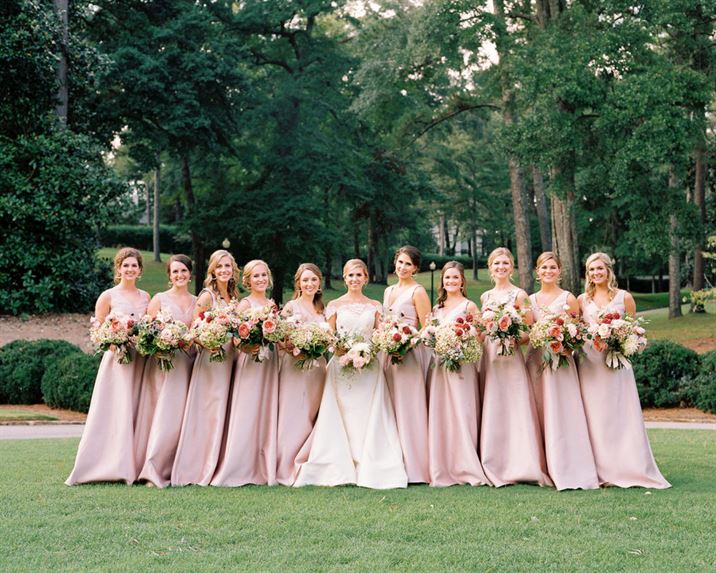 Jackson and his groomsmen wore either their formal uniforms or traditional black tie.
The ceremony at Third Presbyterian Church ended with a traditional military sabre arch.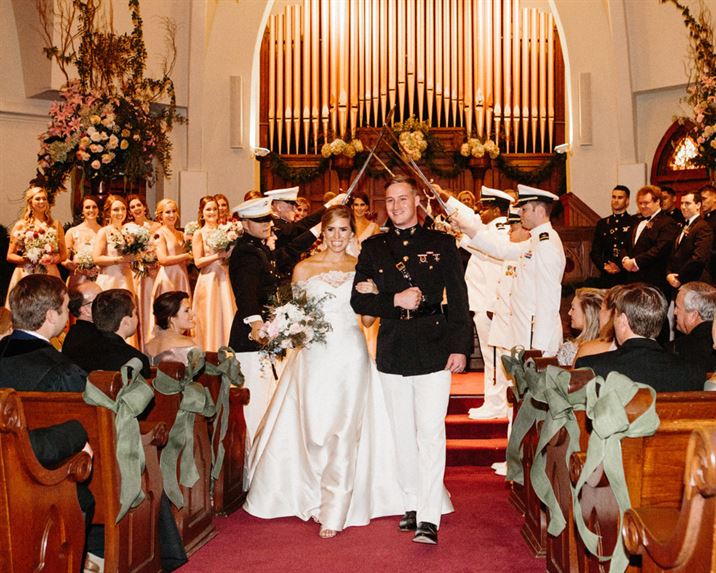 Cakes were by Barb's Cakes. The wedding cake flavors were buttercream and strawberry. There were also towers of Baby Bites® from Pastry Arts, one of the bride's favorite in flavors including carrot cake, red velvet, caramel, and Mexican chocolate.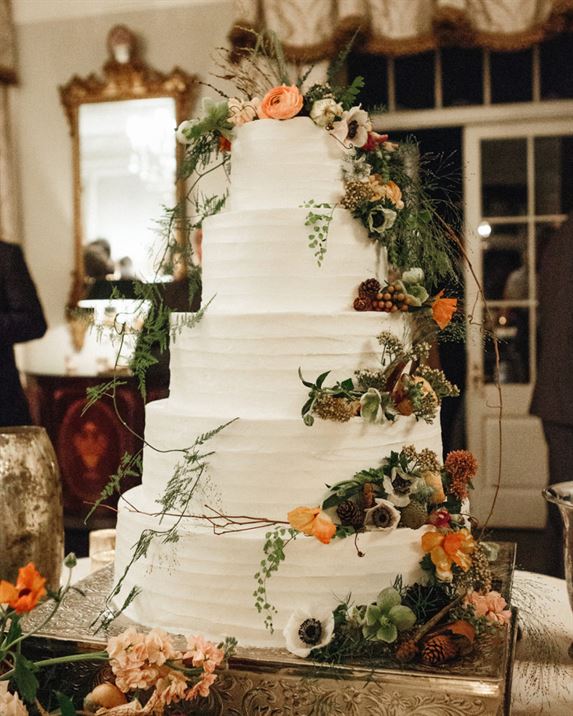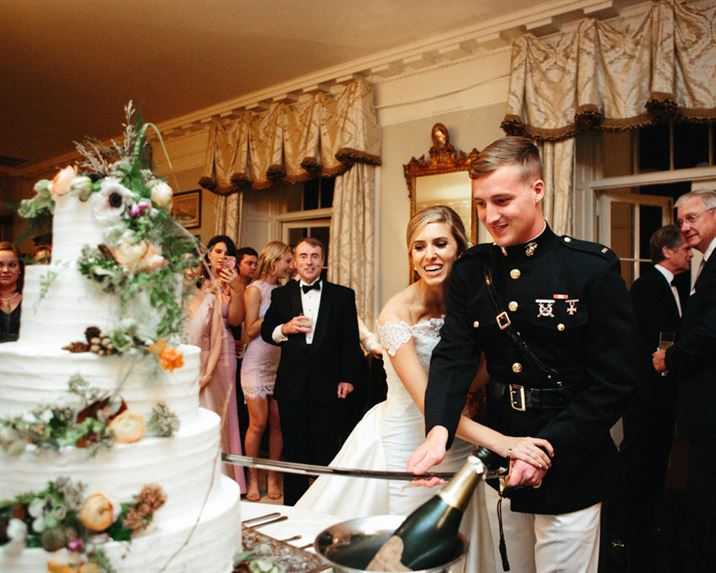 The band was a hit! Adelaide and Jackson danced their first dance to You Are The Best Thing, by Ray LaMontagne.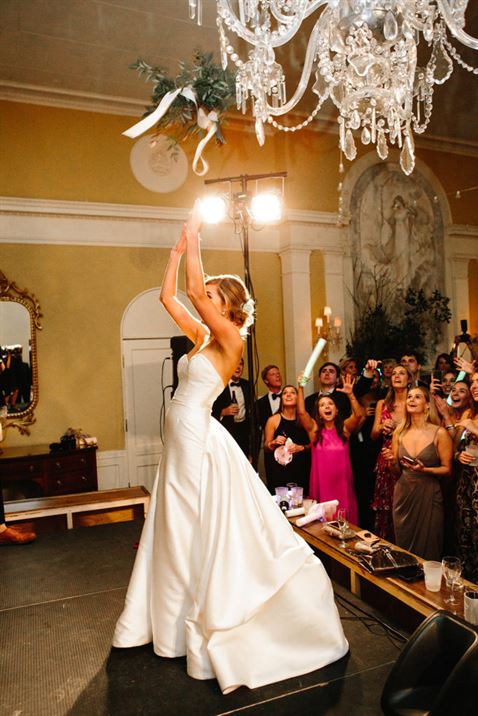 Atlanta Rhythm and Groove kept guests on the dance floor all night before the couple departed in a flurry of confetti for their honeymoon at the Four Seasons in Lanai, Hawaii.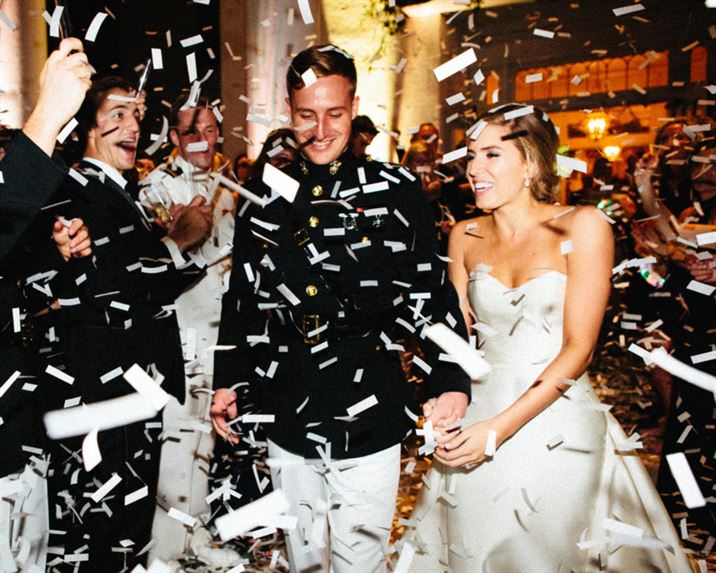 ADELAIDE™S "SOMETHING" WEDDING DAY TRADITIONS INCLUDED:
Something OLD: Her grandmother's platinum & diamond bracelet.
Something NEW: Her Anne Barge wedding gown.
Something BORROWED: Her veil. It has been passed down in her mother's family for decades. Adelaide's mother, aunt and other relatives have worn it on their wedding day.
Something BLUE: Her mother's diamond and sapphire ring, given to her as an anniversary gift and her Manolo Blahnik wedding shoes.
ADELAIDE & JACKSON™S BROMBERG™S GIFT REGISTRY INCLUDES:
FORMAL CHINA: Herend Golden Edge, Rothschild Bird, Anna Weatherly Charger in Green
FORMAL STEMWARE: Varga Crystal Simplicity
CASUAL CHINA: Juliska Puro White
CASUAL GLASSWARE: Simon Pearce Barre
Congratulations, Adelaide and Jackson! The Bromberg family and staff wishes you a lifetime of happiness together.